Imitation crabs have been discovered to be healthy, and you will also be surprised at how really good they can taste.
This is just the appropriate crab meat you want to add to your diet especially if you are watching your weight, it is extremely low in calories, and it does have a healthy way of protecting the body from chronic illnesses such as heart disease. So, there is more than one reason to add it to your menu.
Collection of everything imitation crabs to create an amazing recipe which ranges from salads to casseroles appetizers and pasta meals as well. Imitation crabs have just the same taste and texture as crab meats which makes them an ideal alternative when you can't get your hands on fresh crabs.
The imitation crab has also been discovered to be more convenient than the fresh crabs and if you are a seafood enthusiast, there is no reason not to enjoy this crab mimic.
Imitation crabs have no meat like fresh crabs, but there are amazing recipes you can create with them and enjoy it just the way you would with fresh crabs. Imitation crabs are even much more convenient because you don't have to prepare them in advance.
So, we have an excellent collection of sweet imitation crab recipes for you to enjoy.
Imitation Crabs Explained
If you are not familiar with imitation crabs, they are similar in color, flavor, and appearance to real crabs, but these are made from surimi.
Surimi's are fish that has been deboned and washed to remove any fats and unwanted bits. This is then minced into a paste and combined with white fish and starch, your sweet imitation crab is made.
13 Sweet Imitation Crab Recipes to Try
If you are a sucker for crabs then we are sure imitation crabs are not new, these are healthier, often more affordable, and appealing than the fresh crabs. Choosing sweet imitation crabs can be the perfect way to switch up your diet, and we have just the perfect recipe list you should try for 2022.
1. Crab Macaroni Salad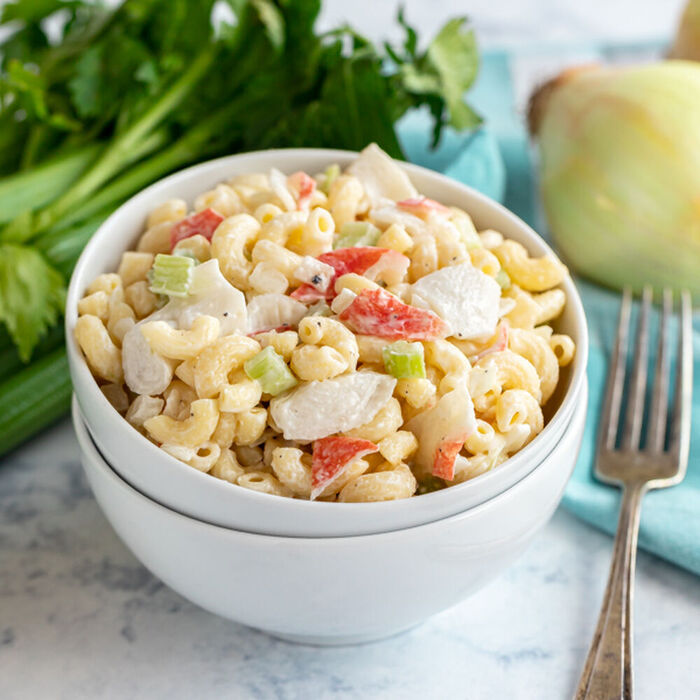 Crab Macaroni Salad is just the ideal summer recipe you need. This recipe is incredibly easy and tends to save time if you have no dinner plans set before. Minimal ingredients have been used in making this and still happen to be tasty and worth the effort. Ingredients for making this includes; Elbow macaroni, Celery, Onion, Crab (or Imitation crab), Mayonnaise, Kosher salt, and ground black pepper.
Get the imitation crab macaron recipe.
2. Crab Rangoon Pizza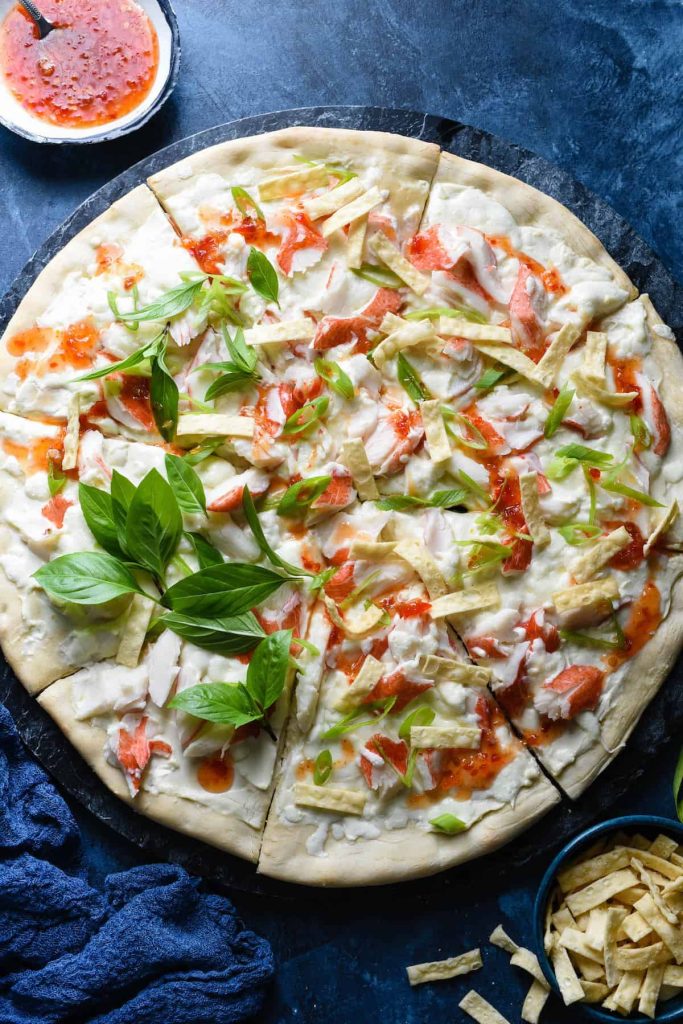 Here is a crab imitation recipe you are going to enjoy making for dinner every night. This is perfect as an appetizer and just like the crab macaron, it is super easy. A pizza stone is highly recommended for making this and not to worry, you can't go wrong with this amazing recipe.
Get crab rangoon pizza recipe.
3. Imitation Crab Roll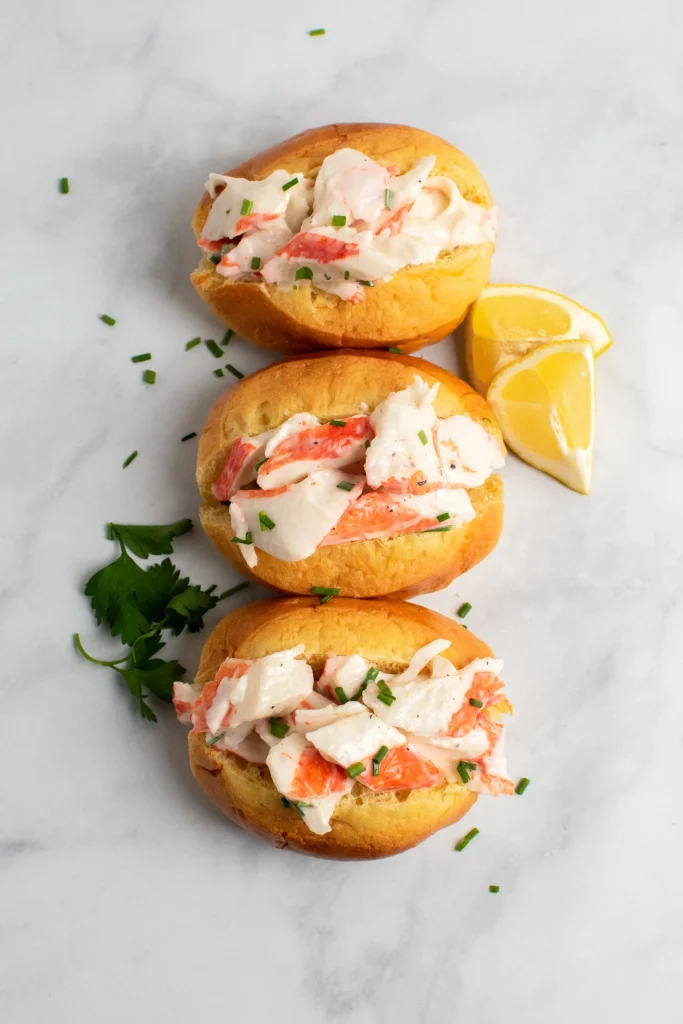 If you have ever considered fresh crab meats expensive for making lobster rolls then time to try the imitation crab instead. This is extremely easy and all you need are buns, seasoning, lemon, mayo, and imitation crabs. You can have it paired with fries, zucchini, zucchini fries, and light salad.
4. Imitation Crab Sushi Bake
Need a basic crab imitation recipe? This imitation crab sushi is the perfect dish you go for when you have a lot of fake crabs at hand. This dish is quite delightful, and it helps scratch out the need to make sushi and spend so much money on it. There are also substitution ingredients included in the recipe in case you can't the main ingredients.
Get imitation crab sushi bake.
5. Sweet Imitation Crab Salad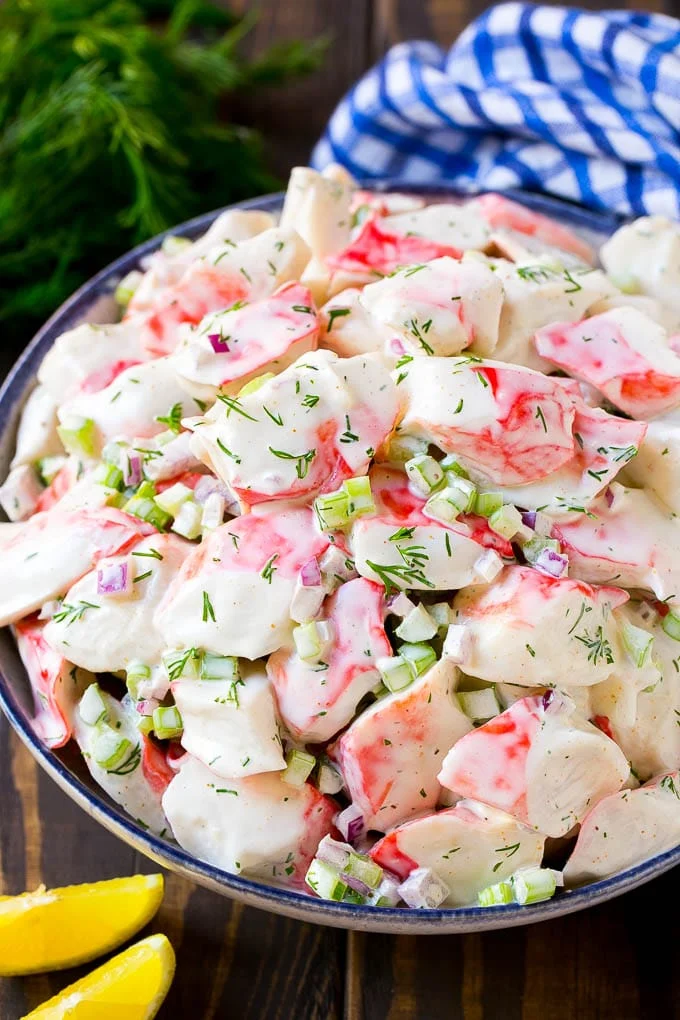 Time to get an update on your usual salad. This is made with just imitation crabs, vegetables, and herbs which makes it even healthy and delicious. You can also go with real crabs, but imitation crabs are considered more affordable and a lot easier to go with.
6. Creamy Crab Soup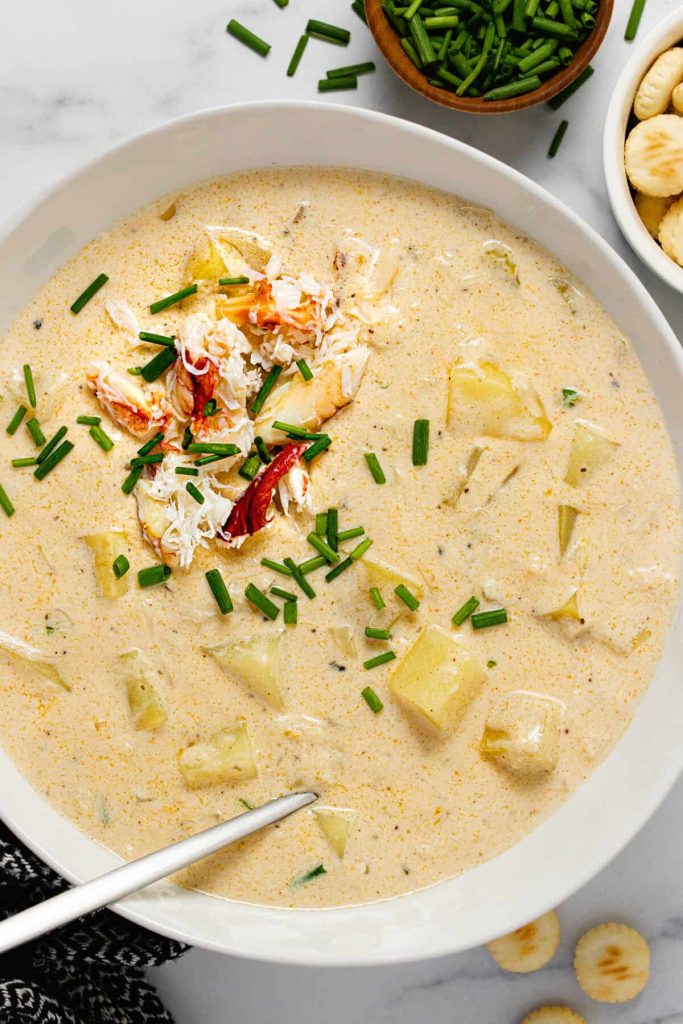 Cream of crab soup is just the perfect recipe you need to enjoy on a chilly afternoon, and it can be served as part of dinner as an appetizer or with a different variety of shellfish. The soup can be the perfect light lunch as well and considering how simple this is, you can have it made in no time and enjoyed it with salad too.
7. Imitation Crab Linguine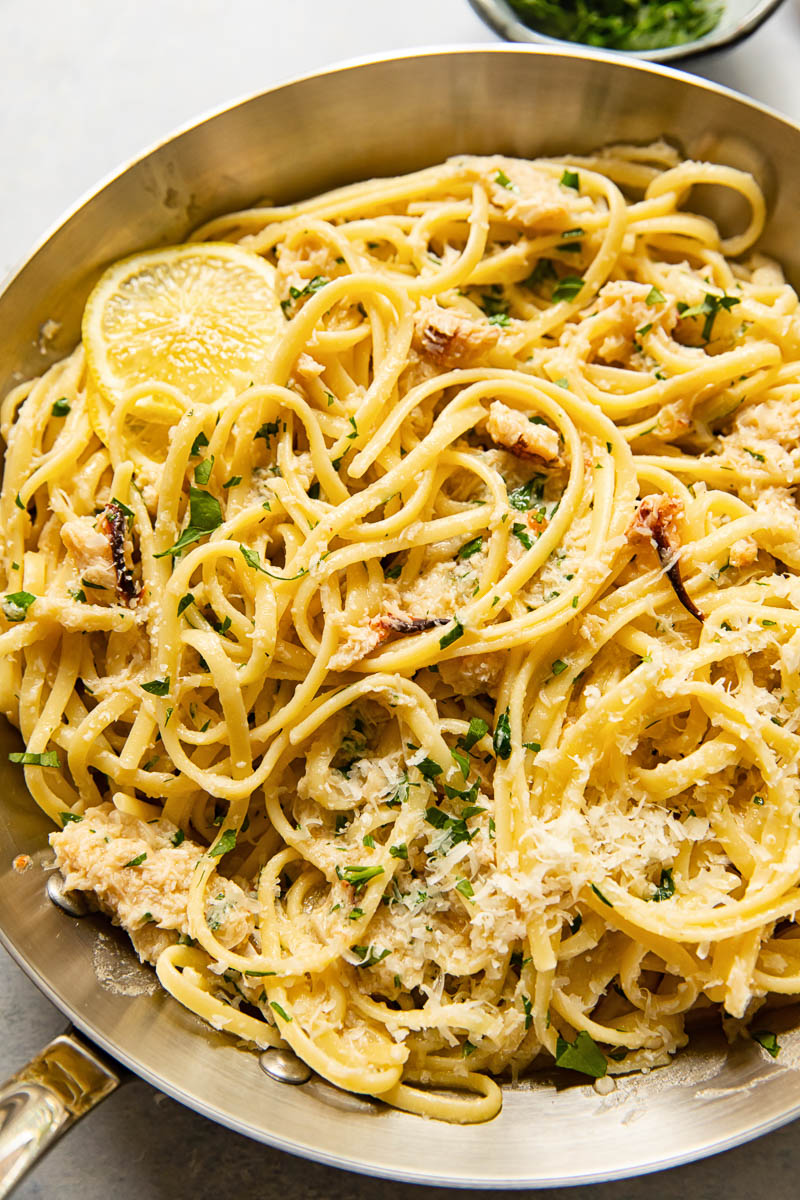 Just like the crab macaroni recipe, you can grow it with pasta as well, and it happens to be just as tasty and easy to make. This without a doubt looks delicious, and it sure tastes like that as well. This sweet imitation crab recipe includes lemon butter sauce with garlic and white wine to give you a really tasty pasta dish.
8. Hot Crab Dip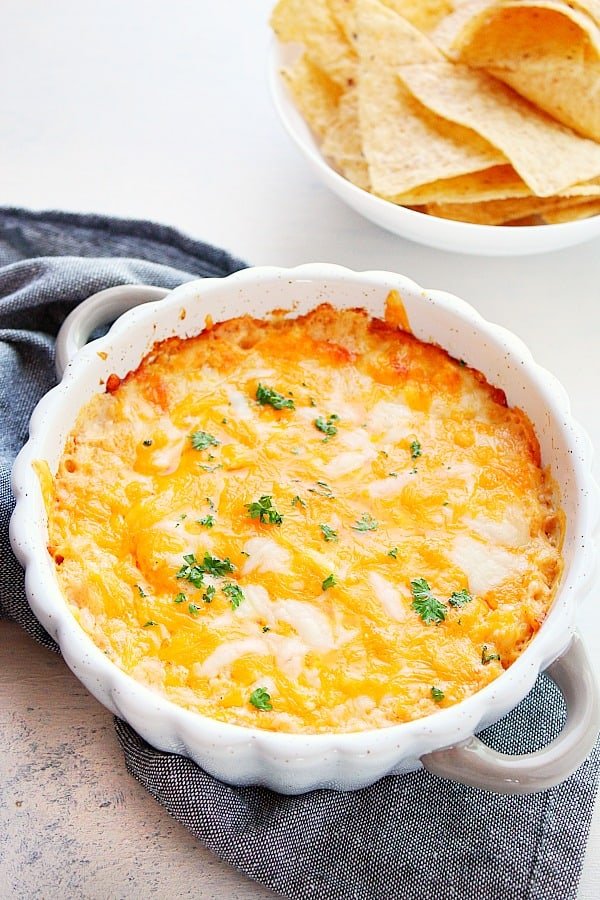 You really can't say no to this creamy cheesy hot crab. This crab imitation dip is just the ideal appetizer or dip you need for a great party. This is made with a creamy base of cream cheese and also contains mayo, sour cream, paprika, minced garlic, garlic powder, and chopped onion.
9. Seafood Enchiladas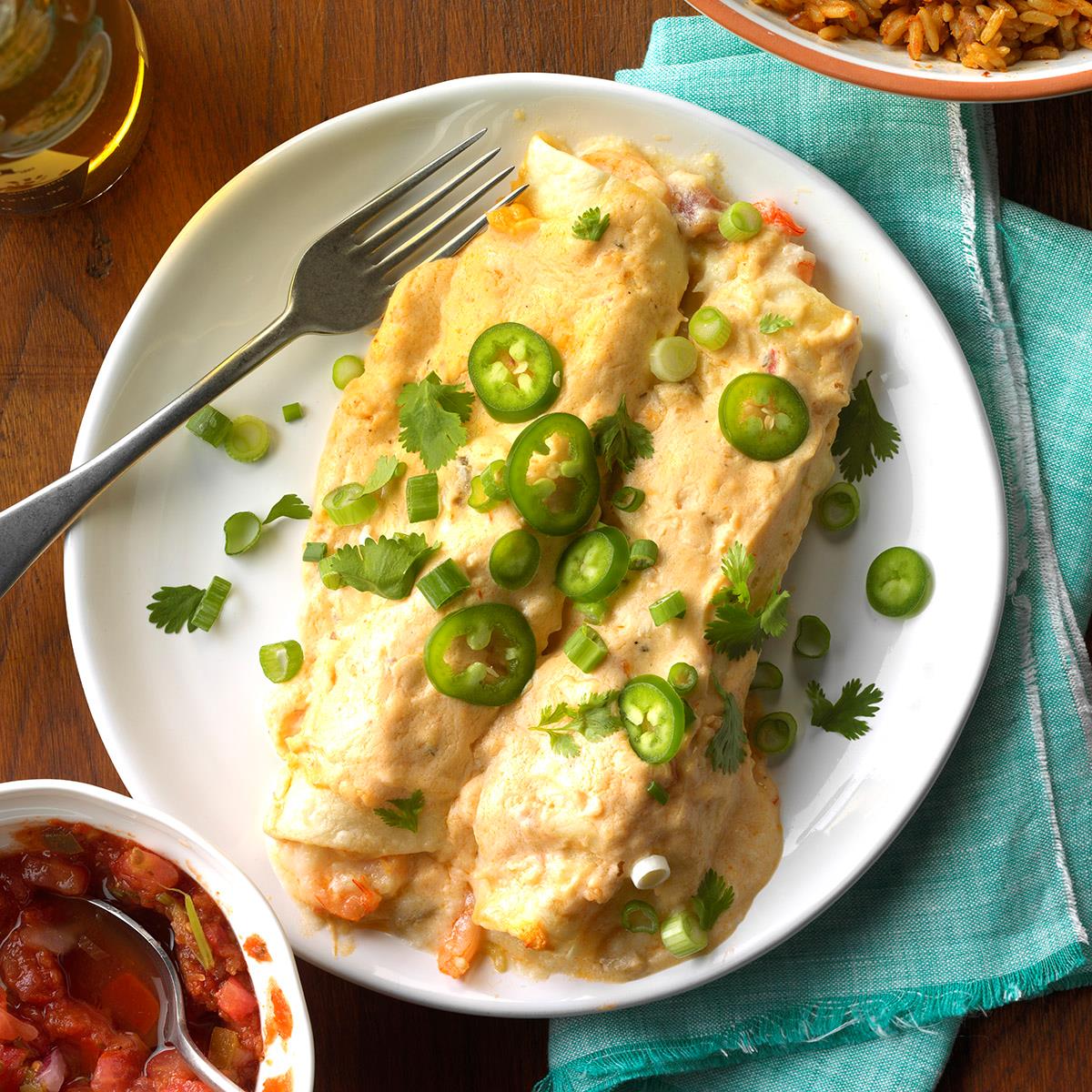 Here is one perfect Mexican recipe coupled with a creamy sauce which makes it a perfect dinner dish for anyone. This has a unique flavor which makes it ideal comfort food, and it comes with substitute ingredients that you can add to the main ingredient or replace completely.
10. Crab Crescent Bites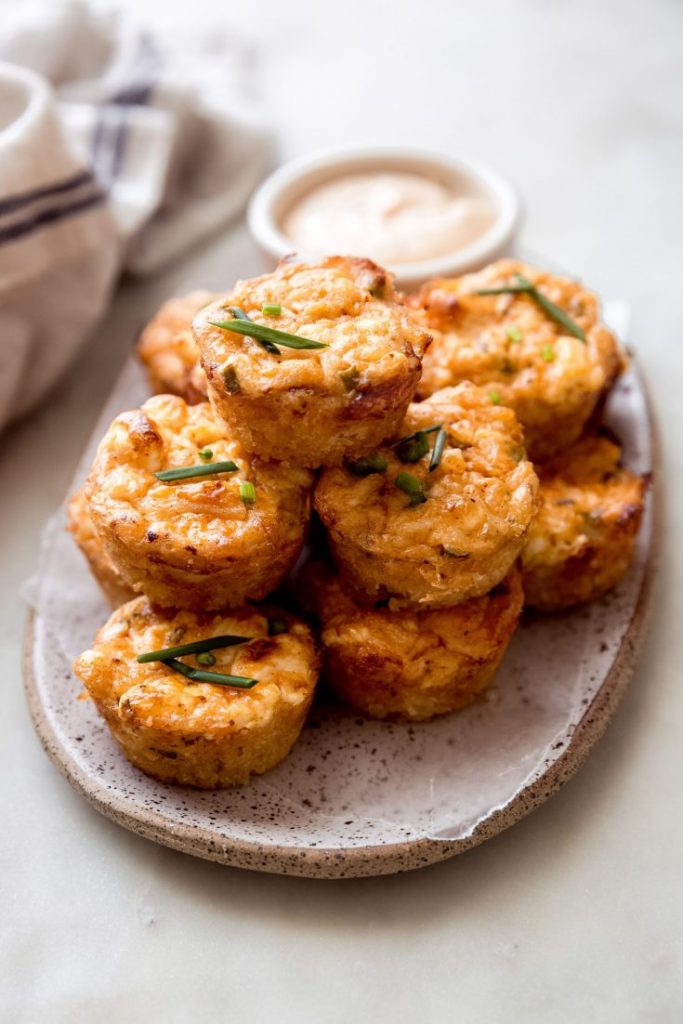 Crab crescent bites are not just super easy to make, but they are also filled with creamy and delicious cream cheese filling and the delicious taste of imitation crab meat as well. This is the right kind of snack you should have in your fridge.
Get the crab crescent bites recipe.
11. Seafood Chowder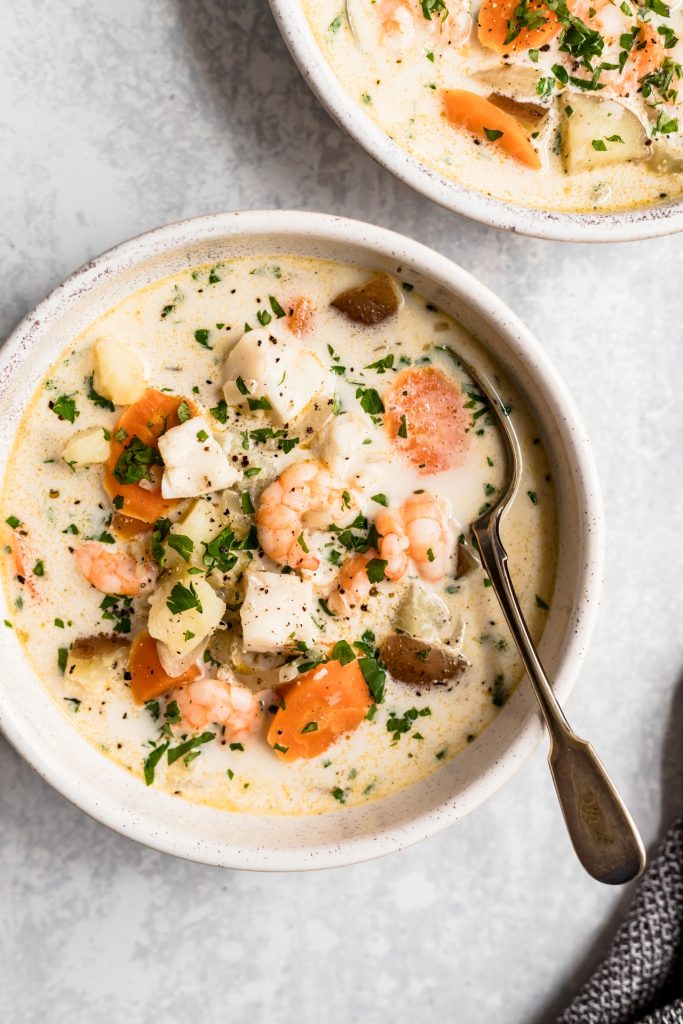 The seafood chowder is just one of the best healthy recipes you can enjoy. This amazing chowder is made with clams, shrimps, and crab. If you are a seafood enthusiast then this is worth adding to your menu and if you are on the lookout for the best imitation crab recipe then this is one you ought to try.
Get the seafood chowder recipe.
12. Crab Alfredo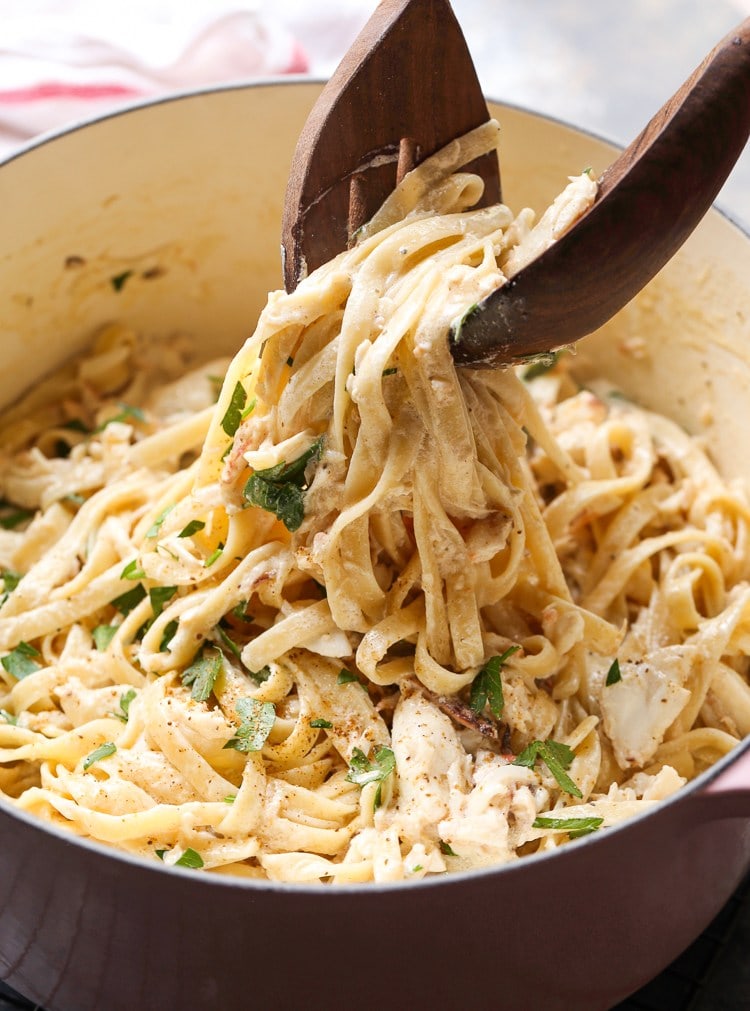 Want a classic upgraded crab Alfredo? The thought of crab Alfredo and the look alone should get you hungry in no time. This tasty delicious recipe is a combination of mushrooms, cream, onions, and chicken stock altogether in a mixing bowl, and you can pair it with your imitation crab for a delightful dinner.
13. Imitation Crab Cakes
The complex and crunchy flavor of these crab cakes might have you changing your mind about that chocolate cake you love. This is an affordable crab cake you can make for you and your family to enjoy and the source of crunchiness in this cake is bread crumbs Worcestershire.
[mv_create key="5″ type="recipe" title="Imitation Crab Recipe" thumbnail="https://thehometome.com/wp-content/uploads/2022/04/Sweet-Imitation-Crab-Recipes.jpg"]
Wrapping Up
Imitation crab cakes recipe can be just as exciting as using the fresh crab meats themselves, and you can pretty much have them used in any seafood recipe.
You can find imitation crabs at any grocery store which is unlike fresh crab meats that you have to get at a wet market. Although the fresh crab is higher in protein and several other vitamins than the imitation crab, however, both still offer the same flavor and appearance in any dish.