Do grow lights work for basil? The answer is yes, indoor basil needs a minimum of 6 hours of bright sunlight per day and LED grow lights are the perfect ways to give it the right amount of light it needs to flourish.
Many indoor herbs such as oregano, rosemary, thyme, and basil will need up to 6 or 8 hours of full sun to thrive hence why grow lights are recommended.
INDOSUN 600W LED Grow Light
AeroGarden Harvest w/ Gourmet Herb Seed Pod Kit
GrowLED LED Umbrella Plant Grow Light
---
SPECIAL RECOMMENDATION: CLICK&GROW (Not Just For Basil, But Herbs & Growing Your Own Food. Tap here for 25% off NOW.
---
Basil is a popular plant that has been around for 4000 years, and it is believed to have magical powers throughout history, which can also explain why it's a common plant in many households. It is believed to give strength during religious fasting, used as an antidote for snake bites, and many more.
There are lots of ultimate guides on how to care for basil and a lot has to do with its light requirement. Basil is a hardy plant, but lack of sunlight can cause it to wither and stunt its growth. If basil doesn't get enough sunlight, it will not only lose its colors but can die as well.
Many indoor growers have always wondered if they need a grow light and if any old LED can be used as produce light. It is essential that you choose a LED to-grow light that can deliver enough PAR to your plants.
So, for the healthy growth of your basil, you do need a grow light that is ideal for basil growth.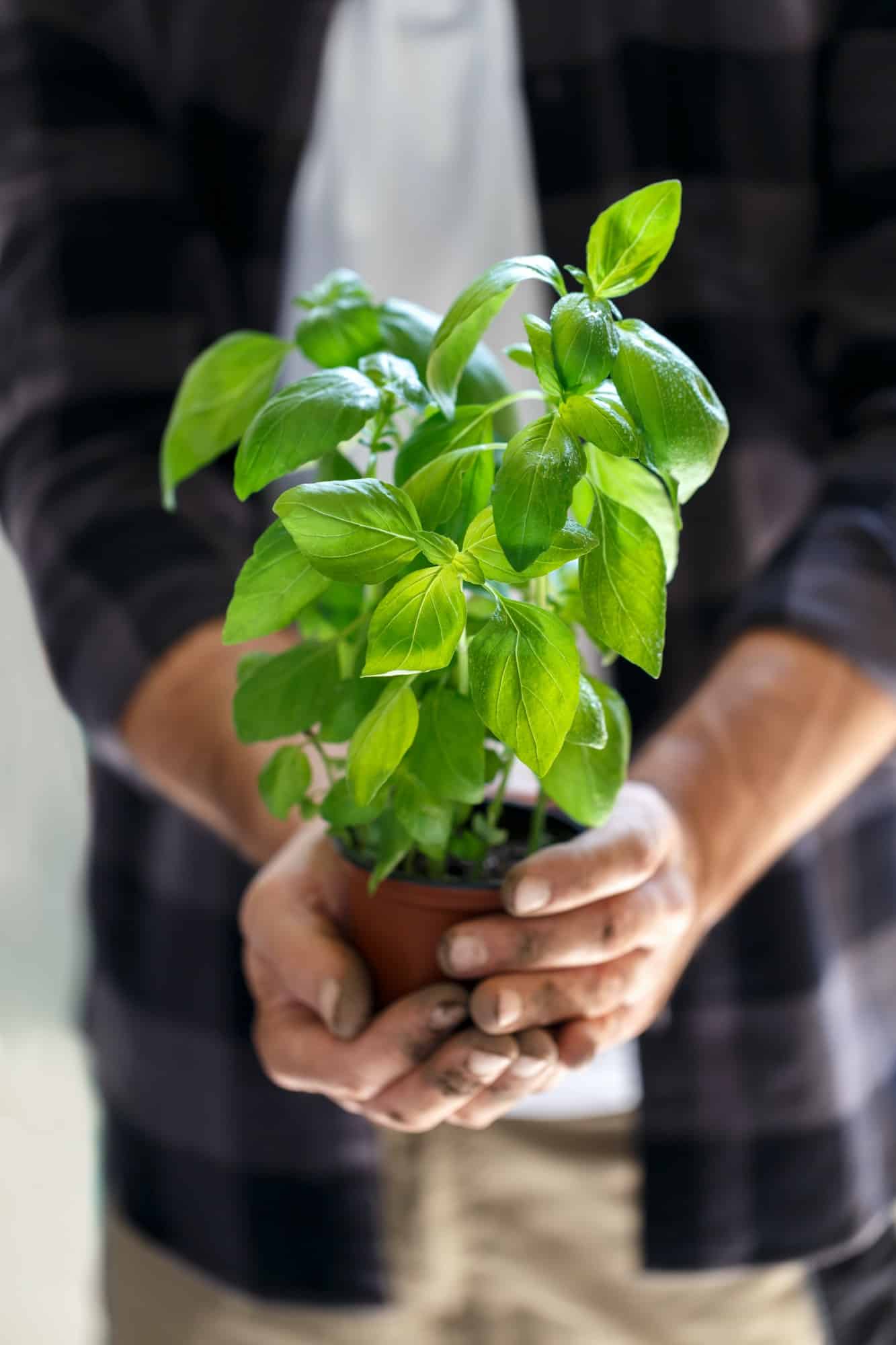 Best Grow Lights For Basil
Searching for quality grow lights for your basil? We have earlier talked about how basil plants need up to 8 hours of sunlight per day and if you are growing it indoors, you do need a grow light.
Although virtually any grow light will stimulate the growth of your basil but not all are quality, some may run too hot and burn your plant. This is why we have helped search and found the best grow light for your basil.
1. INDOSUN 600W LED Grow Light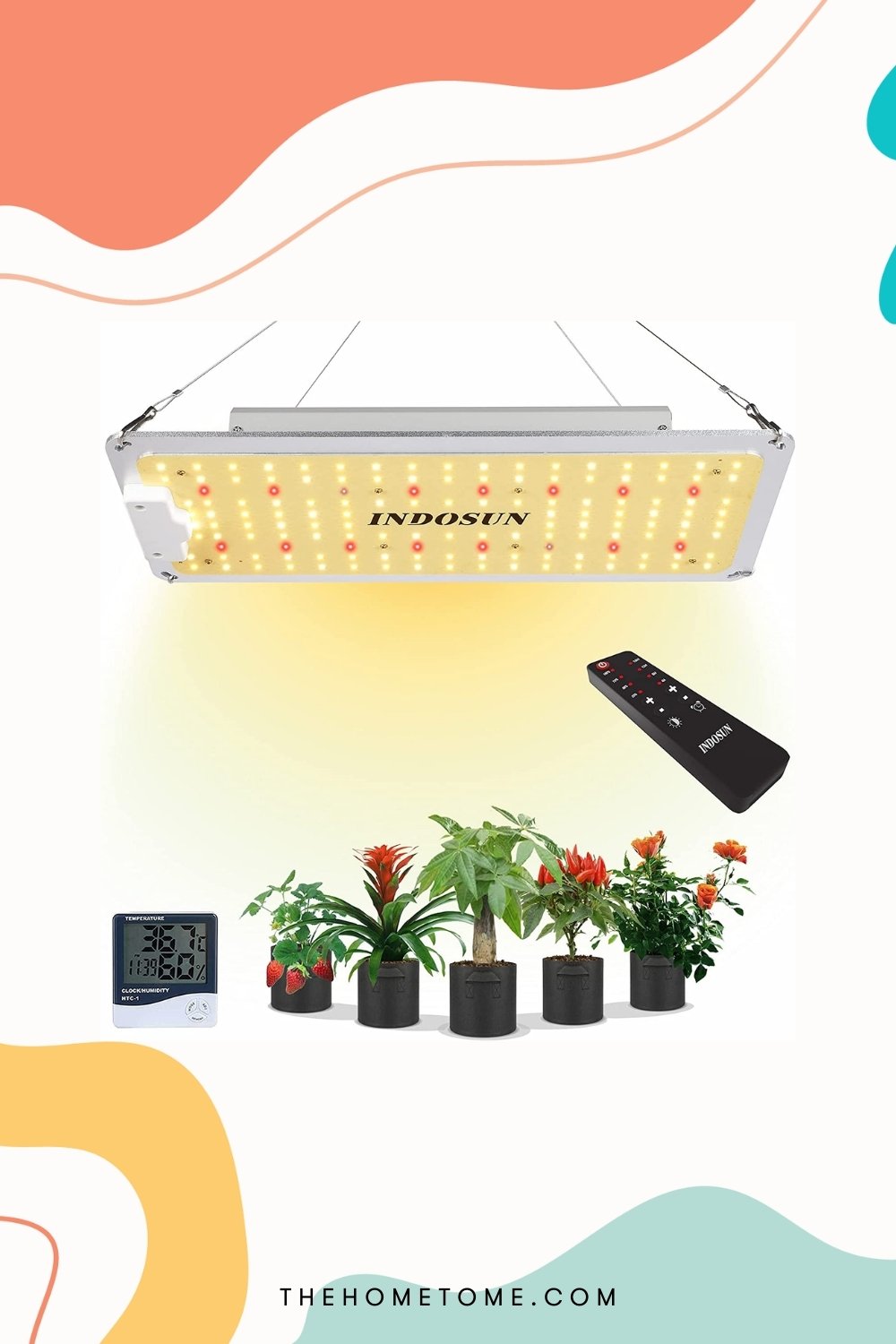 WHY WE LIKE IT:
Suitable for all kinds of indoor plants
High efficiency with lower energy consumption
Designed to complete plant growth cycle
Minimalist design
Affordable
Installation equipment included.
Basil is going to experience different stages of growth just like every indoor plant hence choosing a grow light that can take care of its light needs at every stage is great. INDOSUN 600W Led is suitable for all kinds of indoor plants, and it does have 4 dimmable modes that let you adjust the brightness according to the plant's requirements.
This LED grows light is energy efficient, so you can worry less about the electricity bill every time you turn it on. It is designed to provide full spectrum grow light that will encourage rapid plant response to growth while increasing the crop yield.
Other advantages that come with choosing this grow light are the low temperature and no noise features. It provides you with a no-noise grow light experience which makes it perfect for any home growers.
2. Relassy LED Grow Light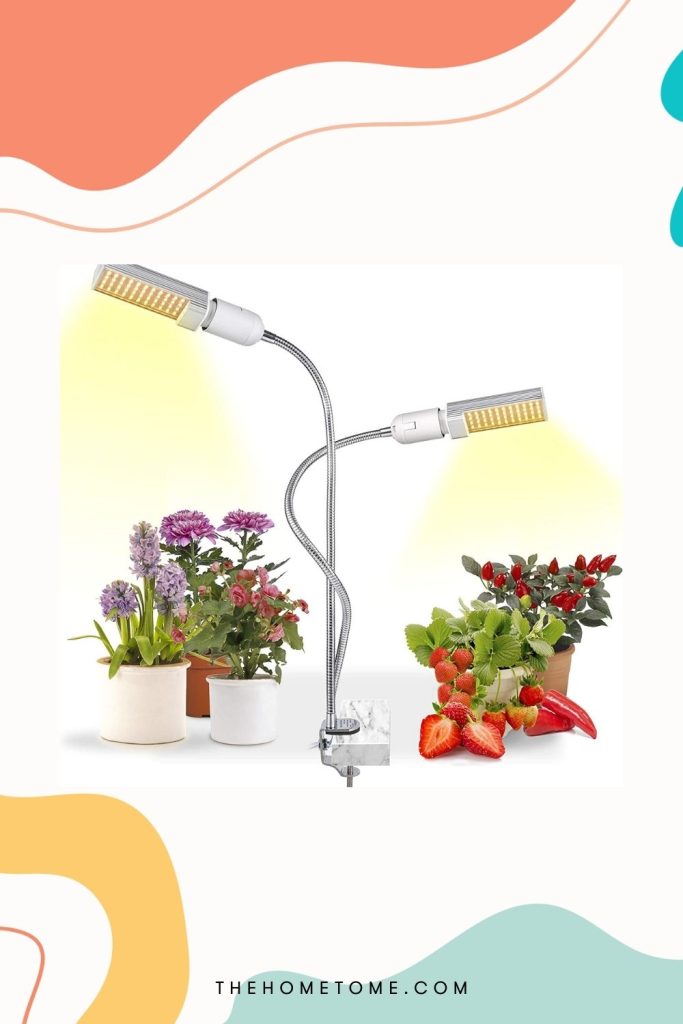 WHY WE LIKE IT:
Equipped with flexible gooseneck and rotatable bulbs
Similar to natural sunlight
Highly energy power efficient
Comes with a fin-shaped heat sink for better heat dissipation
Soft natural red and blue light.
Relassy LED grow light is one of the safest and ideal grow lights for basil and other herbs. This is a simple grow light designed to replace your light bulb, and it is also one of the best full spectrum sunlike grow lights.
It can help promote the growth of protein synthesis, blossoms, rhizomes, and bearing fruits. It's suitable for all indoor plants, especially basil. The grow light is equipped with rotatable bulbs.
This grow light contains all wavelengths of light, the maximum is from 380 nm to 800 nm. This produces red and blue spectrum grow light, and it's also built to be compatible with E26/E27 lamp heads. It can illuminate wider areas with its 120º beam angle of 18 inches gooseneck.
3. GooingTop LED Grow Light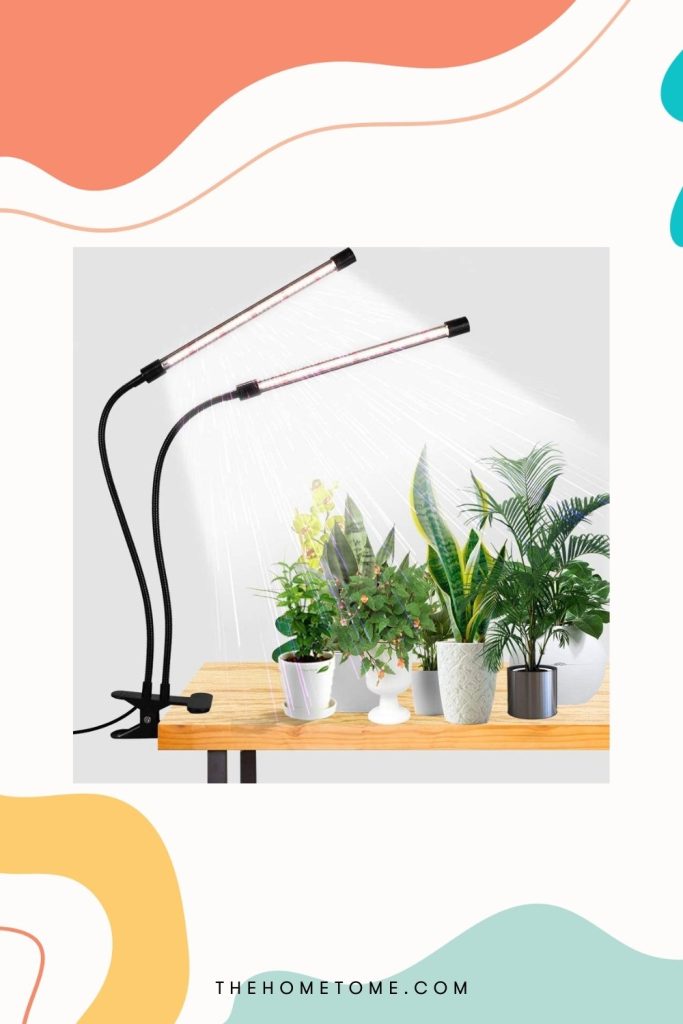 WHY WE LIKE IT:
Designed for most indoor garden plants
Comes with soft natural light
Easy to install
Designed with a sturdy clamp, so it can be clipped anywhere
Suitable for seedlings.
Looking for LED grow light that let you grow houseplants without any fuss? GooingTop LED grows light that is similar to sunlight, and it can automatically turn on and off based on your settings.
This is the safest and great choice for growing basil from seedlings, it is designed with 10 red plus 74 white LEDs. These are mini lights that can handle your indoor plants at any growth stage.
The light however is light, so you can sleep while it's on if you are sensitive to light. It is quite easy to install and comes with a flexible gooseneck and clamp. In addition, the peak wavelength is 660nm which makes it best for blooming and fruits.
4. Roleadro LED Full Spectrum Grow Light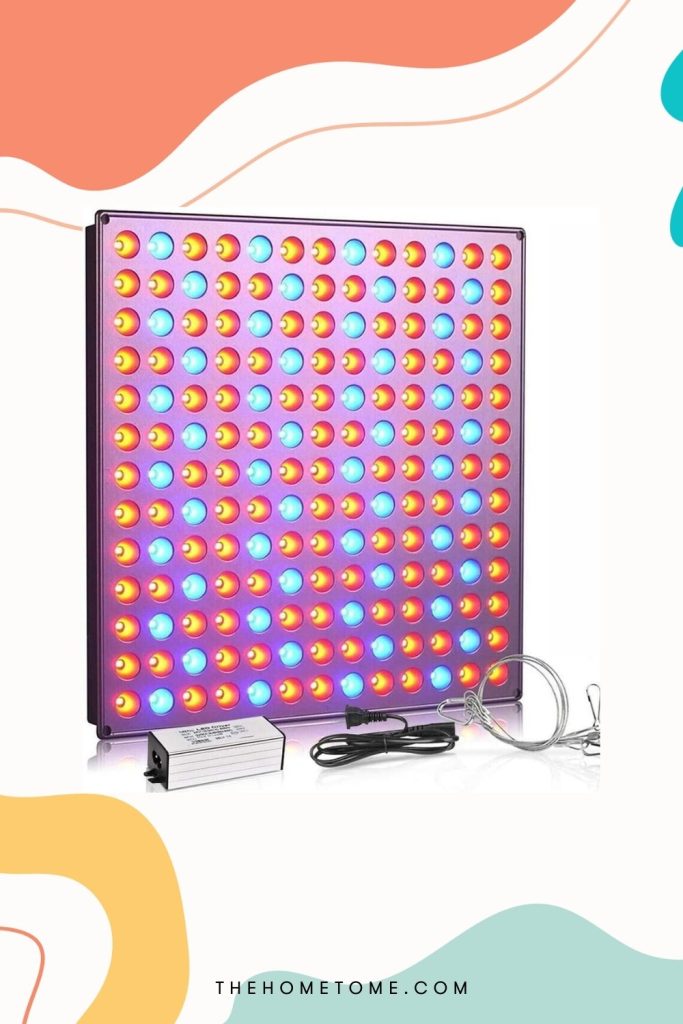 WHY WE LIKE IT:
Even light distribution
Suitable for seedlings and tropical plants
Designed with a diverse spectrum of light
Good structure
Easy to mount.
Roleadro LED grow light is the best option when looking for full spectrum grow light. It is tagged as the most useful grow light spectrum which is thanks to the proprietary spectrum with 460-465 nm, 620-740 nm, and 6000-6500k wave bands.
Roleadro grows light will enable you to grow delicate basil and promote the growth of tropical plants all year long as well.
You can also grow seasonal vegetables successfully in your indoor grow tent in the winter, summer, and fall with this grow light. Even with high power, you do not have to worry about heat dissipation, thanks to the aluminum cooling plate that helps disperse heat even on a low setting.
Roleadro Led grow full spectrum 75W grow light can be hung anywhere suitable for reaching your basil and indoor plants. These LED grow lights are lightweight as well, made with high-quality material and the seedlings light is suitable for indoor plants in soil and hydroponics.
5. GrowLED LED Umbrella Plant Grow Light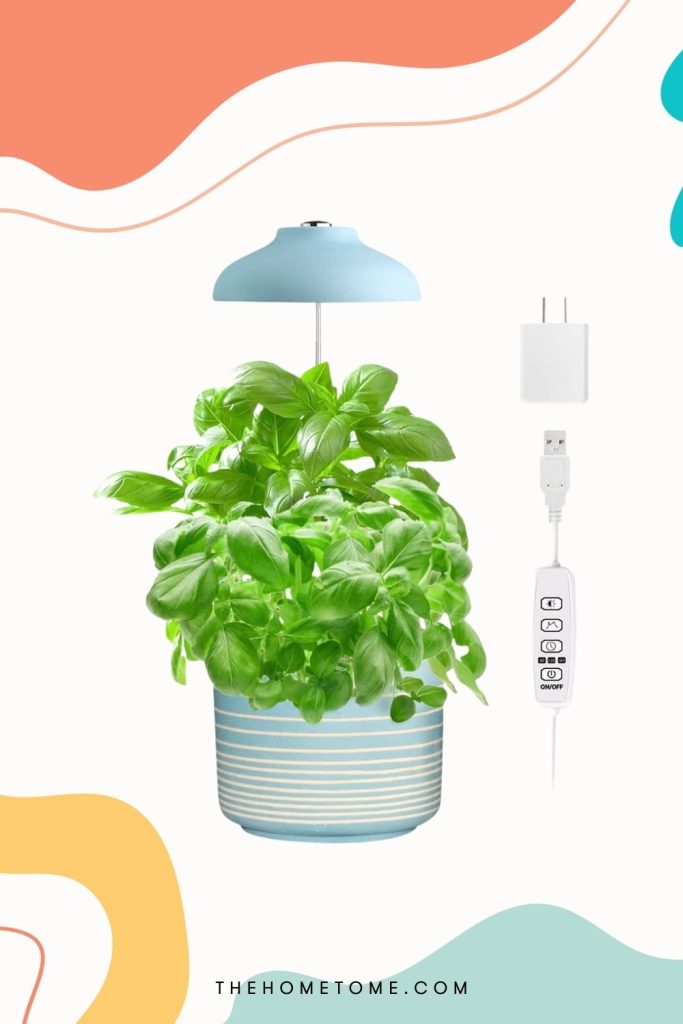 WHY WE LIKE IT:
Has built-in automatic shut timer
Easy to install
Great for seedlings
Adjustable height
5 volts low safe voltage.
If you will be growing a single basil plant with no other herbs then here is a grow light that can take care of it.
The glow light is very effective and has the right intensity to promote photosynthesis. GrowLED grow light also has cool white lights that make it more pleasant to look at. It comes with a built-in automatic timer to let you set how the on and off time.
The height is also adjustable, so you can always ensure your plants are getting the right amount of light. With its stylish design, it can be just more than a grow light, the umbrella's stylish design can easily suit your home decor.
This grow light requires no tool for the installation, it can be fixed with just two simple steps. This is regarded as one of the best LED grow lights you can get for basil, although it is only suitable for a single plant.
6. King Plus Full Spectrum LED Grow Light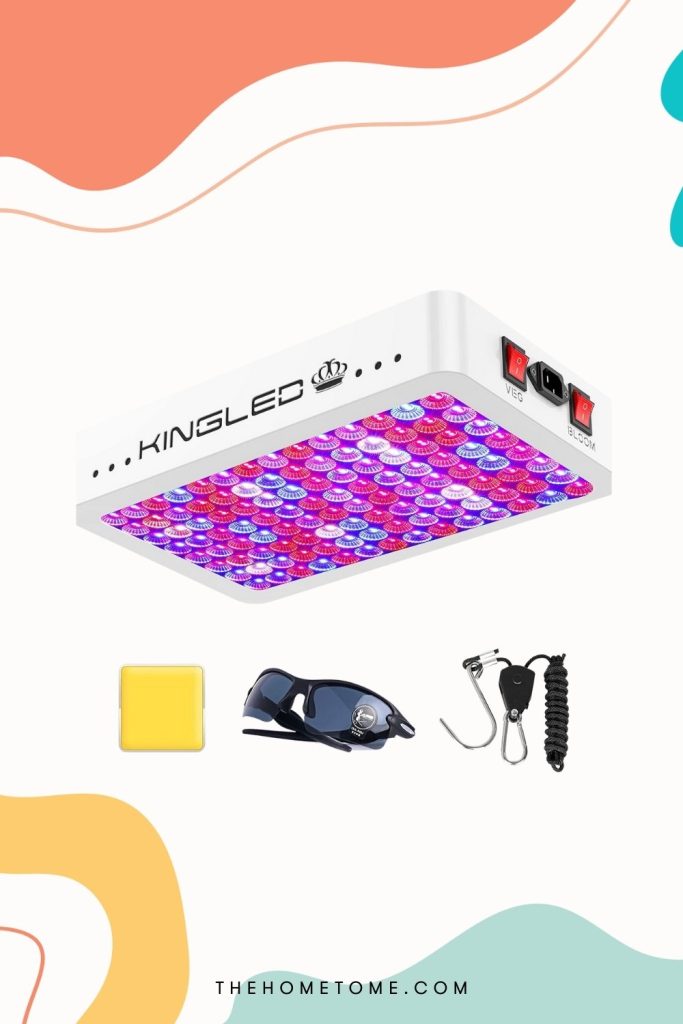 WHY WE LIKE IT:
Produces sunlike light that penetrates the root of plants
Energy efficient
Won't burn your plants
Ensures plants receive the exact light
Provides full spectrum light.
King plus full spectrum LED grow light is often found on the list of best grow light for vegetables, and it will do a great job for growing basil as well. King Plus 1200W growing lights can be used on both big and small greenhouses.
This is designed to provide a full spectrum of natural light for plants in different stages, from seedling to flowering.
This is a cost-effective grow light compared to other types of indoor LED grow light. It is designed to help plants complete their growth cycle, and it does have 3 different modes of a switch whose purpose is to provide proper lumen and light for your plant's health.
The 3 modes switch for this grow light are Veg, Bloom, and Veg/Bloom. King Plus is a durable LED grow light, the Veg light comprises the blue and white Led. The white LED light is great for seedling basil plants while the blue LED light is for nurturing or nursery the basil seed.
7. J&C LED Indoor Garden LED Grow Light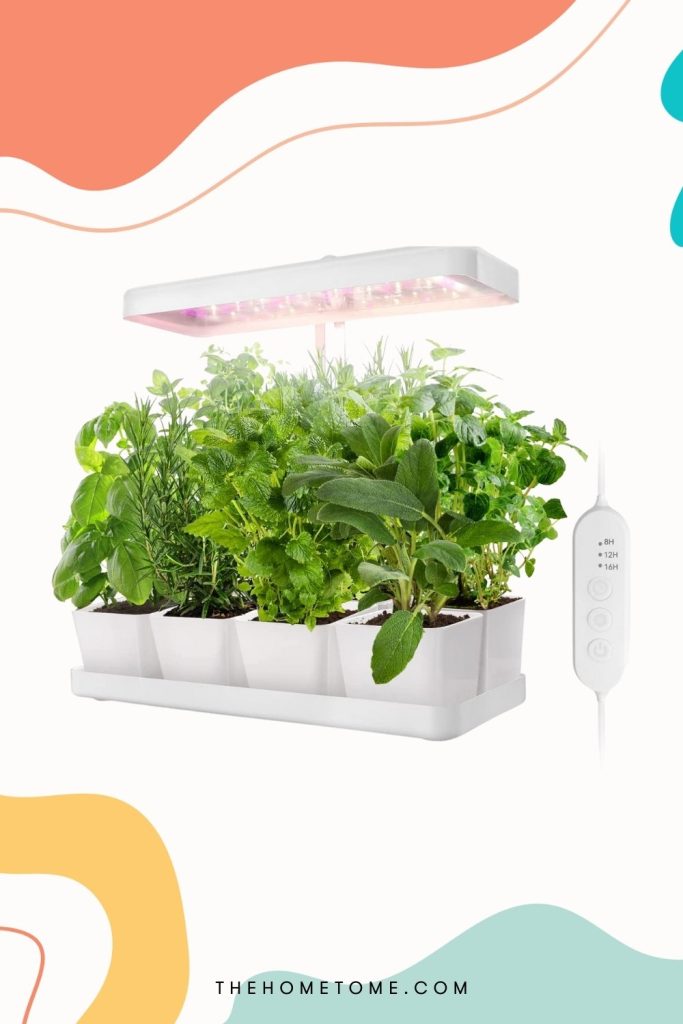 WHY WE LIKE IT:
No noise and no flicker
Easy installation process
Designed with a built-in automatic timer
Sturdy and high-quality design
Full spectrum illumination.
If you are looking to grow a healthy herb garden and not just basil, J&C LED indoor garden to grow light might be the right one to get.
This comes with a built-in smart timer, so your indoor herbs can the right amount of light. This is a full spectrum light with height adjustable function and with just 3 easy steps, you can install it.
J&C LED indoor grow light can help you plant your basil and herb plants during winter, fall, and spring when the light is low. It offers high-quality lighting and can be adjusted in height to provide the right amount of luminosity for each plant.
8. AeroGarden Harvest with Gourmet Herb Seed Pod Kit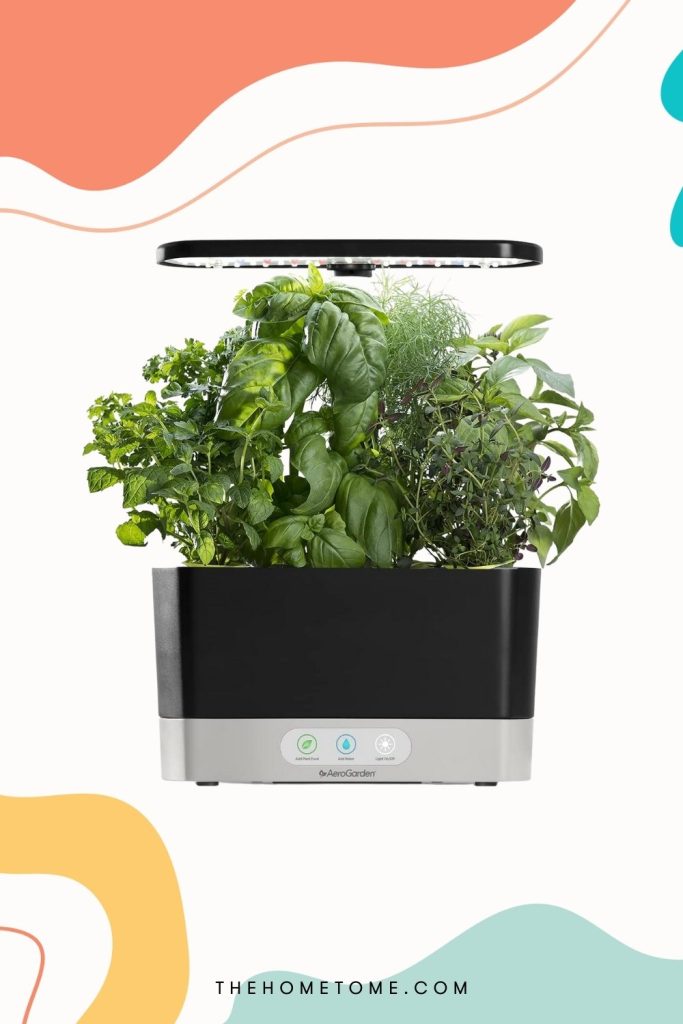 WHY WE LIKE IT:
Sleek LCD design
High efficient LEDs
Comes with a grow pod
Full spectrum illumination
Suitable for herbs and veggies.
Looking for an indoor herb light that lets you grow varieties? We have to agree that basil is not the only indoor herb we love.
AeroGarden LED grow light provides a full spectrum range for herb plants and veggies. You can enjoy growing common herbs like basil, parsley, rosemary, dill, sage, and thyme. This looks like a simple high-end counter kitchen top appliance with its sleek LCD design.
With the Gourmet herb seed pod kit, you can grow up to 6 plants at a time and there is also the control panel that will tell you when your plants need some water. This has been discovered to be faster and easier for growing plants indoors than outside.
If you are looking to create a desk garden then this is the perfect choice of grow light to consider. It is designed to maximize the growth of your plants while enhancing the beauty of an indoor garden.
How We Decided On The Best Grow Lights For Basil
The high performance of a grow light alone can't determine if it is worth investing in which is why reviews and other factors like capacity and energy efficiency come in handy. We have carefully decided on these grow lights after going through reviews, energy consumption, the spectrum of light, efficiency, light intensity, and design.
These grow lights picked have been tested on how similar the lights are to sunlight. Basil is one of the easiest plants to grow and care for but its ability to keep growing relies on how much sunlight it gets. Hence, we have picked grow light that can provide 6 to 8 hours of intense light without burning your basil.
If you are going to be growing basil seedlings indoors, we have picked King Plus Full Spectrum LED Grow Light to help with. While Roleadro LED Full Spectrum Grow Light is more suitable for tropical plants and delicate basil.
Lastly, we have also picked LED to grow lights with rotatable bulbs and a flexible gooseneck which allows you to place it in any direction to provide great light output. They are all designed to promote growth and let even the most delicate basil bloom all year long.
Frequently Asked Questions
Do grow lights work for basil?
Grow lights tend to give your basil the right amount of light it needs to flourish indoors. Growing basil indoors can be hard, especially in winter which is why a grow light is needed to help you increase harvest and grow your plant.
Can basil survive in artificial light?
Lighting is very important for your basil and yes, it will survive in artificial light, but you have to provide it with at least 16 hours of artificial light. Basil is difficult to care for indoors however if you can provide it with a daytime temperature of 65 to n75 degrees and a nighttime temperature that does not drop below 5o degrees.
How often should you water indoor basil?
Indoor basil needs water every 3 to 4 days if you first start growing it out. Basil likes to stay moist, so you can provide it with 1 inch of water daily to keep it moist but not soggy. To keep the roots growing, water it every 4 days or a week. Study the soil and take note of when your basil needs water.
How long should basil be under grow lights?
With direct sunlight, basil only needs 6 to 8 hours per day but with grow light, keep your basil under for 12 hours. Position the grow light 3 to 4 inches away from your basil plant and 12 hours a day is enough light for it. If your basil plant starts growing long leggy stems then this is an indicator that it is not getting enough sun, it is a plant that thrives mainly in warm weather.
What color light is best for basil?
Most growers pick lights based on how it affects the flavor and aroma of their basil plants. Greenlight produces more aromatic basil, the red causes the plant to grow spindly but larger leaves and blue will help it produce thicker vegetation. Each light has its benefit for your basil plants.
Wrapping Up
One very crucial way to keep basil plants alive indoors is to provide them with 6 to 8 hours of intense sunlight
The Basil plant will thrive indoors with the right care and many studies show that a high-quality sustainable grow light can keep the basil plant healthy for a very long time.
Also, it is hard to grow basil indoors during the cold winter months which is another reason LED grow light is essential.