The Coneflower is widely propagated not just for its colorful flowers but for its long-lasting bloom. Since they are perennials, they bloom year after year, unlike other flowering plants. A Coneflower is a common option for houseplant growers and gardeners who desire bursts of color for their environment.
The Coneflower is your perfect go-to if you need pops of color to enhance a drab-looking environment. Their brilliant colors can do wonders to the aesthetic effect in any environment.
The bloom season of the Coneflower plant is between June and October. The coneflower blooms for 2 months. Growers are advised to prune the plant after their bloom season has ended. The Coneflower is most attractive when they are bushy. Bushy growth is enhanced when old flower stalks are removed right before their bloom season.
We have provided a list of the most alluring cone flowers varieties to propagate today. You would find tips that would help you achieve a hitch-free propagation experience too.
Cone Flower Basic Information and Care Tips
This profile offers you the necessary information about the Coneflower plant.
| | |
| --- | --- |
| Botanical name | Echinacea spp. |
| Origin | North America |
| Light | Bright indirect light |
| Watering | Moderate watering |
| Temperature | 68°F-75°F |
| Toxicity | Toxic to pets and humans |
| Propagation Style | Outdoor propagation |
| Food | Balanced Granular Fertilizer |
| Humidity | Low humidity |
| Foliage color | Green |
| Flower Color | Pink, red, purple, yellow, green, white, and Origin |
| Susceptible Plant Issues | Root rot, Wilting leaves, Sparse growth, and Pest Infestations |
| Susceptible Pest infestations | Caterpillars, Beetles, Aphids, Bugs |
Adopt these tips and enjoy a hitch-free propagation experience.
Ensure you select a good spot before propagating this plant. Organic soil is the perfect soil for this variety. In addition, ensure the spot chosen allows good reflection of bright indirect sunlight. The Cone Flower would not thrive when exposed to direct sunlight over time.
Water the plants thoroughly and regularly spray their flowers.
Regularly check for pest infestations. Use mild pest insecticides to combat insecticides.
Gently snip off their flower stalks to move them indoors. Their colorful flowers can brighten your home's interior.
Apply fertilizers during their growing season which is between spring and summer. Be moderate when fertilizing them.
Regularly pull out weeds that may pop up as they grow.
Snip off young flowers to encourage faster growth. in addition, removing dead flowers enhances the growth of new flowers.
Propagate multiple varieties for mass plantings and a colorful garden.
Do not neglect this plant especially when they start blooming. Their flowers are most affected when neglected.
Avoid under or over watering your Coneflower. Use a moisture gauge to determine the dryness before watering.
Coneflower Plant: 9 Varieties to Propagate Today
The Coneflower is easy to propagate and to care for. Their growth needs are organic soil, moderate and regular watering, appropriate temperature, periodic fertilization, and a pest-free environment. These are the most colorful and attractive Coneflowers to propagate.
1. Avalanche Cone Flower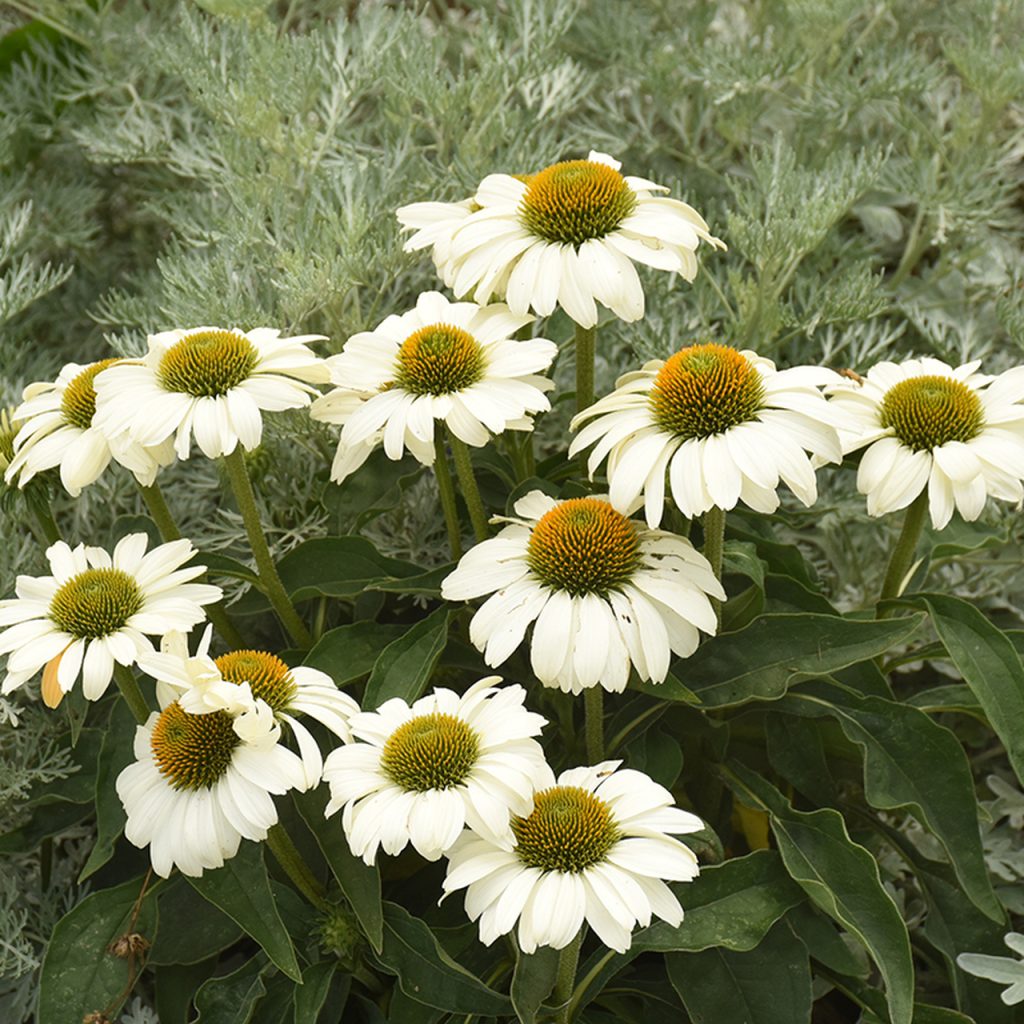 The Avalanche variety is widely propagated for the attractive blooms that brighten up the exterior design of any environment. The Avalanche Coneflower produces white flowers with yellow-green center cones. The Avalanche Coneflower is propagated through the division method, although this method requires utmost care and attention as this variety detests and reacts to root disturbance.
They are propagated as outdoor plants due to the brilliant blooms they produce. They tend to get bushy, so they are mostly grown in nursery beds. They have their origin in southeast America. This variety can grow up to 4 ft. tall.
They are low-maintenance plants as they require regular and moderate watering, appropriate temperature, and periodic fertilization to thrive. The Avalanche coneflower is susceptible to Japanese beetle and Aster yellow disease.
Growers are advised to regularly watch for these plant problems and combat them immediately upon detection. The appropriate time for fertilization is during their bloom season which is between June to August.
2. Cheyenne Spirit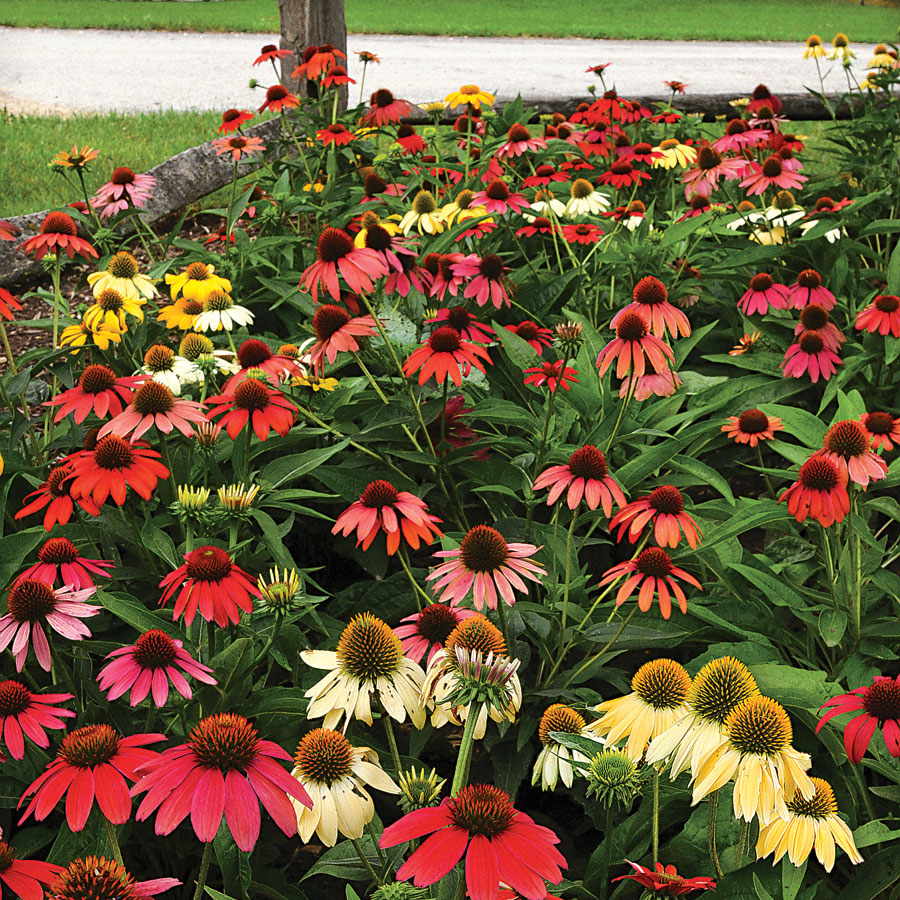 The brilliant foliage color of the Cheyenne Spirit's blooms brings radiance to any environment they are grown in. Their flowers are perfect for adding pops of color to any drab environment. Due to their colorful, they are widely grown to heighten the aesthetic effect of any environment. This variety has a wide color range making their blooms an attractive lot to behold.
The Cheyenne Spirit is arguably one of the most striking Coneflower varieties. Houseplants growers and gardeners consider it a necessary addition to their exterior design.
They easily beautify your landscape and are perfect options for mass plantings. The Cheyenne Spirit has its origin in North America. They can grow up to 30 inches tall. They are affordable to purchase and are low-maintenance plants.
All they need to survive is bright indirect sunlight for about 5 hours daily, regular but moderate watering, organic soil, a balanced fertilizer, and a pest-free environment to survive, this variety should be kept away from pets and kids. Growers are advised to snip off young stems to boost growth and dead flowers to allow newer blooms.
3. Daydream Cone Flower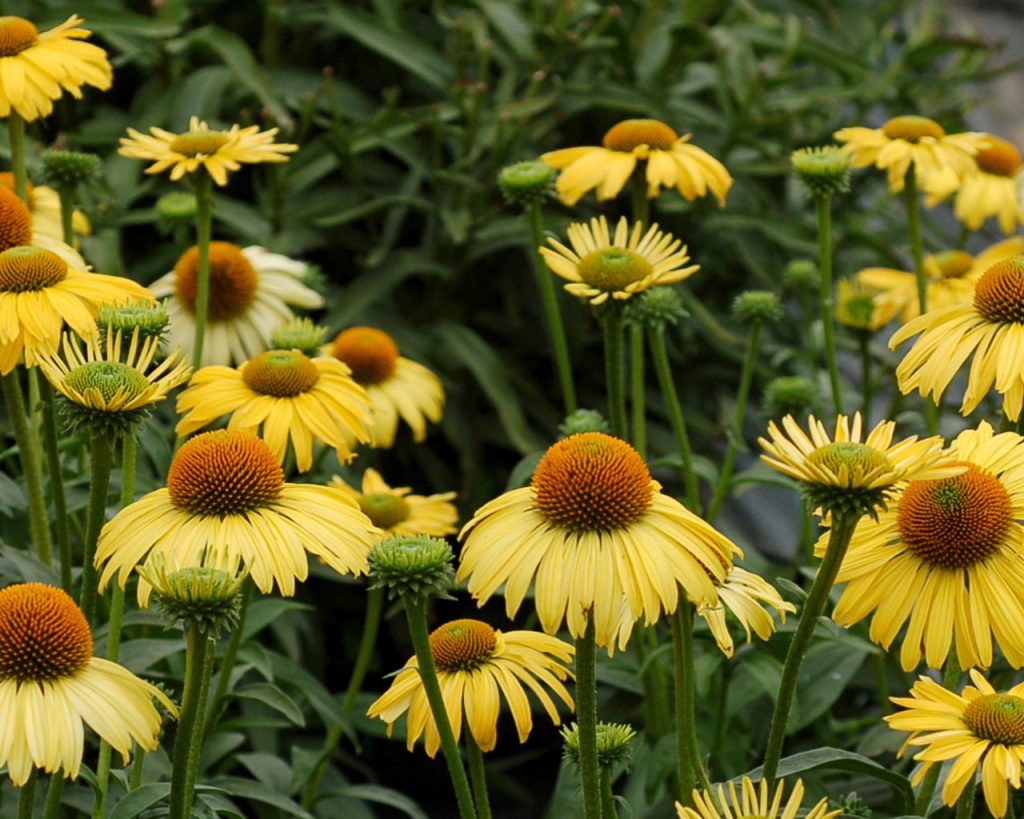 The tall stems of this yellow beauty create a sunflower effect in any environment they are grown. Their stunning flowers. They can keep blooming for months if their faded and dried flowers are regularly removed. Between midsummer and early fall is when they bloom.
They can grow up to 21 inches in height and 18 inches in width. Although they are grown outdoor for their flowers, some growers wait till their blooming season is over before moving the flower stalks indoors. This is in a bid to enhance the interior appearance of their homes. In other cases, the Daydream Coneflower is used as bouquets or housewarming gifts.
When moved indoors, growers are advised to keep the flowers in a clean jar of water; the water must be changed regularly. The flowers must be situated in well-lit environments, so they do not lose their color and vibrancy. Your freshly cut Daydream Coneflower would last longer if you add a minimal amount of bleach to their water. This keeps the water clean and prevents bacteria build-up
4. Double scoop Cranberry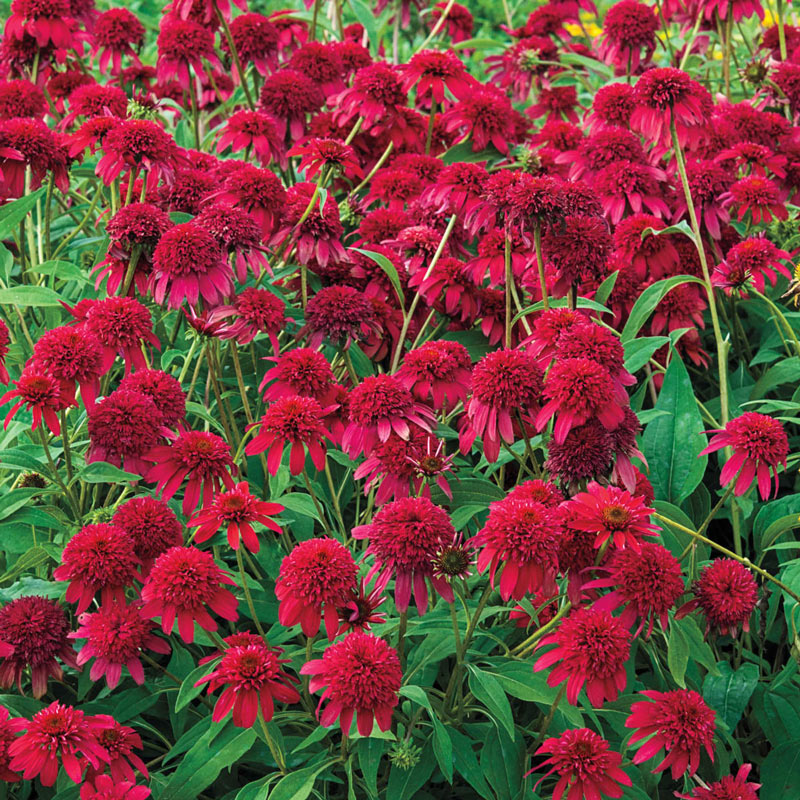 This red beauty is amongst the most attractive Coneflowers to propagate. Their unique blooms appeal to every onlooker and can match the exterior theme in any home. The vibrant color the Double scoop cranberry exudes when it blooms is attributed to the reason most coneflower growers prefer this species.
They are very easy to grow and maintain, hence they are good options for beginners. The Double Scoop Cranberry offers you striking flowers for a beautiful bouquet. They can be grown in nursery beds and containers. You can move them indoors once their blooming season has ended, but this variety thrives better and produces a brilliant color when grown outdoors.
This variety can grow up to 3 ft. in height. They thrive in temperatures between 65 °F-78 °F. You can consider them for mass plantings and landscape designs. This variety is propagated through the division method.
All they need to survive is organic soil, proper watering and temperature, and a pest-free environment. If grown in containers, ensure you use a well-drilled container for potting as this allows free flow of water.
5. Greenline Cone Flower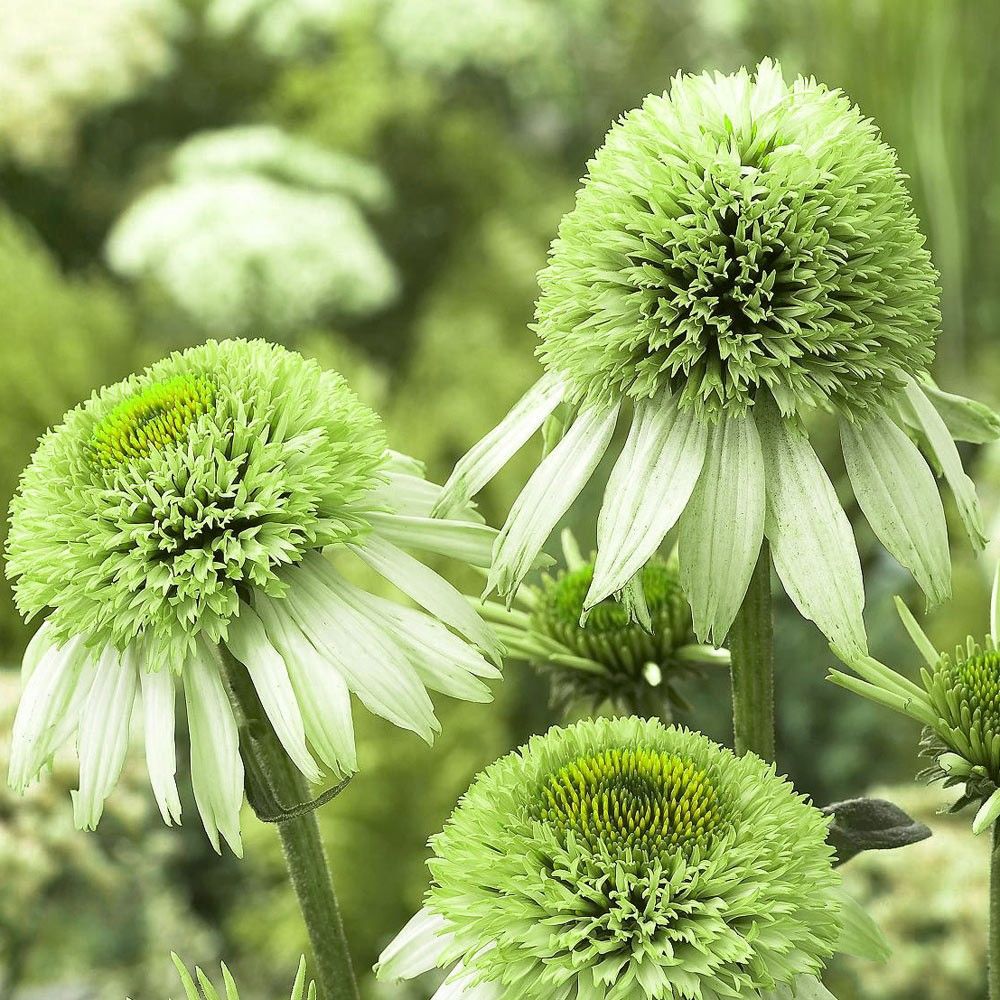 The alluring green foliage of this variety easily accents any environment it is grown in. The vibrant color of the Greenline Coneflower makes it top the list of the most attractive varieties to propagate. Their beauty is complemented when they are grown in attractive and colorful containers.
You can consider using a white container, and they are also perfect for white-themed decorations. They can be ordered from nurseries or credible online plant stores. They thrive in warm temperatures. Growers are advised not to fertilize this variety during winter as they go dormant in this season.
Ensure they are grown in a location where they can receive bright indirect sunlight daily. Sufficient sunlight preserves and enhances its flowers' color. When watering them, ensure their soil does not get swampy.
Check the moisture level of the soil before watering. In addition, ensure the flowers are thoroughly watered to keep them refreshed, neat and attractive. Watering the flowers also wades off pests that may be lurking around the plant.
6. Pow Wow Wild Berry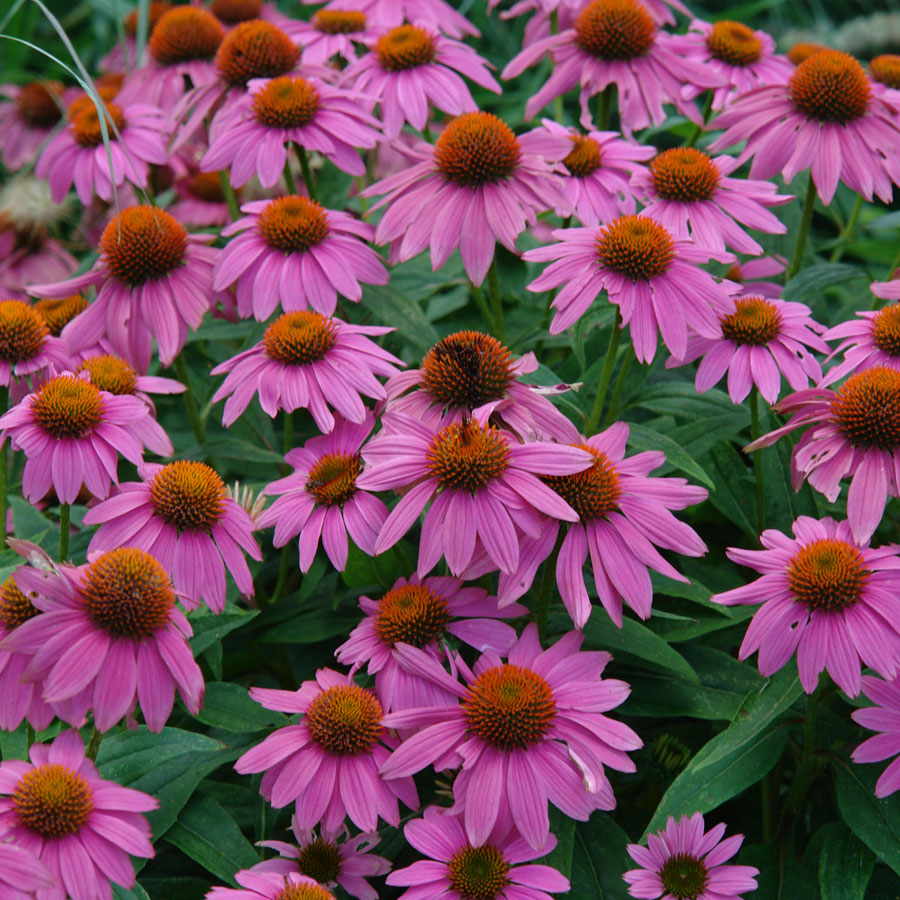 This variety produces purple-pink to magenta flowers when they bloom. When properly nurtured, they retain their colorful bloom even as they mature. This variety can be grown in containers and nursery beds. They can grow up to 24 inches in height and 16 inches in width.
They have their origin in North America. They are resilient plants, so they can withstand uncomfortable growing conditions longer than other varieties. Place their colorful blooms in beautiful flower vases around your home and watch them enhance the interior decoration of your home.
Common challenge growers face when propagating this variety is the fear of wilting or drying flowers. Watching your beautiful flowers wilt can be disheartening. This can be avoided if the Pow Wow Wild Berry is grown in a location where it can receive adequate sunlight.
In addition, watering and spraying them regularly also preserves and enhances the vigor of its flowers. Regularly watch out for pests, so you can combat them before much damage is done.
7. Secret Passion Cone Flower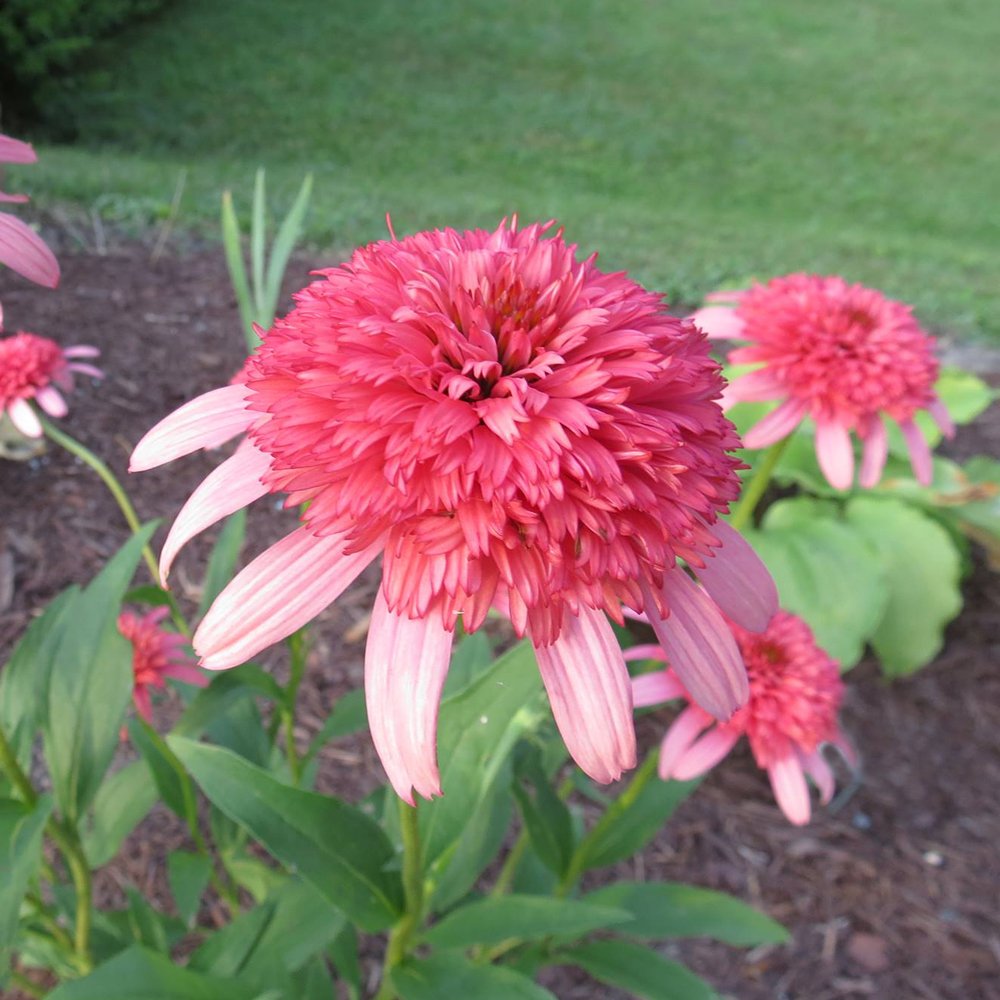 The Secret Passion is also referred to as the Black Samson Secret Passion. The secret passion flowers have a striking combination of pink and red foliage color. Their roses are red while the ray-like petals surrounding the rose at the center are pink. They are most attractive when grown alongside other coneflower varieties.
They can grow up to 3 ft. in height and 3 ft. in width. Growers are advised to cut back early growth to encourage the growth of more flowers. They are most attractive when they are bushy. The Secret Passion does not tolerate root disturbance.
This implies you must provide utmost care and attention when transplanting as their growth can be inhibited during this process. If grown in containers, do not repot except when necessary. You are expected to only repot them when they outgrow their pots or even plant issues such as root rot or over-fertilization occur.
Grow your Secret passion in organic soil, water it thoroughly, and ensure they are positioned where they can receive sufficient sunlight. You can be assured of a healthy bloom during their growing season.
8. Double-decker Passion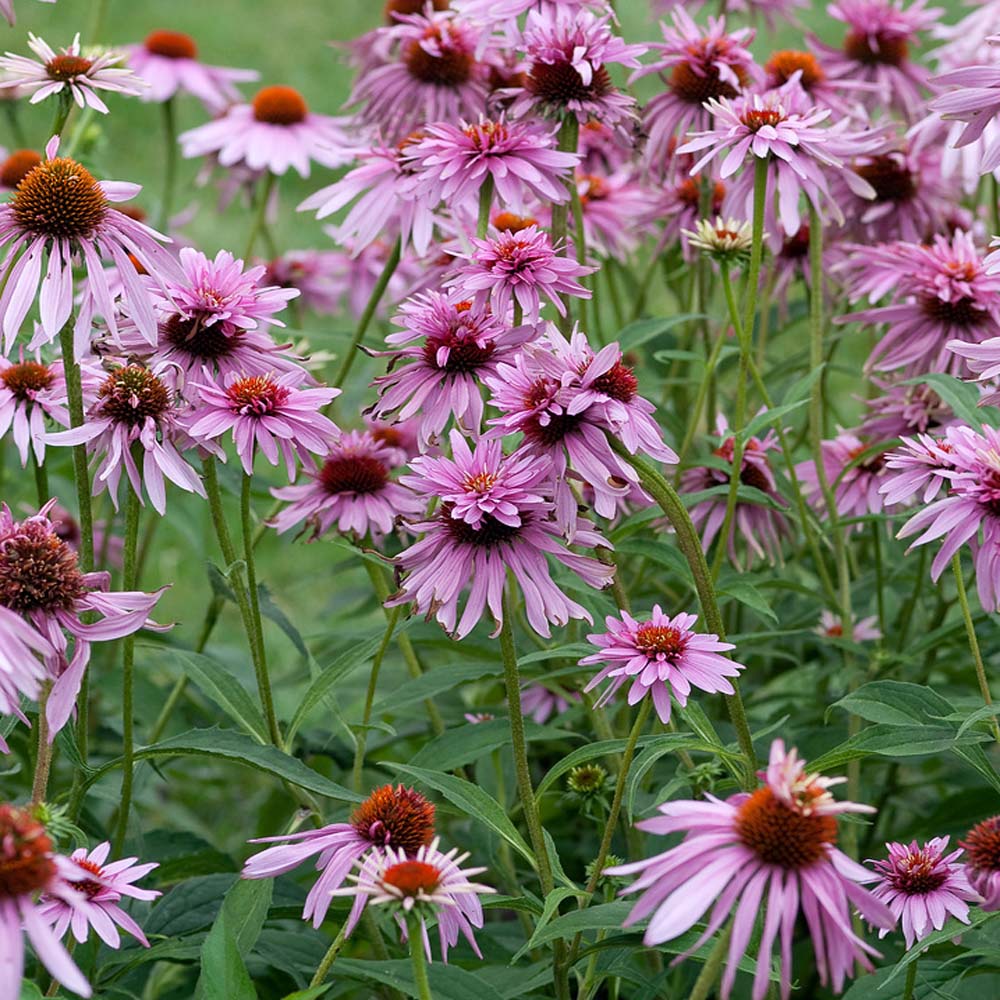 This decker is considered the most exotic coneflower plant amidst other varieties. Unlike other varieties, the Double Decker Passion has a unique foliage appearance. For flower design, the Double-decker has tendrils surrounding the lower base of the flower while there is a tiny green pup at the center of the upper flower base.
In addition, they have purple rays at their bottom. This variety is rare, so it may be more expensive than other varieties. They are mostly ordered from online plant stores. They can be grown in containers and as ground covers.
They are grown as outdoor plants due to the colorful bloom they exude during their growing season. After their bloom season has ended, you can pluck their flower stalks to move them indoors.
Get an attractive flower vase to complement their beauty but ensure you provide them with proper care and attention. When moved indoors, keep them away from drafts and do not place them in a poorly-lit environment.
9. Tiki Torch Cone Flower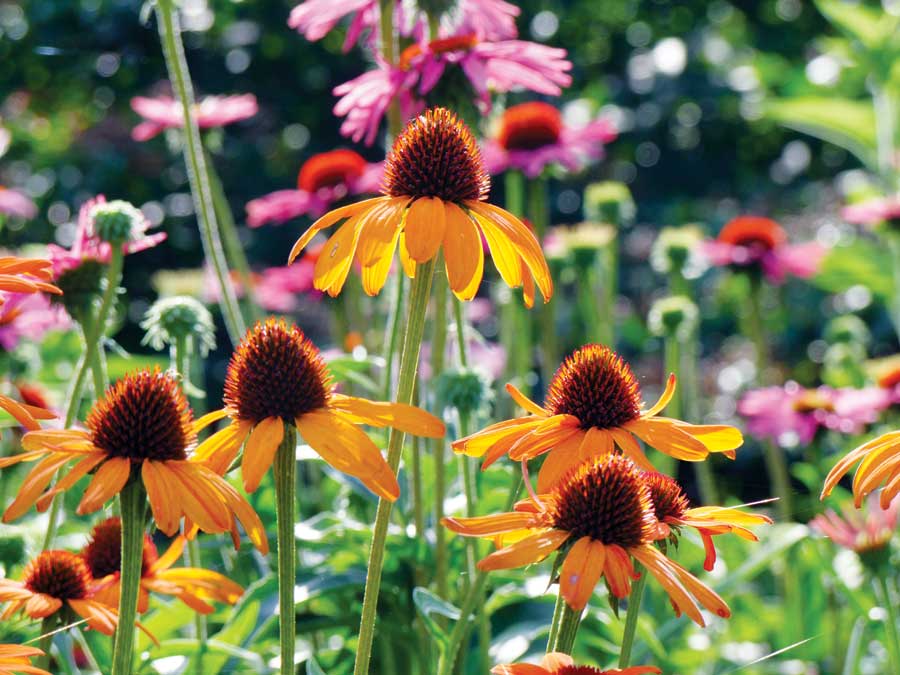 The cure to a drab-looking environment is a Tiki Torch Cone Flower. This Coneflower has a striking foliage color that easily compels attention. Their showy flowers brighten up the outlook of homes especially when they are tidy and pruned to a defined shape. The foliage color of its rose is burnt orange while its ray-like petals are orange.
This striking plant is perfect for landscape designs, ground covers, and mass planting. You can plant them alongside other colorful varieties for a color blast in your home or garden. If you expect a colorful bloom, you cannot grow them indoors.
Their flowers can only be moved indoors after their bloom season. This is because the Tiki torch cannot receive the required amount of sunlight needed to produce flowers when grown indoors. They are easy to maintain and are perfect options for a colorful bouquet. When grown in containers, ensure you choose ones that can match the size of the plant.
Oversized or undersized containers can cause problems for your Tiki Torch. For mass planting, ensure they are well spaced to prevent cramping that could lead to the plant being deprived of the adequate amount of nutrients needed to thrive.
Conclusion
We are certain there is more than one Coneflower variety that caught your attention.
If you are torn between choosing a variety to propagate, rate all the varieties on a scale of 1-10 and propagate the variety that tops your list.
Any of these varieties would be a great addition to your garden or home's exterior. We wish you a stress-free propagation. Upon deciding, kindly inform us of the "chosen" variety.
More plant varieties list: