Do you enjoy the coffee or drink options Dunkin' offers, but wonder if they have sugar-free drink options, especially for your dieting or keto-living lifestyle?
Dunkin' provides customers with the opportunity of customizing their coffee and espresso drinks with their offered delicious drink flavors according to customer preference. Also, there's the available option of having sugar-free syrup flavor shots that are unsweetened and free from artificial sweetness.
Yes, Dunkin Donuts has flavor sugar syrup shots that are unsweetened and sugar-free. These flavor shots are free from artificial sweeteners or artificial dyes and are a go-to for when you're on a diet or keto. These flavors include; toasted almonds, French vanilla, hazelnut, raspberry, etc. 
Here's a short write on the sugar-free flavor shots Dunkin' Donuts offer and how they are uniquely different from the sugar flavor swirls available nationwide. 
Interesting Facts About Dunkin Donuts Sugar-Free Syrup Shots
The Dunkin syrup flavor shots are sugar-free and unsweetened flavor drinks that are free from artificial sweetness or artificial dyes unlike the flavor swirls syrup that contains a dollop of sugar, sweet and indulgent.
When ordering a medium-sized drink or beverage, bear in mind that the sugar-free flavor syrup adds about 5-10 calories, unlike the sugar flavor swirls which add about 150-160 calories to your beverage.
The Dunkin' Donuts sugar-free syrup flavor shots are non-dairy and are great for customers on a diet or who love having delicious drinks. While the syrup flavor swirls are made with dairy products, except for the mocha flavor swirl.
Dunkin' Donuts offers six varieties of sugar-free flavor shots syrup with are unsweetened and pro-diet. These varieties include Toasted almond, French vanilla, Blueberry, Coconut, Hazelnut, and Raspberry.
At Dunkin, there's also the available option of adding sugar-free sweeteners to your drink, they are called Splenda packets but also contain maltodextrin, which can spike your blood sugar level. So you're advised to use stevia drops instead as a sugar-free sweetener.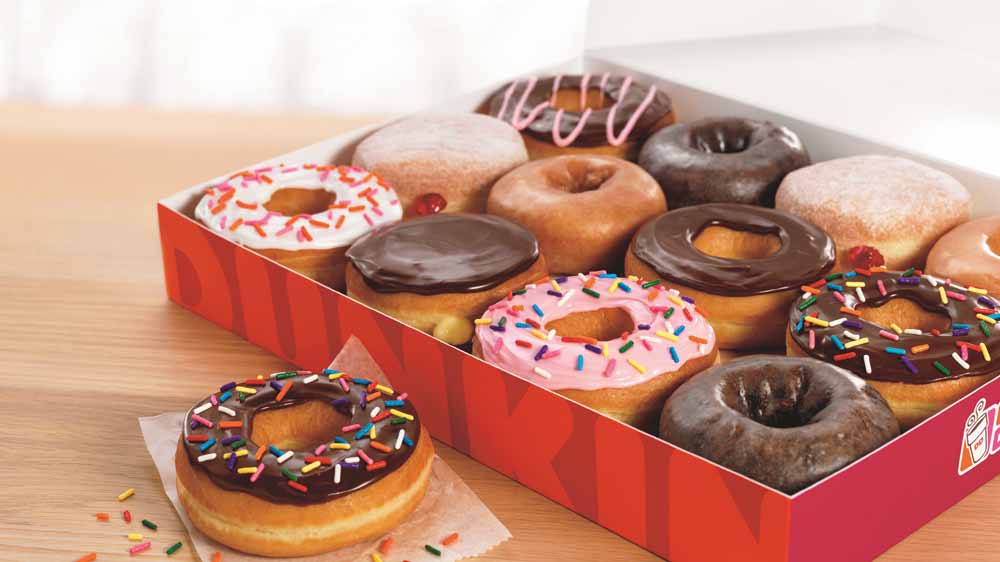 The Dunkin Donuts Sugar-Free Flavor Shot Syrup Varieties
Although we've established that there are about 6 popular Dunkin' Donuts sugar-free flavor shots for your coffee or tea; here's a short write on each of the offered flavors.
1. Caramel
The usual regular caramel flavor is filled with sugar and more calories when taken, however, the Dunkin sugar-free caramel flavor shot will save you from excessive sugar consumption intake.
It still has the same richness and caramel smokiness enjoyed with regular caramel, which is an added plus. This caramel flavor pairs best with the Signature Iced Latte. If you haven't, try this combo today!
2. Raspberry
Although raspberry isn't a usual coffee flavor taste many of us have tried it.
This sugar-free raspberry flavor shot from Dunkin Donuts is fruity and bursting with an interesting berry flavor that pairs well with coffee. These are best paired with tea like black tea, iced teas, etc., and is best to avoid taking them with milk-based drinks. 
3. Hazelnut
This is a popular flavor shot because it provides the nutty flavor and key aroma people enjoy in their coffees and is allergen-free. This flavor pairs well with most Dunkin iced or warm coffee and mocha. So try pairing them today. 
4. French Vanilla
The French vanilla sugar-free flavor syrup offers a sweet and fragrant aroma. It is best mixed with other flavors and drinks, which helps to enhance its taste. This flavor mixes well with Dunkin's coffee or tea and especially with iced lattes.
5. Toasted Almond
If you're a lover of almonds or nutty flavor but don't want it to overwhelm your drink, this flavor is a go-to. It pairs well with milk-based coffees and easily with most Dunkin coffees and a mocha swirl. Leave a comment on which flavor combo you enjoyed most. 
6. Coconut
This flavor offers a sweet, creamy, and rich taste, that can be easily mixed with any Dunkin drink flavor. The best time to launch this flavor is during summer and pair it with other summer drink flavors.
Conclusion
Sometimes we love our drink flavors or syrup bursting with sugary goodness and sweetness overload, whilst sometimes we would like to tone the sugar intake down especially with on a diet.
Dunkin' Donuts offers an amazing variety of sugar-free syrup drinks that you can have and still enjoy a sweet, rich yet aromatic taste. These flavor syrups pair well with their coffee, iced latte, or iced tea. Try these sugar-free and low calories flavors today and leave a comment.