How can I make the bottom of my stairs more interesting? The door at the bottom of the stairs is just as important as other parts of the house and from minimalist, architectural stunner to dramatic corkscrew design, there is always a unique and beautiful door design you can get for the bottom of your stairs.
The stairs can be far from ordinary if you know how to complement the bottom with the right door.
The staircase serves an important function in the house, but it is not only functional but can elevate the house also, it enables you to get from point A to B hence it should not be ignored. You can put the bottom of the stairs into the spotlight by remodeling and a door sure comes in handy.
Every homeowner wants a house decor that has guests stopping in their tracks to compliment their home and the stairs are often ignored and talk more of the bottom.
Many people think the layout of the stairs will determine the type of door you choose to go for however this is not the case at all. So, whether you are planning to remodel the stairs or simply have a modern well-designed door paired with your stairs, we have rounded up 10 ideas of door that works for the bottom.
Door At The Bottom Of The Stairs Design Ideas
Having a door under your stairway is not only to beautify it, but it can enhance privacy if you plan to store things under it.
However, if you are looking for ones that do not block the beauty of your home or rather help make use of the space under your stairs then here is a list of functional and stunning doors you can install at the bottom of the stairs.
1. Sliding Door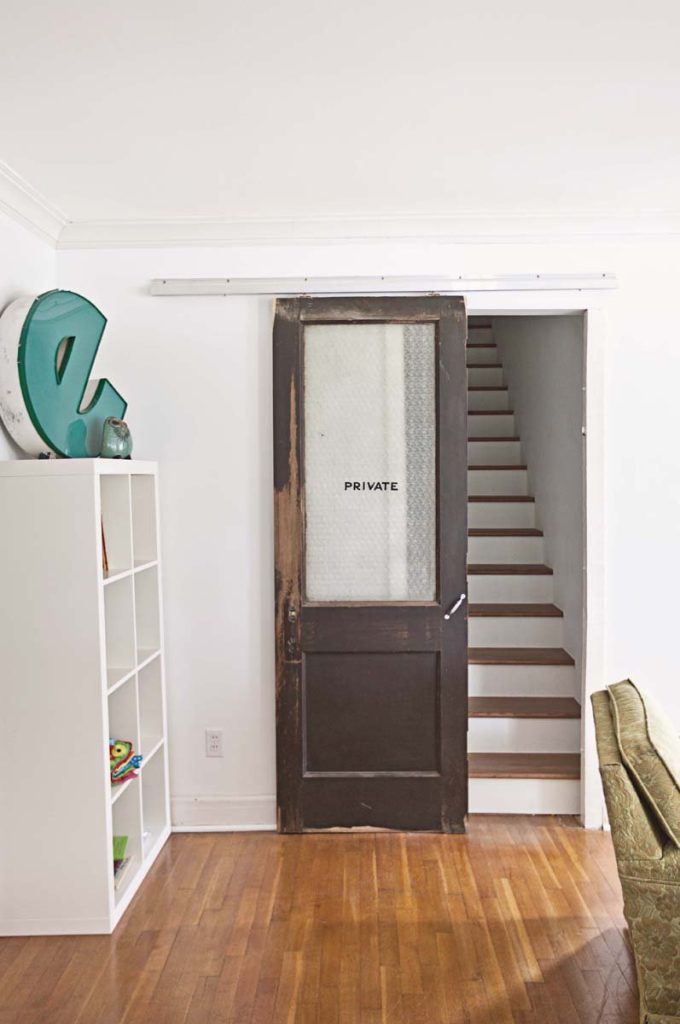 The sliding door is one that works for any space, so it will definitely look great at the bottom of the stairs. There are also lots of materials you can explore for sliding doors, it does have some elegant and classy look that will ensure your sliding door stands out while also ensuring you have some privacy without blocking the view.
Sliding doors are not just suited for the main entrance, they have been around since the first centuries in Roman houses, although there is no evidence that they were invented by the Romans. So, they are a cool option for the door at the bottom stairs.
2. French Glass Door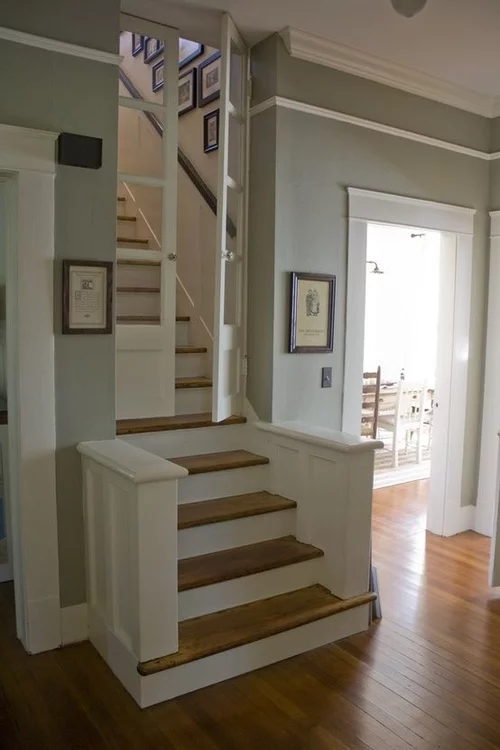 French glass doors have some interesting functions and work for designing point of view too. It can offer security, and it makes the entrance look less awkward and closed off as well. Many believed French doors are meant for the main gate, but they actually do look attractive as the door at the bottom of the stairs.
This is easier to work with especially if your building regulation stipulates that there must be 400 mm space from the door or swing of the door to the bottom of the stairs.
3. Sliding Barn Door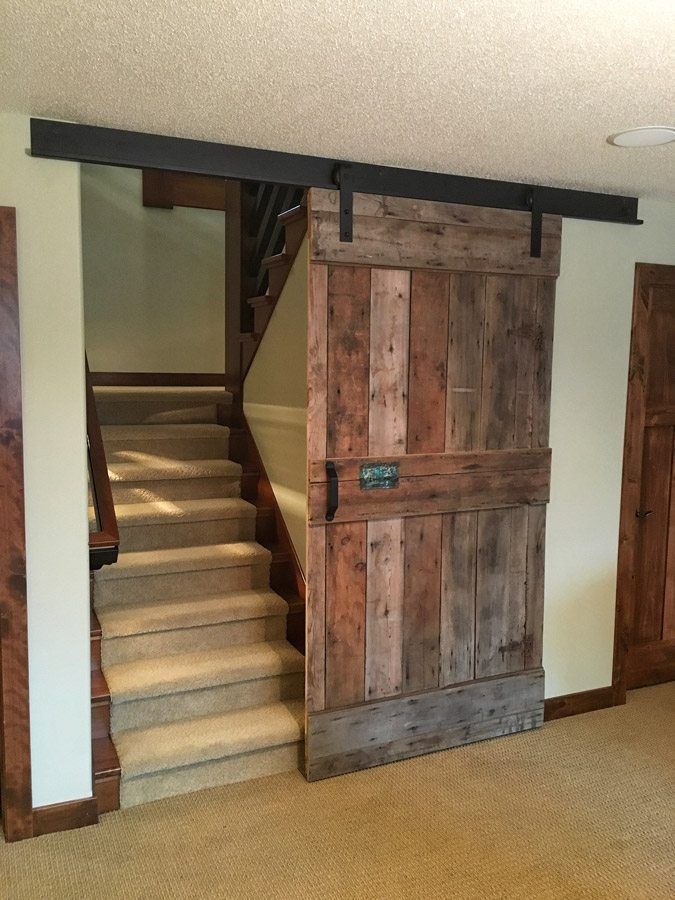 Another unique idea of the door for your bottom stair door is the sliding barn door. This is a modern design that can stay intact for a very long done if it is installed properly. The barn door is also a more affordable option and there are ways you can have this done yourself too.
Sliding barn doors are creative for bottom stairs and can complement simple interior stairs. Also, it ensures you are not violating the code violation of the building that states 400 mm space from the bottom of the stairs and door.
4. Cross Bar Doors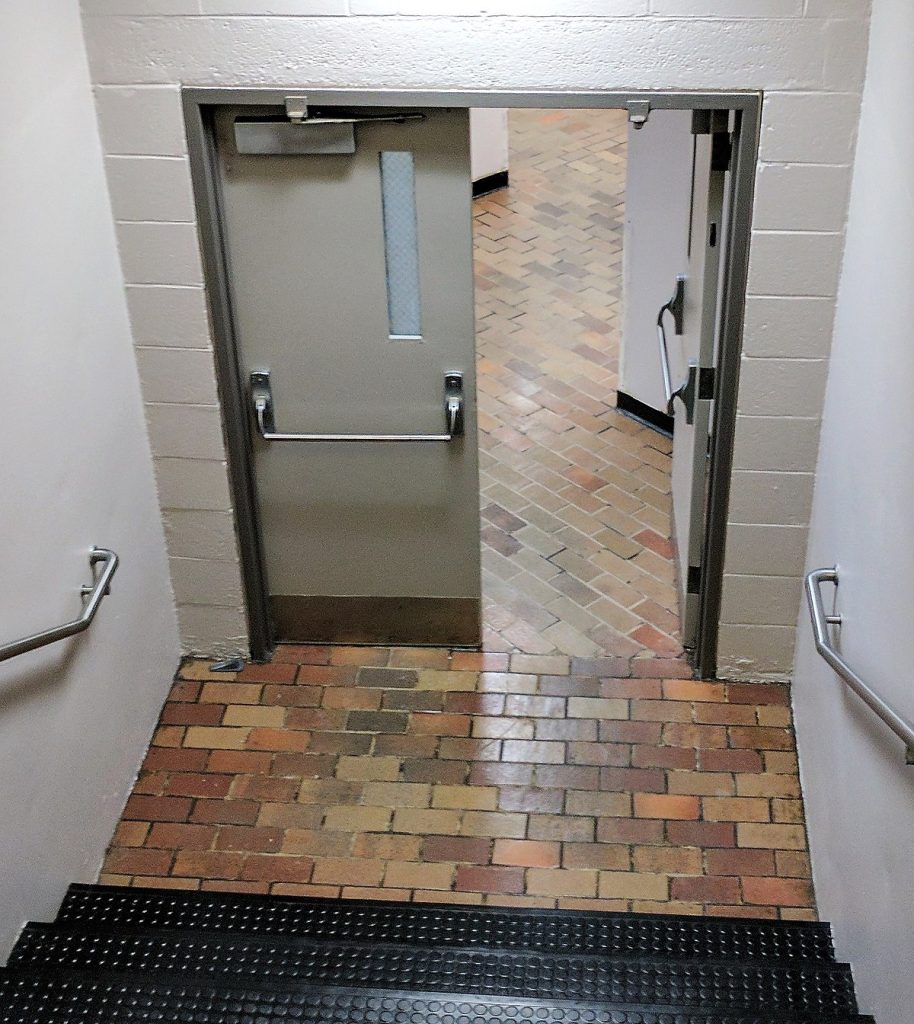 Crossbar doors are famous at saloons but if you are looking to make your hallway stairs look gorgeous then cross bars can help do the trick. Many believed doors facing the stairs, create a challenging feng shui layout which symbolizes the loss of wealth to avoid this, you can install a door that is quite far from the stairs and crossbar.
5. Modern Glass Door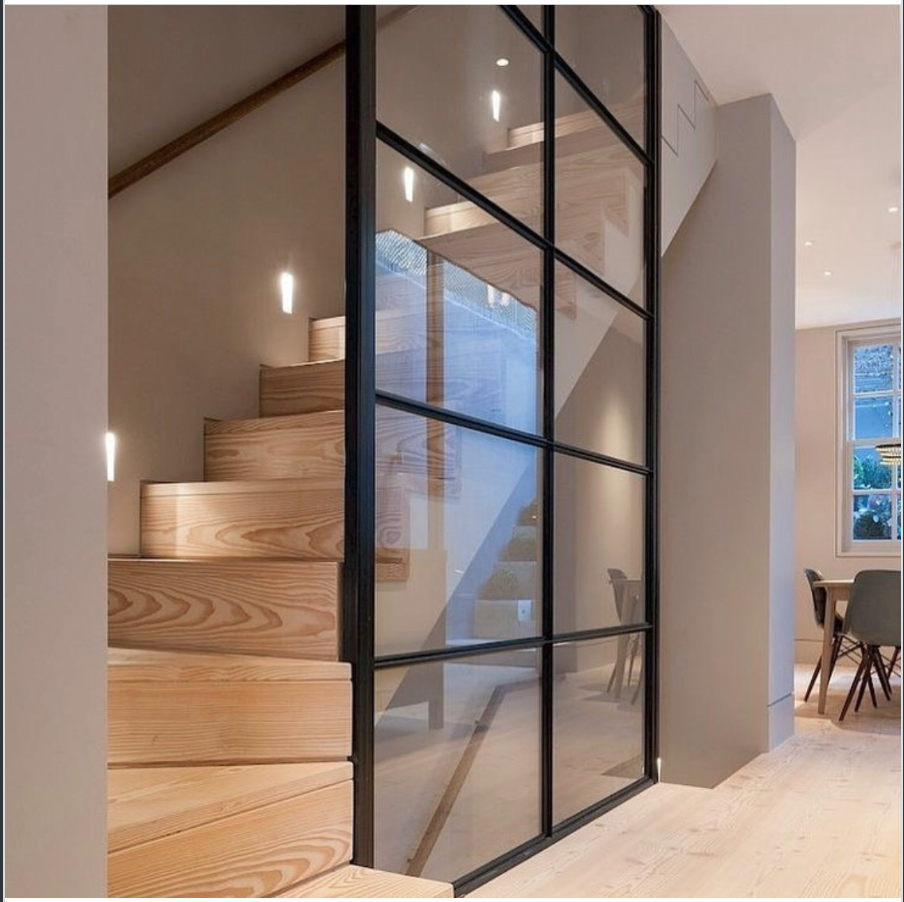 Want a safe door that keeps all the energy locked in and won't create any challenges for you, the modern glass door is a great choice. The set-up however plays a lot of roles on the belief of feng shui of the door facing the stairs. So, since is mainly the door for the bottom of the stairs and not exactly the entrance door then it will do great.
6. Stairway Bookshelves Door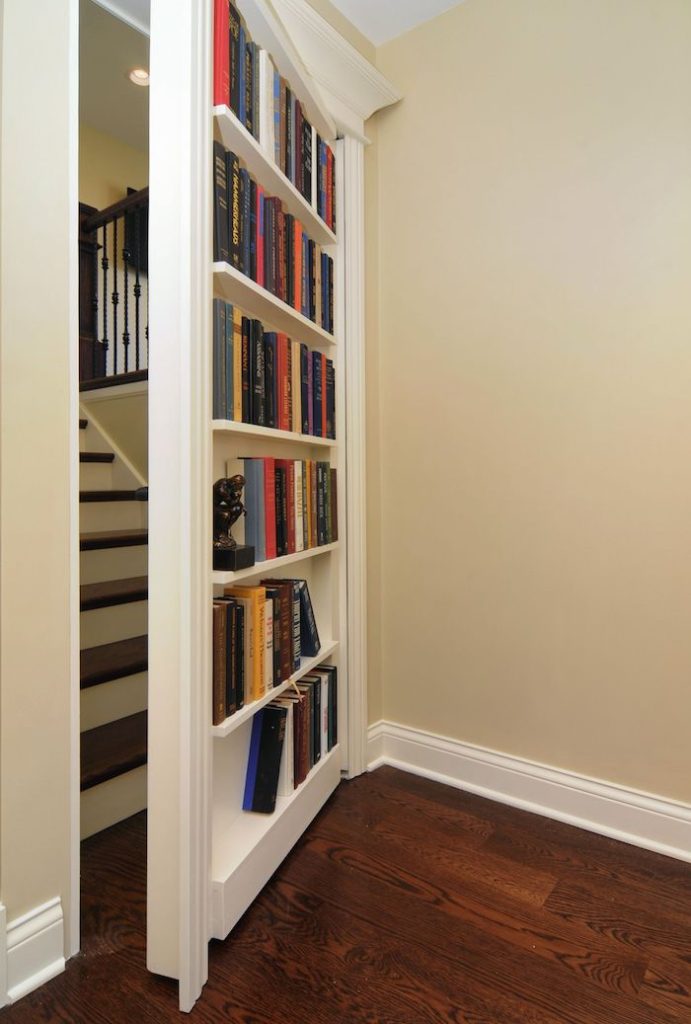 If you are skeptical about installing a door at the bottom of your stairs but need something to make your stairway landing look mesmerizing, bookshelves are the perfect go-to. Having a secret bookcase behind the doorway is quite exciting, and it can complement the whole interior of your home.
7. Open Wooden Door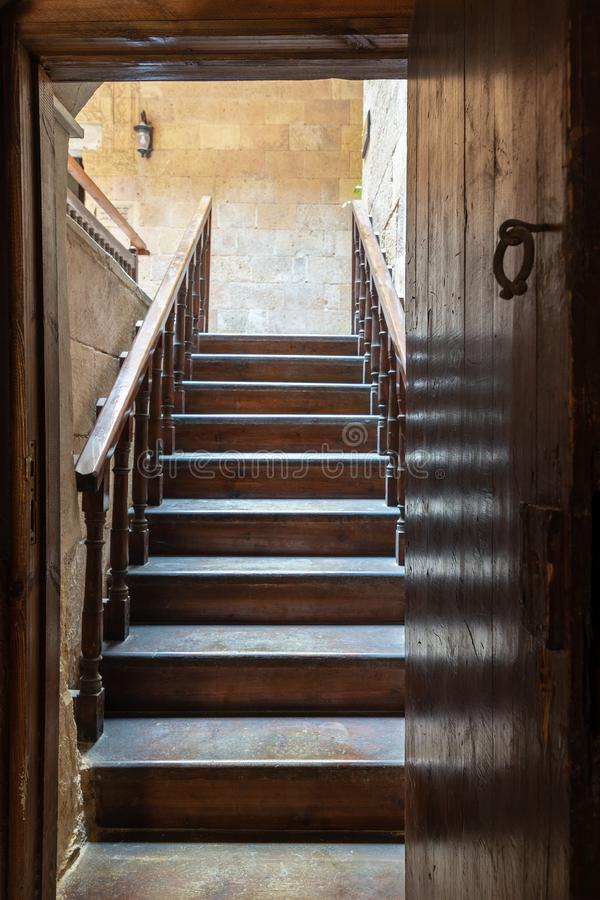 A wooden door happens to be the strongest choice when it comes to main doors, it is highly resistant and perfect for those with an existing closet under the stairs. This is available based on your budget and local availability is one of its main benefits.
8. Metal Railing Door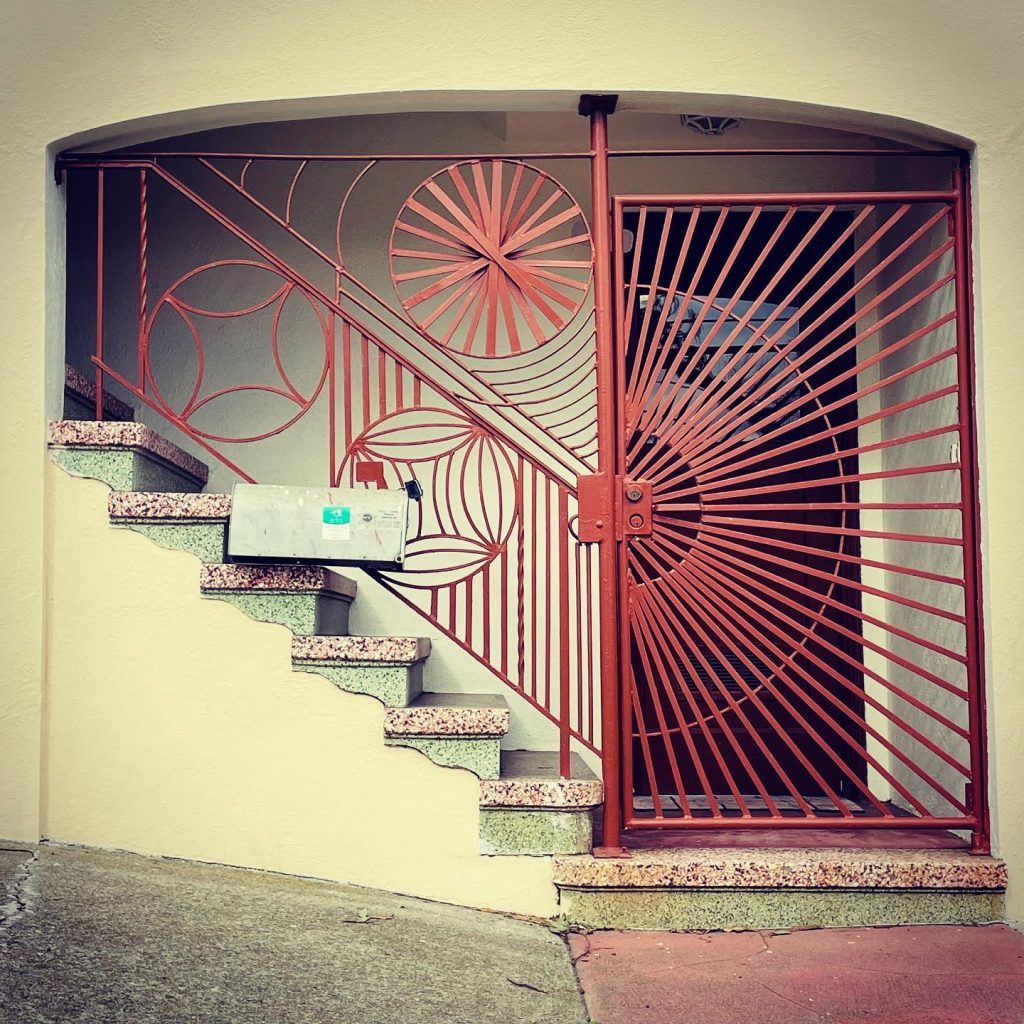 There is nothing as creative as a railing metal door, this is highly exquisite and can help keep unwanted company away from your door. This is created for an outdoor staircase, although it works indoors too. Just adding this to your bottom stairs can create a scenic and fancy environment.
9. Barn Door Stair Gate
Want to create an aesthetically pleasing and cozy stairway? We already agree that barn doors add a welcoming touch to a staircase, but it is even fancier when it's a short barn gate. This i
10. Safety Stairway Door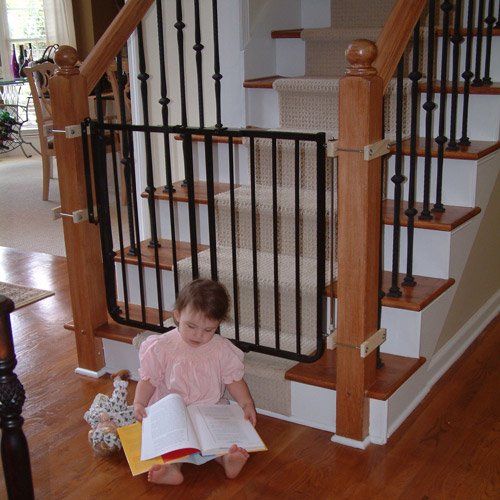 This is a classy safety door that also brings forth a dynamic experience. It provides you an awesome opportunity to show off your stairs as it won't cover the entire stairs. This is an ideal stair for light chi absorption. These stairs also reduce the need to constantly clean compared to using glass doors.
In Conclusion
Most traditional homes are made with traditional staircases which adds some contemporary designs to the home and are made even fancier with the type of door.
The function of the staircase might be mainly to get from point A to B, but it also needs to be safe, and a door happens to provide that.
We are sorry that this post was not useful for you!
Help us improve this post!
Tell us your thoughts in details, we welcome every feedback we can get.