Baskets offer you an easy storage solution and you will be amazed to discover that there are lots of things you can have stored in them. Storage baskets can help keep your home organized. However, there are lots of storage baskets in the market today and choosing one that suits your home decor can be overwhelming. A storage basket can come in handy and it can be placed conveniently anywhere in your home.
Storage baskets come with built-in side carry handles which allow you to easily have them transported around the house. There are endless ways you can make use of a storage basket and one of the most interesting things about them is that they can be used as home decor as well.
While everyone has different organizing strategies, baskets happen to be the most inexpensive and versatile strategy for organizing any room. They are not just great for keeping your home organized but their lightweight features mean you can easily have it moved around.
Baskets are the kind of storage you want in your home, you can have them placed anywhere without worrying about it taking up space. So, we have compiled some of the best simple home decor storage baskets you need in your home.
15 Simple Home Decor Storage Baskets For Your Home
There are lots of storage options for your living room such as coffee tables and dressers but the most versatile ones are baskets. There are lots of materials to choose from when it comes to baskets. However, to make shopping for storage baskets easy, here are some of the best storage baskets for your home.
1. Straw Woven Storage Basket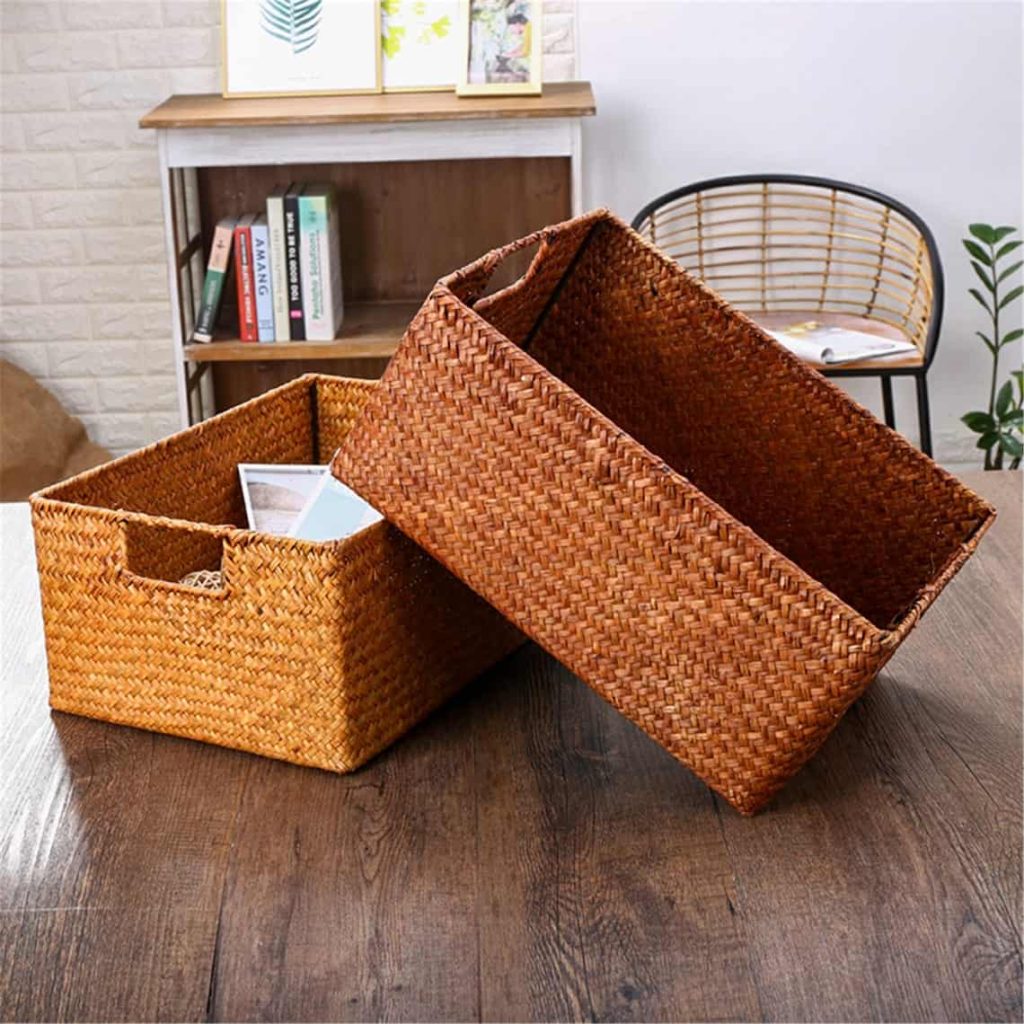 Why we love it: A straw woven storage basket is perfect if you are on the lookout for a simple but quality basket. This is recommended if you want storage space for your kid's toys and some reviews claim they are great as gift boxes.
Straw Woven storage basket is sure worth having in your home. This basket is designed to conveniently store stuff like clothes, books, kid's toys, magazines and many more. It also comes in different sizes and designs which allows you to pick one that is suitable for your home. This storage is also considered to be perfect as a gift basket of flowers for the family.
---
2. Large Blanket Storage Basket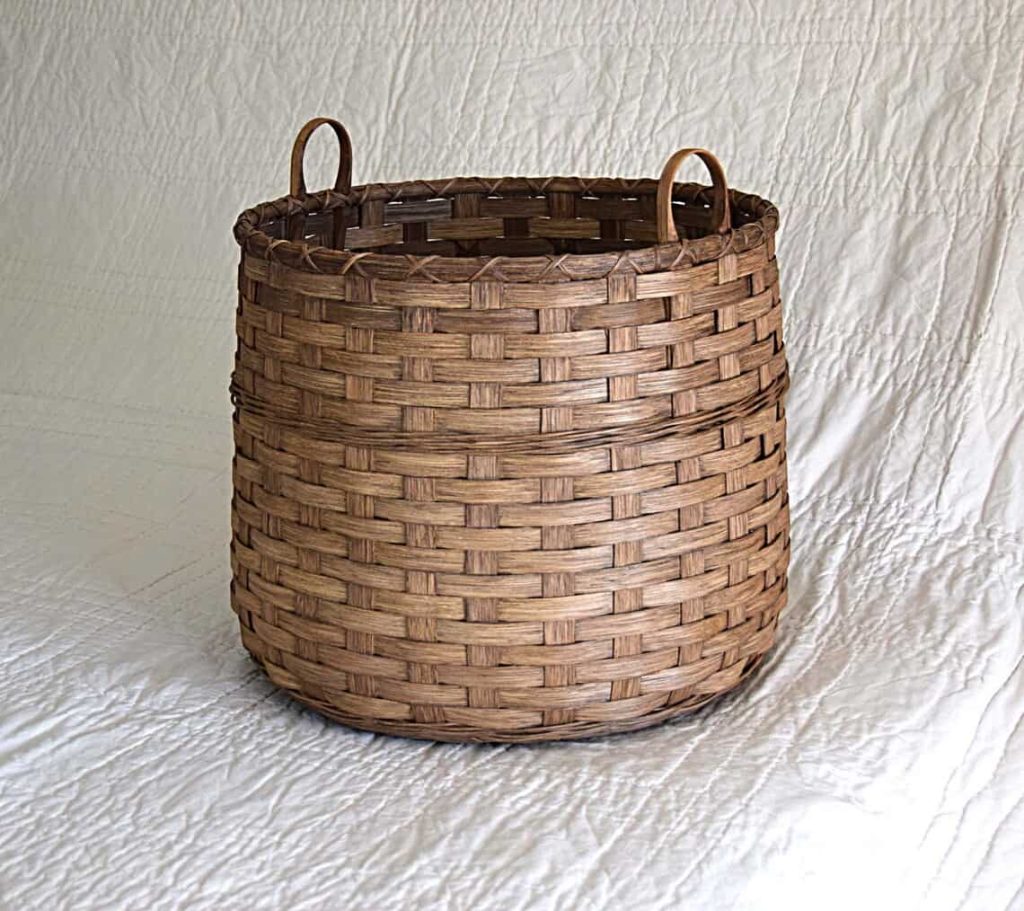 Why we love it: A large blanket storage basket is great for keeping a large room organized. This basket can hold in large blankets instead of having them laying around. They can serve as a basket for keeping other essentials such as clothes and kids toys as well.
Here is a great storage basket for keeping your large blankets. It is a carefully woven storage basket that allows you to store all kinds of home essentials to help keep your home organized. The natural colour and how versatile it is is also one of the reasons it is highly recommended. It makes a beautiful addition to any home decor.
---
3. Geometric Fabric Storage Basket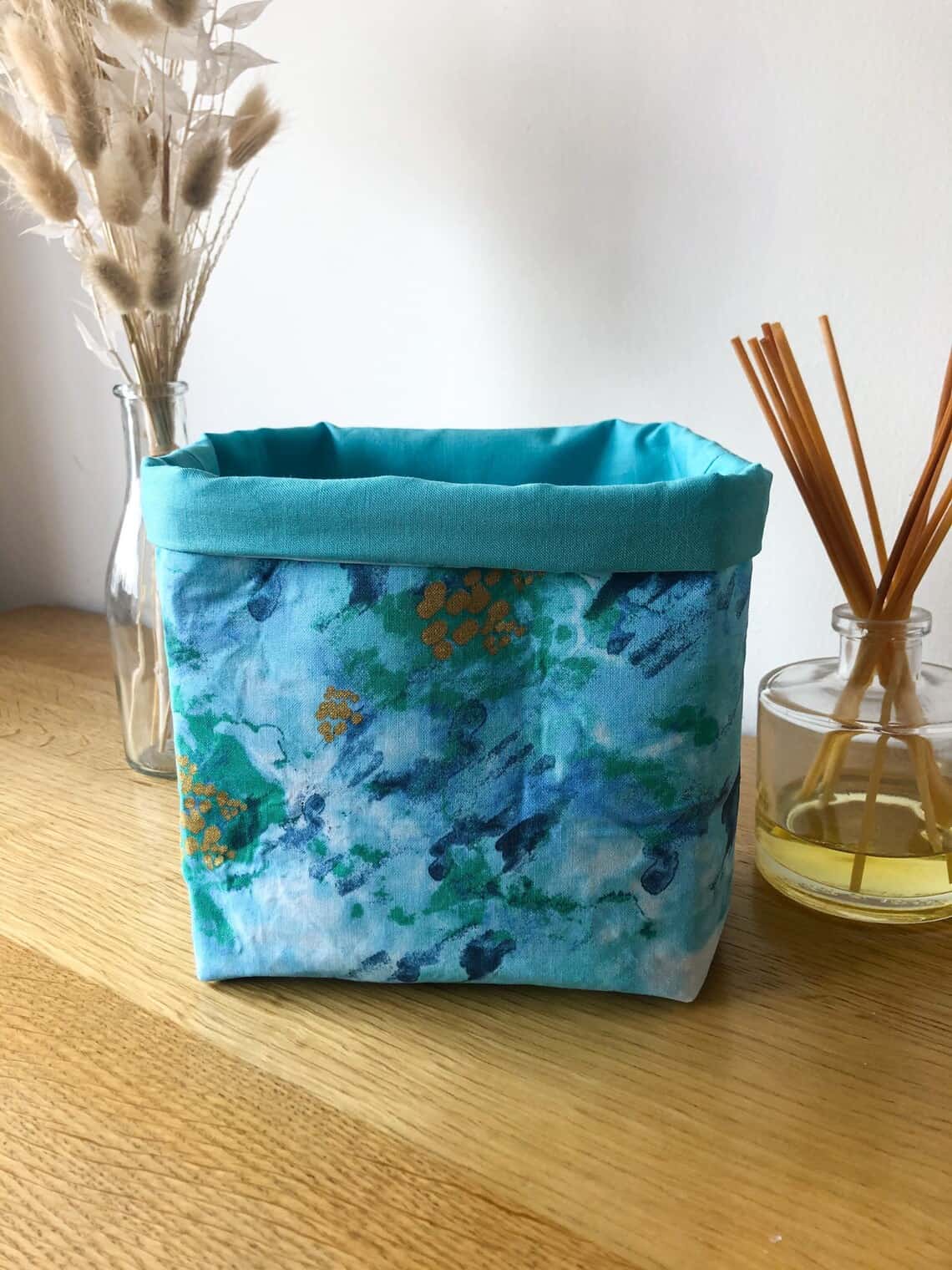 Why we love it: This is one gorgeous storage basket worth trying. This is a great storage basket with a simple design but quite colourful which makes it suitable for aesthetic decor. This is also a great size storage basket to help store small items that might be needed around the house such as tv remotes, pesky toys and books.
This gorgeous bag comes in metallic gold, ocean blue and green which allows you to pick one that suits your home decor. It's a cool basket that can be placed at home or in the office. This is also great for brightening up a living room space. The colours are not just incredible but reviews claim they are easy to use in any room and the stitching is neatly done.
---
4. Cotton Storage Basket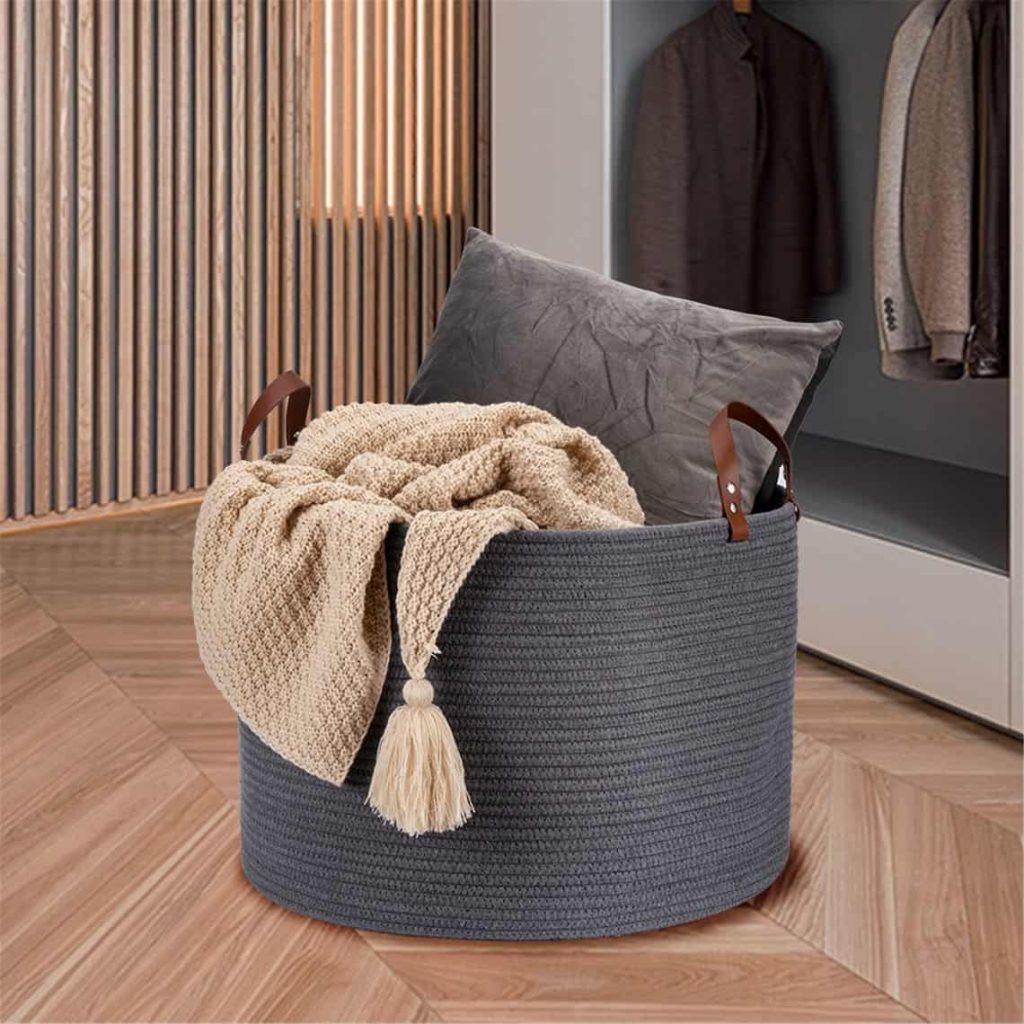 Why we love it: These are earth-friendly storage baskets to help keep your room organized. This storage basket is with natural cotton material while the hands are made with fine quality leather material you can't help but love.
This is another handmade storage basket worth investing in. This is one of the most common storage baskets in many homes, it goes nicely with modern and traditional home decor. It can be used for laundry and storage as well. This is made of 100% natural cotton which means you will be getting any unpleasant odour and the overall quality sure add some charm to any living room design.
---
5. Rupa Storage Basket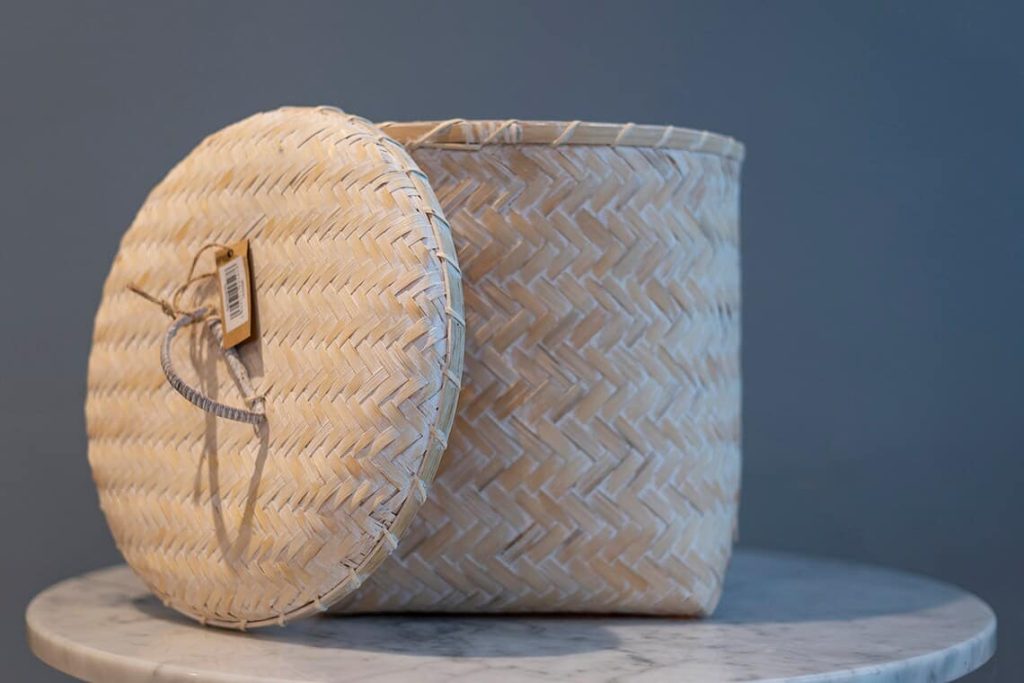 Why we love it: If you want a storage basket with a lid then here is one worth considering. Rupa storage basket is made with naturally sourced materials and it's quite lightweight but sturdy.
Rupa storage basket allows you to store delicate flowers and other essentials around the home. It is handwoven in a way that makes it blend perfectly into any home decor. These rupa storage baskets are really beautiful and you can use them for organising and decoration. This comes in handy in your kid's room as it can help keep those pesky toys away.
---
6. Wicker Storage Basket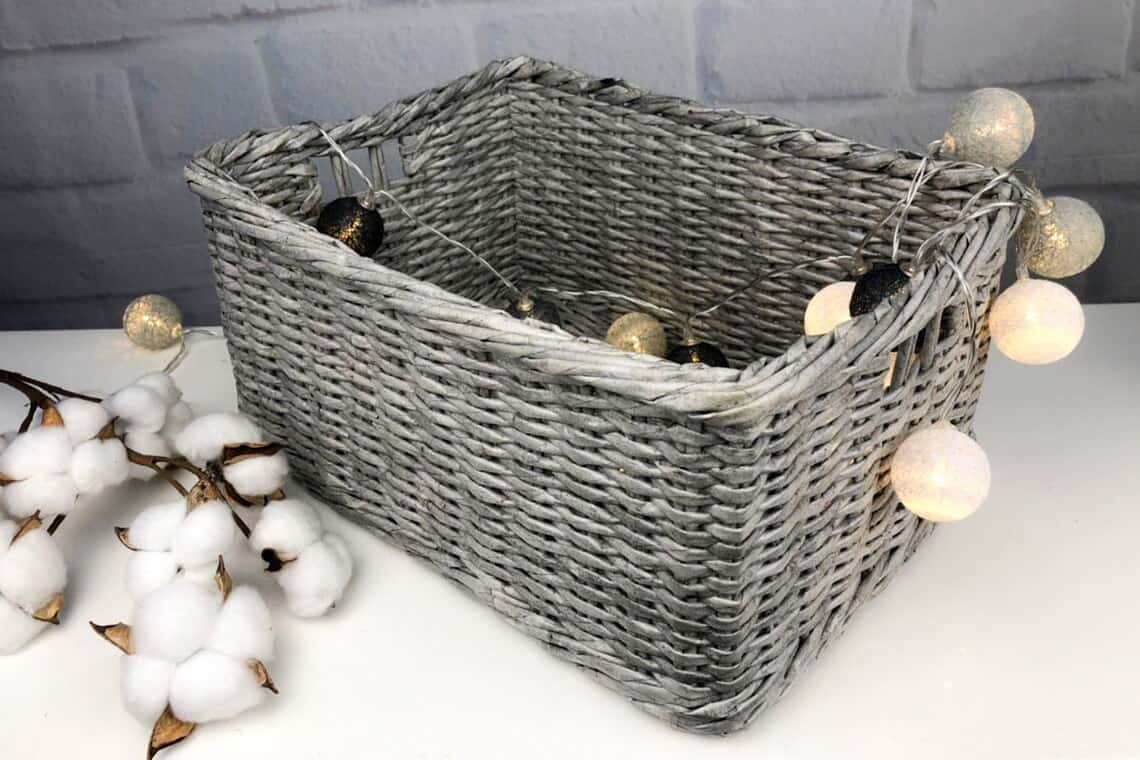 Why we love it: If you need something bigger and ideal for large books, a Wicker storage basket might come in handy. This storage basket is recommended for creating your bookshelf conveniently. It is large enough to have books arranged into them.
A wicker basket can be placed anywhere in your home. It can be used in the kitchen to store kitchen tools, vegetables or fruits. This is also earth-friendly as it is made of recyclable materials. It is resistant to moisture and has been customized with a unique material that makes it durable as well.
---
7. Seaweed Woven Storage Basket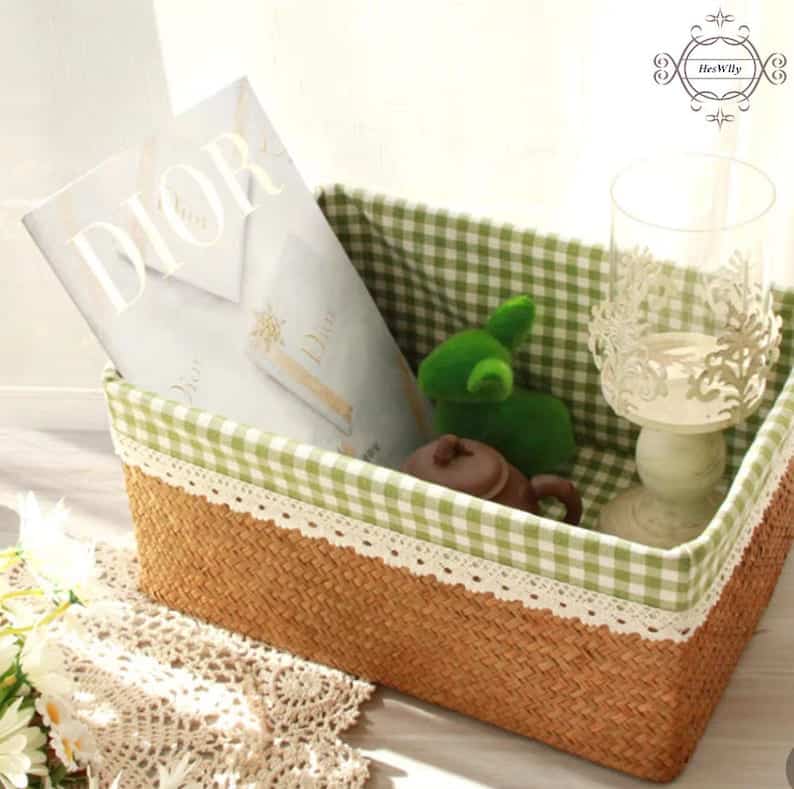 Why we love it: This is another pretty storage basket that can be used for decoration purposes and as well storage. This cute seaweed storage basket help limit unwanted clutters around the house.
The storage basket can help keep unreasonable clutters to a minimum. A seaweed woven storage basket is designed to keep your room organized also make a statement in your living room. The things you can store in this basket are lot limited to the living room alone. It can be used in the kitchen and bathroom as well.
---
8. Large Ivory Basket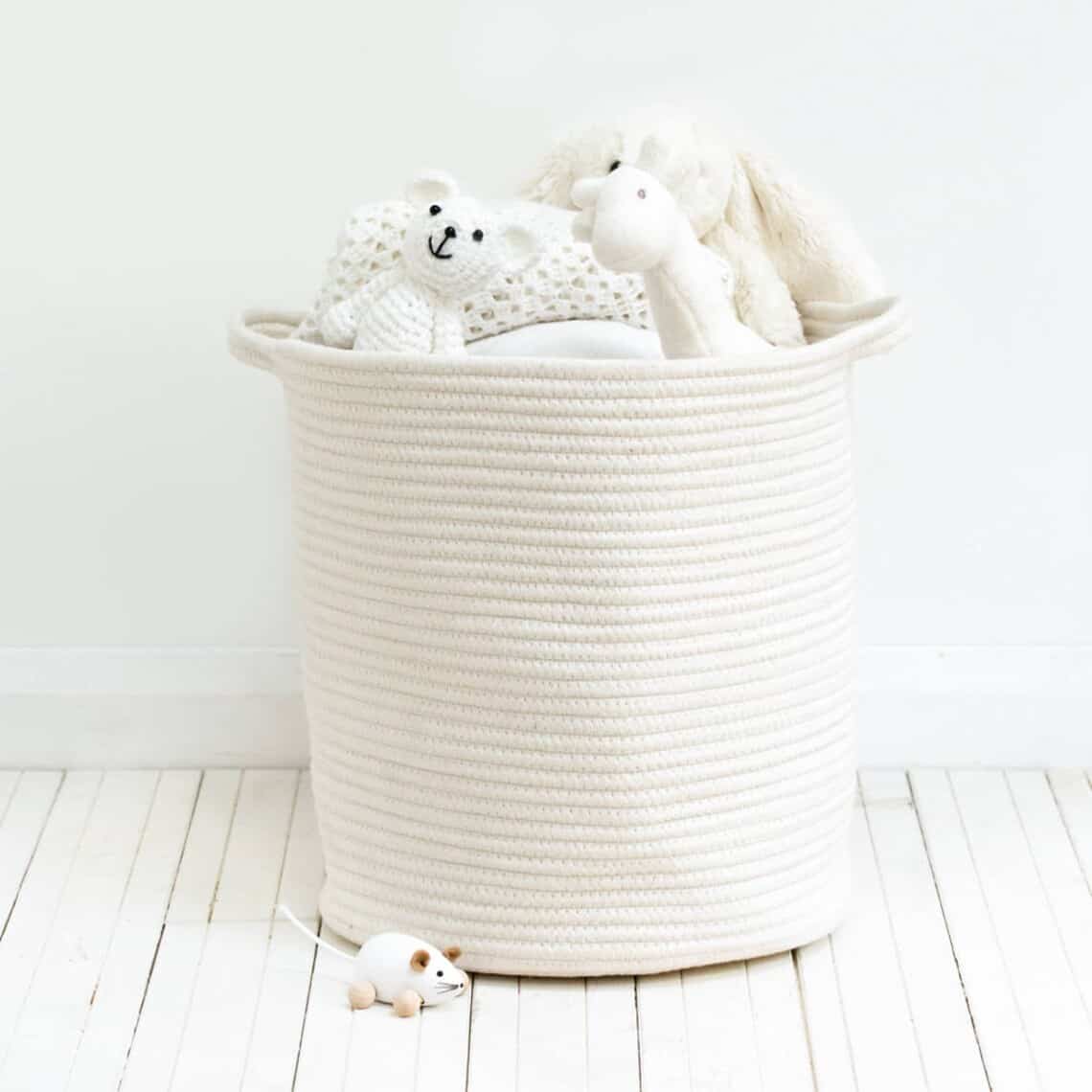 Why we love it: Large baskets can be a great idea if you have small living room space. This ivory storage basket is great for keeping objects such as bags, cosmetics, jewellery boxes, remote control, headphones, magazines, books, sundries, towels, desktop storage and any item that can be hard to find.
This is a braided storage basket that can help adds some boho look to your living room decor. It is perfect for holding lots of objects around the home. Customers state that the quality material and ivory design makes it suitable for enhancing your child's bedroom. We agree on how cute this braided basket is.
---
9. Square Multicoloured Storage Basket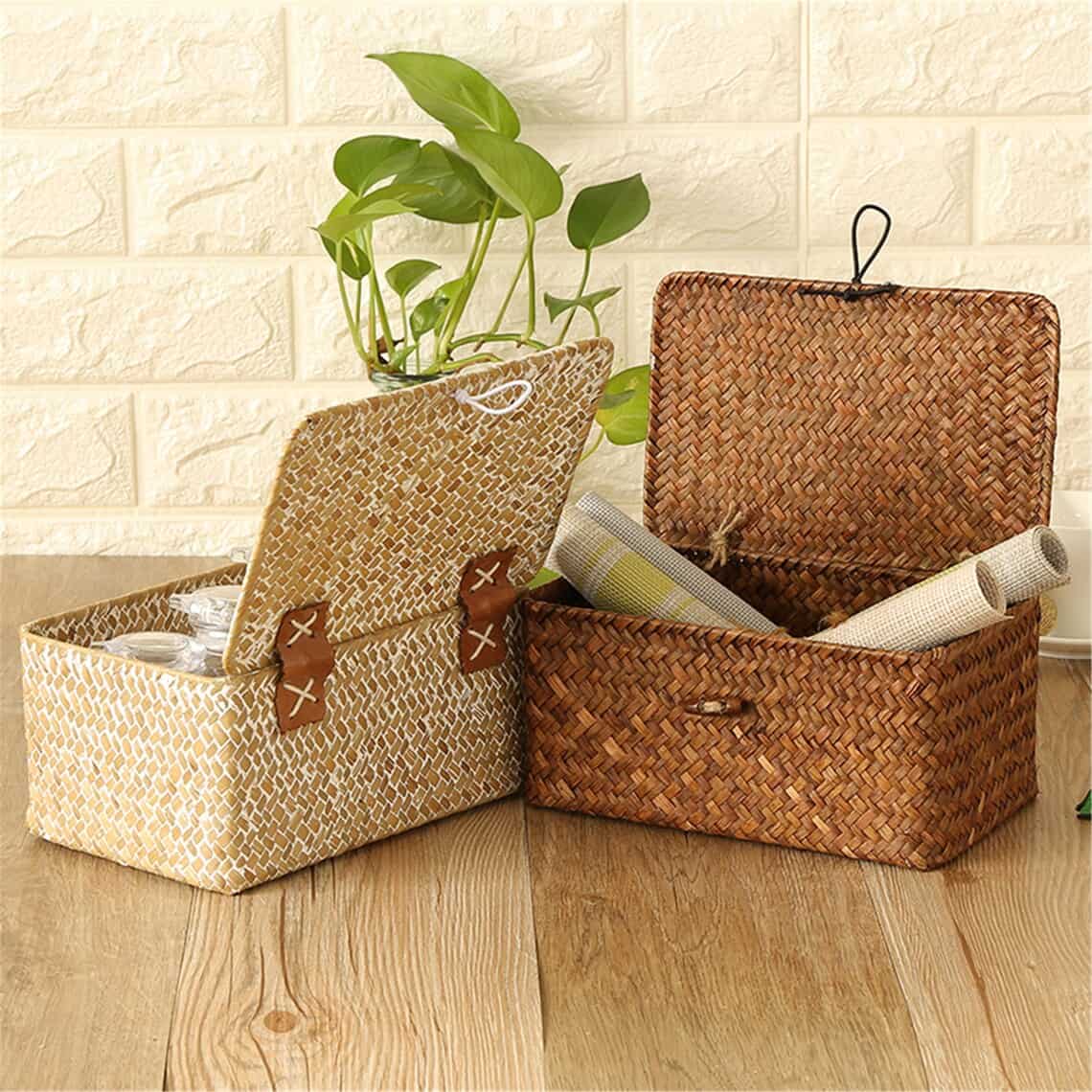 Why we love it: A storage basket should be able to stand out. This is one really lovely storage basket we can't help but recommend. It comes in different variations and designs.
This storage basket has been carefully woven to make it a wonderful decoration for any home and the storage come in handy for stuff like toys, food, books and magazines. With this small but cute storage basket, you can stop overloading your couch with objects.
---
10. Small Cotton Rope Storage Basket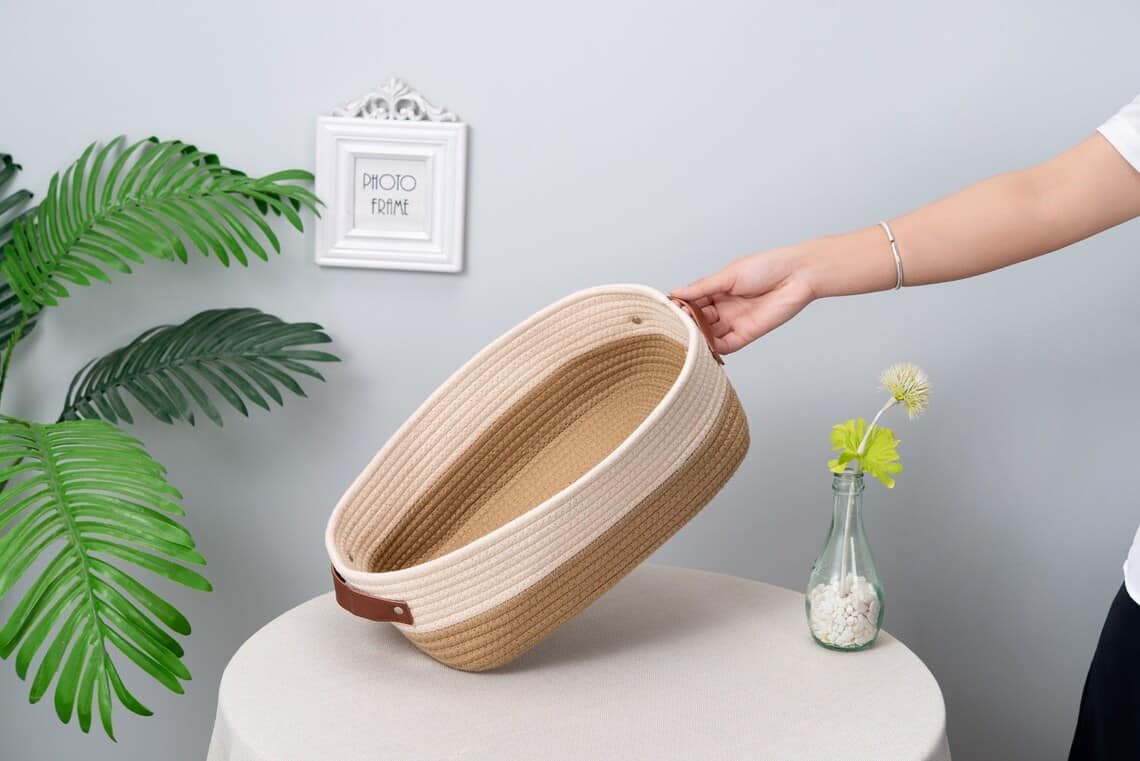 Why we love it: This is a small but perfect storage basket for any home. It is ideal for storing items such as makeup, toiletries and most importantly, it can be used to bring some cool style to your room.
Every storage basket, whether small or big has its reason for standing out. This storage basket can be placed on your table and you can easily have your nursery items placed in them. A small basket like this can be easily moved around and it can be stored in your pantry to keep it organized. This basket comes in different colours to enable you to choose one that suits your home decor.
---
11. Traditional Designed Basket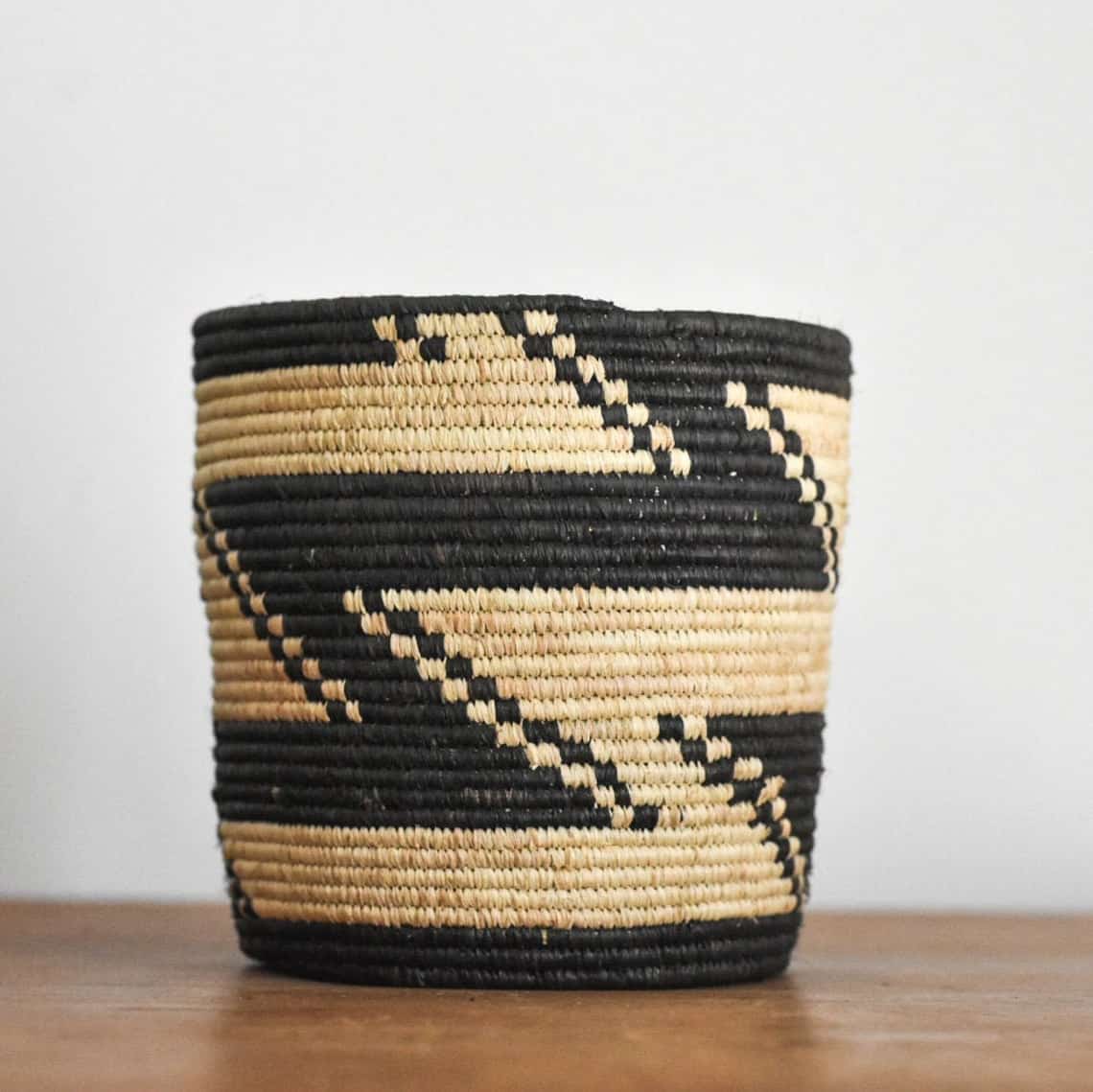 Why we love it: If you don't have a designated craft room then this means you are likely to keep craft supplies in your kitchen but with this simple but traditionally made basket, your craft items can be stored properly.
The details of this storage basket are quite brilliant. You are sure to find this to not just be a great storage basket but also bring some style to your living room. The mix of unusual colours, patterns add some stunning personality to it which makes it even more ideal for making statements in your living room. This is also practical and comes with a detailed design, hence it can be used as a gift to a special one.
---
12. Floppy Seagrass Basket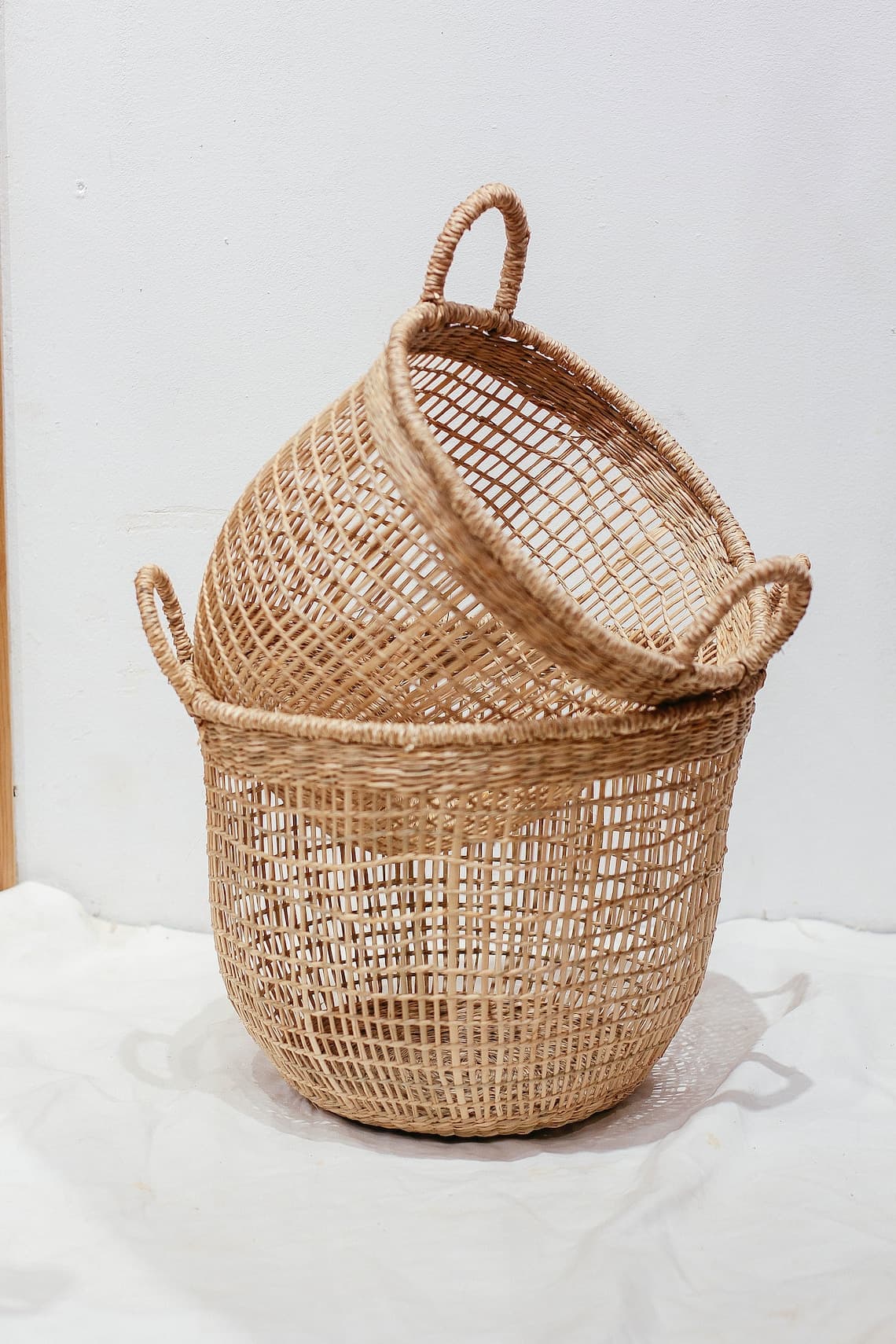 Why we love it: Looking for an adorable multipurpose storage basket? The floppy seagrass storage basket comes in two sets and each design is unique. This basket is made of natural seagrass to make your living room look charming.
These baskets are not just gorgeous but they have been carefully woven with 100% seagrass material. The shape and style of the basket are lovely and the open design allows you to store vegetables and fruits to maximize their freshness. It comes with a sturdy handle.
---
13. Hanging Storage Baskets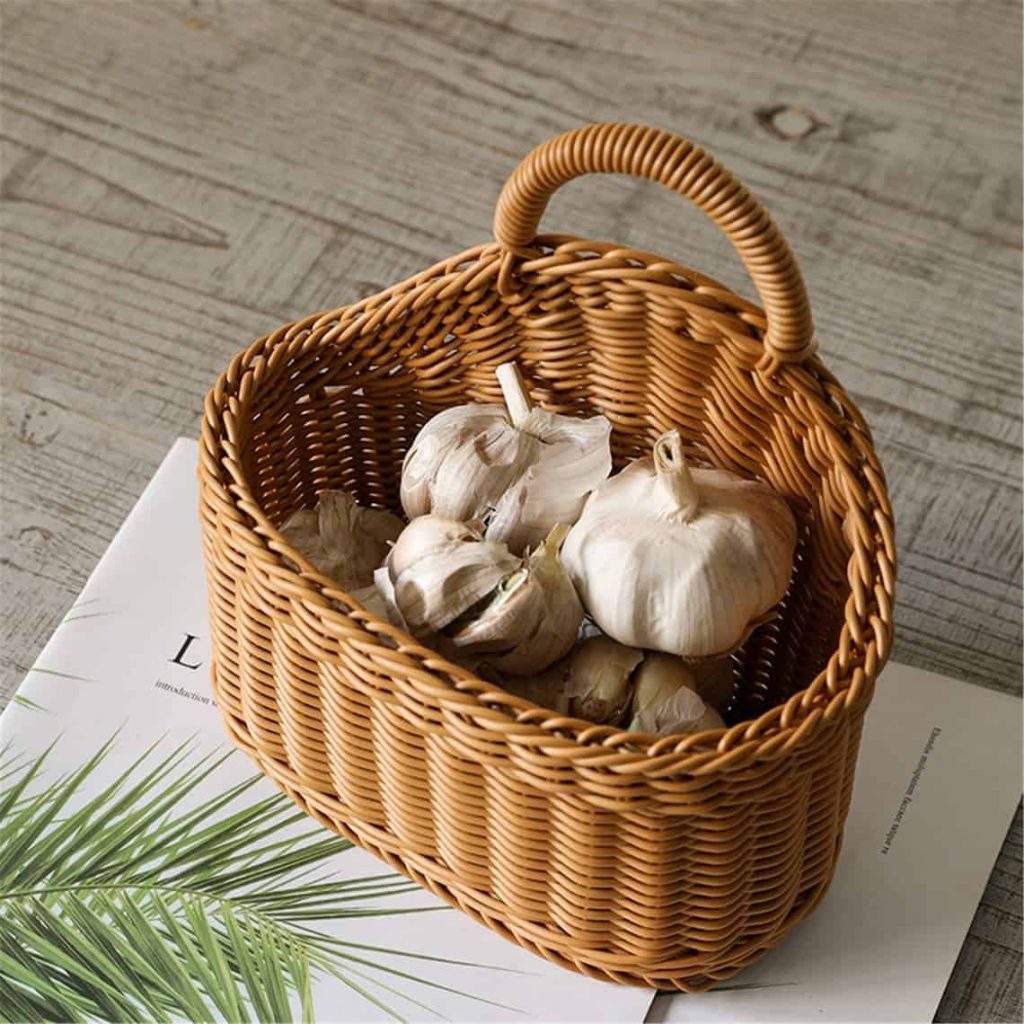 Why we love it: Hanging baskets are cute and serves as easy bathroom storage. These baskets aren't just affordable but are perfect if you can't find a spot to store them.
Wall hanging baskets are generally inexpensive. This basket will not only keep things organized in your home but they are also very practical which is perfect for minimalist decor. They are suitable for organizing any room in your home.
---
14. Water Hyacinth Tray Storage Basket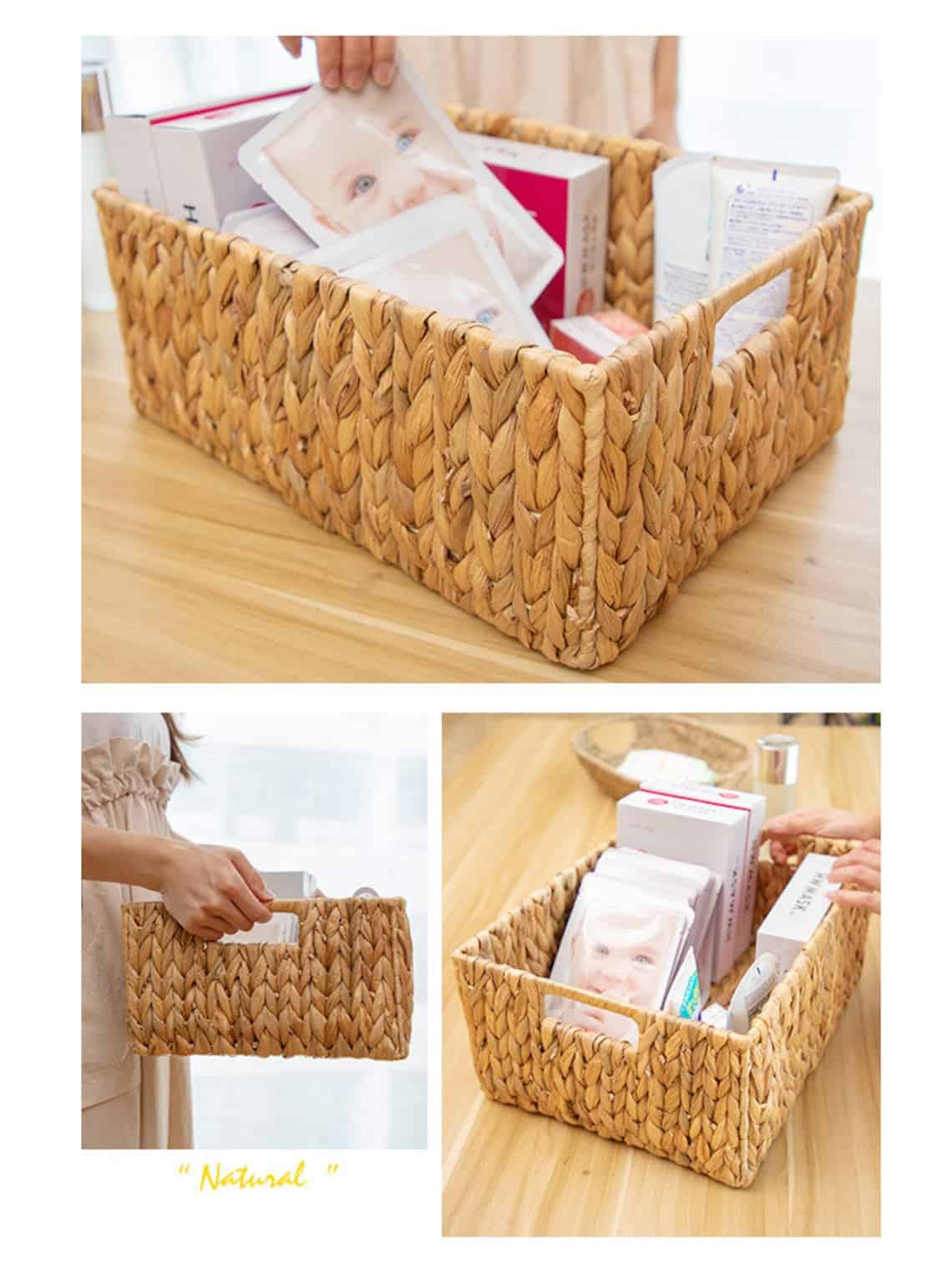 Why we love it: This is a great storage basket if you need something less dramatic but keep things organized. This is made from water hyacinth and the material is quality as well.
If you can't decide if you want a large or a small storage basket then here is one that helps strike a balance. This storage basket will not only keep every room in your home time but will also serve you for a long time. This beautiful wicker straw storage basket is easy to clean and maintain.
---
15. Tassel Storage Basket
Why we love it: Decorative storage baskets like this help you make a statement in your living room. This storage basket with its fringe design adds some style to any room decor and the storage is large enough for blankets.
Tassel storage basket is a fantastic and inexpensive storage basket for you. It is best stored in the living room since it's a central gathering spot and this storage basket is big enough to store your kid's favourite toys and books.
Wrapping Up
There are lots of smart ways you can use baskets to boost your home organization.
Storage baskets are one of the effortless ways you can incorporate storage into your decor without making your room look clumsy. These organizers are not just handy for keeping rooms organized but it also comes in a variety of sizes and materials so they can be integrated into any room with ease.
Discover next: Sauté Pan vs Skillet vs Fry Pan: Differences, Similarities Explained