How can I make my pond design more attractive? If you do have a pond, then this is a question you need an answer to. Koi fish happen to be quite special, and their pond design has a lot of roles to play in their feeding habit.
Choosing a backyard koi pond design is considered overwhelming since you don't know what your koi fish will find comfortable.
A backyard koi pond design might not sound like a necessity, but it's the perfect way to liven up their dull space, and also a beautiful design is believed to help koi fish feel calm. Taking your landscaping to a whole new level is an ideal thing to do and no matter the size, you can truly transform any space with the right inspiration.
Koi fishes are a common type of carp fish, and their coloring and lineage make them special. This fish is quite expensive, which also explains why many tend to take extra care of them, and one way to do this is a beautiful pond design.
Note that you do not need a large pond before you can design it. The trick is to find something you love and find a way to incorporate it. If you have no idea where to stay with your backyard koi fish pond design, not to worry, this article contains a list of the trendy ones.
NEW: Where to Find Crystals In Your Backyard (2022)
Effective Tips For Koi Pond Maintenance
The feeding habit of Koi fish is a bit strange and interesting at the same time. To encourage them to get enough nutrients, you need to take care of your pond. Koi fish are quite amazing, but you should know that they are the dirtiest type of carp fish and are high maintenance too.
This carp fish like to root up the bottom of the pond, and below are effective tips for maintaining your pond all season.
Ensure to perform constant water check the pond water constantly, so you know when to change the water and take care of excessive fish waste
Avoid overfeeding and remove left over foods from the pond
Clean your water valves and filter each week in summer
Maintain the right temperature
Their immune system is vulnerable during spring, so ensure to change 10 percent of the water each week.
17 Backyard Koi Pond Design Ideas to Inspire You
Koi fish are quite beautiful, and they are indeed graceful aquatic pets you should keep somewhere gorgeous. Taking proper care of them is important, and so also is keeping them in a clean, well-designed pond.
A well-designed backyard pond won't be for your koi carp alone, but a beautiful pond design and healthy fish can help calm your anxious mind and help relax after a long day as well. Check out the amazing list of backyard pond design ideas to inspire you.
1. Modern Medium Pond Design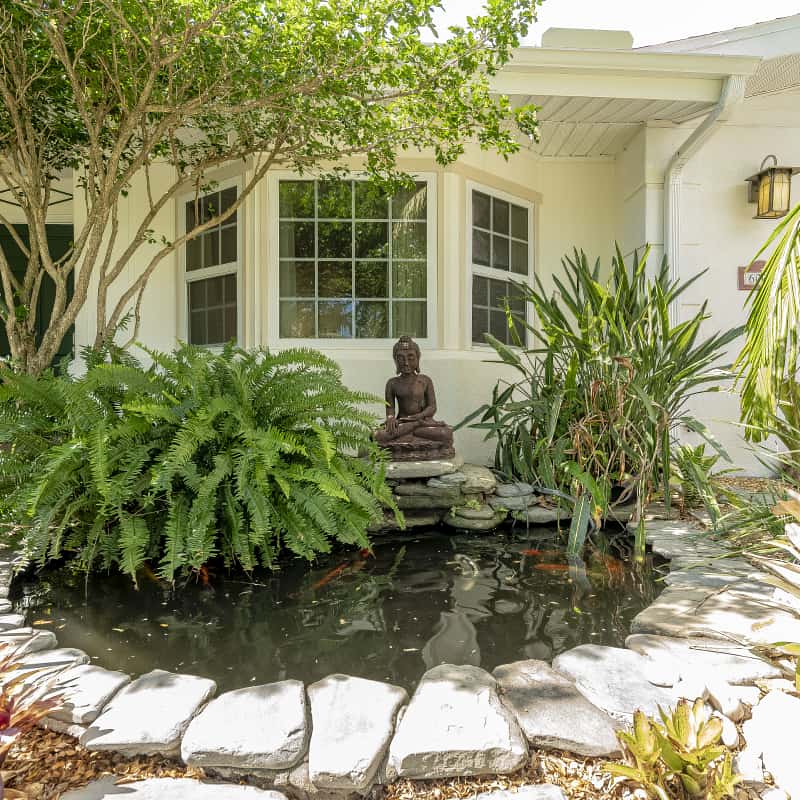 Every pond design has its reason for standing out, and this pond design seems to have a lot of those reasons. This is a modern type of koi fishpond, and it's put to make swimming around easy for your Koi fish. The harsh shape tends to give it a modern feel, however, make sure to keep the plants around it clean to keep it fancy and prevent them from intruding on the edge of the pond.
The simple artistic design added to it stands out, and adding a planet to your Koi pond is another way to ensure there is something to feed on. The landscape sure works for any kind of backyard landscape, and it is practical enough for your Koi fish.
2. Cool Koi Fish Garden Pond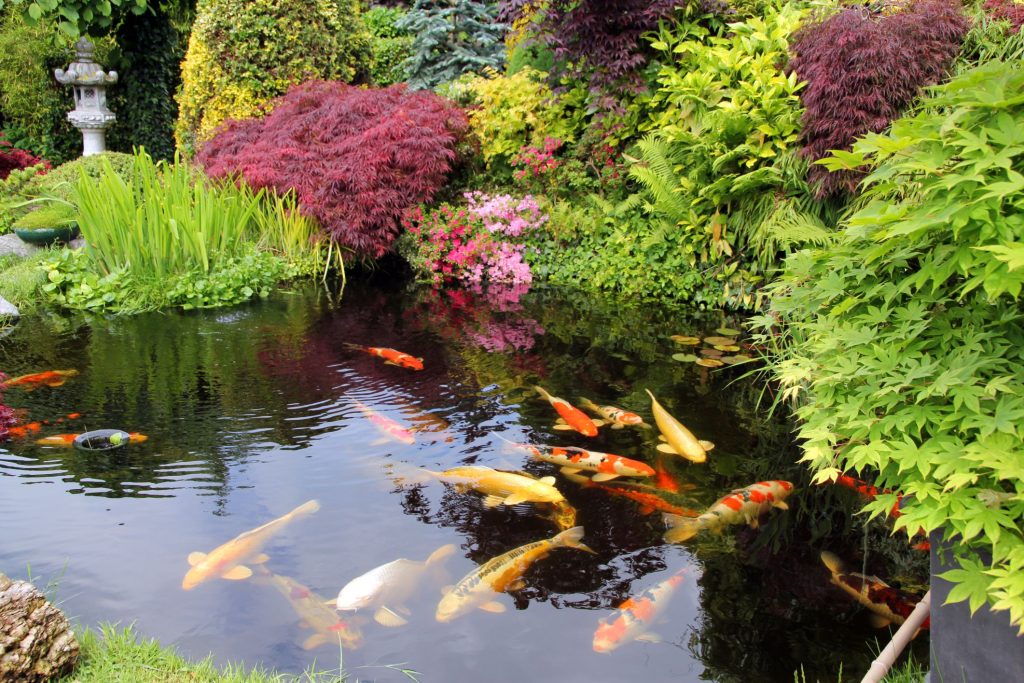 To achieve a classical type of pond, you might have to go with lots of plants, and it's best to keep it colorful. This is a more regular type of pond compared to the one above but still modern and interesting enough for your special koi fish. This pond design works for a garden as well.
A pond like this can be great for Koi fish since they are picky with their foods, but this pattern ensures there is enough to feed on. This always turns out lovely no matter what plant you choose to accommodate it. It is suitable for a contemporary garden style.
3. Garden Waterfall Pond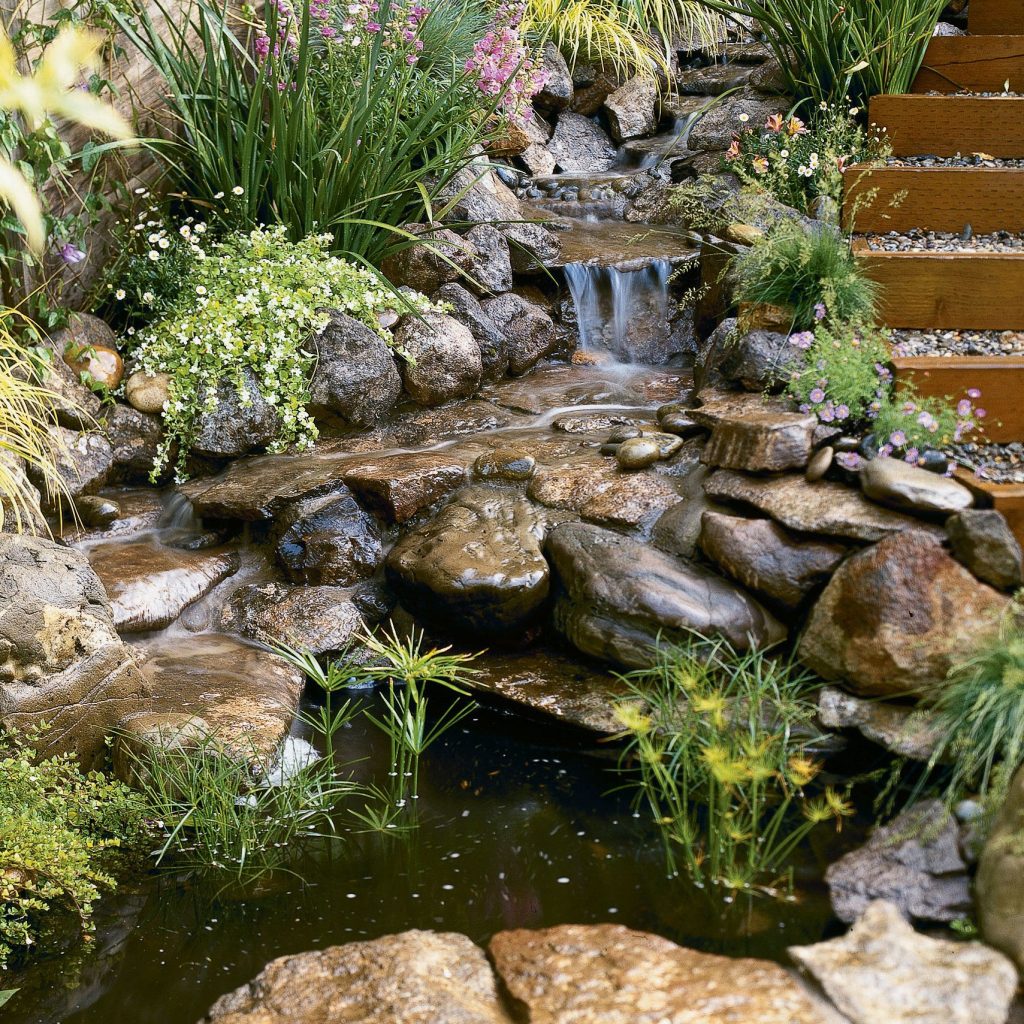 One of the tricks to creating an amazing pond for koi fish is to look for something bold and dramatic at the same time. If you love to relax at the sound of flowing water then is the perfect one to get in your backyard. This works for all kinds of backyard settings and creating a flowing pond has always been a unique pond style.
With this type of design, your koi fish gets a constant supply of water and the sound of the water can add some texture to your backyard landscape. You can keep it small or big depending on your backyard size and your preference.
4. DIY Deck Koi Fish Pond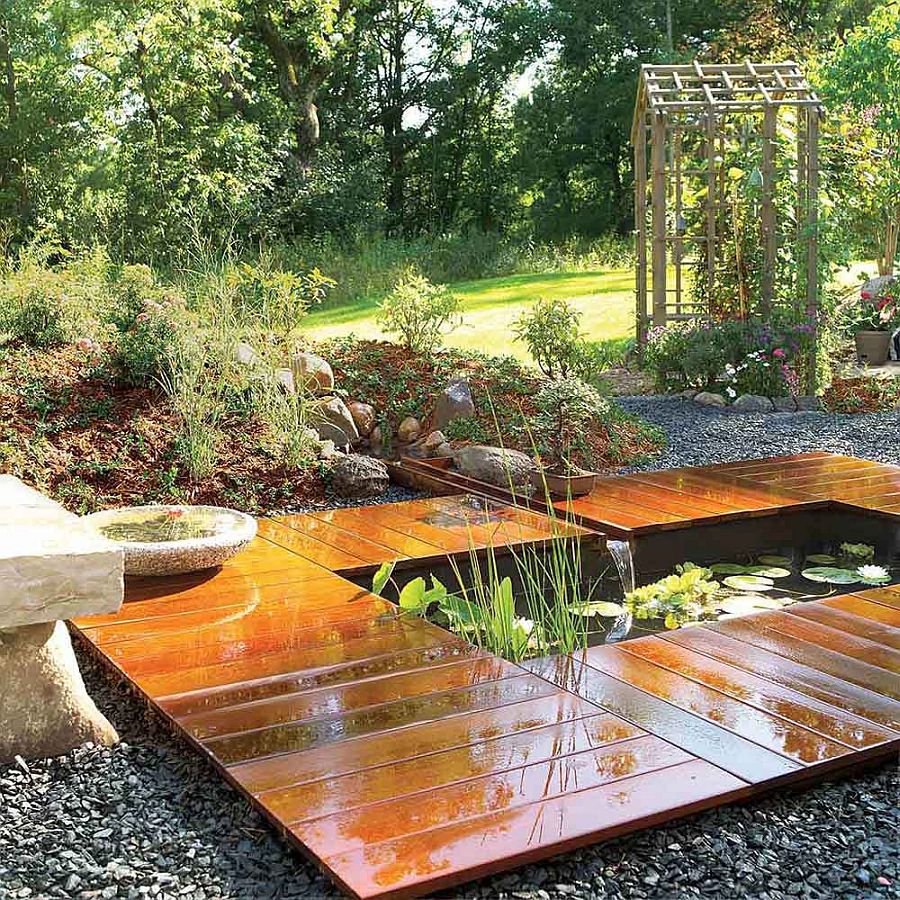 The kind of environment you create is quite important as well. So, to stay on the safe side of things, you can go for a deck pond. This will make cleaning the water easy, and it's a more affordable type of pond too.
This is elegant and since it doesn't require too much, you can have it fixed yourself. This is quite fancy and might look like it takes time, but it's quite easy to design. It is classy too and ideal as a relaxing place.
5. Raised Backyard Pond Idea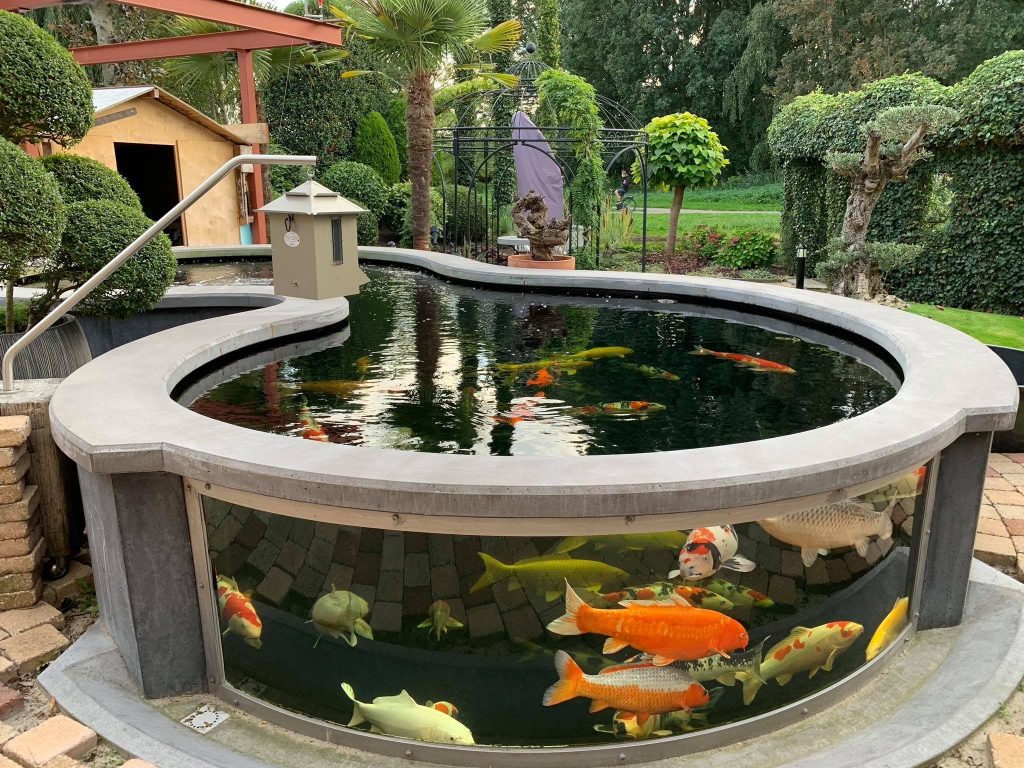 Raised ponds sure have lots of good sides which will explain why lots of fish farmers are going for it recently. This is a great pond idea for koi fish. Digging a hole to create a pond in your garden might not be possible then you can easily have a raised pond which is less time-consuming.
You can always add a water feature to this if you want. In addition, some edges of the stream can have plants if you want. This can be dramatic or simple depending on how you want it.
6. Small Natural Backyard Pond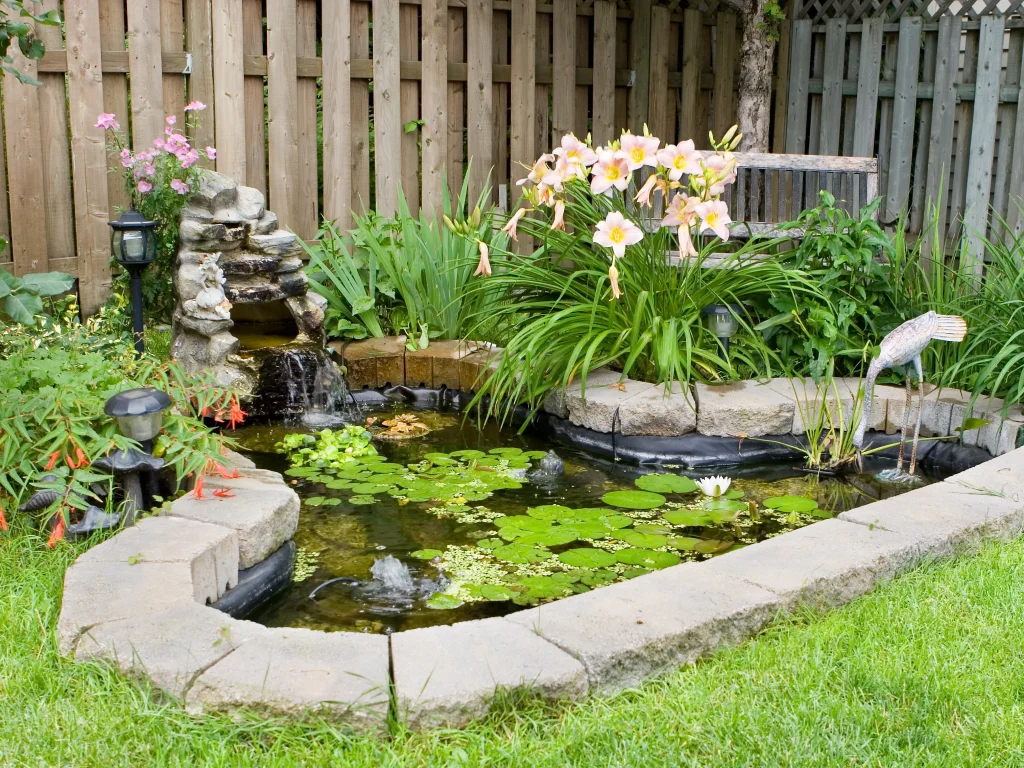 A small natural Koi fishpond is another interesting pond we look forward to seeing more of. This does have an exotic look and yet not too dramatic. It's a perfect choice if you need something easy to maintain, and it's just the right setup your Koi fish needs to thrive all season.
This pond design is also very relaxing and allows you to enjoy nature while you unwind after a long day's work. Go for colorful houseplants if you need to lighten up the place and the size is perfect for large koi fish to swim around comfortably.
7. Japanese Koi Fish Pond Design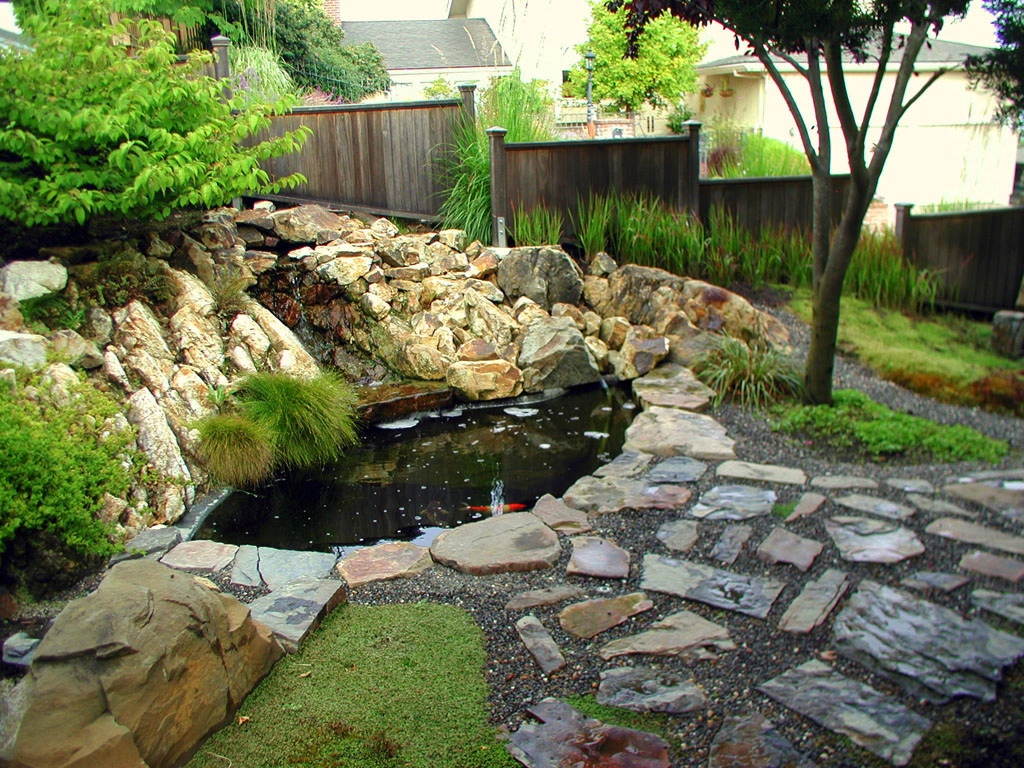 The Japanese koi fishpond idea is something hard to say no to. This blend is perfect without any type of landscape and the classy design of the pond and the marble stones add more to the glamour. This helps create beautiful scenery you can enjoy while relaxing or feeding the fish.
Furthermore, it is not too dramatic and gives room for any additional design. The stylish ornamental design of this pond is hard not to like, and it can be described as fitting for a koi fish.
8. Small Koi Fish Backyard Fountain Pond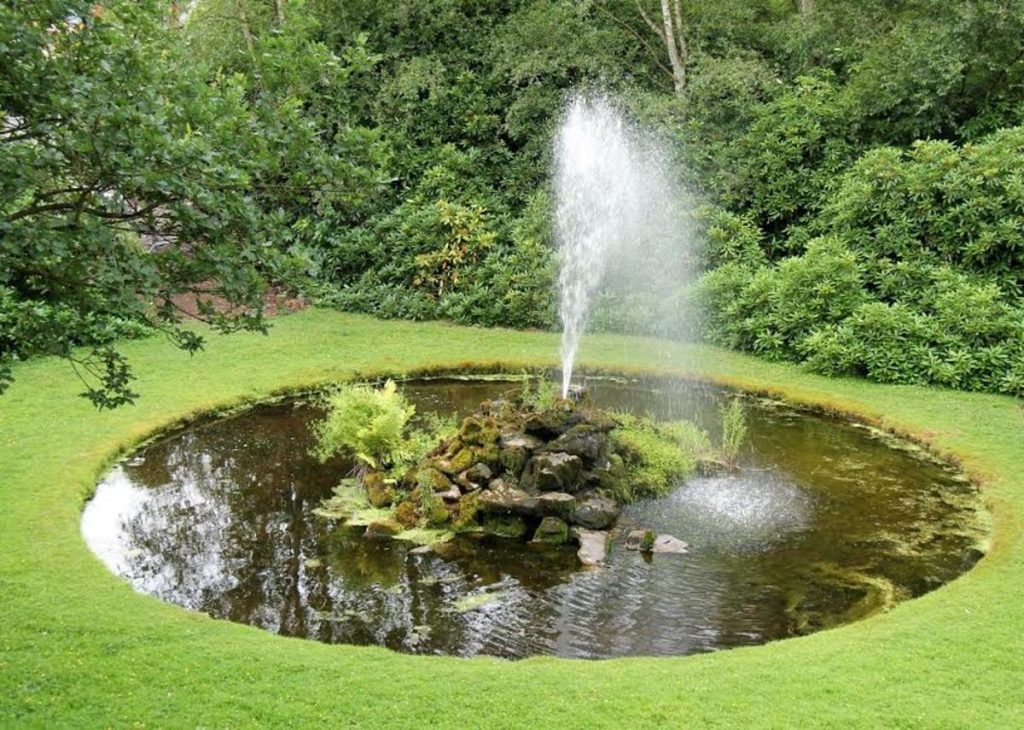 This is another affordable koi fishpond you can go for, and it comes in all sizes and shapes as well. Round shape fountain pond has been around for a while, and they are perfect for any kind of backyard decor. Different pond features can be incorporated into this, or you can keep it simple as seen above.
9. Traditional Waterfall Pond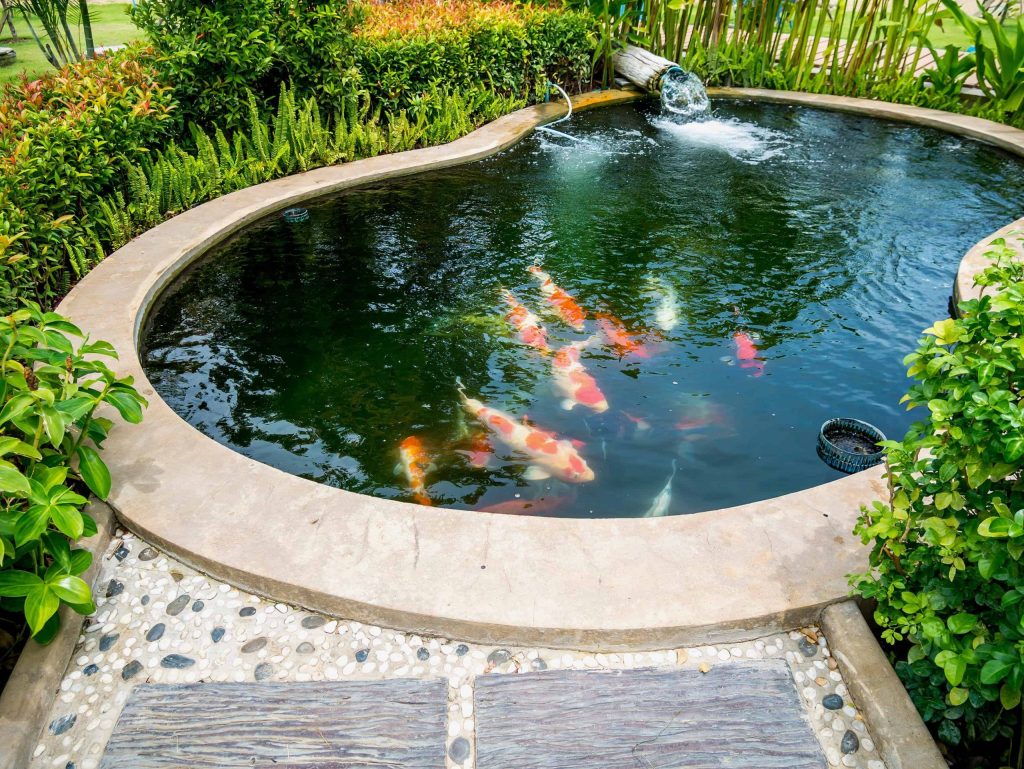 Many garden homes have been known to go with something as practical as this. This design works for any home decor and the structure is also one that conveniently accommodates koi fish of any type and size.
This type of structure works for the convenience of your carp, and it also works in helping you relax after a long day. The eye-catching design sure complements a backyard perfectly and using smooth stones for the edges adds some fancy attributes to the finish.
10. Petite Backyard Pond Design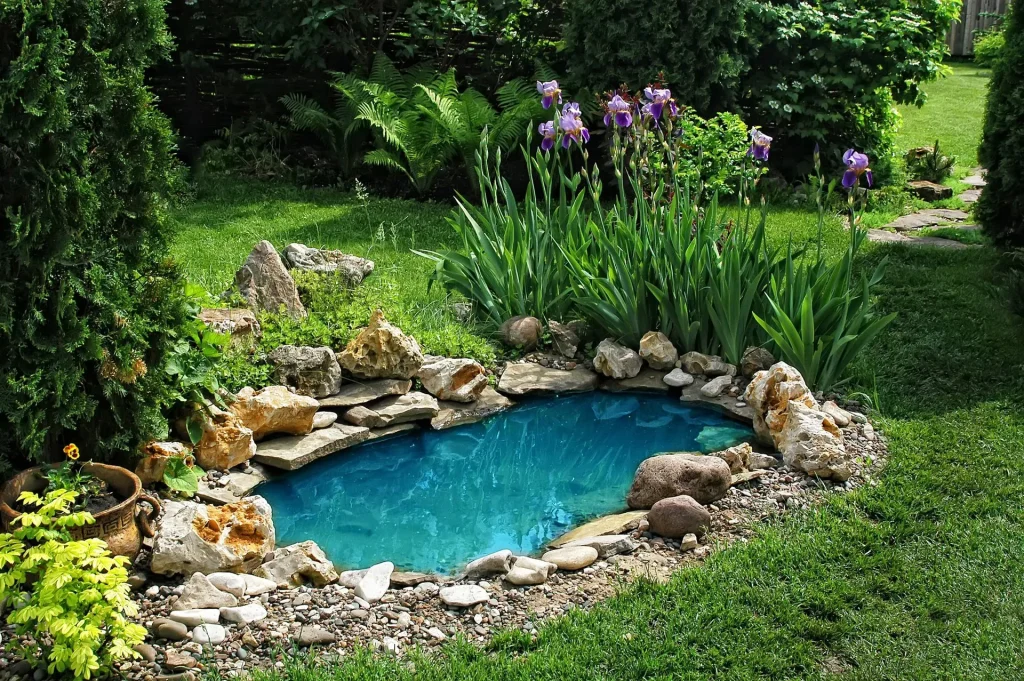 If you are concerned about your kids or pets playing too close to the pond then here is one that keeps them away. This design is quite fancy and the stones around the edges can be as high as you want as long as it keeps your kids and pets from going too close.
The low circular and raised design makes it is an ideal pond option for backyards that have kids around. With plants growing all around it, you can enjoy the beautiful scenery, and it's just what you need if you need to add depth to your pond.
11. Patio And Backyard Block Koi Fish Pond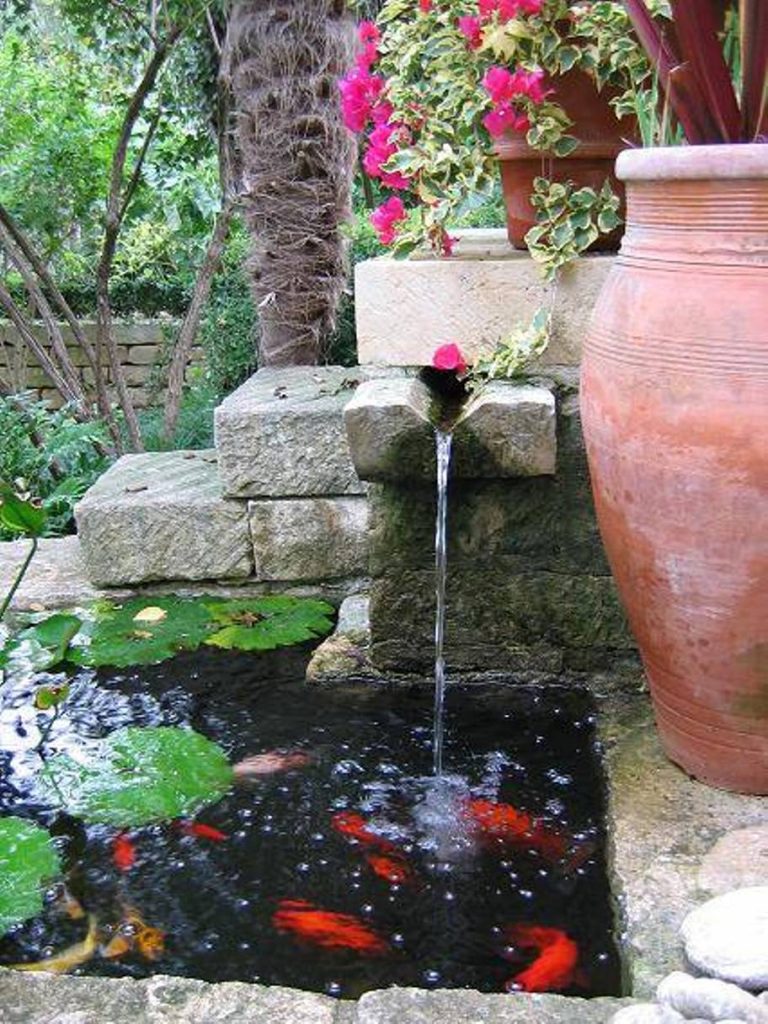 Here is another eye-catching design you can't say no to. This design works for any outdoor setting including a small size backyard. The natural stone curve and layers make it look pretty natural and calming too.
So, if you are feeling adventurous, this should be a go-to design. It is a seasonal pond design too, so your koi fish should have fun and feel comfortable all year round.
12. Faux Mini Koi Pond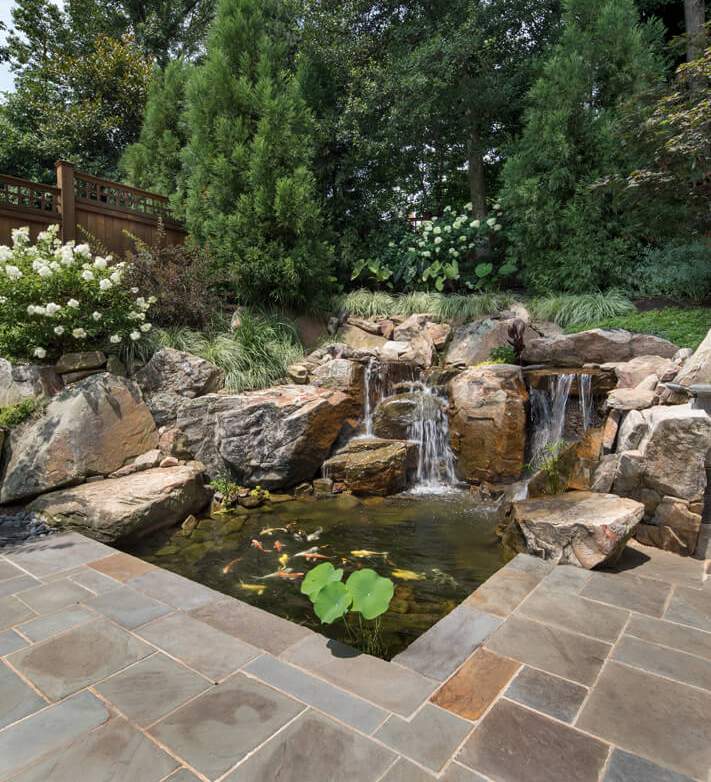 There is nothing wrong with going with something small but elaborate. The waterfall design doesn't work for all backyards but something similar can always be done. You will be needing lots of rocks to achieve this, but It's something you and your koi fish are sure to love.
To prevent any accidents, it is important to keep kids and pets away from the rocks. This looks elaborate but quite compact and not to worry, any size and type of koi fish can thrive in it.
13. Compact Layers Pond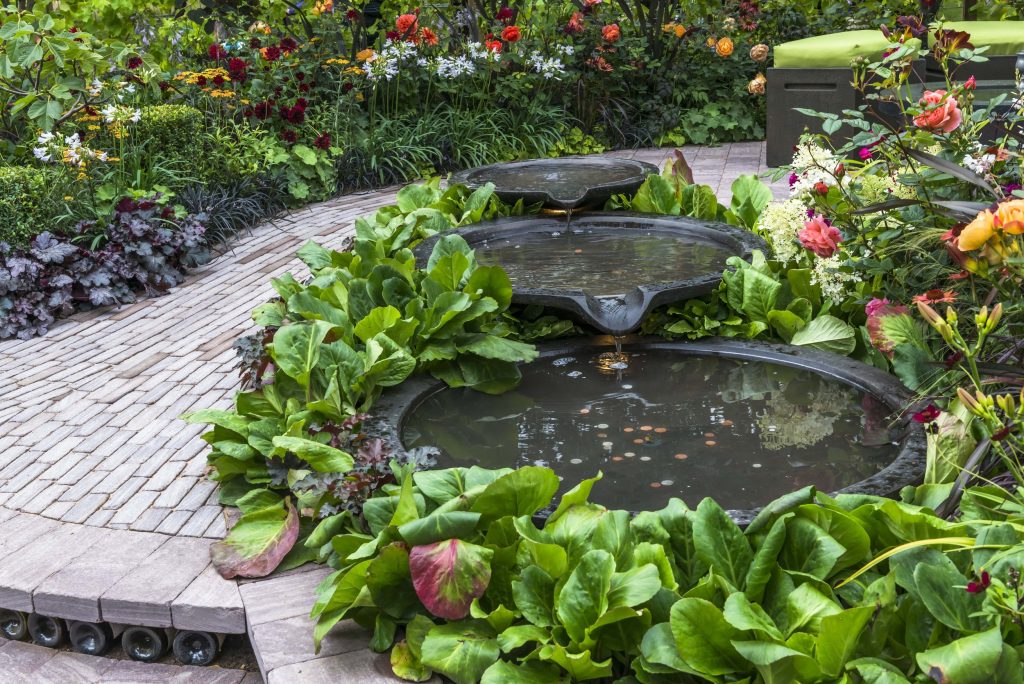 Compact layer ponds have some interesting attributes that make them suitable for any landscape. If you have a compact or simply want a DIY pond for your backyard, you might want to take a careful look at this.
This design will save you from any extensive digging too. Since it's compact, you can have your small koi fish grow in it comfortably. Large koi fish can also thrive in this but avoid overcrowding it.
14. Minimalist Fish Pond Design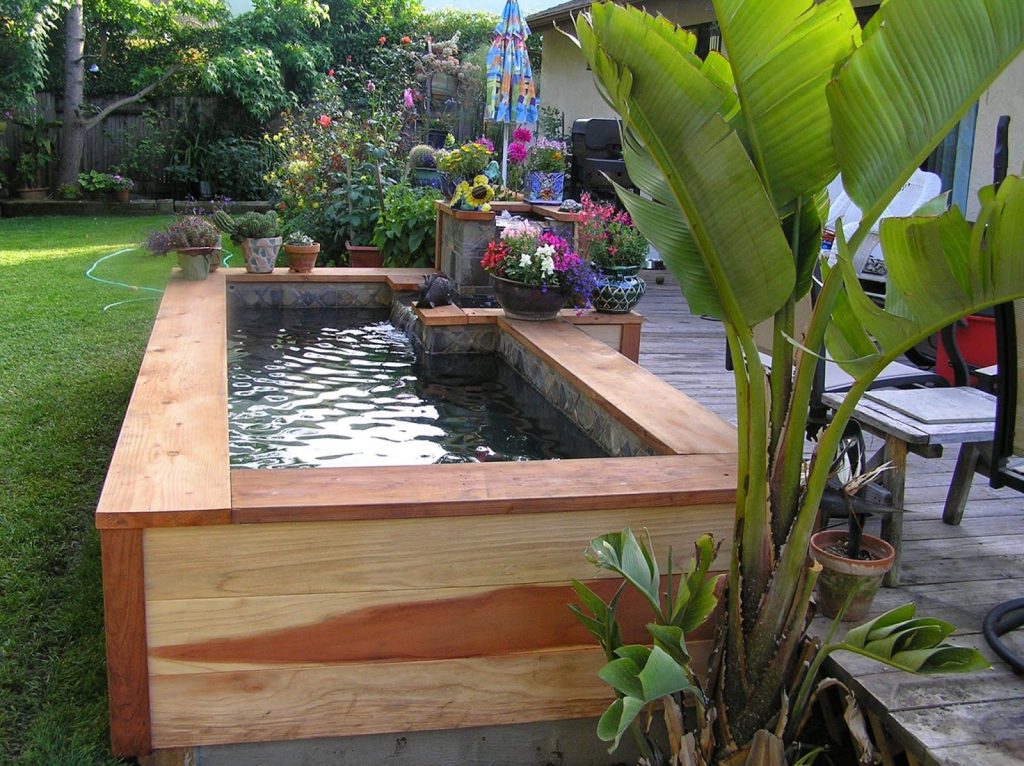 This is another exciting koi fish pond design idea. This is simple a box design, and you can place it anywhere, and you just need some cool houseplants to adorn it. It is a modern design but considered more affordable than a fountain pond.
15. Cyclical Backyard Pond Design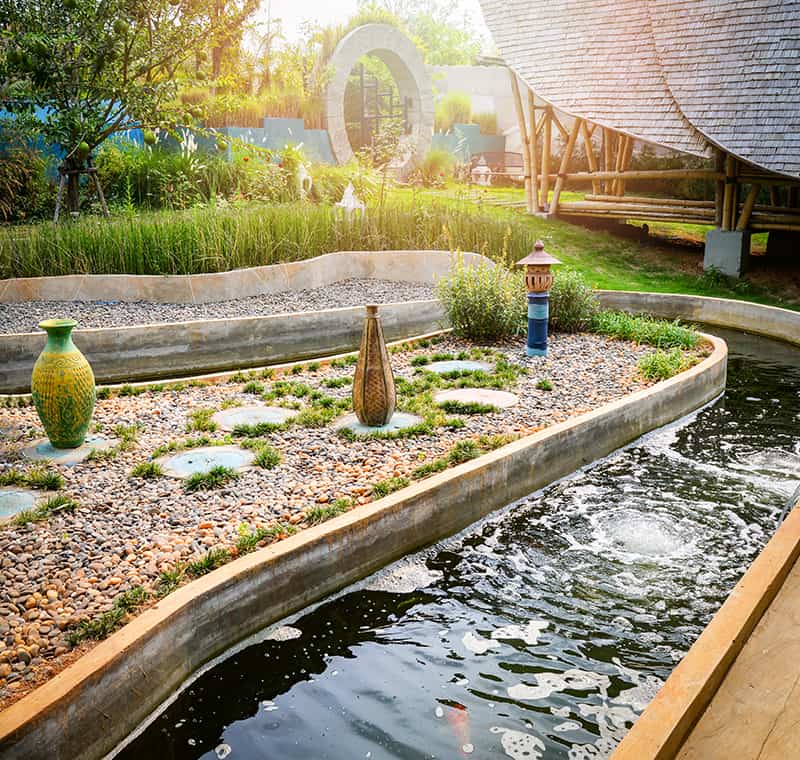 Looking for a more lively backyard pond design? Your choice of pond design doesn't have to be dramatic, but it can be interesting with a cyclical design. This design gets to make your koi fish feel more comfortable, and you can simply place a few decorations along the path.
The underlying rock designs also have some fun attributes to the pond design. This happens to be a low-maintenance pond design and is perfect for regular irrigation. The pond runs in a circular motion, so your koi fish can have fun moving around.
16. Hexagonal Pond Design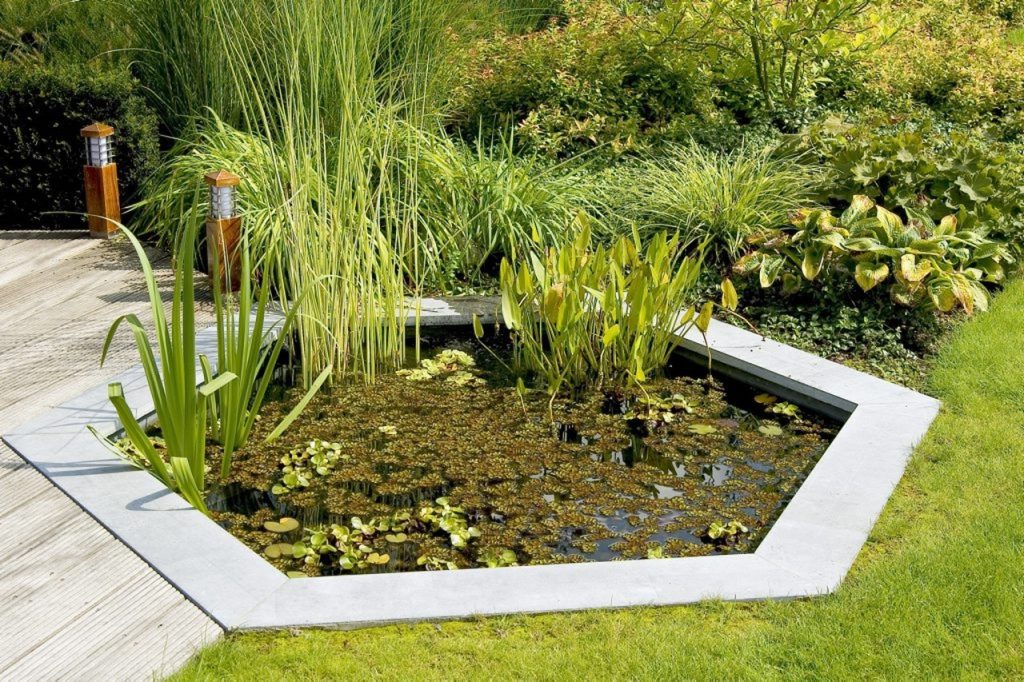 Hexagonal pond design is just like every type of round pond design except the shape. This has just been designed using a concrete hexagonal frame that works for gardens, backyard, and patio ponds. Koi fish does like being comfortable and this design helps ensure they get enough energy and nutrient.
17. Traditional Waterfall Pond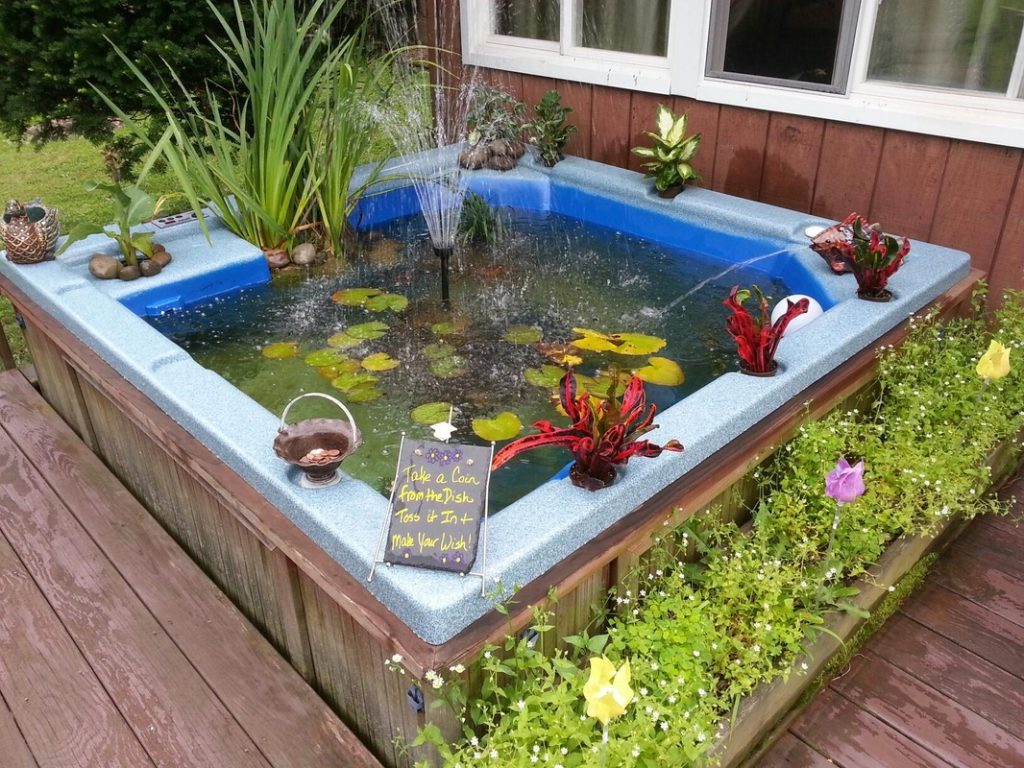 Surprisingly, you can make a koi pond of your old hot tub instead of throwing it out. You just need some plants and landscaping materials to make it an ideal pond for your koi carp. The rustic design adds more to the structure. You can go with any plant layout of your choice.
Hot tub backyard pond design is an elevated way of designing a pond for koi fish. Recycling your hot tub is an affordable method, and you just need to ensure the water is clean, and they get the right nutrient to keep their energy level up.
Wrapping Up
There is no rule for creating a regular pond but when it comes to koi fish, there are some things you need to keep in mind. You need lots of water when setting up koi fishpond, hardy plants, and smooth gravel too as they are moderately tolerant of cold, and you need to make sure the pond is built for that. After choosing a pond from the list, proper care and maintenance are all that needs to complement it.