What accompanies summer is blazing heat and scorching sun alongside sunburns if you are not well protected.
For Gazebo owners, it is a different issue as they tend to be worried if their Gazebo should be kept outdoors all through summer. Though the Gazebo provides shade during summer, the question lies in if the Gazebo structure would outlive the summer season if kept indoors.
Sun has the potential to do a lot of damage to different materials especially if they are not well protected. Such materials include wood, metal fabric among many others. Most Gazebos are made of fabric, wood, or metal and since these materials are prone to sun damage, Gazebo owners are often skeptical about leaving a Gazebo outdoors all through summer.
Would your Gazebo outlive the summer season unscathed? Are there ways you can protect your Gazebo from sun damage? All of the answers have been provided for you.
Can I leave a Gazebo out all summer?
Yes, You can leave your Gazebo out all summer. There's no better time to have a Gazebo than in summer. What better place can you unwind during sultry weather than in a Gazebo? The harsh atmosphere that summer is accompanied with does not affect Gazebo if protective measures are taken to protect it from sun damage.
Permanent Gazebo structures tend to last longer than temporary Gazebo kits but they are still susceptible to weather damage.
How do I protect my wooden Gazebo from sun damage?
When wooden Gazebos are exposed to extreme sunlight, light and heat radiation affects the outlook; discoloration and fading would set in.
During summer, the sun not only affects the exterior aspect of your Gazebo, sometimes, the light rays could also penetrate in and cause damage to some materials especially if they have been long exposed to the harsh weather.
To preserve the outlook of your Gazebo, there are different sealants (protective wood oil) that could be applied to your wooden Gazebo both to the exterior and interior part. Varnish, lacquer, and polyurethane are sealants that could be applied to your wooden Gazebo and your furniture if it is wooden-made.
Prices pulled from the Amazon Product Advertising API on:
Product prices and availability are accurate as of the date/time indicated and are subject to change. Any price and availability information displayed on [relevant Amazon Site(s), as applicable] at the time of purchase will apply to the purchase of this product.
In protecting your Gazebo's interior, employing the use of curtains also helps protect to a large extent. In addition, making use of covers for the furniture also protects them from the sun. While washing your wooden Gazebo, ensure that much pressure is not applied as this can weaken the wooden causing it to be prone to sun damage.
How do I protect my metal Gazebo roof from sun damage?
Metal Gazebos cannot withstand extreme summer heat if they are not protected with coatings, unlike the wooden Gazebo. They are susceptible to sun damage and the effects of the damage it causes are often conspicuous.
Metals are usually protected with coatings but once this coating is exposed over time to the sun, the coating would get damaged. The effect of this damage can be seen in perforated roofs. If your metal Gazebo is quite old, it may not be able to withstand the harsh sun.
The harsh sun weakens the integrity of metals making them prone to fading, cracks, and holes. To protect your metal Gazebo, consistently inspect the Gazebo for holes and cracks. Also, regularly coat the surfaces of the metal Gazebo. If you notice the metal has started rusting, make use of protective sealants like polyurethane.
In addition, there are powder coatings that protect metals from the UV rays that exude from the sun.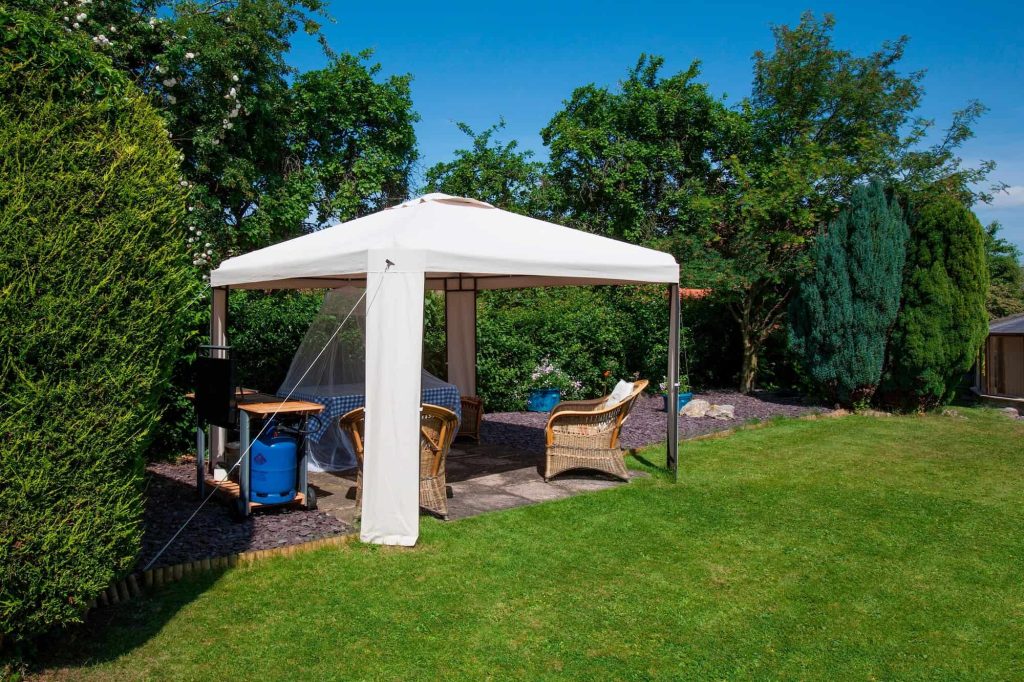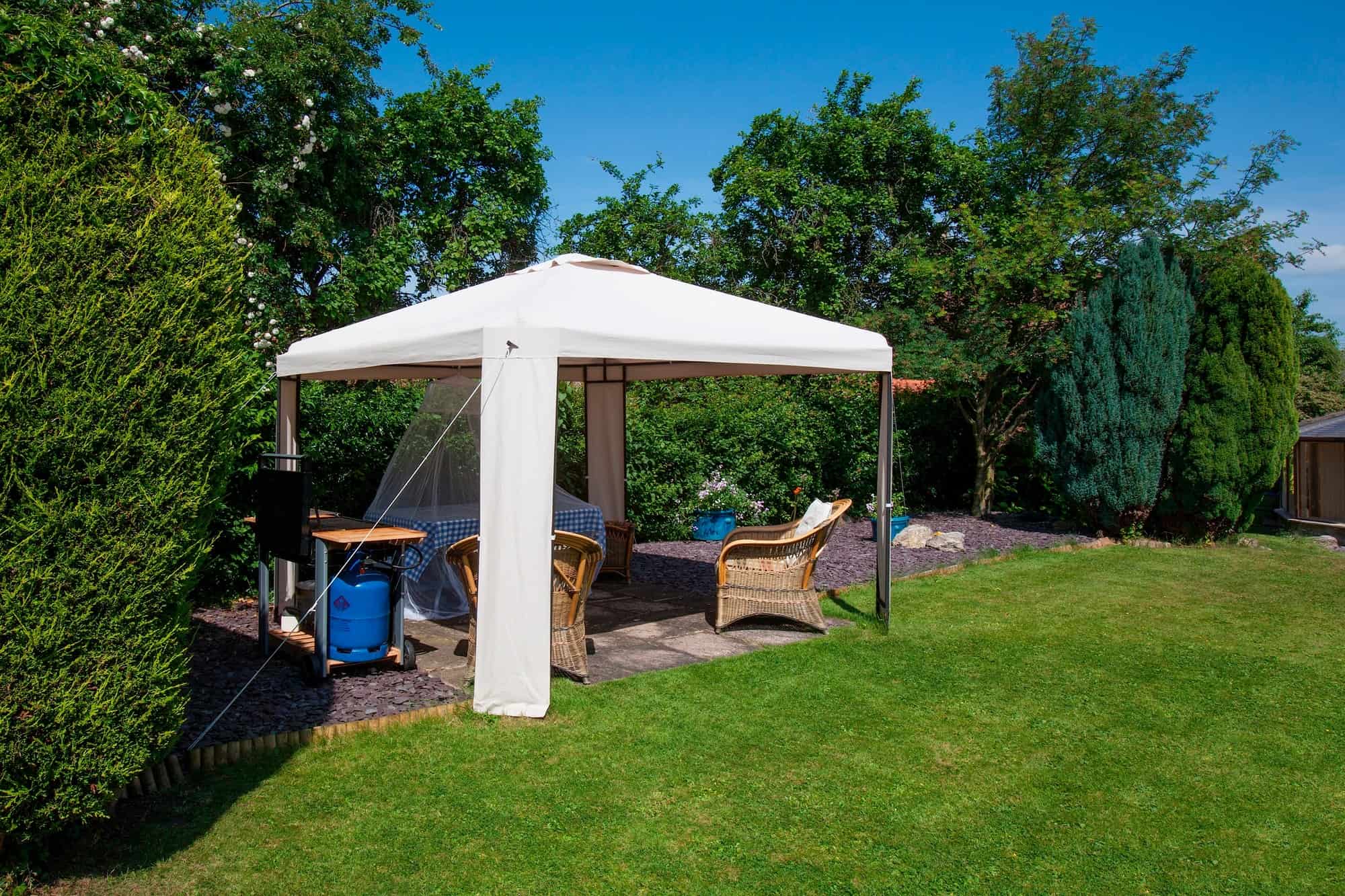 How can I enjoy my summer in a Gazebo? 
In case you are out of ideas on what to use your Gazebo for during summer, here is a list of suggestions for you.
Make use of outdoor ceiling fans to increase ventilation.
Keep cold beverages nearby to remain hydrated.
Organize a small get-together for friends and family.
One best spot for picnics are Gazebos.
Choose the perfect spot in the Gazebo for meditation and reading.
Mount sunshades at sides of the Gazebo for an enclosed space and privacy.
Invite friends for a Game Night.
Movie nights outdoors are always spectacular.
Turning your Gazebo into a personal yoga station is not a bad idea.
Installing a pool to have quick swims is something you should consider.
How to maintain a Gazebo during summer?
Gazebos are always appreciated when they remain neat, tidy, and attractive. Having a good maintenance culture is key to increasing the lifespan of the Gazebo. We have provided tips for maintaining your Gazebo.
Create a cleaning schedule that would allow for consistent sanitation exercise. Sticking to this schedule would do your Gazebo good because it would remain tidy and neat. In addition, it becomes easy to spot issues related to the structure or the interior.
While cleaning, avoid pressure washing the Gazebo. While pressure washing seems to be a good idea, the harm it does to your Gazebo is not negotiable. Pressure washing would affect your Gazebo's coating and paintings making the effect of these materials short term. A gentle scrub with mild soap would do the job.
Regularly check for holes, cracks, dents, loosened screws, and a warped structure. If you notice your Gazebo has an irregular shape or is tilting to a side, that is an indication the screws are loosened or the poles have been damaged. If you can't personally fix it, contact a professional to help fix it.
If the surrounding of your Gazebo is surrounded lots of trees and plants, regularly clear the paths to get rid of shrubs, weeds and to also control the moisture level.
Major threats to your Gazebo are mildew, mold, and rust. These destructive agents are most times caused by constant exposure to moisture. This moisture can be generated from rain or morning dew. They can physically be seen as they would appear on your Gazebo especially if it is a fabric or wooden Gazebo.
Check for pest infestations. If you have a wooden Gazebo, always look out for termites. To be on the safe side, regularly spray insecticides and pesticides.
To maintain the attractiveness of your Gazebo, regularly repaint and coat it. Coating and repainting would keep it attractive to onlookers and would also protect your Gazebo from sun damage.
Make use of protective kits such as pegs, rods, and anchor kits to keep your Gazebo sturdy. It's better to be prepared for a windstorm than sorry.
If your Gazebo can be disassembled, ensure it is kept in a cool and dry place. Never keep your Gazebo in a damp area.
Final Note
Who says you cannot live in the sunshine? With a Gazebo, your outdoor recreational activities remain intact without being fazed by the blazing sun.
Even though Gazebos offer you a shaded area, remember to use sunscreens during summer. Ensure that you follow the maintenance tips we have provided you.
More on gazebos: