The idea of erecting a Gazebo can create exciting fantasies as to what you can do with it but what follows next is a question of if it is worth it or what you stand to gain with erecting one.
If you are looking to improve the outward appearance of your home, and need a place for evening sit-outs while gazing upon nature, Gazebos can bring these fantasies to life. One great thing about Gazebos is that you could make one, all you need is a tutorial video and a great plan and you are on your way to owning a Gazebo.
Is your property going to be listed out in the market soon and you are looking to increase its price worth? Do you want your home to be a great appeal for visitors? Are you considering converting a Gazebo to a source of income? All of these questions boil down to the worth of a Gazebo and what your home stands to gain if you construct or buy one.
What can I use a Gazebo for?
The open-end structure has a variety of functions. We have ideas for what you can use a Gazebo for:
They come in handy for recreational activities, get-togethers, kids play-out, outdoor movie nights, sit-outs, and even formal meetings and even weddings. If you love to host gatherings and dinner parties in your home then a Gazebo should feature in your residential terrace especially if you are an open space lover.
They provide shelter in extreme weather conditions temporarily. We know how summer could be and how sultry the atmosphere could get. They can be used to receive fresh air during the rainy or summer season.
It is a sure place to unwind and the view of nature it affords because it is open spaced just gives off a comely atmosphere; for those who have personal reflection outlined in their to-do lists, Gazebos are non-negotiable. The relaxed atmosphere Gazebos offer can do your mental and physical health more good than you could ever know.
Is a Gazebo worth it? Does it add value to your home?
Yes, a Gazebo is worth it and it does add value to your home. Gazebos not only enhance the aesthetics of a home but also give off a sophisticated and elegant appeal to onlookers and visitors. For those whose homes serve as centers for family gathering, dinners, and urgent formal meetings, having Gazebos offer you the opportunity to host these meetings without disrupting your indoor theme and setting.
They can be a quick fix to emergency meetings and are fantastic spaces for outdoor activities.
Are you leasing your home anytime soon and do you want every penny on what it's worth? You can start drawing out your Gazebo plan now. One of the fastest ways to increase the price value of a property is to erect a Gazebo on the residential terrace. This makes your home appealing to prospective buyers especially those who have indicated preference or special interest in outdoor spaces.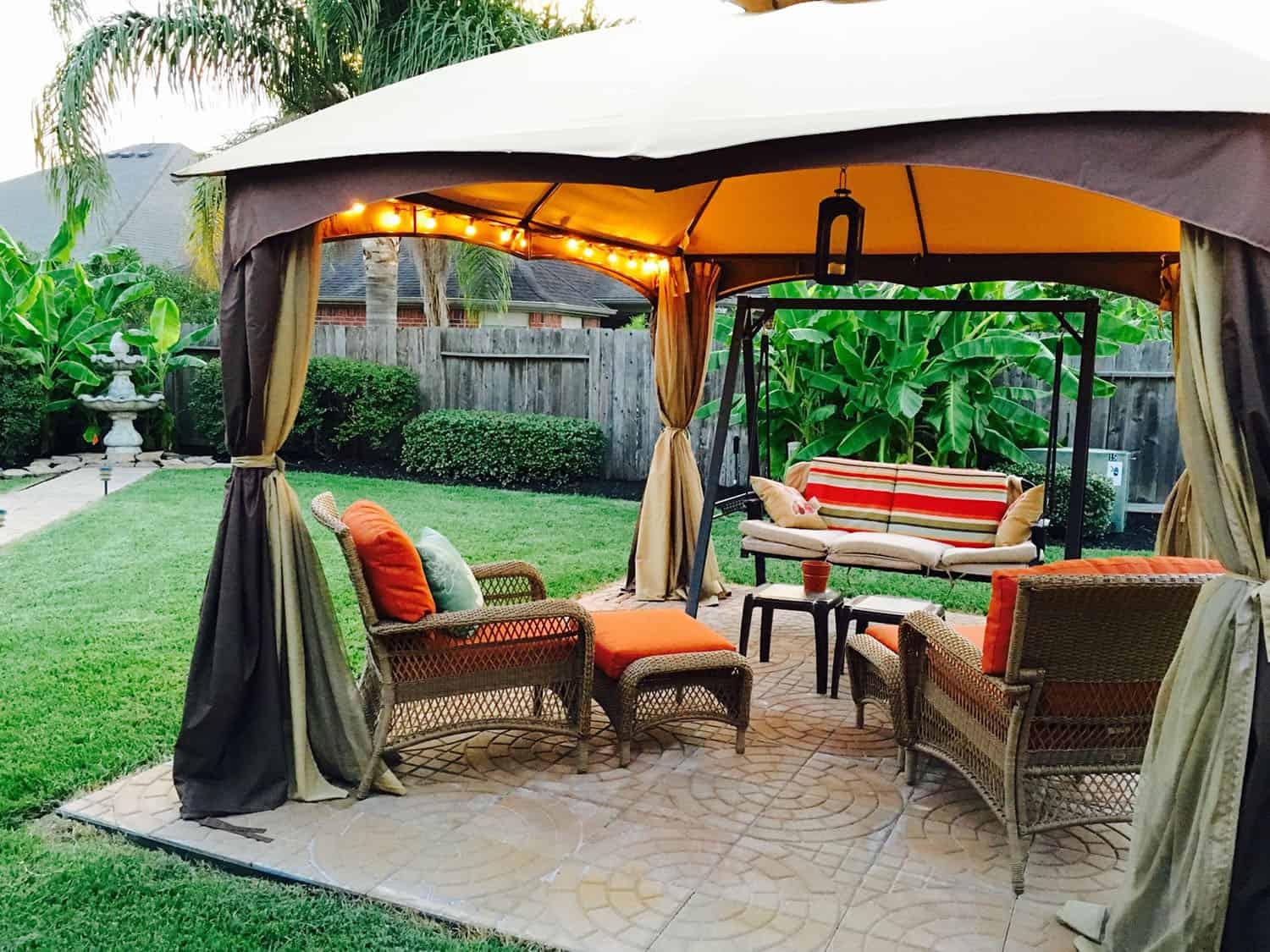 What most prospective buyers look out for in houses are their unique features, if your house is on a long list of buildings to be sold or leased, you may want to up your game by constructing or buying a Gazebo.
Do you know you could offer your outdoor space to companies and organizations that need to host trade fairs or other outdoor activities especially if it's very large? After getting a profit from renting out your space, your profit can still be increased by erecting a commercial Gazebo where you get to sell your products or services. A double win for you! In addition, you could rent your Gazebo to photographers who may need locations for their shoots.
With a Gazebo, you can easily change the interior décor to suit your desired niche; just a few props here and there, and a new theme is set to be created.
A Gazebo is sure to stand the test of time so far the structure was created to be sturdy. They can be used all year round and are very low maintenance as you just need to ensure they are always tidy and appealing.
Asides from the initial amount spent in purchasing or building a Gazebo and the interior, future expenses are not likely to occur and if they do, they would be very minimal. Its maintenance is quite low as you just have to prioritize cleaning and gardening which is very easy to do.
If you are always on the move and your love for outdoor spaces cannot be negotiated, you may opt for a moveable Gazebo by purchasing its kit from an online store.
With a Gazebo kit, your Gazebos can always be on the move with you. Temporary Gazebos are easy to take down and set up, you just need to be familiar with the installation and dismantling techniques. In addition, they are always easy to store.
Tips to remember before building or buying a Gazebo
Get a permit from the local building before constructing on your property.
Define the available space.
Ensure the space selected is clear of obstructing objects like trees that could damage them.
Check for pipes and wires underground before drawing out any plans.
Identify the purpose of the Gazebo- This helps you draw an accurate plan that puts into consideration the size and the kind of materials needed for construction.
Draw out a budget to see if you can afford to build or buy a Gazebo.
For the best rooftop quality, make use of a hard rooftop but if you prefer affordability then a fabric rooftop is your best option.
If you decide to DIY with the Gazebo, watch a couple of tutorial videos to be acquainted with the techniques of building one.
Rather than buying materials, you would need for a one-time construction; it is advisable to rent. The price of renting the equipment is relatively affordable than purchasing them.
Ensure your plan is very accurate and be careful with the measurements and equipment.
Choose an interior design that suits your fancy.
Although Gazebos are low maintenance, they still need to be cleaned consistently. Draw out a cleaning schedule for your Gazebos so they can remain appealing.
How much value does a Gazebo add?
A Gazebo would add value to your home because it improves the outward appearance of your home by giving it an elegant and sophisticated look. Not only can it be used for different gathering gatherings, but it could also be the perfect location to enjoy your privacy. In addition, if you are leasing your property in the future, constructing a Gazebo increases the price value of the house thereby increasing your profit.
Is the Gazebo a good investment?
Yes, it is a good investment. They can be used for different outdoor functions and can increase the price value of your property.
Do pergolas block the sun?
No, pergolas do not block the sun. Unlike Gazebos, they can only provide a partial shade from the sun. If you are looking for full protection from the sun, you would have to consider checking out a Gazebo.
Final note
Purchasing or building a Gazebo can never be the wrong option so far you have considered the pros and cons of your decision. One of the most important tips to remember before erecting a Gazebo is getting a permit from the local building office; getting a clearance ensures you are on the good side of the law.
Whether you build or buy your Gazebo is choice depends on you, ensure the size and structure chosen suits the purpose of the Gazebo.
Keep reading: