While many cite the difference between a pergola, gazebo, and canopies as just roofs, which is true, however of these roofs have different uses and qualities that set them apart. Knowing the differences between a pergola, gazebo, and canopies helps you decide which one you need to get.
A pergola has been around for a long while just like a gazebo but both are quite very common in homes. If you are looking to enhance your backyard then choosing between these three roof types is the perfect place to start.
The main difference between a gazebo, a pergola, and canopies are the shape, structure, and shelter roof type. The gazebo is either hexagonal, square, or circle in shape and tends to have pointed roofs as well. While the pergola is not connected to the house and is built with roof beams without any solid roofing. The canopies however are simply an overhead roof with a fabric or metal covering to provide shelter from rain or sun.
Landscaping is not limited to your front yard garden or backyard though, a roof garden has recently been introduced and it can help add some fancy and personal touch to any structure. However, to create this magic, you need to choose between a pergola, gazebo, and canopies.
These three roofs provide different forms of shelter and it is important to understand these differences.
So if you are planning to choose the perfect backyard structure for your home then you need to know which of the three shelters is ideal for you. Hence this article contains the difference between the three including their uses to enable you to choose between the three.
Pergolas Explained
A pergola is designed to provide an area for you and your friends to mingle. It is an outdoor garden feature that forms a shaded sitting area, walkway, and passageway and it can also be used as pillars that support cross beams.
The primary use of a pergola is for designing a specific area in the landscaping and it happens to be a simple design. They can also provide cover for a bench and they open on all sides which means they won't offer any protection from sun or rain on the sides.
Pergola is completely mobile which means when they are set in a particular place, they can't be moved. There are three common types of pergolas which include: Wood Pergolas, Vinyl pergolas, and metal and fiberglass pergolas. All these types are simplistic in their designs and can be constructed with different materials.
Gezebos Explained
A gazebo is designed to provide shade just like a pergola. It is typically used in a garden and outdoor areas.
A gazebo is shaped in the form of an octagon and this structure is often made to be large and immobile which provides you shade or is used to add beauty to an outdoor setting. Gazebos are used to provide shade from rain, and sun and it provides you with a place to rest as you may already know, there are many types of gazebos to choose from.
The primary purpose of a gazebo is to shelter one particular space, however, it comes with partially open sides. They are also used as a roof over a defined space that can be used for gatherings such as dinner parties or relaxation. The larger gazebos can also be used for events to9 be booked and help.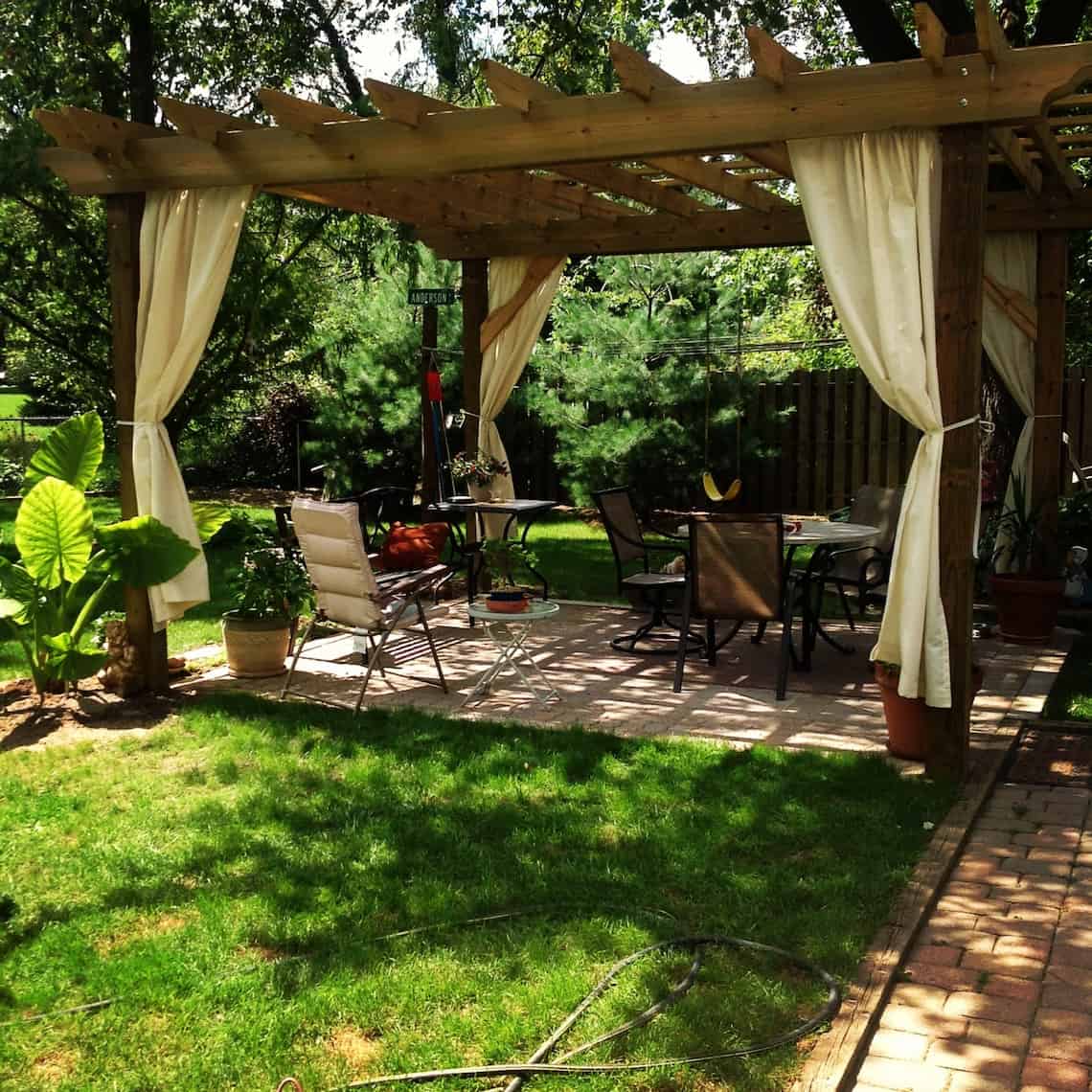 Canopies Explained
A canopy is an overhead roof that spreads out and covers an area. This type of shelter is designed to rest on columns and doesn't attach to the house. A canopy also has a support structure, unlike a pergola. Just a gazebo and a pergola, a canopy can provide shelter from weather conditions.
Pergola Vs Gazebo: The Differences
What's the difference between a pergola and a gazebo? A pergola with a roof is quite similar to that of a gazebo but there are differences between these two that can help you decide which one to buy. The main difference between a pergola and a gazebo is the function of the roof, however, to properly understand these two shelters, we have listed the notable differences between them.
| Pergola | Gazebo |
| --- | --- |
| A pergola is much less cluttered and much more elegant. | Gazeboes can be built from a number of different materials and the material you choose depends on your project. |
| It is relatively easy to build and most homeowners can have it installed themselves. | They are very sturdy and will hardly get damaged in bad weather. |
| Pergolas are also inexpensive. | They offer a great location for photographers. |
| They don't take too much space. | You can run electricity to a gazebo. |
| Pergola looks really great as a way to anchor a living space or an outdoor kitchen. | They are versatile and functional. |
| You can choose between a larger and a smaller pergola. | They do not need much maintenance and a well-built gazebo has minimal risk. |
| Pergolas add value to your home and property. | |
Gazebo Vs Canopy: The Differences
The main difference between a pergola and a gazebo si the shape but with a canopy, it is not the same. A gazebo and a pergola are both created to offer your shades but a canopy is considered more of a simple structure. Here are the differences between a gazebo and a canopy.
| Gazebo | Canopy |
| --- | --- |
| A gazebo is mainly used for decorating outdoor events and celebrations such as parties, birthdays, weddings, and anniversaries. | Canopies are simple structure shades made of lightweight. |
| Gazebos are built to withstand weather and might take up lots of space. | Canopy is designed to add value to your home but is not sturdy enough to withstand harsh weather conditions. |
| Gazebos are expensive but are considered reasonable since they are built with durable materials. | Canopies are meant to be temporary structures. |
| Gazebos are permanent and convenient whenever there is a need. | The cost of installing a canopy after a couple of months or years is less favored than that of a gazebo that is sure to last for a long while. |
| The sheer weight of gazebos means they will be standing firm in a place and they are more expensive than the simple structured canopy. | Canopy is a simple structured shade that favors convenience over durability. |
Pergola Vs Canopies: The Differences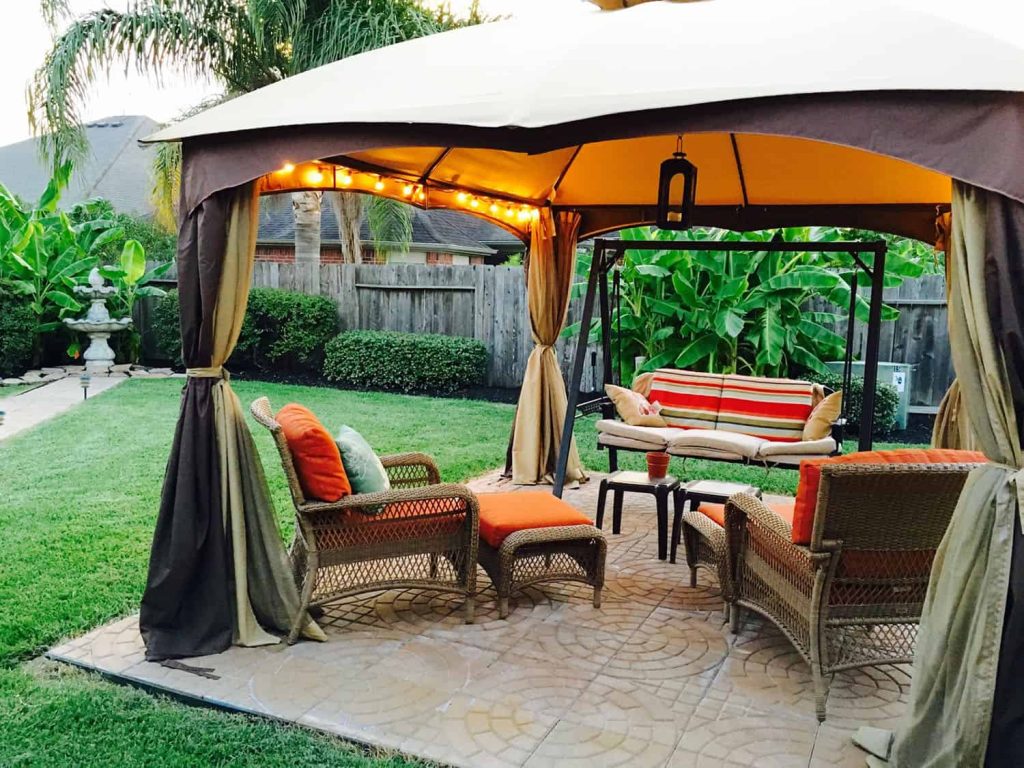 Pergolas are freestanding structures that are constructed to offer shades from the sun and they are also permanent just like a gazebo but they are considered more similar to a canopy.
Most canopies come with soft structures compared to a pergola that is made with more durable material. The roof material is cited as the main difference between a pergola and a canopy.
Canopies are very similar to pergolas and they are both constructed as freestanding structures. But keep in mind that pergolas are well built solid and they can also include a canopy as a covering to offer sun and rain protection.
A pergola is not usually connected to a house as it is simply a structure connected to a roof that is actually the rafts or beams and when it has fabrics hung over the top to offer protection from the sun then it is called a "Pergola Canopy".
A pergola canopy is an outdoor structure that is made to define a specific area inside the landscaping. This does not come with a solid roof and it rather has a canopy over the top which offers you protection from rain and sun.
Pergola vs Gazebo vs Canopies: The Differences
Choosing between a pergola, gazebo, and canopy is not complicated, you just need to choose the right style that best suits your home and what you need. Landscaping adds significant value to your home however the kind of roof you use can further heighten the value.
When choosing between these three outdoor structures, you need to consider what the intended use of the backyard structure is and where you want to have it located. Here are some of the highlighted differences between these three.
| Pergola | Gazebo | Canopy |
| --- | --- | --- |
| Pergolas are permanent backyards structures. | Gazebos are built with heavy materials which makes them permanent backyard structures. | Canopies are lightweight designed and they are lighter than a gazebo and pergola. |
| Pergolas have open structures and slatted roofs which enable plants to climb over and wrap themselves around the open space. | Gazebos have hard roots and are covered at the top, they have tough structures and will keep the sun and rain out. | Although canopies are designed with soft fabrics, they offer more shades compared to a pergola. |
| Pergolas are expensive shade structures to design and offer fewer shades. | Gazebos can be really expensive depending on the material used. | Canopies are the most inexpensive form of shade. |
| A shade structure built with a pergola is a great option if you don't have a covered patio or extended roof. | The best option if you want to entertain people in an outdoor structure is a gazebo. | Canopies are great for more usable space that allows you to set up seamlessly underneath them. |
A pergola is suitable if you are not into shades and just need an outdoor structure to add value to your home.
A gazebo is a well-built structure that will offer you plenty of shade but it's expensive. Canopies are the least expensive style of outdoor shelter but most are not sturdy enough to withstand outdoor weather conditions.
No matter what structure you choose, having any of the outdoor structures is sure to add a decorative touch to your garden and backyard.
Final Thoughts
Pergola, gazebo, and canopy are all outdoor structures that are defined to add a decorative touch to your home. These shades will offer you elegance but each has its own advantage and disadvantages. With the differences and limitations of each of these outdoor shades listed above, you can easily choose one that adds value to your home.
Understanding that each of these structures has its differences and what they are best suited for is sure to make your choice an easier one.
Discover next: