To decide to erect an additional structure on your house property may be a tad bit worrisome as you may be envisaging the cost implications of your decision.
Needless to say, for you to have contemplated constructing a Pergola, you must be well aware of what you could use a Pergola for, and by now you must have had specific reasons for considering it.  
Putting up a Pergola is no small project notwithstanding if you are going to buy or build the Pergola. Before setting out any important decision, it is always advised to count the cost. Little wonder house owners appear hesitant when it comes to choosing their property such as erecting a Pergola.
To allay your doubts concerning this decision, we have provided answers to whether or not a Pergola is worth it and if it even adds value to your home.
Is A Pergola Worth It? Does It Add Value To Your Home?
Yes, a Pergola is worth it and besides that, it adds value to your home. Several reasons for constructing a Pergola have been provided and these reasons prove that putting up a Pergola structure is worth the effort and beneficial.
An added advantage Pergolas offers you asides from its primary function of providing partial shade from weather elements is that it lifts the outlook of your property.
Say you are tired of seeing the same old structure and you want something new, a Pergola is a reliable way of creating improved scenery. They are style boosters because they can be designed to suit your fancy. Your Pergola could be structured and designed in a way that reflects your appreciation for sculpture, arts, and crafts.
A Pergola affords you an airy ambiance where you could relieve the day's stress and be entertained through your preferred pastime. Because they are outdoor structures, they could serve as entertainment and relaxation spots. They are convenient for get-togethers, dining, barbeque spots, and other recreational activities. In addition, they can pass for official meeting venues.
They are not as expensive as they are made out to be. You could build your Pergola. Just before you doubt, erecting a Pergola is not as backbreaking as you think it to be although, in all honesty, they could be somewhat stressful. Ever considered honing your carpentry skills? Constructing a Pergola is your perfect tryout.
Watching a couple of detailed tutorial videos gives you an overview of all you need to know about putting up a Pergola structure.
Fortunately, a self-built one is not as expensive as purchasing or procuring the services of a contractor. All you need do is watch some videos, draw out an accurate plan, get all the needed equipment, and you are on your way to owning your Pergola.
For property owners, a reliable way of increasing the market value of your property is to extend or to create an additional structure on it. Because appreciation for outdoor spaces has been on the rise, house buyers are quick to look out for certain structures while checking out a property.
If you want your property leased or sold out as soon as you desire, a Pergola is not a wrong decision. In addition, if you have a large residential terrace and you can afford to build more than one Pergola, they could be a source of income as you can rent them at a certain price.
All you must know before erecting a Pergola
Before building or buying a Pergola, there are questions you must have answered. They are:
Have you gotten a local permit? A local permit is needed before you embark on your Pergola project from the local government agency. This permit allows you to proceed with the property extension or modification and ensures that the Pergola is constructed to comply with local standards of construction, land use, and zoning.
What's the purpose of the Pergola? You must have a specific reason for constructing the Pergolas as it would inform the size, material, structure, and interior design of the Pergola.
Have checked for wires and pipes in your desired spot? This is very important in preventing mishaps during the Pergola construction.
Are you going to be buying or building the Pergola? To build the Pergola means you might need the services of a professional except you want to construct it yourself. On the other hand, ordering a Pergola kit is another option. Upon delivery of the package, all you need to do is install the Pergola.
Are you renting or buying the equipment needed for the construction? It is advisable to rent the equipment since the Pergola construction is a one-time task. Renting is cheaper than buying the equipment
If you are building the Pergola yourself, are you prepared for the task? To build your Pergola single-handedly means you must be well acquainted with the techniques in erecting a Pergola. You must work with a plan that includes accurate measurements and equipment. An accurate plan helps manage time and resources.
How do I maintain my Pergola?
Maintaining your Pergola is very important in preserving its attractive outlook and appeal. This is a list of how you can maintain your Pergola and protect its structural integrity.
The cleaning agent to be used depends on the material used in constructing the Pergola. For a vinyl Pergola, you are expected to use a vinyl cleaning agent. Do not use a vinyl cleaning agent for a wooden Pergola. Note that you can opt for all-purpose cleaning agents for your Pergola.
Do not take long breaks off cleaning your Pergola as debris and dirt could deface the Pergolas making it less attractive.
When the material of your Pergola gets old or rusty, consider spraying with new paint to enhance its attractiveness again.
During winter, prevent snow build-up on your Pergola as the moisture can affect its structural integrity. Adding a canopy can prevent moisture build-up on the Pergola. In addition, resorting to outdoor heaters also helps.
If you have lattice panels on your Pergola roof, do well to remove them during winter; the weight from gathered snow can weaken the strength of the structure.
Inspect consistently to detect areas that need polishing, fixing, or refurbishment.
Do push tests regularly to weigh the structural integrity of the Pergola. For this exercise, you just need to push the posts/poles to check how sturdy they are.
Consistently check the structure for loose screws; loosened screws must be tightened upon detection before continued use of Pergola. This helps prevent unfortunate incidents.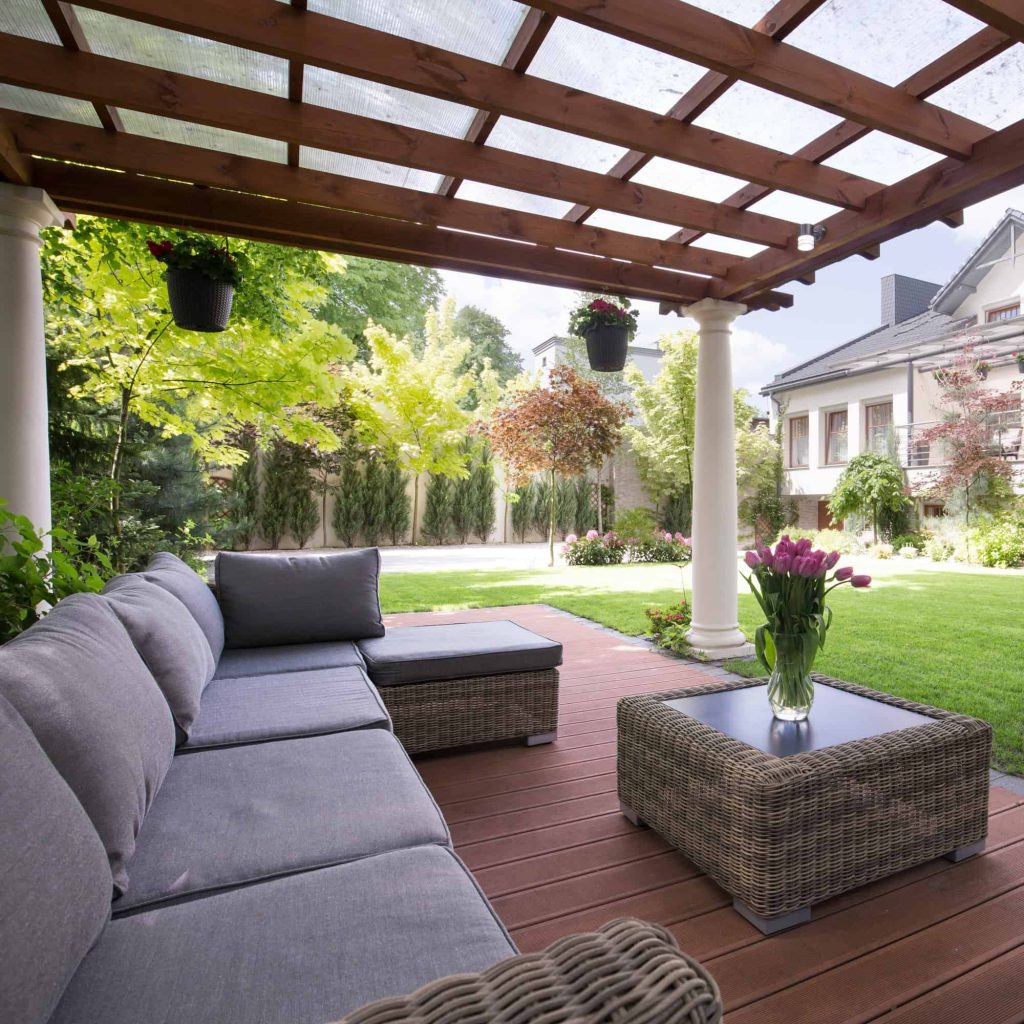 How much value does a Pergola add?
A Pergola increases the aesthetics of your home both to you and visitors through the unique scenery it creates. They are perfect spots for recreational activities and meetings whether formal or informal.
Is a Pergola a good investment?
Yes, a Pergola is a good investment. In the case of selling or leasing the property, Pergolas would increase the market value to potential buyers and you can get your profit from the property when it is sold.
Do Pergolas block the sun?
No, Pergolas do not block the sun. Unlike the gazebos that provide full protection from weather elements, Pergolas provide partial shade from the sun and other weather elements. If you need full protection from the sun, consider Pergola covers.
Final Thoughts 
To erect a Pergola on your property is not a wrong choice so far you have followed the tips we have provided for you.
If your Pergola does not give you room for proper maintenance of the Pergola, seek the services of a cleaning agency. In addition, periodic inspections are needed to check the structural integrity of the Pergola.
You do not have to break the bank to erect your Pergola; they could be constructed to fit a decent budget.
More on pergolas and outdoor structures: