If you have been going through different pergola designs and having one is on the next to-do list for your home, there is a high probability that the question on your mind is whether building or buying a pergola would be the cheaper option. After deciding to own a pergola, homeowners are usually saddled with the choice of either building or buying a pergola.
Since we all like to manage resources, it is not unusual to weigh the cost as well as the pros and cons of either option. 
With buying a pergola, all you need to do is order and your pergola would be delivered to your doorstep within days as specified by the store.
On the other hand, building a pergola means you are going to be constructing from the beginning; you get to see the beginning and end of constructing your pergola. In addition, if you want specific designs in the form of art or sculpture, building one offers you that luxury.
However, the big question is which option is cheaper? One option is that your time and energy are preserved while the other offers that you expend more time, energy, and materials. Here's all you need to know about building and buying a pergola and which option appears pocket-friendly.
What can I use a pergola for?
In case you need reinforcement to own a pergola and you are worried you might be making a wrong choice, we have provided you with ideas on what you could use your pergola for.
Since the primary function of a pergola is to provide partial shade from the sun, the shaded area reduces heat during hot days. They could serve as dining centers, cozy leisure areas, and even an intimate location for reflection and privacy. What better way to have a "me" time than having it in a pergola while reading your favorite book.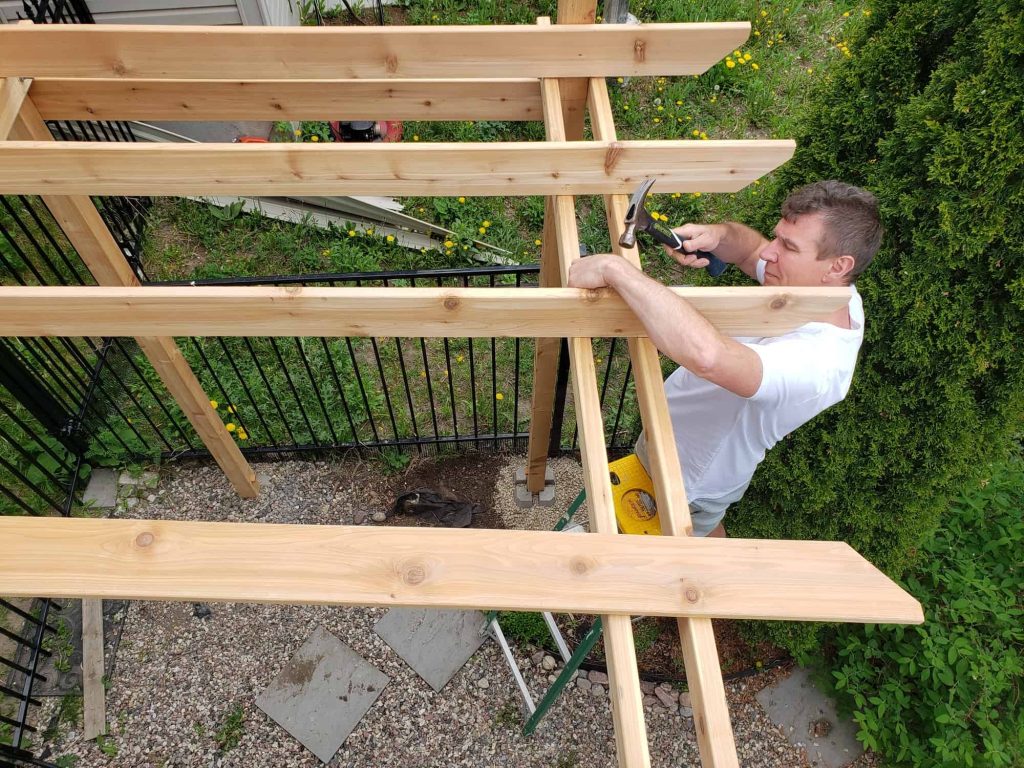 Not only do pergolas serve these purposes, but they also increase the value of your home by enhancing the appeal to onlookers and visitors giving your house an interesting outlook. In addition, they can increase the price value of your home if you plan on leasing it in the future.
What do I need to know about buying a Pergola?
You must be familiar with certain tips before ordering a pergola kit. Ordering a pergola kit offers you the opportunity to save your time and energy as it is not as labor-intensive as building one. Here are tips you must consider before making a purchase:
Get a permit from the local building department
Check for underground wires and pipes in your desired spot
Consider rain and sun protection
Identify the purpose of the pergola
Identify your preferred size
Choose the pergola that suits your choice- Pergolas come in different materials; vinyl, metal, wood, and fiberglass. The most expensive of these materials is the fiberglass pergola. The prices of these materials vary and choice depends on the affordability and maintenance level.
Consider who is going to install the pergola. Are you going to install yourself or would you require professional services? Note that professional service increases the cost implication on your budget.
In ordering a pergola kit, all you need to do after it is delivered is unbox the package and your pergola is ready to be installed. However, if you decide to buy a pergola, you must know the price is on the high side considering the charges from ordering to getting the package delivered.
Although the cost of buying a pergola is higher than building one, the price of pergolas still varies considering the builders, the quality of the materials, the size of the structure, the location of order and delivery. It is advisable to choose a store closest to your home.
What do I need to know about building a Pergola?
Before deciding to build your Pergola, bear in mind that you can build them yourself. Just before you go on to thinking it is an impossible task, Pergolas can be easily built so far you work with an accurate plan, watch tutorials to familiarize yourself with the techniques, and use the right materials and equipment while constructing.
If your schedule does not allow you to build a pergola, you could hand out the project to a contractor.
Before making that call to your contractor, the price of incurring the services of a contractor is way more expensive than building it yourself considering the various services you would be paying for.
Building a pergola is a sure way of testing your carpentry skills. Before you start buying materials for construction, there are important things that must be known and set in place to avoid future mishaps or unfortunate situations.
Get a permit from the local building department to be on the good side of the law
Once you get your permit, prepare to be spent as this project is labor-intensive and saps both energy and time especially if you're single-handedly building the pergola.
Where is your pergola going to be situated? Pergolas are either attached to walls or buildings or free-standing
What kind of pergola do you want to construct? Pergolas can be built with wood, fiberglass, wood, or vinyl. Identifying the preferred materials is needed for drawing out a budget
Identify the purpose. When you know the reason for constructing the pergola, you have an idea of the size and the best materials for it.
Make available all the equipment that would be needed for building the pergola. It is cheaper to rent the equipment than to buy since it is just a one-time project.
For long-lasting pergolas, use concrete for the foundation
For a more sturdy structure, you could make use of pergola supports for the posts
Familiarize yourself with different pergola designs so you could have a variety of options to choose from.
Draw out a plan that has accurate measurements. This is where most self-builders find it difficult; once your measurements are miscalculated, frustration would set in as you won't be getting the shape of the pergola you desire.
Cut all posts and boards before assembling. It is better to cut out everything you would need than cutting out part single parts, assembling them, and then cutting out again.
If any part of constructing the pergola proves difficult, be quick to consult a professional to make headways
Consult an interior designer for inspiration if you run out of decoration ideas.
Is it cheaper to build or buy a pergola?
It is cheaper to build a pergola than to buy one. When considering the cost implication of either option, you must bear in mind that the cost of materials plays a major role in determining the price of a pergola whether it's going to be built or installed.
Although building a pergola consumes time and energy, the cost implication is lesser than purchasing a pergola kit. Make available the materials and equipment, get an accurate plan to work with, watch several tutorial videos and get on to work.
On the contrary, if you decide to build a pergola but would require professional services then your budget must include payment for a contractor's services. The price for this is more expensive than self-building your pergola. Sometimes, they are even more expensive than purchasing a pergola kit.
Final Note
Choosing to build or buy a pergola depends on your choice and purse. After making your decision, the next thing that must crop up on your to-do list after erecting the pergola is the interior decoration. The beauty of the pergola is not just in the structure but in how creative you can get with the interior decoration.
Consult the services of an interior designer to get professional insight and how your pergola's theme can turn out.
Read next: