If you are planning to have a party outdoor, then you do need patio tables that can light the place up.
Patio tables can also work for setting up your garden decor, especially if you have a garden designed for entertaining. While you can simply have a table brought outside, it will be fun to go for unique decor and what you have put on a patio table also matters.
Patio table settings also allow you to have intimate dinner gatherings. You don't have to go for expensive patio tables before you can beautify your garden or backyard with just the right patio table.
How you set up your patio table is also just as important as the type of table you go for. There are also DIY Patio tables you can go for, these are cheaper and let you create your design. Entertaining can be so much easier with the right patio table.
15 Patio Table Setting Ideas You Can Copy
There is nothing to worry about if you can't decide on a choice of patio table settings.
There are lots of amazing options, however, choosing can be a bit overwhelming. You don't have to worry about having a large backyard or not, we have rounded up 15 patio table settings that can inspire outdoor entertaining.
1. Simple Fall Patio Setting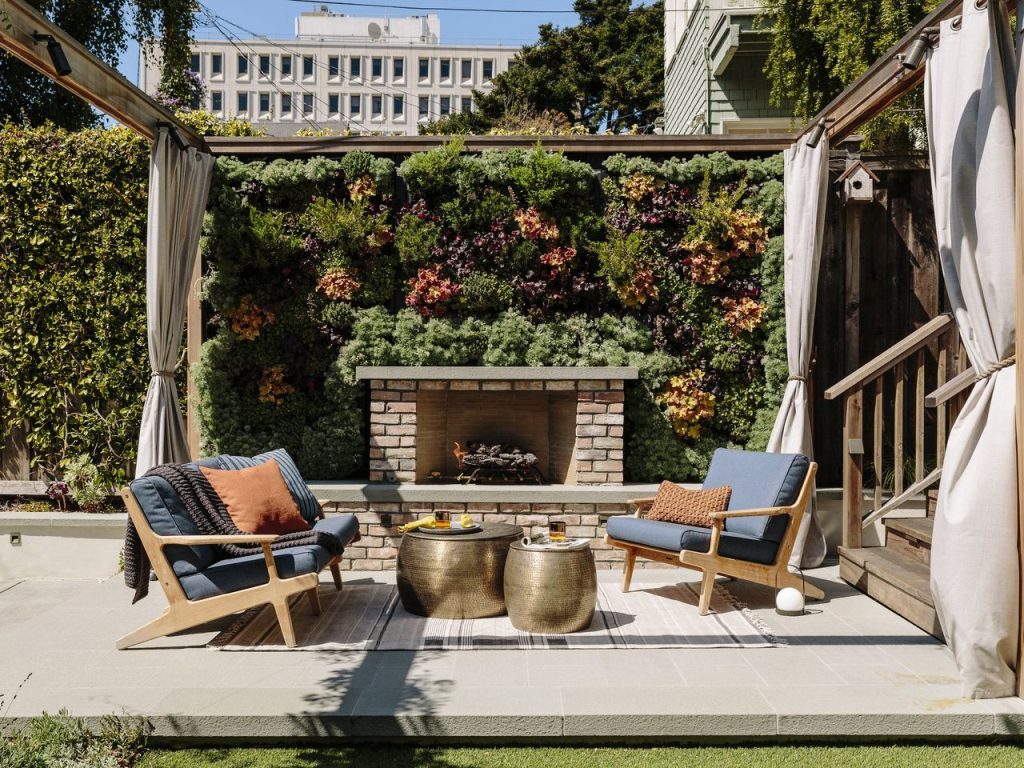 It doesn't have to be luxurious before it can be beautiful or be used to entertain. This is cool for an intimate gathering and won't cost you a fortune to have set up. This type of setting is perfect for practicing social distance, and it's just what your backyard needs during the winter or fall season.
There are lots of furniture ideas, but this works best for a minimal patio setting. The table setting is really simple but very modern and serves its purpose easily too. While wood tables are great, this is a more updated and lovely version your guest would love.
2. Single Modern Table Set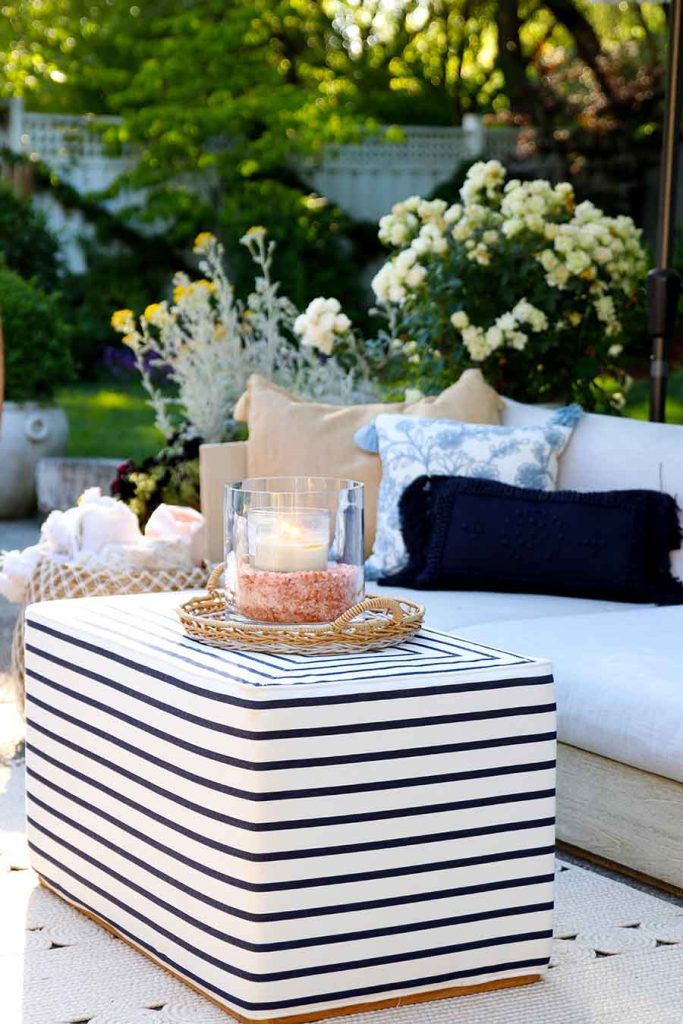 Here is another patio table set that shows you don't have to go too far to find a cool intimate table. This is classy, gives the modern vibe, and finally, you don't have to worry about it getting in while you dance. This might not take much food if you are serving so plan to make it two.
This single patio table is comfortable, and you can have a flower or candle placed in the middle to lighten up the place. Your choice of chairs doesn't matter either, it pairs nicely with any material.
3. Aluminum Table Setting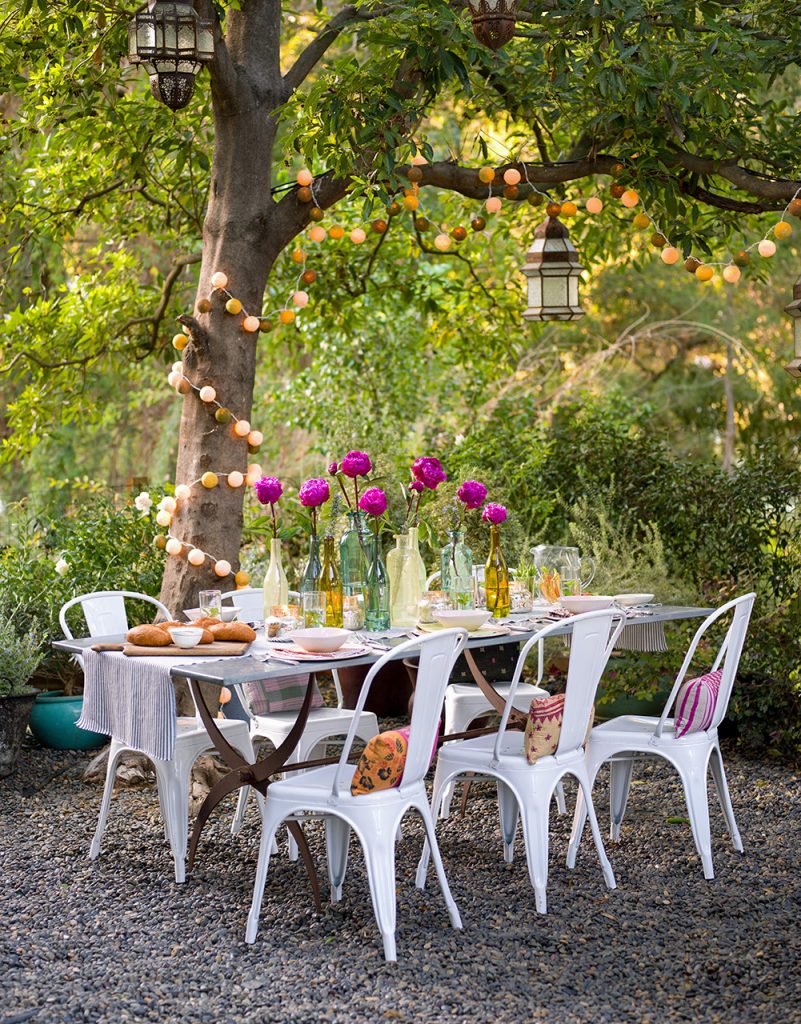 Aluminum happens to be a great material for your table. It is lightweight which makes it easier to move around and with simple chair settings like this, you can enjoy entertaining anywhere in your backyard. You might have to move it indoors during winter, though, so it doesn't wear off.
4. Synthetic Rattan Patio Table Setting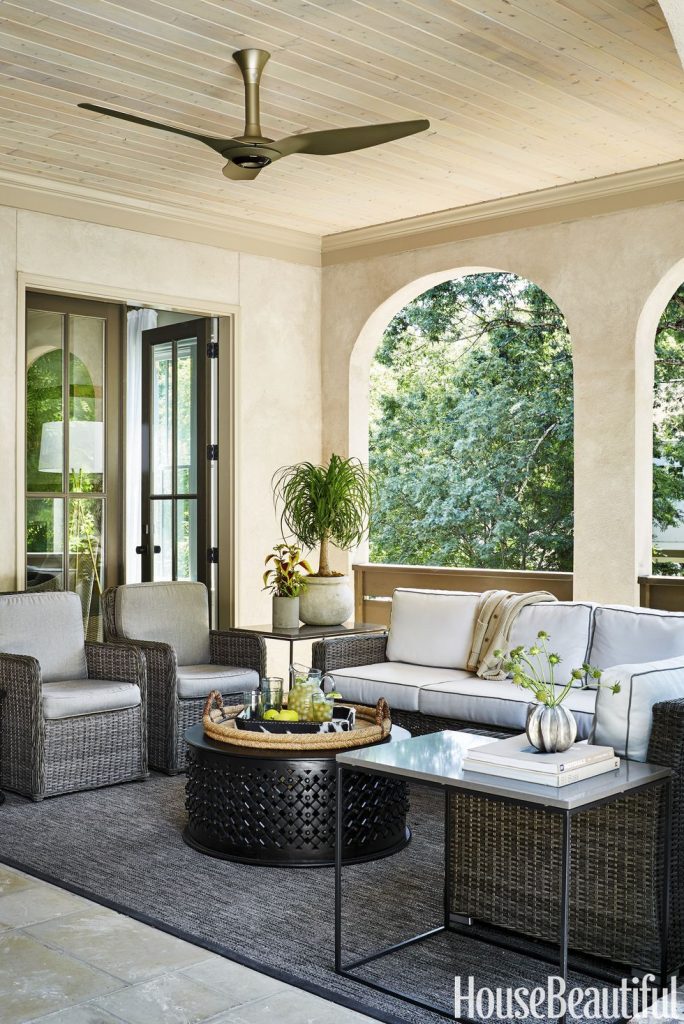 Here is another exquisite table that can change the patio decor easily. The synthetic rattan is also lightweight, and many go for it, so they can easily have it moved around. It is weather-resistant too, so you don't have to worry about it wearing out.
5. Wooden Garden Furniture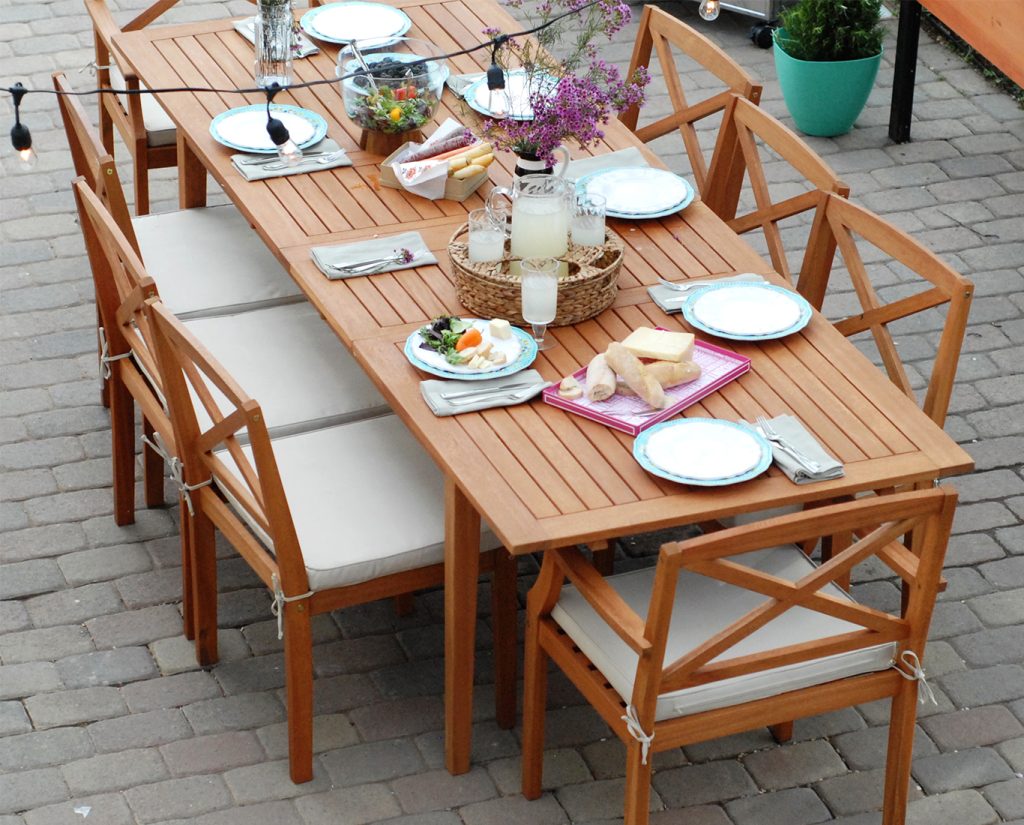 The first type of table setting that comes to mind is always one with wooden material. This is because they can be made yourself and costs less too. Wooden furniture is often used to complement the garden decor, but they are stunning and will look great for your patio as well.
You will have to keep this clean and requires treatment with preservatives regularly, so it doesn't rot. This is classy and can work for your patio, garden, deck, and even dining set indoors.
6. Simple Teak Table With Elegant Patio Decor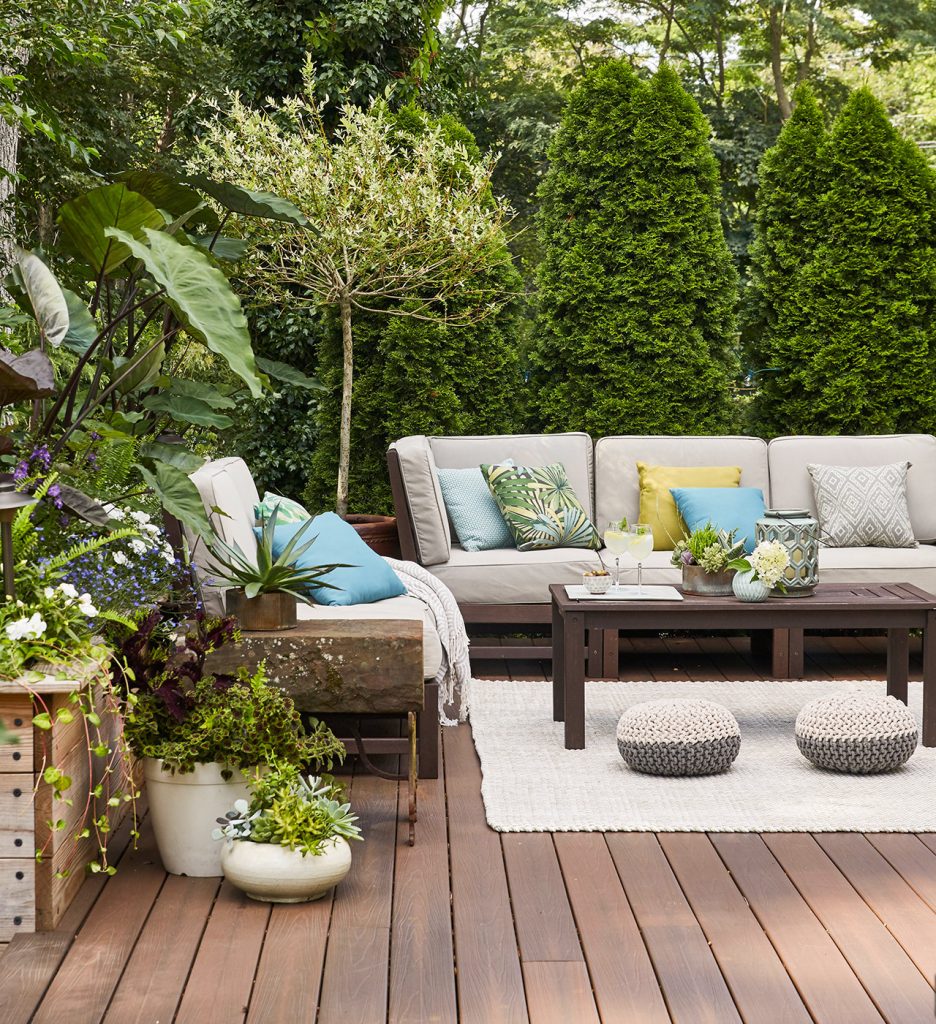 Your backyard theme doesn't have to be boring, you just need to find a way to spice things up. A table setting can make a lot of difference in your patio design. Teak tables are considered plain, but to make it less so, here is a design that works perfectly. This can work for formal entertainment and casual date night.
7. Modern And Natural Patio Setting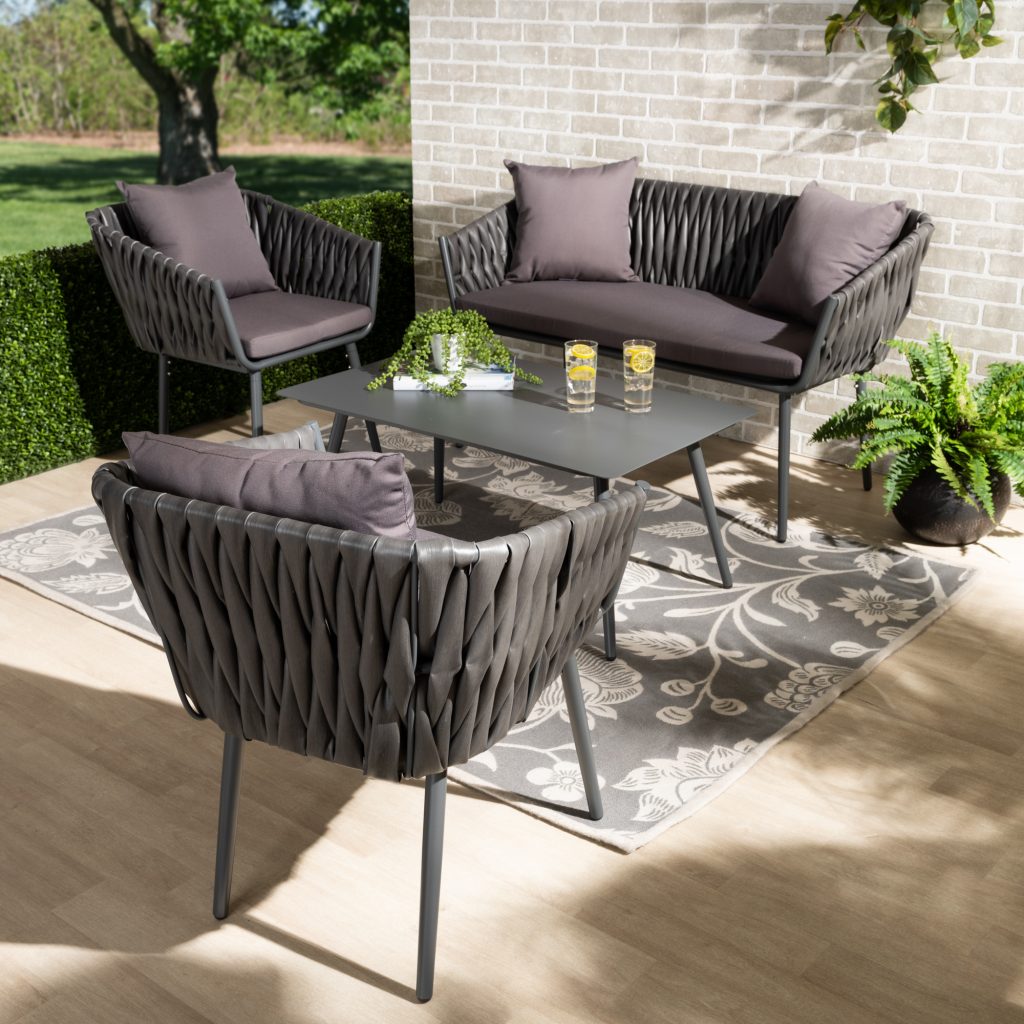 You really can't go wrong with something as exquisite and glamorous as this. Combining modern design with nature is another way you can elevate your whole backyard decor. Your patio doesn't need a table setting alone to stand out, try something even more stunning and neutral as this table, it sets the pace for any other decor.
8. Wicker Modern Patio Table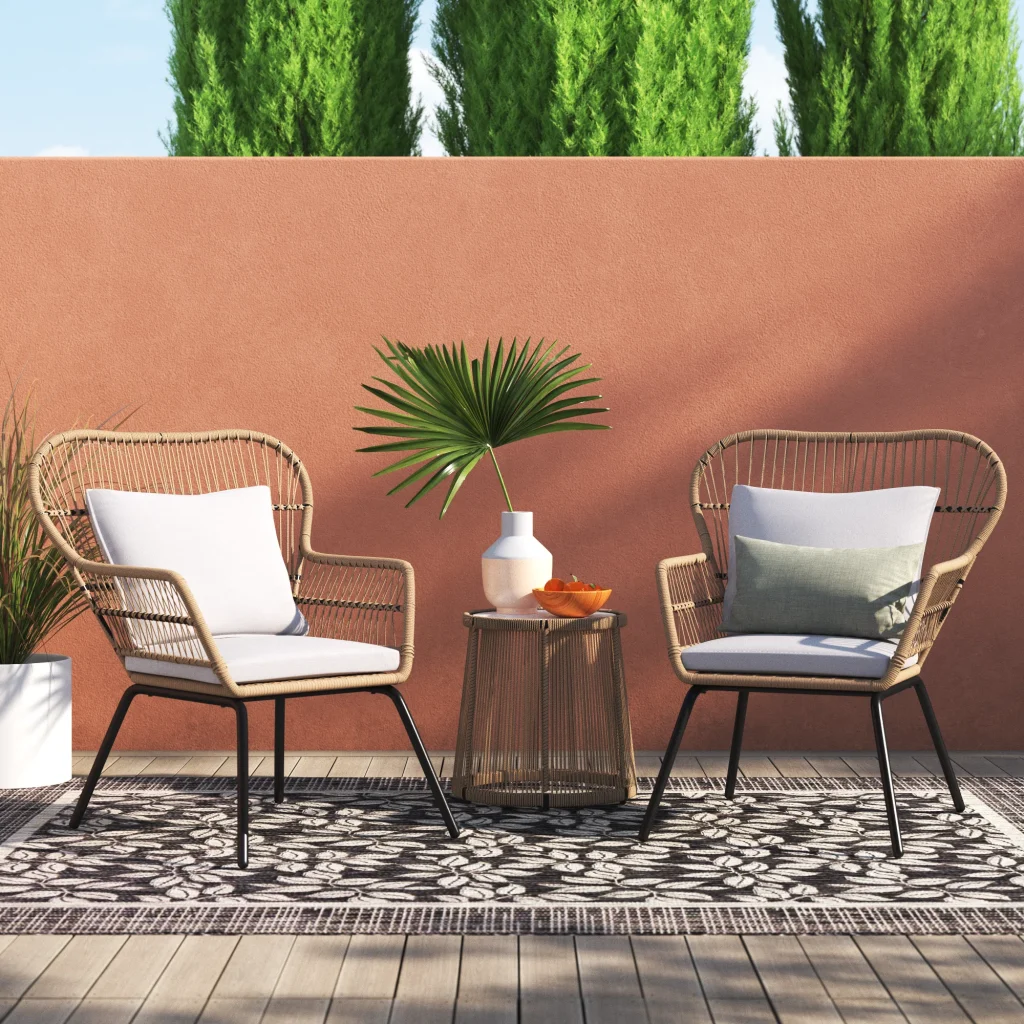 If you are entertaining just one or two guests, then this should work. However, it might not work for a larger crowd as too many chairs compound the wicker table settings. Keeping it simple like this is cool and fancy, hence it's worth trying out. This works best for a cool evening rest on your patio.
9. Moroccan Backyard Patio Table Setting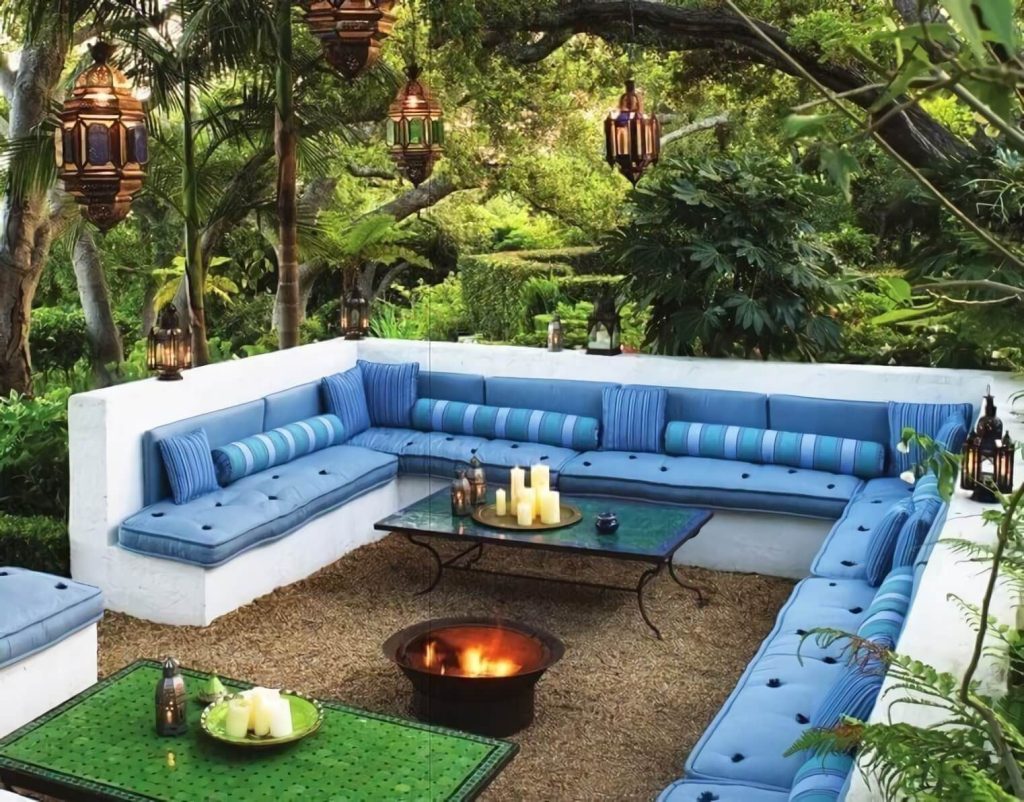 It's pretty hard choosing from all the modern patio decor out there, but here is one that is always going to stand out. This decor enables you to entertain as many people as you want, with this setting, you do have to worry about the table not being large enough.
This is an ideal table setting that can match any indoor or outdoor decor. The table setting can be designed with candles, flowers, or even utensils.
10. Styling Outdoor Patio Dining Table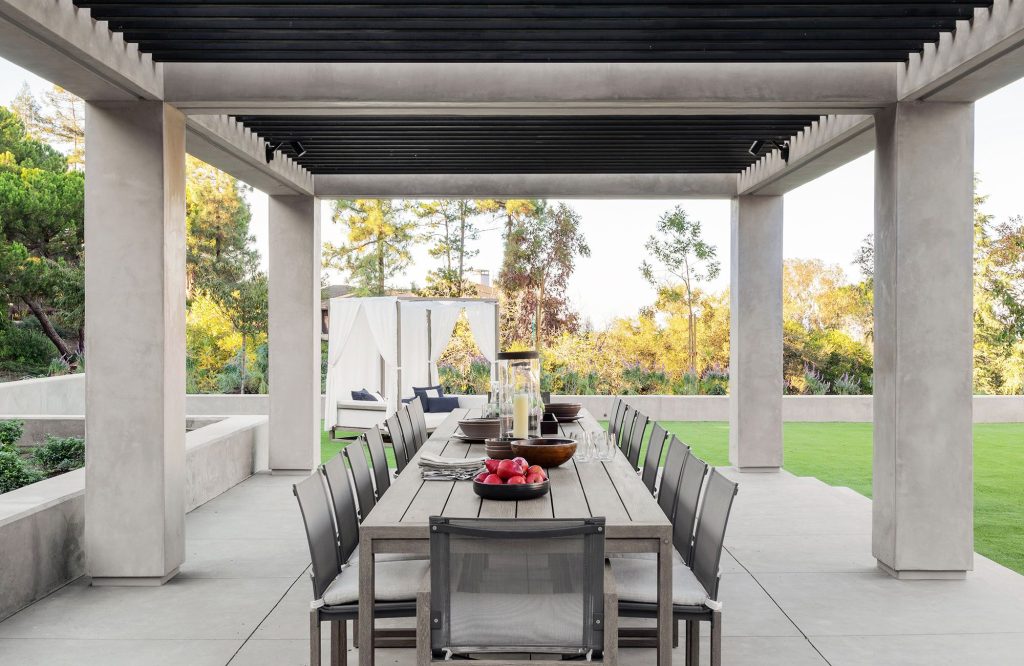 Patio tables do matter in every decor and if you are looking to entertain large guests often or have dinner outside with family, here is one you should consider. This combines modern with a bit of the traditional backyard settings, and it's pretty hard not to find it lovely.
11. Cute Small Patio Table Setting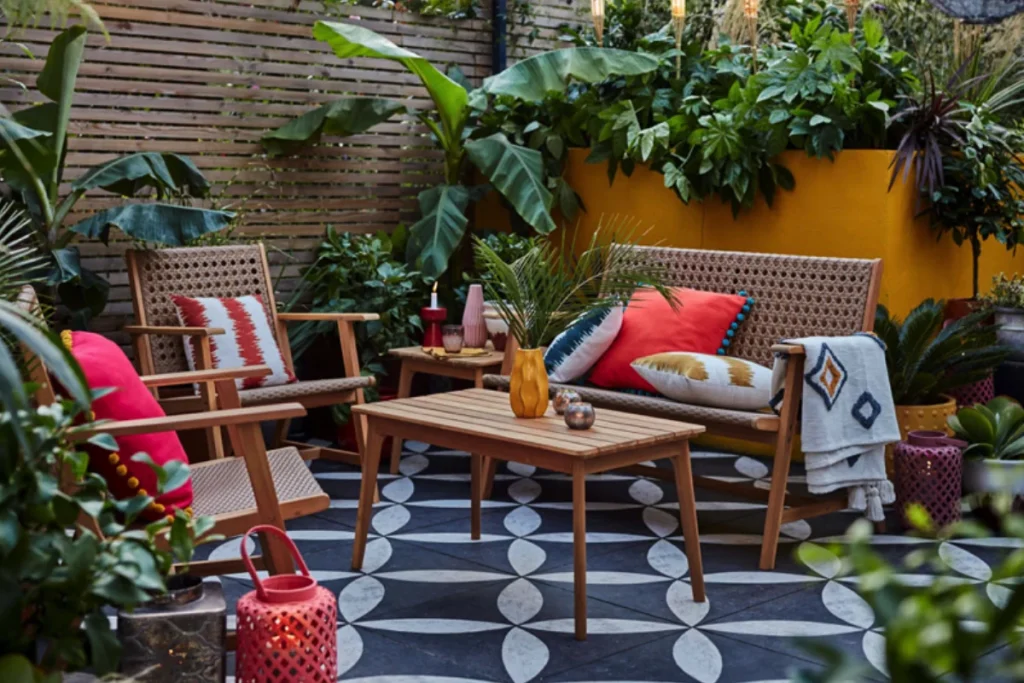 You don't have to worry about the size of your patio since there is always something suitable for it. This is another modern patio decor and the table helps simplify things, so you can go with any chair or couch you find lovely but not too large to overcrowd the place.
12. Outdoor Resin Patio Table Setting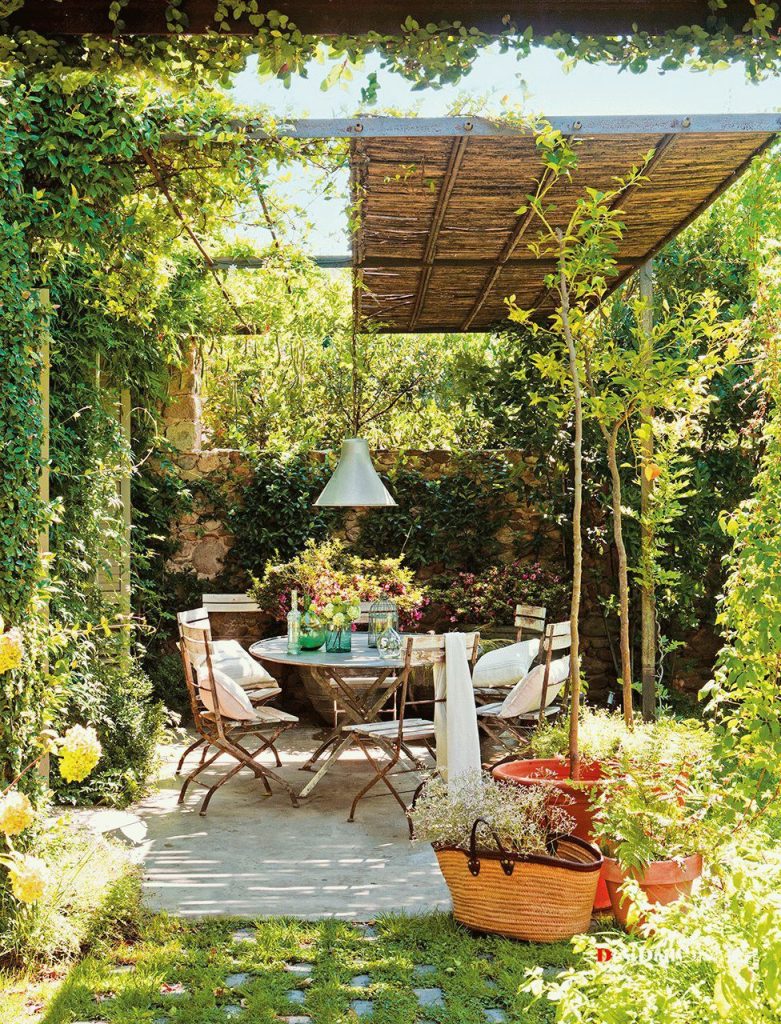 Your visitors are sure to love this as much as you would. This is a combination of modern and traditional patio settings, and it's quite gorgeous. This table setting allows your guests to get comfortable, and the design can work for a dinner date or gathering with friends.
13. Cozy Patio With Side Tables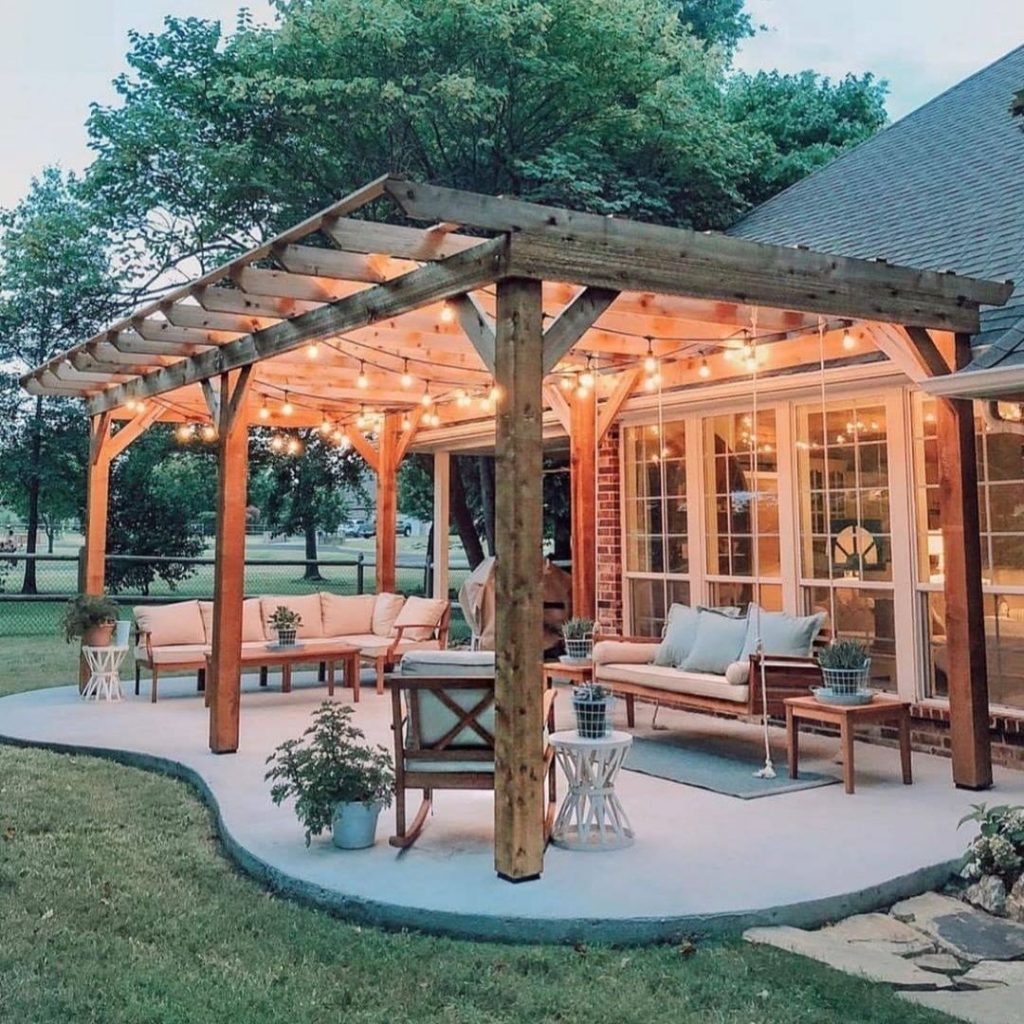 A patio design like this is fancy and perfect if you are going to be entertaining every weekend. This can also serve as a great relaxing area. So side tables allow you to keep it cozy but classy too. You can go with any material of your choice for the table and also different types of the table for each of the sides will be perfect.
14. Stylish Outdoor Patio Table For Parties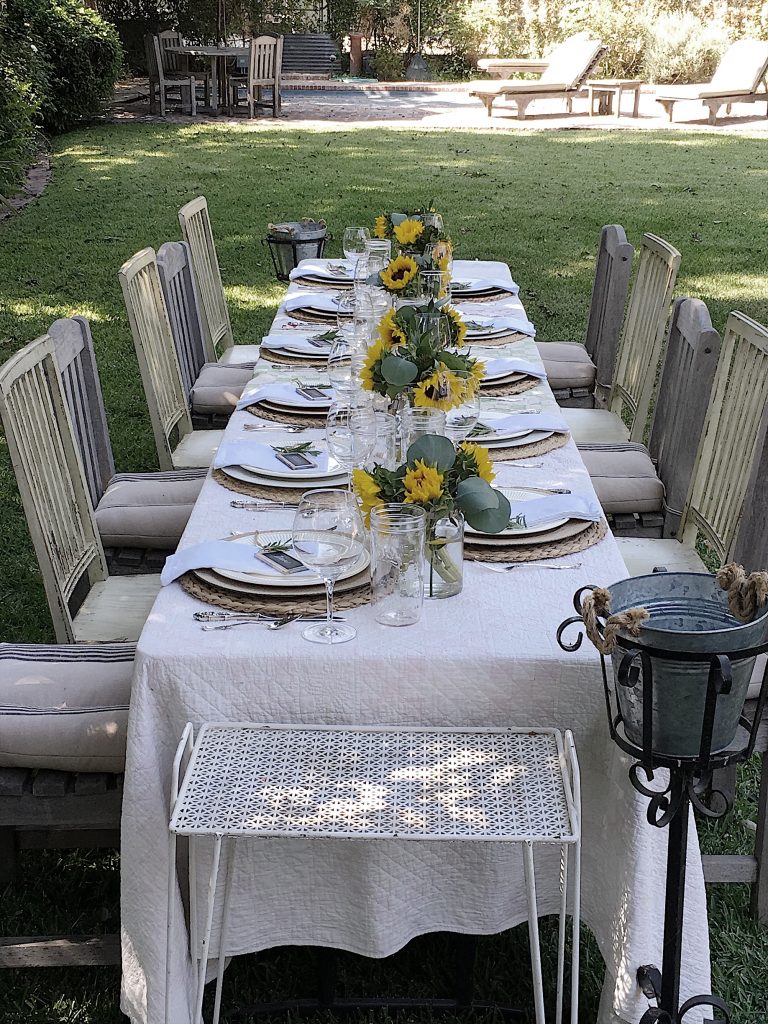 If you are having a party on your patio, then you want a more comfortable table setting. Here is one traditional table setting that lets you have fun and also have everything you need for a successful party at hand. You simply have to extend the table and chair depending on the number of guests you are entertaining.
15. Rustic Patio Table Setting For Weddings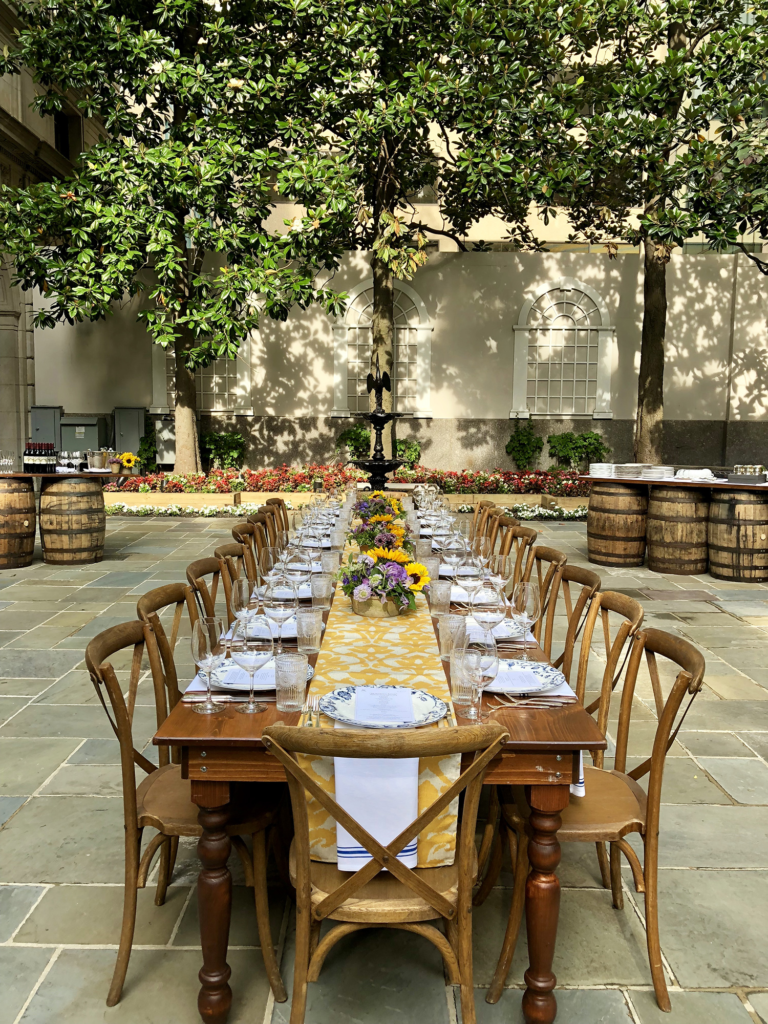 Rustic furniture has quite an interesting appeal that makes it fitting for an outdoor patio. The centerpiece has been designed to suit any occasion, but mostly a wedding reception get-together. The table setting is also intimate, and you can add some whimsical touches to highlight the couple's taste.
This is not just for weddings alone, but if you are looking to spend more time outdoors with family and friends, this is a great decor to consider. It can be used to spice up your garden for entertaining as well.
Patio Table Design Ideas
Many people are often confused when it comes to decorating your patio table, especially if you are going to be entertaining a lot. With the right tips, you can make even a casual table look exciting and fancy. So, here are basic tips you can follow if you are decorating yourself.
Try boho trends like lush greenery or scadinavian boho designs and some woven wicker for classic look
Use everyday dishware and glasses to keep things simple and cool
Keep the flowers simple and add some floral element too
Infuse something unique of your character to add your touch to it
Be conscious of the size of your patio when picking a table or chair.
Wrapping Up
You don't need a party before you can turn up things on your patio, although that's a valid reason. Patio table settings are quite essential, they lighten things up and make the decor look bold and comfortable.
You don't need to go over the top with decorations, simple are considered more ideal most of the time except it's an intimate dinner or wedding, then don't hesitate to go all out with colors and flowers.