Patio furniture is not all about sitting outdoor and relaxing but is also meant to add extra curb appeal to your outdoor home exterior which can also explain why they are made with high-quality material.
Patio furniture is built to withstand extreme weather conditions so you can conveniently use it in creating a space that lets you retreat from the outside world.
Over the centuries, patio furniture has moved from plain wicker chairs to something exciting and can now be found in backyards, balconies, and patios.
Furniture placed on the patio is not the only thing that defines patio furniture, it is simply a type of furniture designed for outdoor use so it can be placed in your garden as well.
Patio furniture is expensive due to lots of factors combined. These factors include; increased demands, scarcity, and disruption to the supply chain. Another common reason why they are so expensive is that they are built with high-quality materials that can withstand multiple years of harsh weather conditions.
Generally speaking, outdoor furniture is more pricey than indoor ones however it all budgets down to the type of patio furniture you are buying.
Patio furniture plays an important function on your deck or patio and it's another way you can bring indoor comfort outdoor. But how expensive are this patio furniture and why is it so? Stick with us to find out why patio furniture is expensive and if they are worth it.
NEW: How Much Do Pressure Treated Boards Shrink?
Why Is Patio Furniture So Expensive?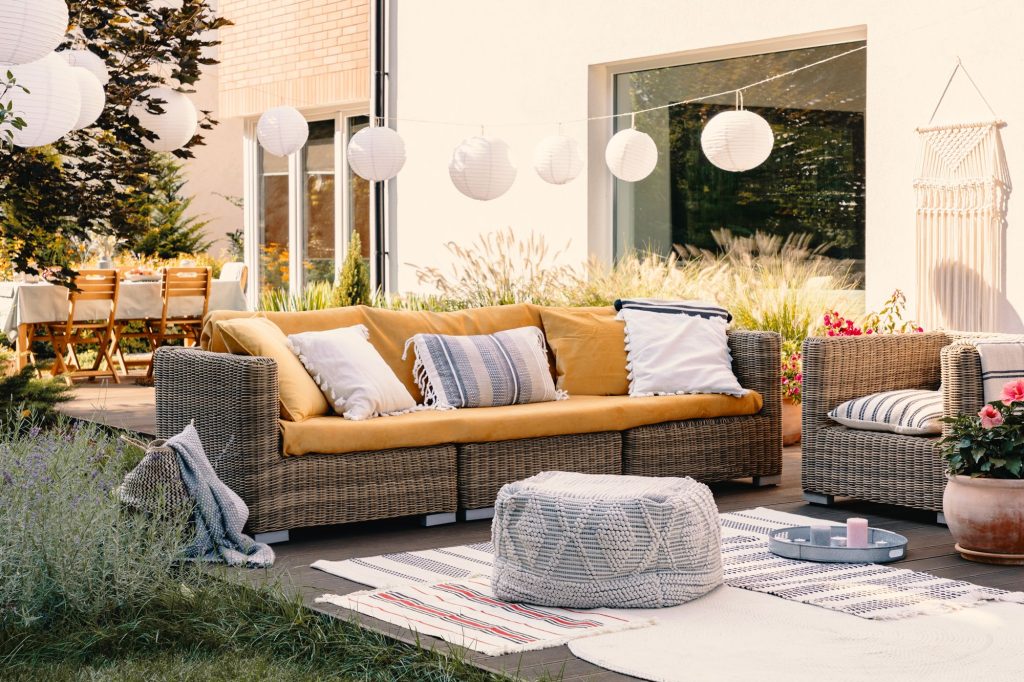 There is no doubt that patio furniture is worth having on your deck or patio but the high price rate is making a lot of us wonder why it is so.
While the effect of the recent pandemic can be blamed for some items becoming expensive, you should know that patio furniture has always been expensive so it is not the price determinant for patio furniture.
Outdoor furniture is constantly exposed to all kinds of elements all year long hence they are designed to withstand pests, wear, and weather conditions. Hence, the type of furniture used has to be durable, sustainable, and robust. Below are factors that determine the price of patio furniture.
1. Material
As stated earlier above, the material used in making outdoor furniture must be up to the challenge that comes with being placed outside. Plastic patio furniture is the most inexpensive material option to go for however it is not as strong as durable materials like teak, resin, iron, aluminum, synthetic, and steel which are really on the high side.
Note that if the cheap plastic patio furniture is what you choose to go for then not to worry, manufacturers now use high-density polyethylene or HDPE instead of PVC. The teak material is the most expensive patio option but it is worth it.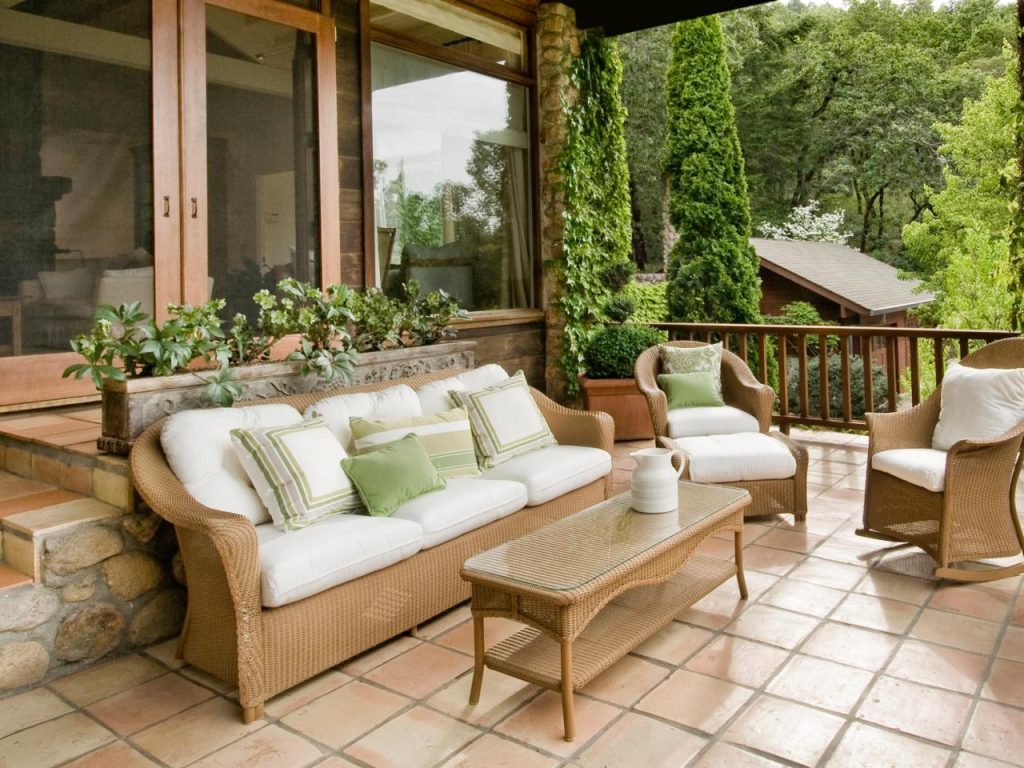 2. Aesthetic And Designs
There is a wide range of patio furniture to choose from in size, designs, and finishes.
Manufacturers spent time and money working with designers to create just the right patio furniture design to fit the aesthetic interior of any home and landscaping theme hence the cost is further incurred on it depending on how much the designs cost.
3. Durability
Durability has been mentioned earlier as well and this has a lot to do with the material being used. So, another reason patio furniture has a high price tag is because they have been built to withstand conditions like heavy rainfall, harsh summer sun, climate changes, and snowfall.
In addition, we have to agree true comfort can be expensive and that can be seen in the recent price of mattresses. The more durable and comfortable your patio furniture offers, the more expensive it tends to be.
4. Shipping Costs And Markup
The shipping costs should not be overlooked. Outdoor furniture is quite bulky so there is a high cost on the shipping fee but if it hasn't been assembled then it should cost much. You still have to pay someone to have it assembled and the retail price gets factored in no matter what.
Next is the retail markup and the one on patio furniture is often between 200% and 400% which allows the company to pay for sales commission so they do give room for haggling, this helps maximize their profit too.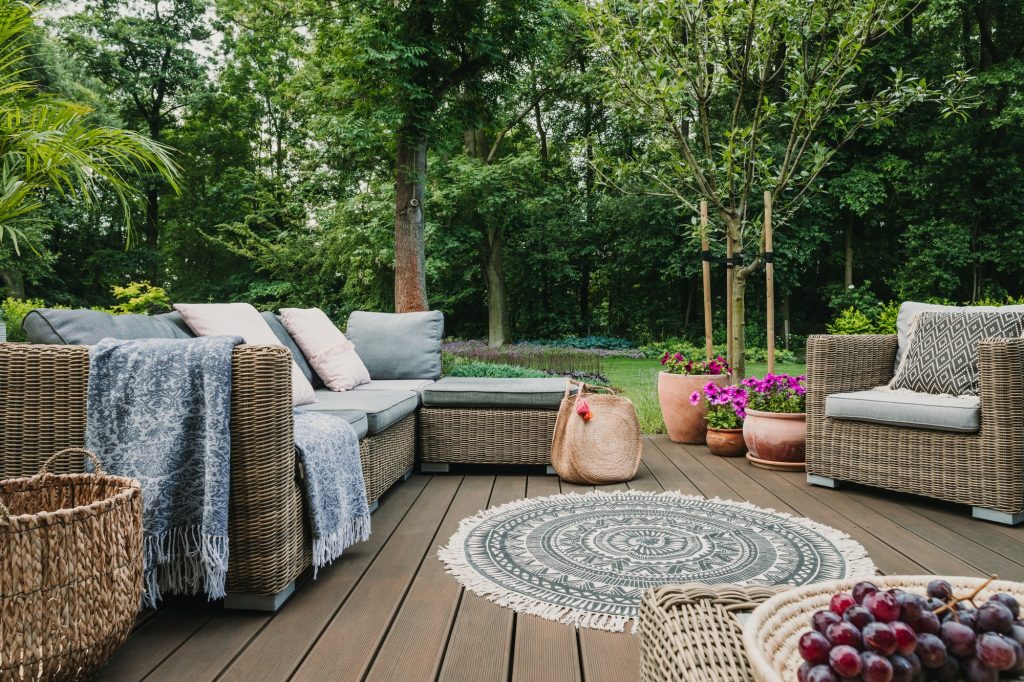 Higher markup of patio furniture means there is room for ample haggling but the sad news is that the salesperson can tell you there is no room when there actually is.
How to Save Money When Buying Patio Furniture
Patio furniture serves an important function than just making the outdoor environment look good. Outdoor furniture lets you enjoy the cool outdoor air or have a party with friends and family on the patio.
The prospects of getting cheap patio furniture might seem impossible but below are tips to help you save money.
Look for well-maintained second-hand patio furniture. You can consider saving money by getting it from the Facebook marketplace and Craigslist. Ensure to be patient and probably confirm it is quality
Cushions for patio can be made a home, research and watch as much YouTube as it takes to get it
You can always set up your patio piece by piece, there is no reason to buy all patio furniture at once
Lots of stores offer discounts on these products during sales. Save money by buying your patio furniture between August and October which is when most stores do clearance sales.
Is High-End Patio Furniture Worth It?
High-end patio furniture is made with materials that can last for decades hence the high price they are being offered. It is quite an excellent investment choice especially if you are going to be spending a large amount of time outdoor.
High-end patio furniture such as the weatherproof table and chair for instance helps you move your indoor dining outdoor comfortably. A relaxing rocker chair is another high-end patio piece of furniture that makes it worth it.
Wrapping Up
Economists are very clear on the fact that patio furniture will not be cheap anytime soon.
So, if you are tempted to wait till the price drops, the cracks left by the pandemic are still being exploited hence that might take a long while. Patio furniture is quite expensive but needed for your outdoor space fortunately, you can save costs by buying scaling down, or making it yourself.