Composite decking and wood have always been thought about as separate terms when people think of decking and not much of mixing together. Composite decking is a lot more expensive than using wood hence if you are on a budget then wood is often the preferred choice.
Although composite decking offers the promise of durability and less maintenance compared to wood.
If you have decided to replace your decking then you know this is a critical project and the material you choose is of importance. Wood is the most common choice for decking but it is not as durable as composites, so there are quite a lot of factors to consider before choosing one.
Yes, you can mix composite decking with wood. To maximize the benefit of your decking, composite can be used for areas that will come in contact with hands and feet while wood can be used for areas that are protected from structural elements.
You can always replace wood with composite decking on a one-to-one basis but it is not advised to place composite boards directly on top of wood boards it can be mixed any other way. Your budget is also going to decide if you mix these two materials or not.
Pressure-treated wood and composite offer unique but different benefits. There are quite a lot of things to look at when choosing a decking material. Read on to learn about mixing composite decking with wood.
Wood Vs Composite Decking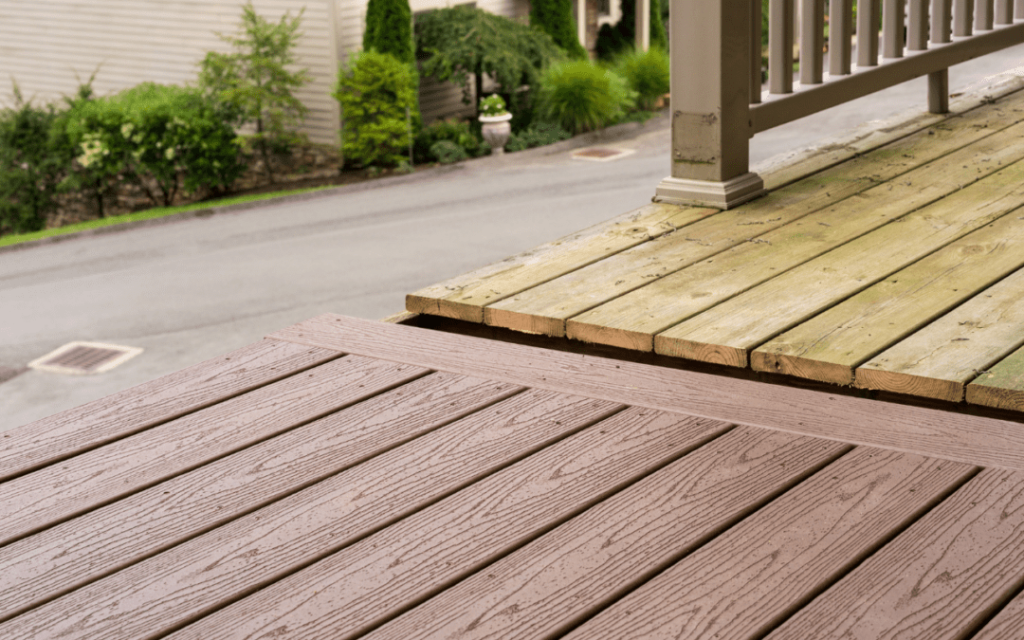 Is composite decking better than wood decking? Understanding the differences and similarities between wood and composite decking helps decide which is more suitable.
Maintenance and cost are the two important factors you have to consider in order to choose the best material for decking.
However, since wood and composite decking are the popular options right now, below is a table listing their benefits and differences.
| Wood decking | Composite Decking |
| --- | --- |
| Wood decking has a lower initial cost but some wood types are frequent repairs and replacements so it can be more expensive than composite decking in the long run. | Composites are expensive but most are built-in UV resistance so they are low maintenance compared to some wood types. |
| Wood decking is the common choice for decking but it doesn't last forever. But decks constructed using high-quality wood will last 40 years or more with regular maintenance. | Composites have the promise of durability and it is resistant to rotting, insects, and weather. Have a longer lifespan before replacement. |
| Natural wood color varies from rich golden brown to a deep dark chocolate brown with markings. | Composite decking lacks a natural look and color but doesn't need sealing or staining. |
| Wood decking is sturdier than most composite decking on the market | Composite decking is heavier but less strong than wood decking |
| Considered more environmental friendly | Some composites are infused with plastic |
| Wood decking will eventually splinter and can get damaged by wood-destroying insects. | Composite decking is made with small plastic so it is not prone to damage from termites and won't splinter. |
Can You Mix Composite Decking With Wood?
Homeowners have been discovered to mix composite decking with wood for lots of reasons.
The price tag of composite decking is high hence you might consider mixing it with wood to reduce the cost. Composites are not natural so to get the beauty of your decking, you can consider mixing them with wood.
When people think of decking, they consider composite or wood but you can mix the two. However, before mixing these two, you have to consider the cost and maintenance.
When it comes to mixing composite with wood, you have to be specific about wood types as not all wood types are meant for decking and composites are not completely maintenance-free as well.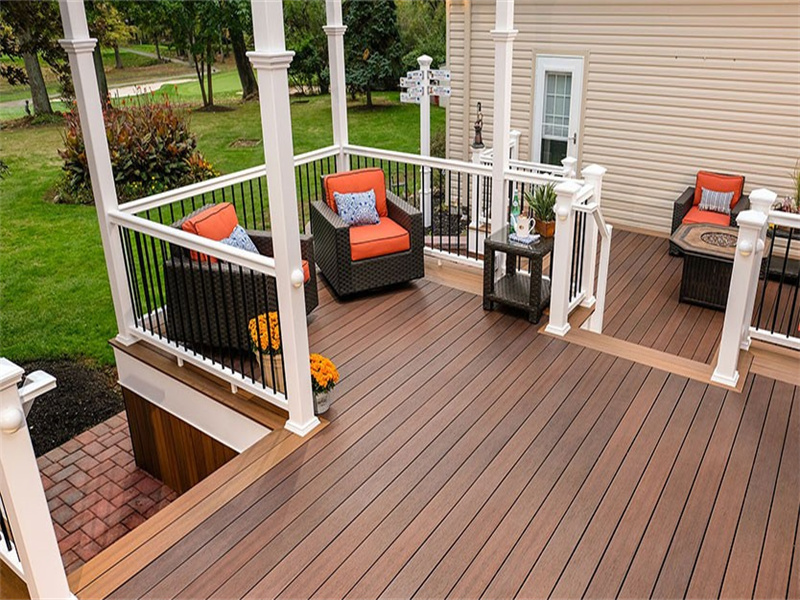 Composites have continued to grow in popularity and wood products also have a command in the market but the main concern should be mixing them properly.
The right decking material sets the foundation both visually and functionally and with many decking options available, choosing one can be overwhelming. This is also why homeowners mix materials. Mixing composite and wood for your decking enable you to enjoy the benefits of the two.
How to Correctly Mix Composite Decking With Wood
Choosing to mix composite with wood can reduce the maintenance need for the part of the composite. Also using wood to cover parts that are protected from elements can yield excellent cost benefits. To mix composite with wood efficiently, we recommended choosing pressure-treated wood and you also have to consider the overall appearance.
You have to make sure to choose the current fastener when mixing materials as well. Wood decks can be nailed largely but screw designs are meant to be used for the composite decking.
Another important step to help you mix composite decking and wood properly is to keep wood where it is mostly hidden such as the joist beneath the deck or upright supports. While composite decking can be used in areas that can come in contact with hands such as the handrails and decking floor.
If you are planning to use a PVC then you should ensure you choose a specially formulated PVC glue that works with the fastener so your composite decking and wood can hold up against expansion and elements that come with the weather change.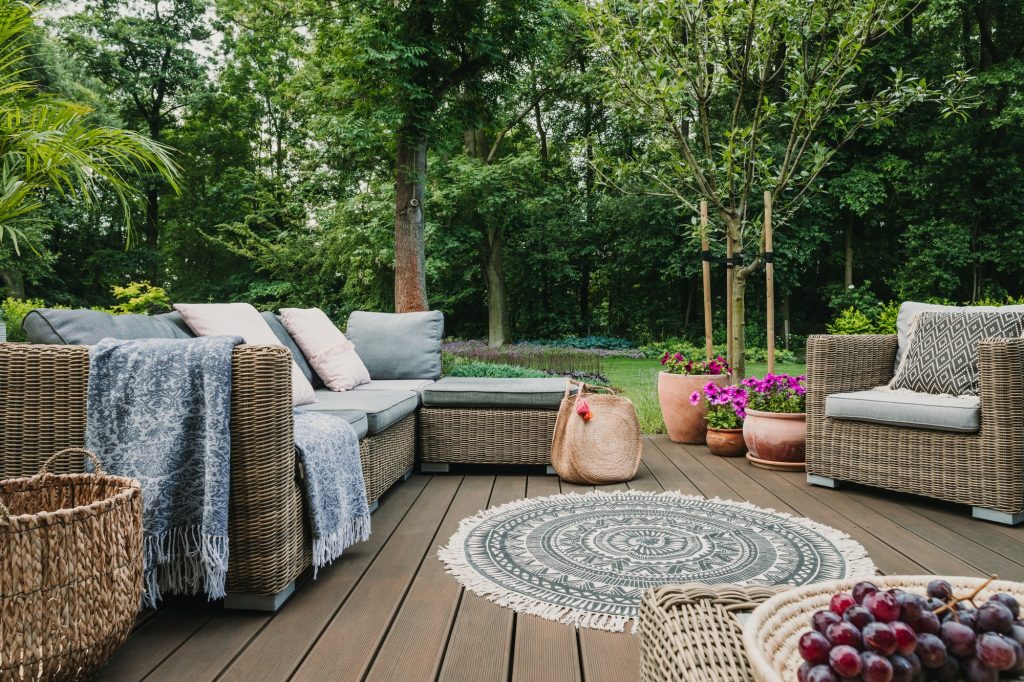 Does Composite Decking go on Top of Wood?
You can lay composite decking on top of the wood. This process can help save time and money since you do not have to build an entirely new frame.
However, note that experts do not recommend covering the whole wood with composite decking and this is due to the discovery of rot beneath the decking.
It is important to have a good base under your composite decking and while wood is solid, it will require maintenance to stay that way. In many decking jobs, the joist ends up being replaced, capped, or repaired however for a stable base, use concrete or simply go for pressure-treated wood.
Final Thoughts
Safety is another vital aspect to consider when mixing any decking material together.
Mixing materials can be done when your decking remodel is being done and minimally, you have to use composites in places that can cause any splinter injury while protecting from elements to the decking wood.
Finally, keep an eye on the finish choices, color combo, and the sections that get the composite or wood so the whole decking project can fall in place.