Concrete patios happen to be preferred in some regions and no matter the design, it establishes a new living space outdoor. It also costs less than natural stone and brick pavers, you have to look for the best and most affordable ways to cover it and make it more classy.
While a concrete patio is great, it can get really boring with no cover on it which must explain why many homeowners, exterior designers, and landscapers became interested in making it sophisticated with a choice of cover.
When designing your concrete patio, there are a couple of things you want to put into consideration. Patios are long-lasting, have a clean modern look, and are basically maintenance-free.
Another reason concrete patios are interesting is that no matter the weather, you can lounge, dine, and entertain on the patio however all these might just make it all look plain if you don't have the right cover. You don't have to break the bank to get a cover for the concrete patio, this article contains cheap ways to cover the concrete patio.
Inexpensive Ways to Cover Concrete Patio
Your patio concrete is going to just be a slab of concrete until you try to create something exciting with it. You might not be able to cover an existing patio the way you want but there are simple and affordable ways you can add some contemporary designs to a concrete patio.
1. Coat With Colored Concrete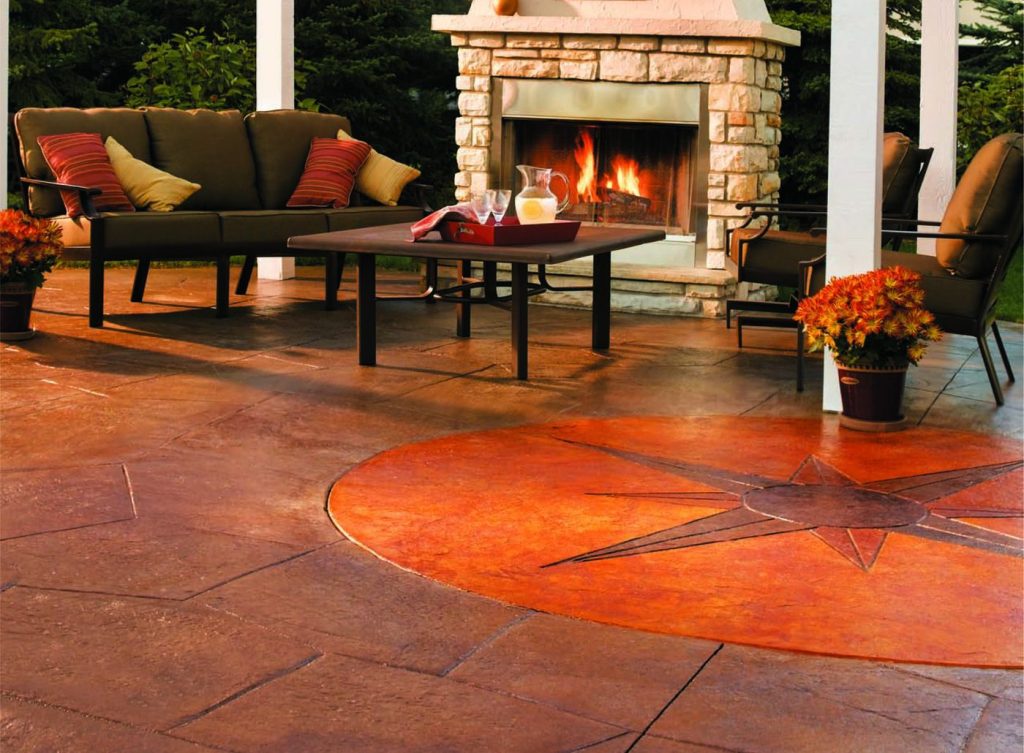 One of the cheapest and most stunning ways you can cover a concrete patio is to choose something cool and classy like the one above. This colorful patio design makes the whole area look luxurious and doesn't require much to get it done. You can go with any color of your choice.
2. Tile Covering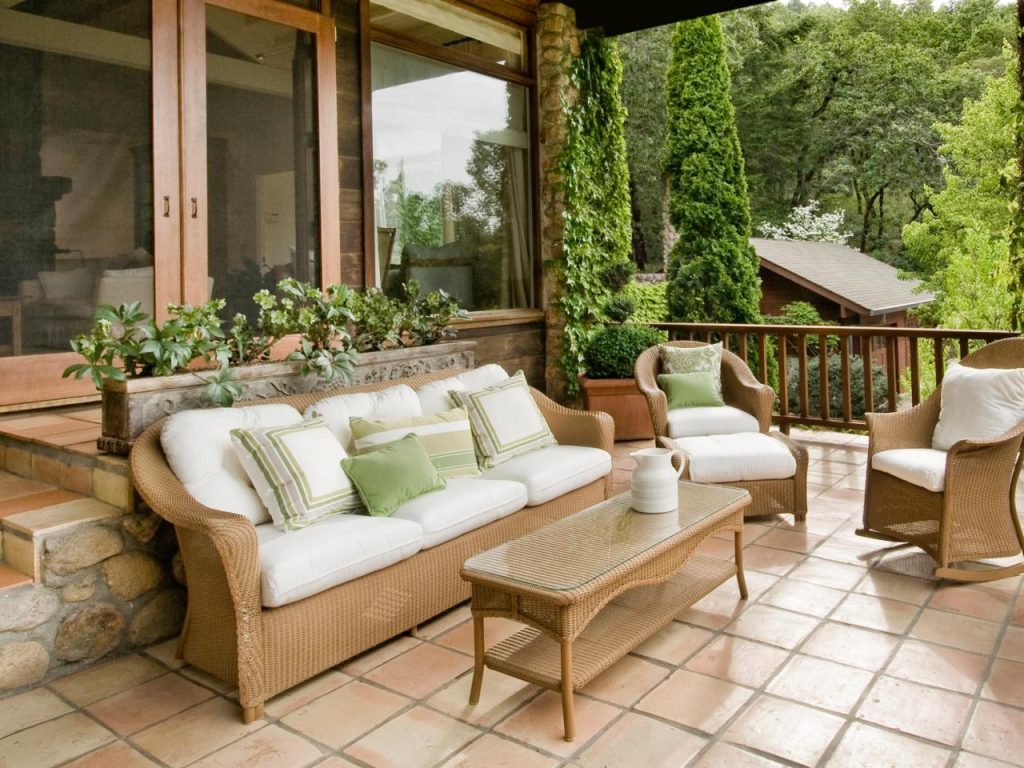 Concrete slabs can be really plain which is one of the reasons tiles are the common options for coverage. Tiles are a little pricey to install but it's great if you can have it done yourself. There are different designs of tiles you can use too and it doesn't have to cover the whole area either.
3. Sealed Concrete Cover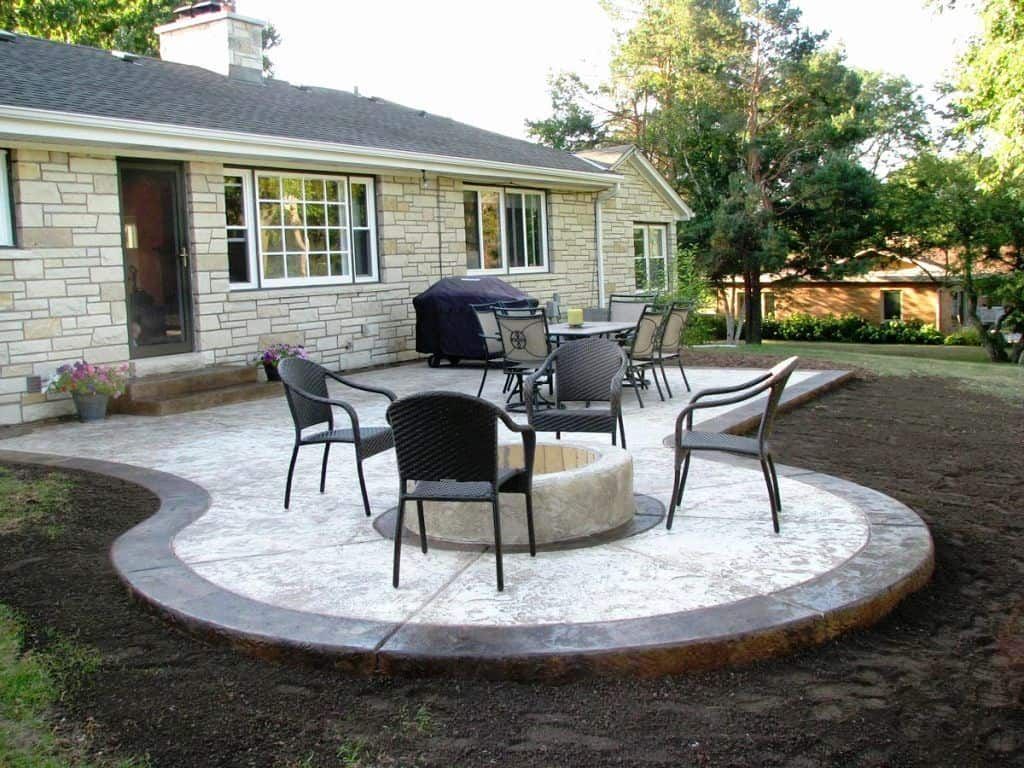 The simple sealed option is another not-so-affordable way of covering your concrete but it is very cool. You can have it sealed around to create something simple and cool.
4. Paint With Colorful Carpet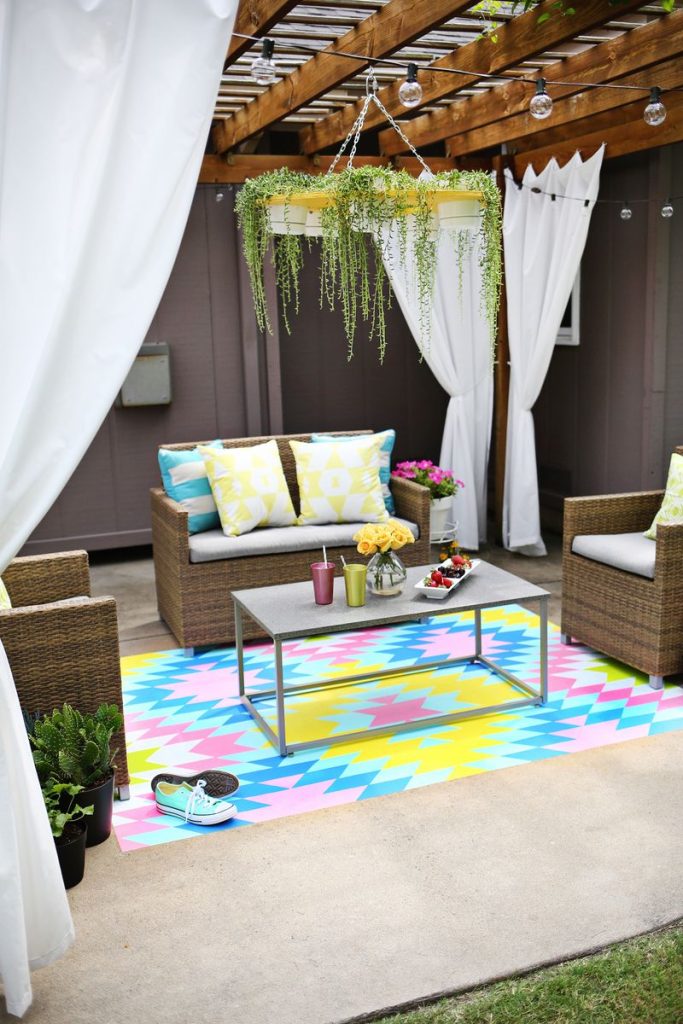 There is no reason not to give some beautiful colors to your concrete patio. You can get a colorful carpet to design it or you can go all out and have a certain part painted. This is a really cool design and you can have dinner or friends hang out there at any time of the day.
5. Lay Some Beautiful Rug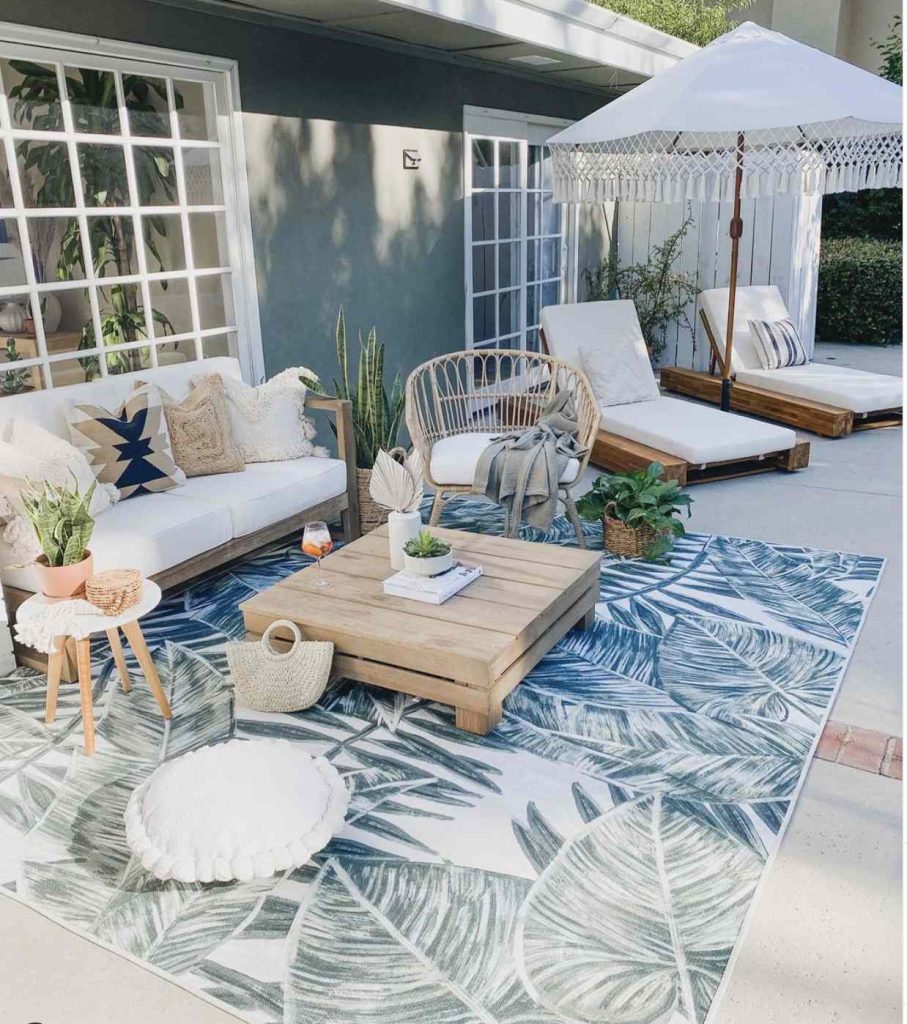 SAND MINE Modern Area Rug. Check On Amazon.*
With so many beautiful rugs out there, you might as well consider going to them. Rugs on the concrete patio speak volumes a lot and also help keep things fancy and interesting as well. The rug is also a great idea in case you decide to have a table placed in the middle as it beautifies and redesigns the interior.
6. Place Fire Pit For Stylish Seating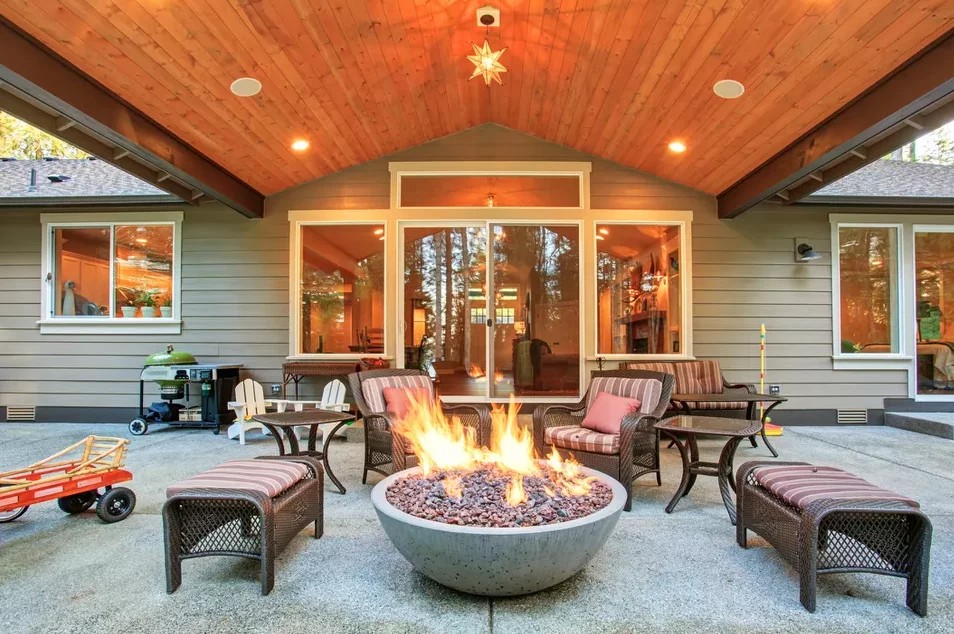 You don't have to go overboard with what you cover your concrete patio with. A fire pit will not only come in handy but it is also simple and you will be saving money as well. You and your friends can enjoy a night outdoors even when it is cold. This is not one of the most affordable options but it's a really great choice.
7. Design With A Circuit Stencil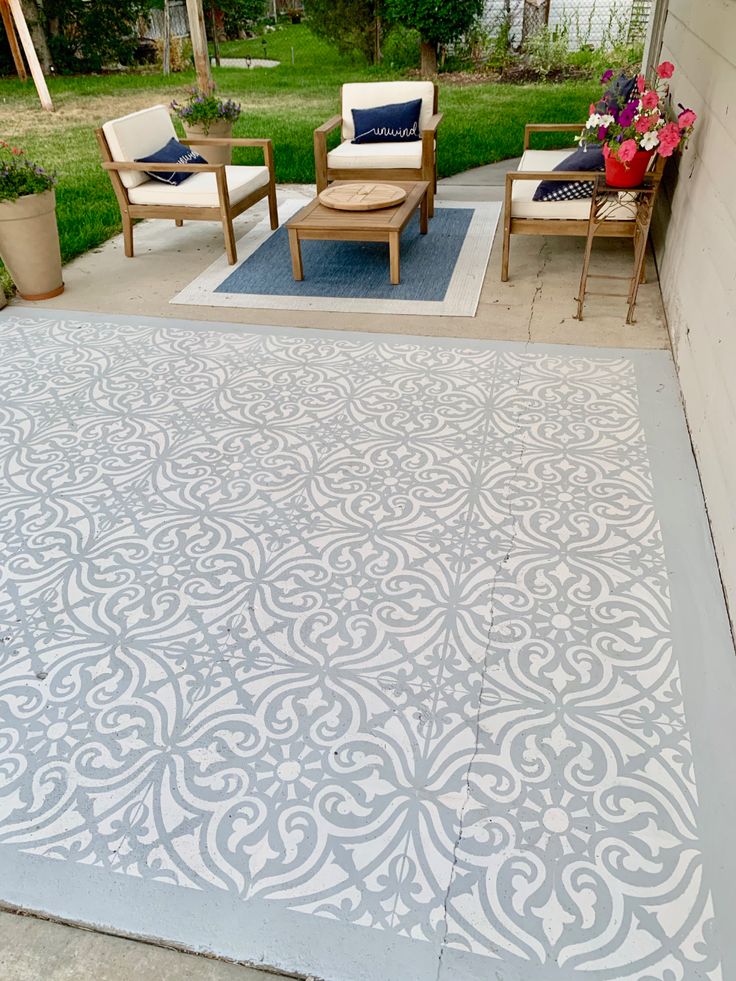 Circuit stencils are another very cheap option and if you are going them yourself then it means you will be spending even less. You can also find a design and test it out and have the center where you want the design marked. This is always going to be welcome and it ensures everything looks smooth and cool.
8. Cover With Moroccan Diamond Rug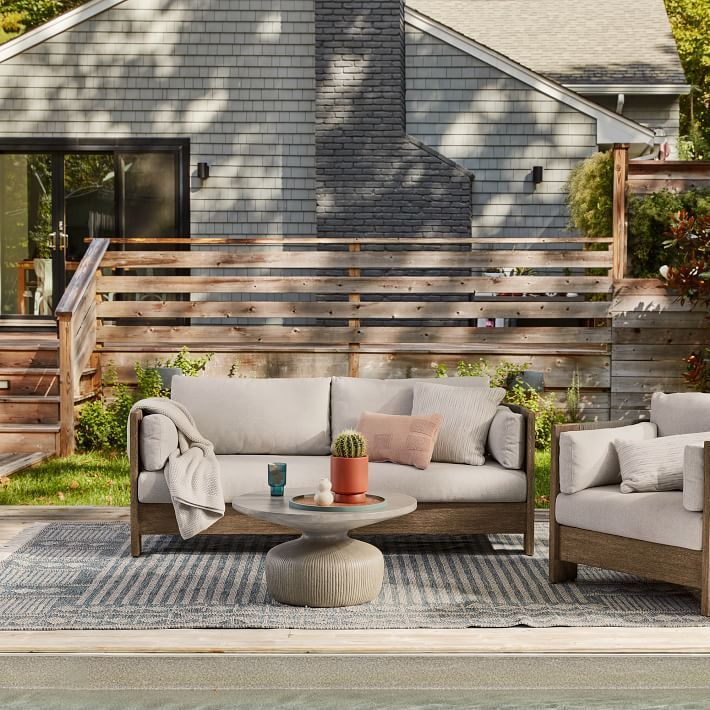 SAFAVIEH Moroccan Thick Area Rug. Check On Amazon*
You must admit there is something exciting and fresh about rugs and the varieties available are another reason to choose them to cover your concrete patio. This choice is considered very durable and if you are not looking to buy a Moroccan rug, you can always paint one.
9. Stamped With Paved Border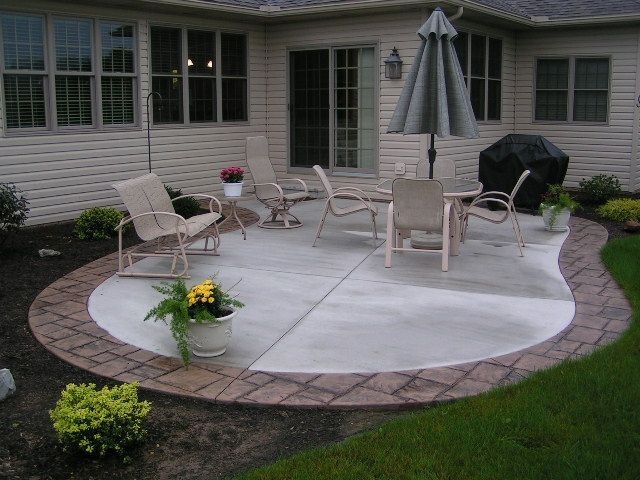 Here is another common way you can cover your concrete patio and it is very affordable too. You can always sweep sand over the remaining side of the pavers instead of covering it all. This is just as similar to a paver project and in this case, it gives your concrete patio a warm and cozy decor.
10. Cover With Wood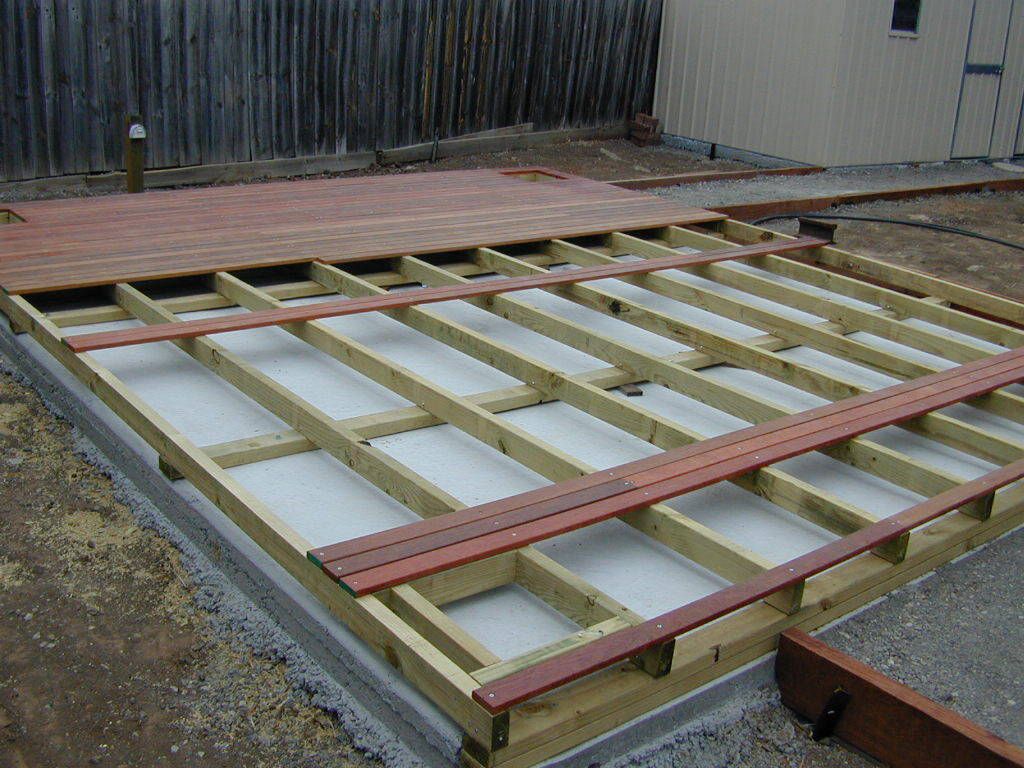 One of the simplest and most clever ways to cover your patio is to build a wood deck over it or cover it with wood. However, you can't just put a wood porch or build a deck over your concrete, so first, you have to attach risers/sleepers to the concrete then you can screw the wood board to it. This gives you a traditional wood front porch.
11. Use Exposed Aggregate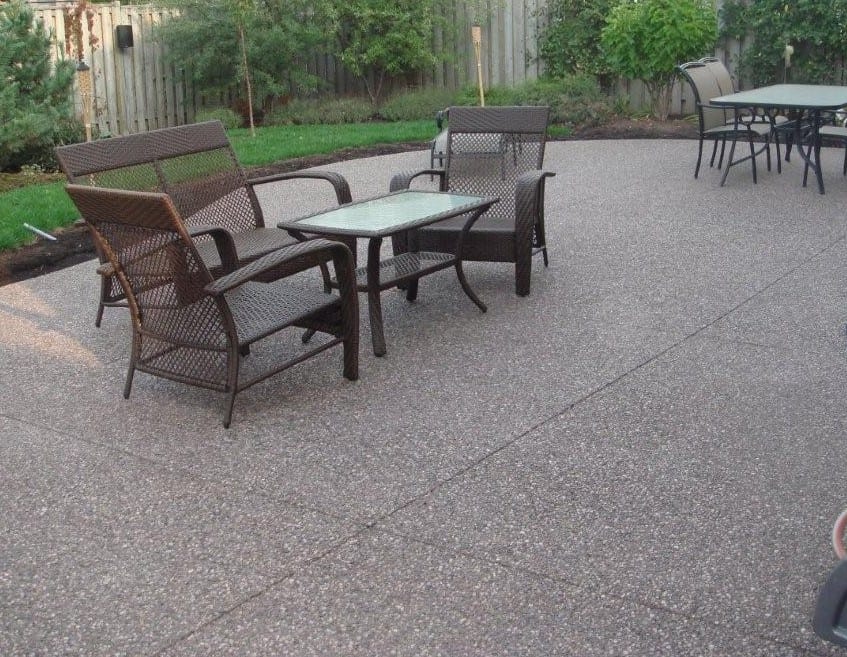 Exposed Aggregate is a popular method used in decorating Concrete, it is simply created by removing the top layer of your cement paste to expose a decorative coarse part of it. The exposed bumpy surface blends perfectly with other landscapes, and it also keeps the surface slip resistance.
12. Use Concrete Stamps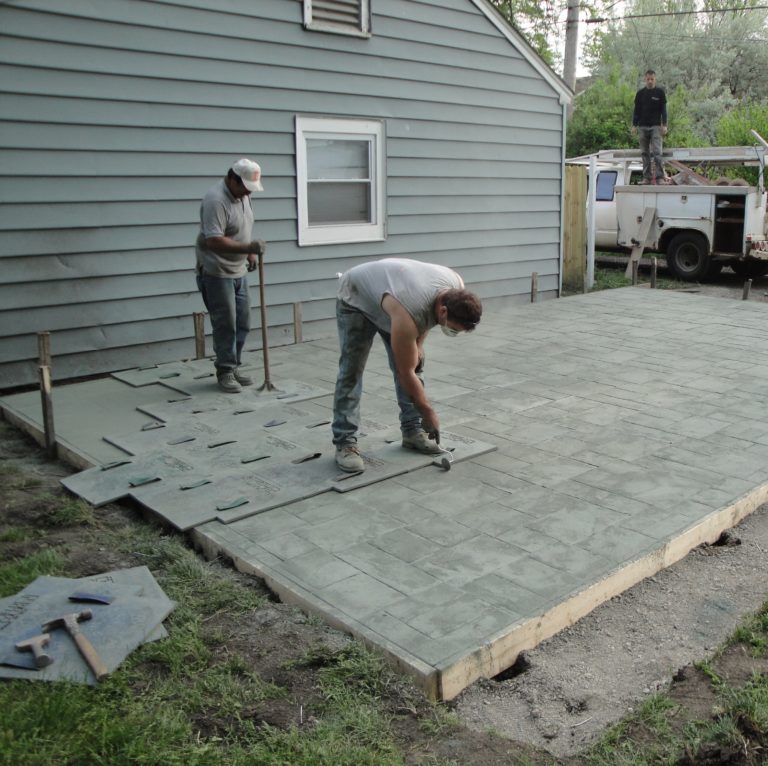 If you are not so into pavers, you can choose to go for concrete stamps. Stamping is a popular technique used in covering stains on concrete patios, it helps create an elegant faux finish. Also, you can stamp the concrete patio yourself, and you have to stamp the concrete before it dries.
Wrapping Up
A concrete patio has lots of advantages but we must admit that without covering it up in s stylish way, it can look plain and unsophisticated.
One of the reasons you should cover a concrete patio is that it can create unwanted bumps. Luckily you do not have to break the bank to provide a cover for a concrete patio. The designs listed above are simple contemporary designs you should have chosen from.
Discover more: