Choosing a placement for your hot tub might sound a little confusing, but it's nothing this blog post can't fix. If you are planning to have your hot tub used regularly then it's worth investing it and all you have to figure out is figure out the perfect location.
You can hot tub outdoor or indoor, you simply have to put the area of placement into consideration and also consider how often you plan to use it.
You can put a hot tub under a covered patio or anywhere that meets the foundational requirement. Patios are the perfect place to put a hot tub if you look forward to enjoying long hot soaks outdoor while admiring the outdoor decor. It can also provide privacy from neighbors, but this also has some disadvantages.
One of the ways you can make your backyard look more exciting is to place a hot tub in it. Before getting a hot tub for your backyard, the safety tips are quite crucial and this is because the hot water whirlpool can pose some risks if you do not know certain things about it.
Another vital thing to consider with a hot tub is the location. When choosing a location for a hot tub, you have to be practical about it and also analyze the easy access you want to have to it. Where to install your spa might seem obvious if it's indoor but when it comes to an outdoor setting, there are a couple of things you have to put into consideration.
What To Know About Hot Tub Installation
Installing a backyard hot tub is too good to pass up. This can help you soak away stress and also help you relax after a long day at work. The main purpose of installing a hot tub outdoor is to enjoy the magical view outdoor and in summer or winter, the warm water and massaging jets help ease stress and tired muscles effortlessly.
Location is a major consideration when installing a hot tub.
If you plan to hire someone to help install the hot tub then they can help figure out where it needs to be. You need to consider the proximity of the tub to your house, it has to be at least 16 feet away from overhead power lines. Adequate space also needs to be provided for storing and removing the cover panel.
Another vital thing to know is that your hot tub needs shade. Direct heat deflected from the window or any reflective surfaces can damage the tub's cabinet, so you want to have it placed in a place with a covering such as under a gazebo, awning, or pergola.
Can You Put A Hot Tub Under Covered Patio?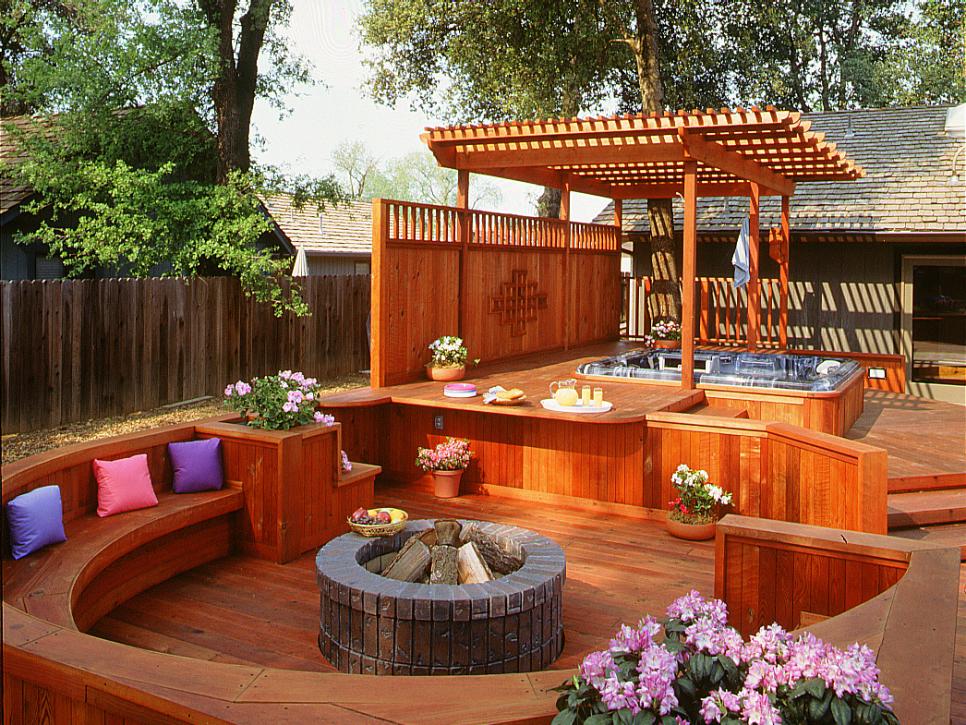 Yes, you can put a hot tub under a covered patio, in fact, you can place a hot tub anywhere outdoor provided all the safety features are adhered to.
Your hot tub sure needs a roof to keep it from damage and a covered patio can provide that but note that this can also block your view of the night sky and some enjoyment attached to soaking in the hot tub outdoor can be limited.
For some people, there is nothing like soaking in their hot tub at night while admiring nature at the same time but a covered patio can dash the hope of that. Placing your hot tub under a covered patio also protects the spa covering from direct sunlight, so they are pros and cons attached to this.
So, before putting your hot tub under your covered patio, below are some of its pros and cons for you to evaluate.
| Pros of Putting Hot Tub Under Covered Patio | Cons of Putting Hot Tub Under Covered Patio |
| --- | --- |
| A covered patio protects you and your hot tub from the ravages of the sun, cold, or wind | If the covering is not high enough, it can lead to mildew growth on the ceiling |
| Makes it easier to sue your tub more often | You won't get to enjoy nighttime magical views |
| Prevent leaves, twigs, or branches from falling or damaging your tub | Limited space for professionals to work around when you need to service your hot tub |
| There is a full enclosure and it keeps pests out. | |
Can I Put A Hot Tub in My Garage?
Your garage is not exactly the best sport for your hot tub, although it will do just fine if the weather outdoor is unfavorable.
Outside in your backyard is the best place to have your hot tub installed, but you can have an unpleasant experience ins some weather, especially winter, so it is okay to have your hot tub moved to the garage.
If you plan on placing a hot tub in the garage then it must have enough space, available water, proper drainage, protection from mold and dew, and electricity supply. A garage is an ideal place for your hot tub if you want better privacy and the ability to enjoy the midnight view privacy.
Frequently Asked Questions
Can I put a hot tub on patio stones?
It is crucial that you place your hot tub on a surface that can support its weight when it is filled with water so a patio stone might be suitable for that's long as it is thick enough to support it. Other perfect surfaces you can put a hot tub on include; a slab, a deck, a concrete slab, or patio pavers.
Do hot tubs come with covers?
Most hot tubs come with covers but these covers are not so great. So, you can choose to get some additional coverage options and accessories that can help make the cover sturdier. Cover lifters also make a great addition to get alongside your hot tub.
Can I leave the cover off my hot tub?
Your hot tub doesn't have to be covered on all occasions. It is okay to leave the cover off the hot tub so the water can have some fresh air for some time and let it breathe.
Final Thoughts
Installing your spa under a covered patio can be quite a lot and generally a roof might not be needed for your hot tub, but it does come in handy.
Harsh weather conditions like the rain, cold, or sun are enough reasons you should have your hot tub installed under a covered patio, and you should consider adding a roof on its own to your hot tub, this won't save energy but can help in the use of your hot tub more often.