The Solo Stove is a very popular portable fire pit, and they are designed with efficient airflow but this doesn't mean they can be placed anywhere without proper guidance. To enjoy your fire pit as much as you want, there are a couple of things you need to know.
The solo stove bonfire is pretty much more exciting than any other and since they are smokeless, you can have an amazing time toasting marshmallows with family.
You can use your solo stove under a covered patio, provided the deck covering is high enough, but you still have to take extreme caution with it. Having a blazing fire under your covered patio isn't exactly a very good idea unless your deck is made with stone or concrete pavers then there is little risk of it catching fire. Patio awnings are made of highly flammable canvas, so you shouldn't use your solo stove under it.
While solo stove is efficient, you have to note that they are a lot different from the stove in your kitchen, and you have to err on the side of caution when using them.
Your solo stove bonfire needs to be surrounded by air which makes it unfit for indoor use. You do not want to deal with your deck or walls catching fire so knowing where to use your solo stove can help with that. The solo stove happens to be an open flame fire pit so read on to learn if you should be using it under a covered patio or not.
Our Quick Thoughts On The Solo Stove
Solo Stoves are not like your regular kitchen stove, this is meant for bonfires. The solo stove is made of double-walled stainless steel and air is pulled through the bottom of the drum that makes up the stove and air passes through the top vent holes as well, this adds a bountiful amount of oxygen to the fire.
This type of bonfire pit is meant to give you a more unique camping experience.
There are a lot of things that make solo stoves more special compared to other models. It is designed to maximize the burning and airflow process with a unique burn with little to no smoke. There are also different types of solo stoves and some are designed for cooking.
Staring fire on a solo stove is very easy and once it starts burning, it burns hot and efficiently. This can be very hot so don't touch or move until the fire is out, and it tends to consume more woods due to how hot it burns. A solo stove is best used in the backyard or at a campsite.
Prices pulled from the Amazon Product Advertising API on:
Product prices and availability are accurate as of the date/time indicated and are subject to change. Any price and availability information displayed on [relevant Amazon Site(s), as applicable] at the time of purchase will apply to the purchase of this product.
Can You Use Solo Stove Under Covered Patio?
It is best that you do not use a solo stove under a covered patio or for any indoor use at all. A solo stove is designed for outdoor use only and although it does not emit much smoke, it still burns quickly and the heat from it can accumulate under the patio deck cover which can lead to a fire outbreak.
However, if the cover of your patio is high enough and the surface is made from concrete and less flammable item then it's safe to use.
There are simply places the solo stove can't be used and under a low-covered patio is one of them.
There is a high risk of solo stove igniting material nearby if you are using it under a covered patio. Although there are records of successful use of solo stove under covered patio provided it has a standing option and this is only recommended for wooden deck.
The surface of your deck has to be put into consideration when it comes to the solo stove. You should also keep in mind that solo stoves are considered to be open fire hence it might not be a good idea to have them used under your covered patio.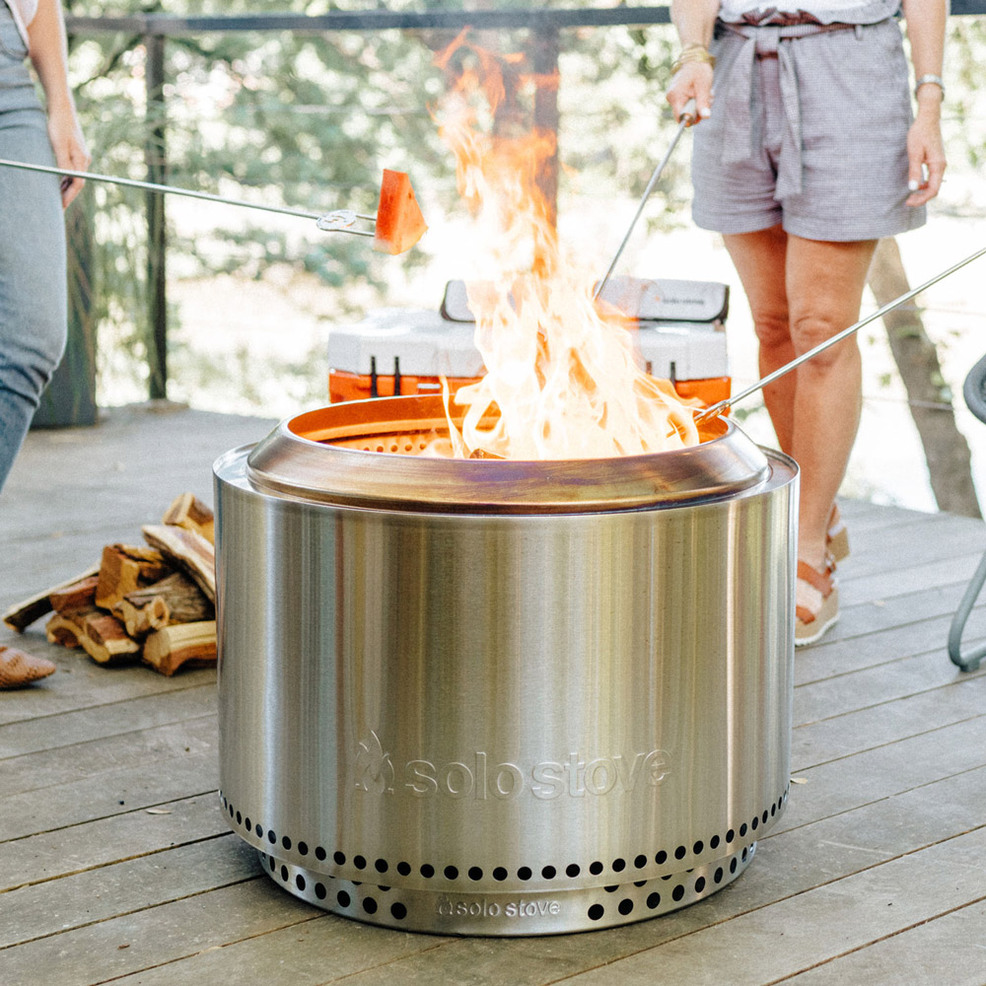 Solo Stoves are not designed for any enclosed area, and it comes with strict instructions that say no indoor use. A fire outbreak is not the only risk you should be worried about but the fumes from the solo stove can also accumulate thereby causing serious health issues or fatalities.
Lots of heat from the solo stove are directed straight up so use it under a covered patio only when you are sure the surface can't be touched and no material can be ignited either. If you are worried about the surface of your deck then do not use your solo stove under it.
To be extra safe, it is recommended that you leave up to 20 feet between your covered patio and solo stove.
Where Should I Put My Solo Stove?
The solo stove has to be set properly and in the right place as well. You need to first provide enough distance between the fire pit and surface and to stay on the safe side of things, you can have placed on heat resistance barrier.
Your backyard is the perfect place to put your solo stove. A solo stove burns rapidly, so it can not be placed directly on a wooden deck, it will damage it over time.
You can use it on any other type of deck like the composite deck and hardwood deck but not any enclosed area either as it needs air and space. You can use a fireguard with a solo stove just as you would with indoor wood stove burning. Simply, don't place your solo stove.
Frequently Asked Questions
Can You Use Solo Stove on A Grass?
The solo stove gets hot, and it can scorch your grass hence it should be used with a stand. A solo stove should not be placed directly on grass, if you are placing it on sand or concrete then it's fine but when used on grass, use it with the stand or heat resistance barrier.
What surface can you put a Solo Stove on?
You don't have to worry about scorching grasses that grow between stones, you can place your solo stove on them however solo stone is generally safe to burn on surfaces kike gravel, pavers, and stone.
How far should a Solo Stove be from a house?
The solo Stove should be at least 6 feet away from the house. The required amount of distance is 6 feet or more, just ensure it is at a distance where it can't catch on something or cause a house fire.
Can you enclose a Solo Stove?
You can enclose a solo stove, but you need to leave enough space for airflow. An Umbrella table is a perfect way to create an enclosure for a solo stove. The tables platform beneath your solo stove help lift the fire pit off the floor hence it leaves inches along the bottom for airflow and there are no walls near the lower vent holes either.
Wrapping Up
The flames from the solo stove will only go higher the more it burns which is one of the reasons using an under-covered patio is advised against.
You can safely use your solo stove on wood and Trex decking provided you have the solo stand underneath it or go with the heat resistant fire pit, heat barrier is however important.
The Solo stoves are virtually smokeless, so they are great, but ensure to take all necessary precautions.
We are sorry that this post was not useful for you!
Help us improve this post!
Tell us your thoughts in details, we welcome every feedback we can get.