How do you see having a Pea Gravel in your yard? do you simply want to know how to make use of Pea Gravel as well as how to build a nice Pea Gravel Patio in your yard? However, there are basic steps to follow in getting that done. Also, you need to know the Pros and Cons of it. 
Pea gravel is a decorative small rock that is poured to fill holes and create landscaping dreams. They are similar to the rocks used to create a french drain, the difference being the size of the rocks or gravel.
To make a Pea Gravel Patio, choose a specific place, remove the grass, lay out and secure the landscape, and add pea gravel. Pea gravel patio is comfortable to walk on, naturally prevent weed growth, and is more affordable than most landscaping materials.
However, you need to be wary of its Pros and Cons before creating a pea gravel patio at home or office, all and more would be discussed in this article.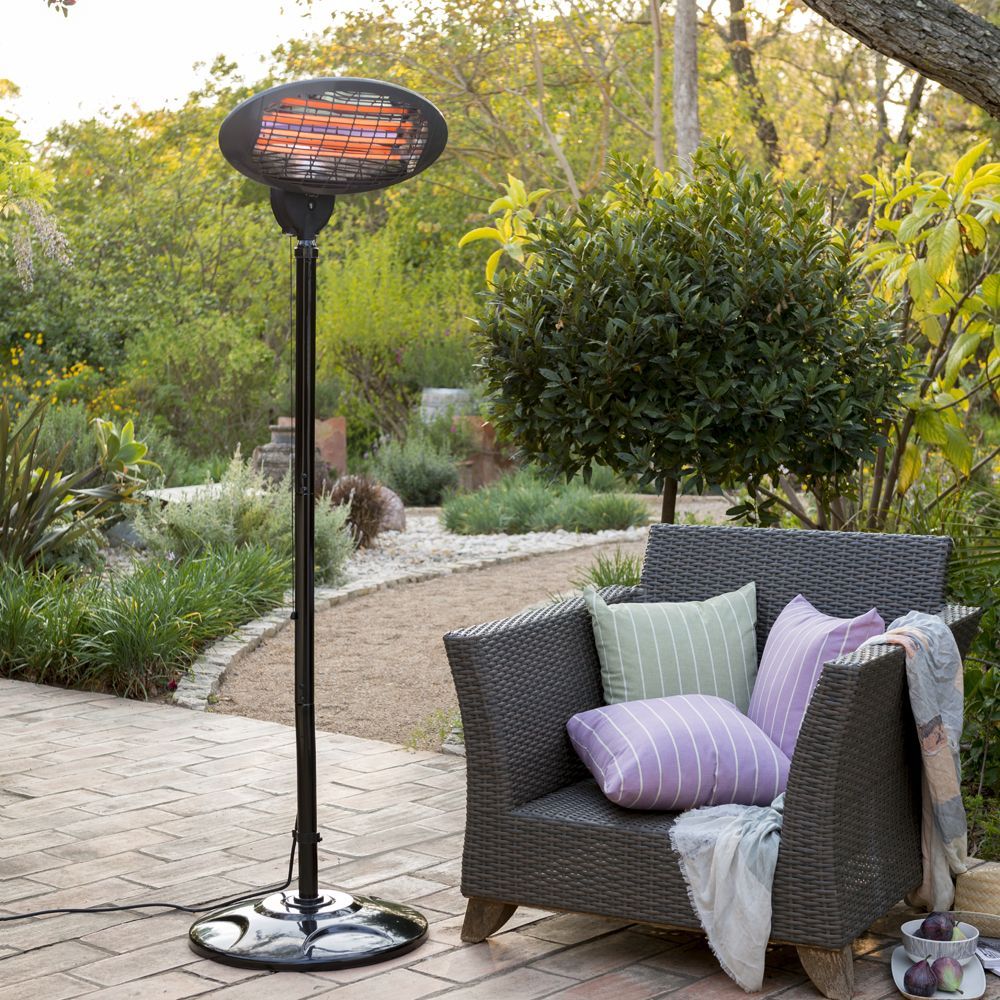 Pea Gravel Patio Explained
Pea gravel is a wonderful tool used for landscaping, patios, and walkways! There are many ways to make your yard and property more inviting. 
One material that can be used in many ways and do the trick is pea gravel. But not many people know everything there is to know about this material.
Pea gravel patios are quite popular. To begin building one, you need to find a flat location as pea gravel tends to fall into the cracks and isn't stable on hilly locations that aren't level. So find a good place to build your patio.
Pea Gravel Patio Pros
Below are some advantages of using a pea gravel patio for your space.
1. Very Affordable
Pea gravel is cost-effective compared to other fillers like stone and concrete, and this is a better option, especially if you're on a budget.
2. Low Maintenance
Like many construction projects, pea gravel requires maintenance. However, it's easier to maintain than concrete or pavers, which are usually cracked or have grouts. Just raking and regular weeding will help maintain its surface. You need not worry about resealing or repainting pea gravel.
3. Readily available
Another feature of pea gravel is that it's easily accessible. Pea gravel is widely available in building and landscaping suppliers and home and garden stores. You can even purchase it online (although shipping costs will be high). This contributes to its affordability and low transport costs.
4. Versatile and Customizable
You can creatively use different sizes, colors, and textures of pea gravel. In addition, the ability to easily customize the shape of your pea gravel patio makes it a better option than other materials.
5. Natural and Eye-catching
Due to the variety of colors and natural look, you can use pea gravel anywhere. Typically, the wide range of colors is due to natural weathering. The various colors enable you to match your pea gravel patio with your space and outdoor features for the most natural look. Combining various colors can make your patio and landscape aesthetically pleasing.
6. Easy to Walk on
Provided you wear comfortable footwear, you can easily walk on pea gravel. Its small, round shape and smooth surface make pea gravel easy to walk on.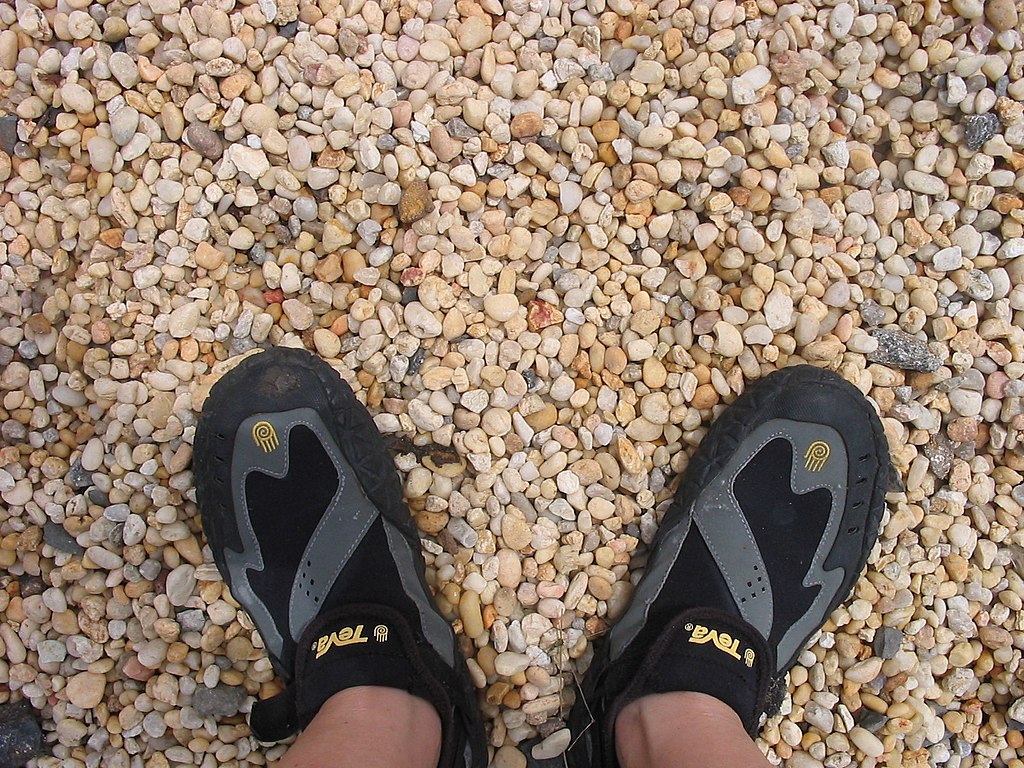 7. Easy to Install
Pea gravel patios are easy to install, contributing to their low labor costs. And you don't require expert skills compared to pavers. You can learn the installation process through a YouTube video and get it done very quickly. Installation usually requires digging up to 6 inches of soil and tamping.
Pea Gravel Patio Cons
While a pea gravel patio has its benefits, they're not without drawbacks. Knowing the downsides is essential to help you make an informed decision.
Typically, the drawbacks aren't much of a big deal if you can navigate around them. However, below are some disadvantages of using a pea gravel patio in your home.
1. Gravel polishes itself over time
If you combine pea gravel with pavers or flagstones on your patio, you will notice that these materials polish and shape themselves over time. This is due to constant walking over, making the pebbles look like marble. You may need to refill the patio to maintain its compact structure.
2. Uncomfortable for Bare feet
If you enjoy walking barefoot on a patio, especially in the summer, a pea gravel patio may not afford you that luxury. While it's easy to walk on, the pea gravel patio has a rounded and smooth surface with sharp edges that make it uncomfortable to walk barefoot.
3. Difficulty removing Snow
Clearing snow and removing debris can be an arduous task when you're using a pea gravel patio. You'll need to be cautious when shoveling to prevent the removal of the top layer of pea gravel. Use salt to remove ice without disrupting the patio.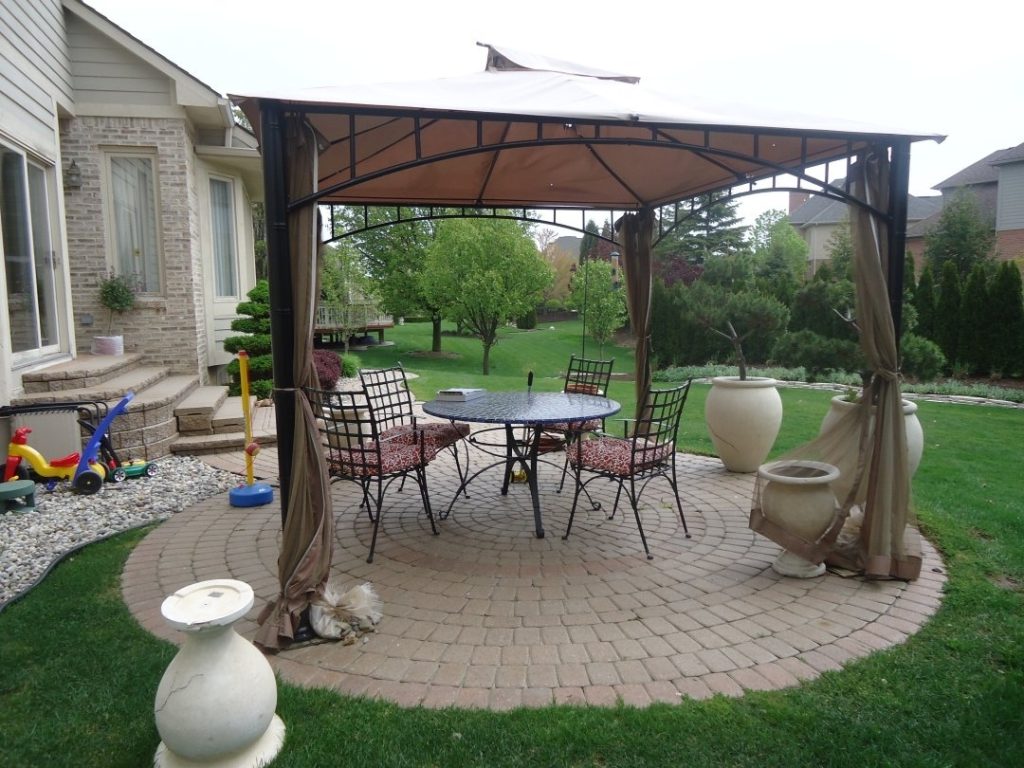 4. Easily displaced
This is probably the biggest drawback of a pea gravel patio. The patio easily shifts and moves, not staying in place. So even when you take extra measures, the pea gravel gets displaced over time.
5. Chances of Weed Growth
While pea gravel helps prevent weed growth at the soil level, it doesn't stop weeds from growing on the patio. Weeds may grow back if there are organic elements in the soil that support the germination of seeds.
Frequently Asked Questions
Is a Pea Gravel Patio a Good Idea?
Pea gravel patios are easy to install, cost-efficient, low maintenance, promotes water drainage, versatile and customizable. It's also aesthetically pleasing, readily available, and prevents weed growth. With these benefits listed, it's a no-brainer that a pea gravel patio is a good idea.
Do Pea Gravel Patios Last?
Pea gravel patios do not decompose or crack over time than pavers and stones. Thus, they are durable and long-lasting. If stones get dislodged after a while, you can replenish or add more stones by purchasing some from the nearest local store.
Is Pea Gravel Hard to Maintain?
While pea gravel is easy to maintain in the short term, cleaning them, in the long run, can be difficult. You'll need to use a leaf blower to keep dirt off the surface or rake the stones regularly. Adding more gravel can solve unevenness and loss of rock density.
How thick should pea gravel be?
A pea gravel patio should be about 3 to 5 inches thick (or 13 cm deep) because it gives room for the stone base (10cm) and decorative gravel (3cm) to fit in perfectly.
Conclusion
A patio is a perfect place to have memorable times with family and friends.
Adding a pea gravel patio to your space has many benefits: It's affordable, versatile, customizable, easy to install, and comfy to walk on.
While a pea gravel patio has its downsides, the pros outweigh the cons. So don't sleep on this landscaping feature! Instead, upgrade your home aesthetics and enjoy.
We are sorry that this post was not useful for you!
Help us improve this post!
Tell us your thoughts in details, we welcome every feedback we can get.