We all love a balance of easter decorations with spring vibes because it livens up your entire home and makes it as bubbly as the season being celebrated. Your front door or porch is a very important spot during festive decorations because it puts the neighborhood and your home in sync with the season. 
With some Easter eggs, Easter bunnies, spring flowers, crosses, and a talented decorating pattern, you can light up the outdoors of your home and ensure that you're in tune with Easter this year.
You can take your easter decorations to another level this year because it's an outstanding year and we're all open to trying new and exciting options even with regard to festive decorations, and we've got you covered on this as usual.
11 Easter Front Door Decor Ideas (2022)
A burst of colors and creatively generated decorative patterns are what we will be bringing to you for easter this year, if you're ready to shake things up and make this year's Easter one to remember, you'll instantly fall in love with the front door decoration ideas we've shared below; 
1. A creative easter bunny wreath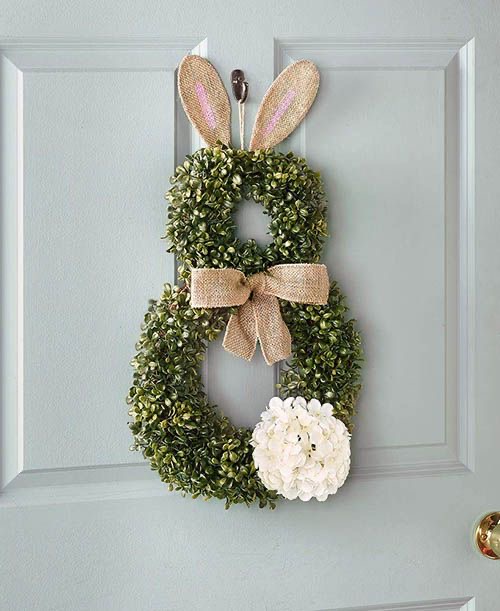 Decorations are all about how creative you're willing to get in order to have your home absolutely fit into the season being celebrated. A creative easter bunny wreath such as this is one that easily lenders everyone that comes in contact with your front porch to the season. Being made out of greens and having a little patch of white flowers also makes it fit the spring season as well. And the cute little bow and ears easily make you break a smile.
2. Easter bunny-shaped trees in vases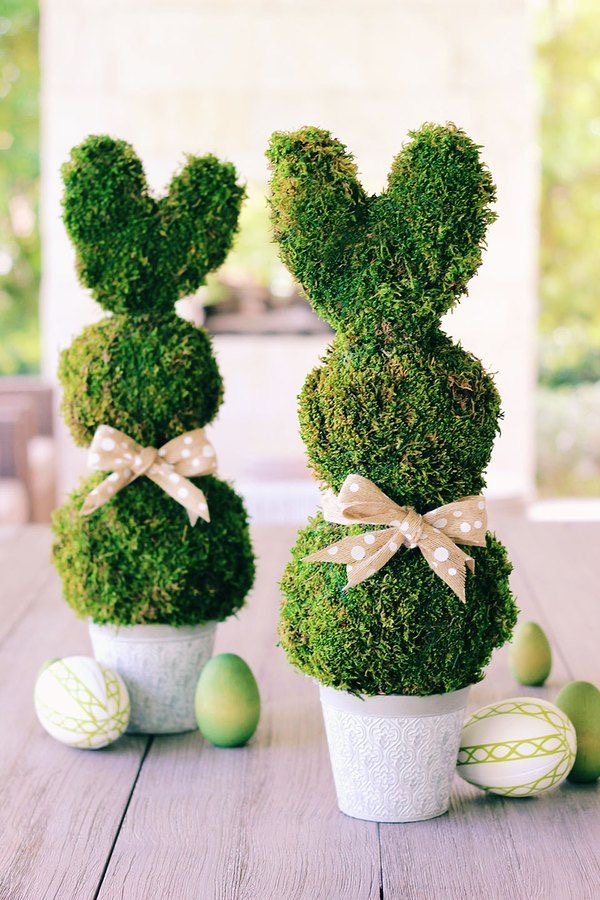 The green theme is a winner when it comes to eater decorations because it falls during the springtime and they're both a cause for joy and celebration. So you understand why these easter bunny-shaped trees in vases are a wonderful way to decorate your front door if you're not convinced to go with a wreath. You can place one of each easter bunny-shaped tree at the sides of your door and it'll look welcoming and lovely to behold.
3. A ladder decorated with easter accessories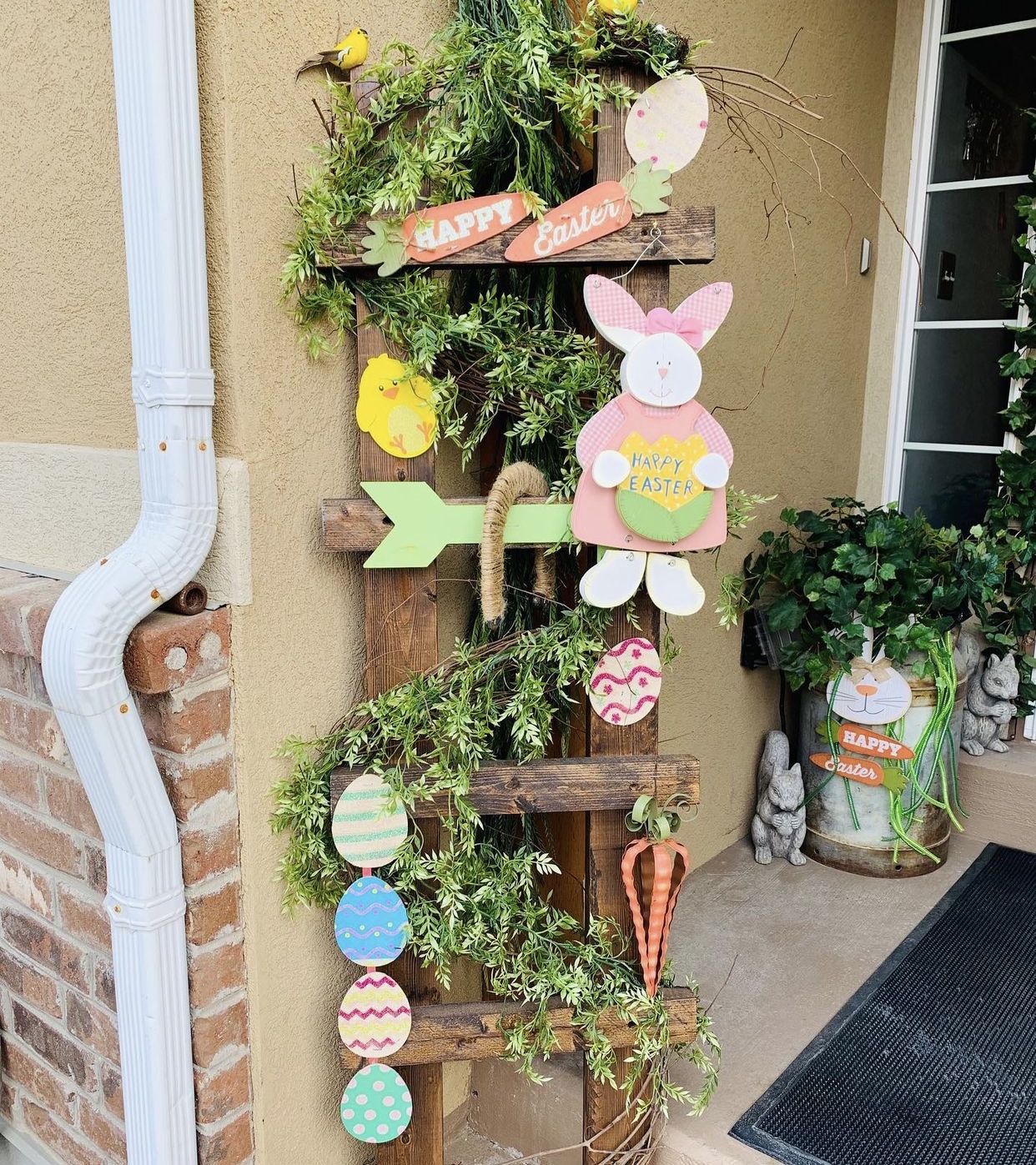 Your front porch brings a lot of attention to your front door, and with a ladder, as stylishly decorated as this for Easter, you're certain to have a beautiful-looking home that's in tune with the season. You just need to place a little ladder to rest in a corner of your porch, attach spring greens to run through the ladder, attach your bunny and easter egg accessories and you're good to go.
4. A carrot themed wreath with easter eggs and flowers in vases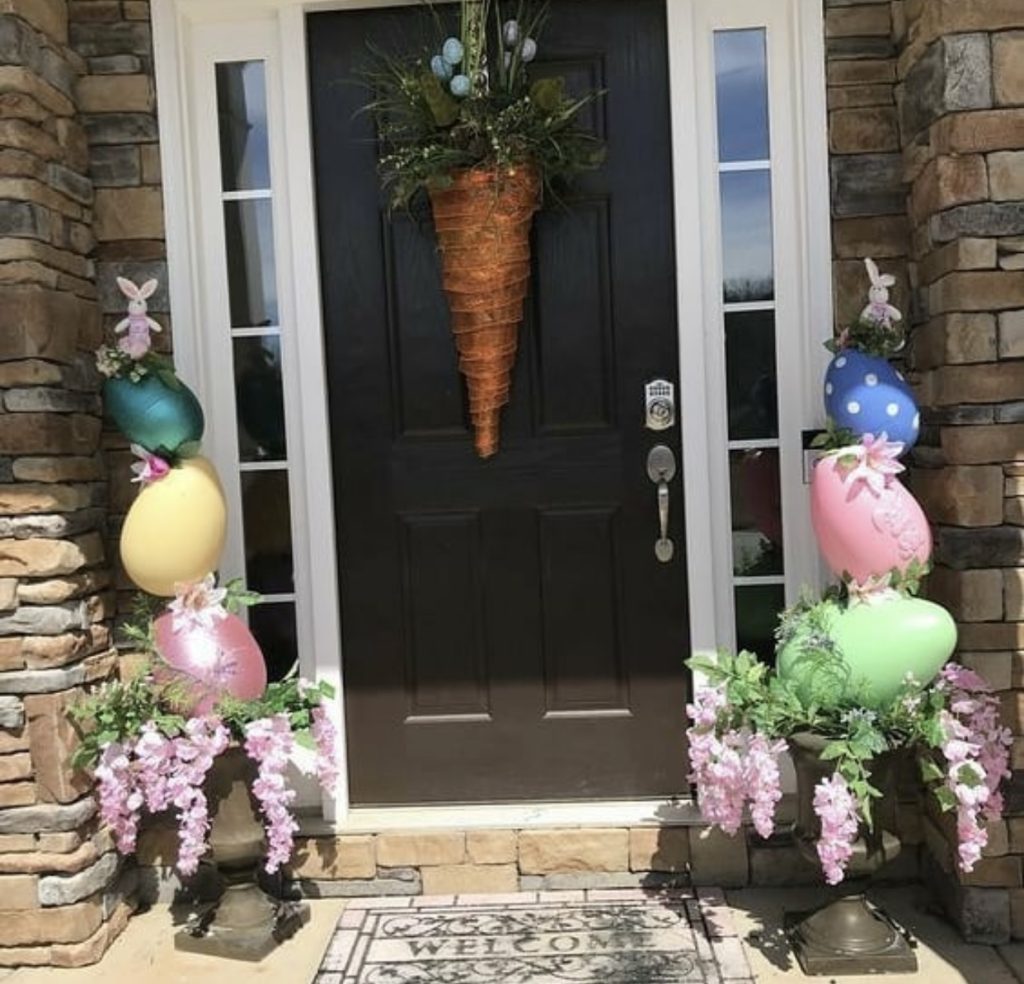 Sometimes we tend to forget that easter bunnies and carrots go hand in hand for easter decorations, this uniquely woven carrot-themed wreath is evidence of how a carrot theme can make your easter decorations look one of a kind. The vases with colorful easter eggs and lovely spring flowers are also a great way to switch things up, even the little Easter bunnies at the top of the eggs are simply adorable. 
5. A greeting easter carrot stand with easter eggs and flowers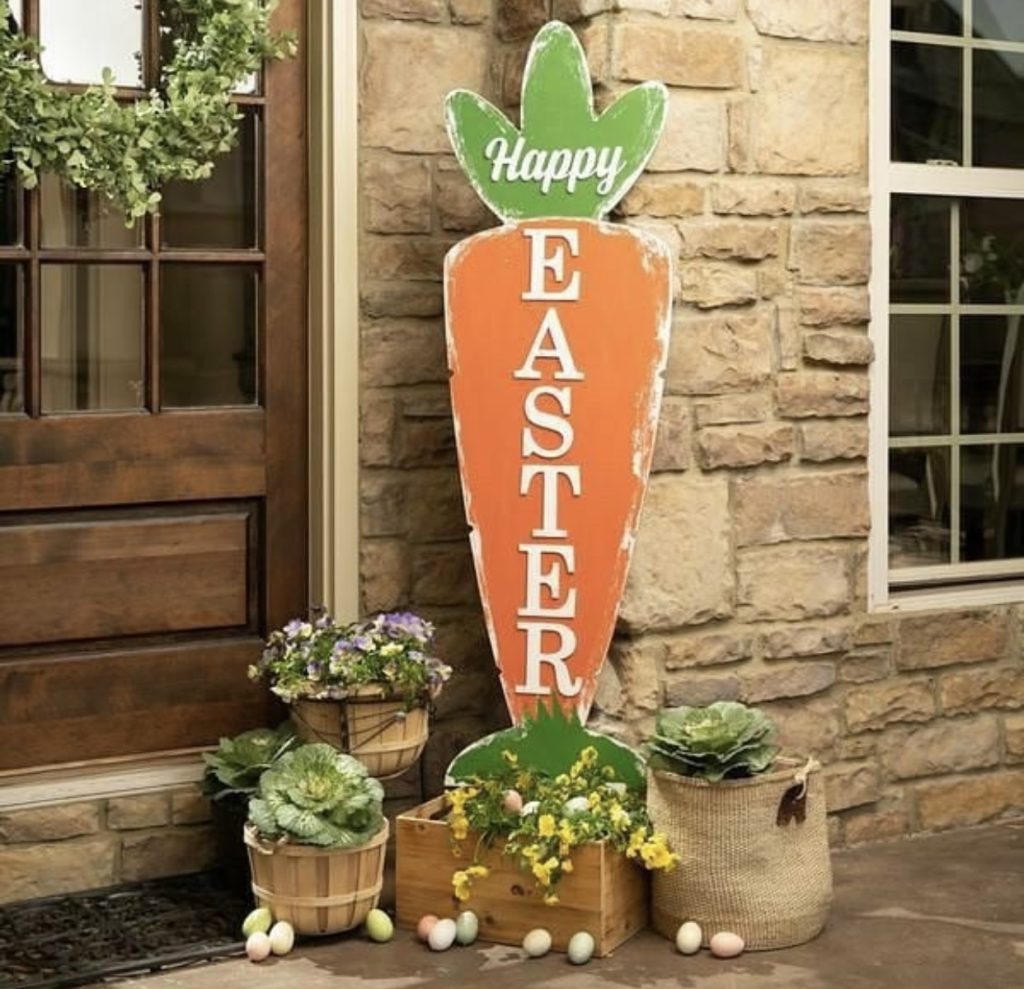 If you would rather have your front porch looking busy instead of your front door, you can simply crown your front door with a wreath made of spring flowers, and go with a greeting easier carrot stand that makes the season seem as jolly as it is. It's bright and playful yet the flowers and greens around it make it seem mature and welcoming.
6. Easter bunny paintings lit up carrots, and spring flowers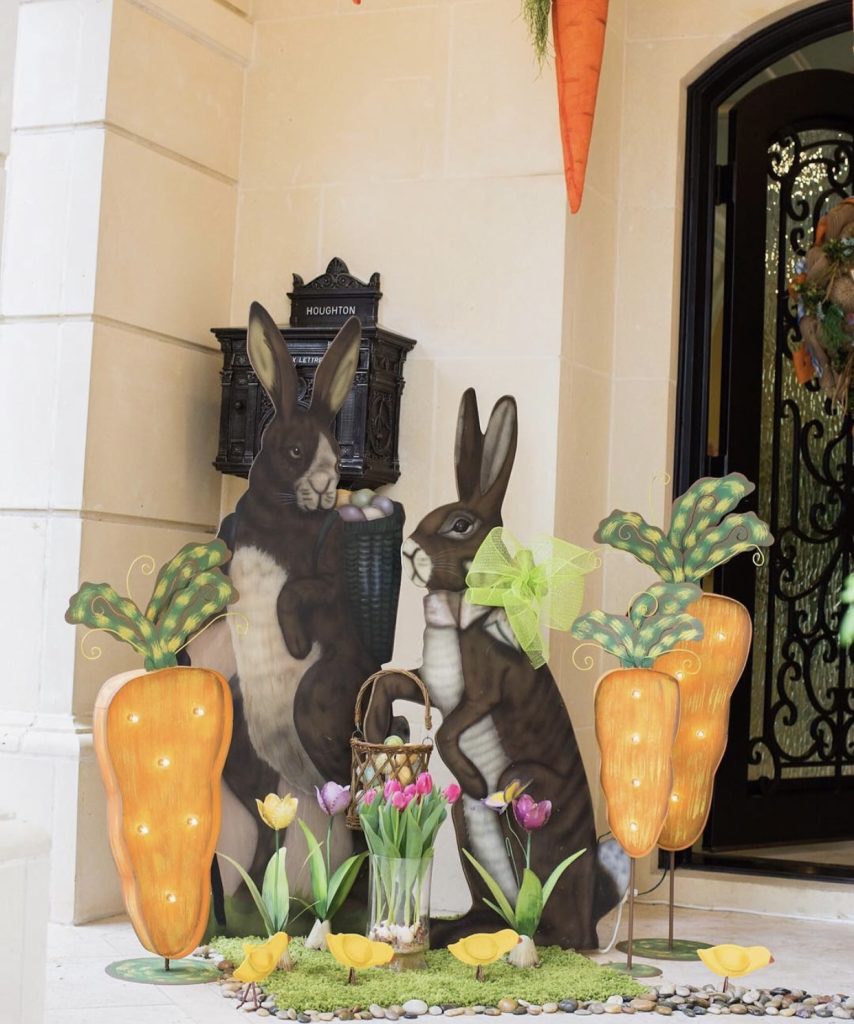 This particular easter decoration set is stunning and surreal, the realistic portrayal of the easter bunnies, a basket of easter eggs, and carrots are what draws you to it immediately you set eyes on it. The spring flowers also add warmth and beauty that the entire front porch needs to fit right into the season.
The lights on the carrots are also a great way to add a unique spin to them.
7. A simple easter bunny wreath with colorful spring flowers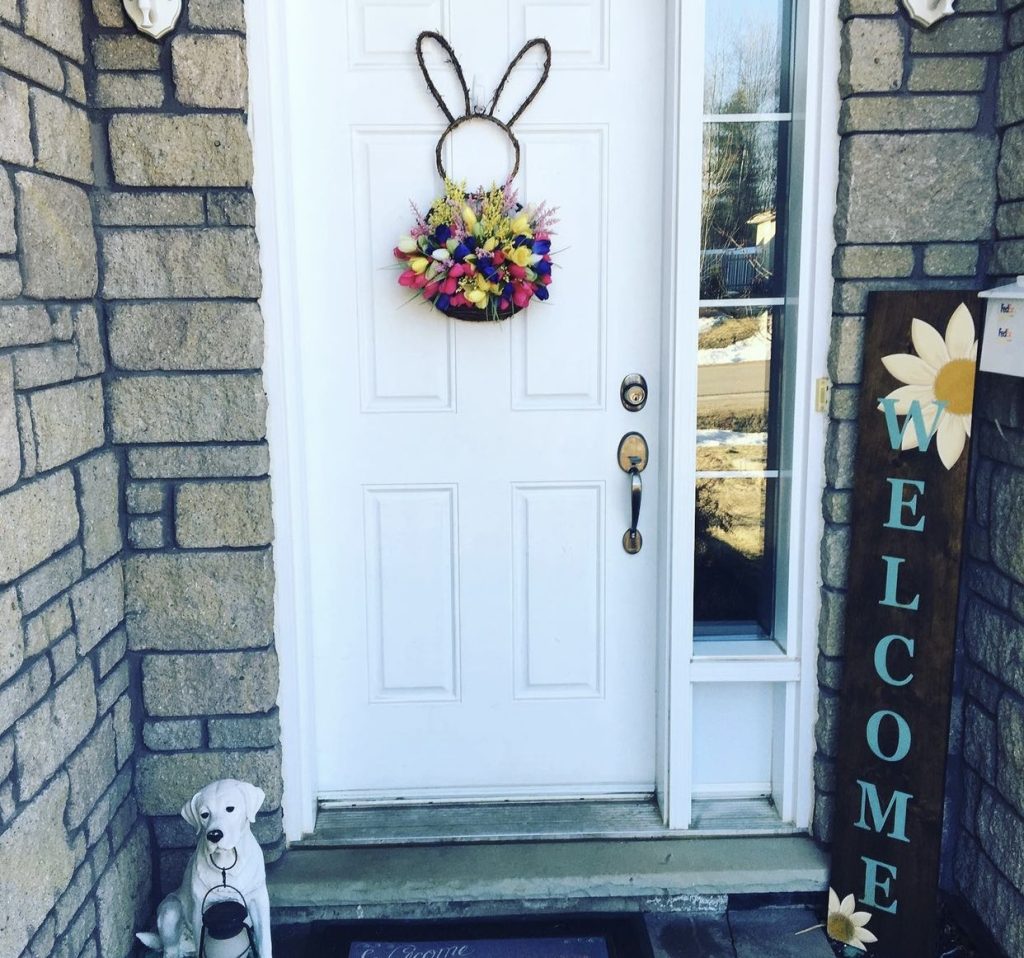 If you're not the type to go all out when it comes to decorations, this is perfect for you because you can get the entire easter and springtime experience by simply hanging an easter bunny wreath with colorful flowers on your front door. The cute bunny ears and the burst of colors that the spring flowers give off are exhilarating.
8. A lovely cross made with spring flowers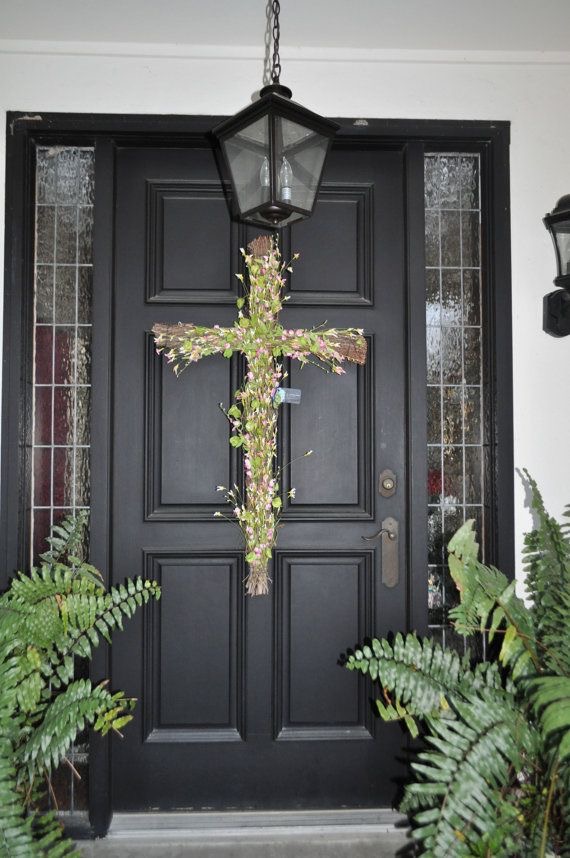 A cross is the representation of all that easter stands for, hanging a cross crafted with spring flowers during Easter is one of the best ways to celebrate the season and appreciate the blossoming weather that everyone is in love with. This decoration makes your front door look sophisticated, reassuring, and welcoming.
9. Bright and beautiful easter bunnies on a wreath and improvised vases with spring flowers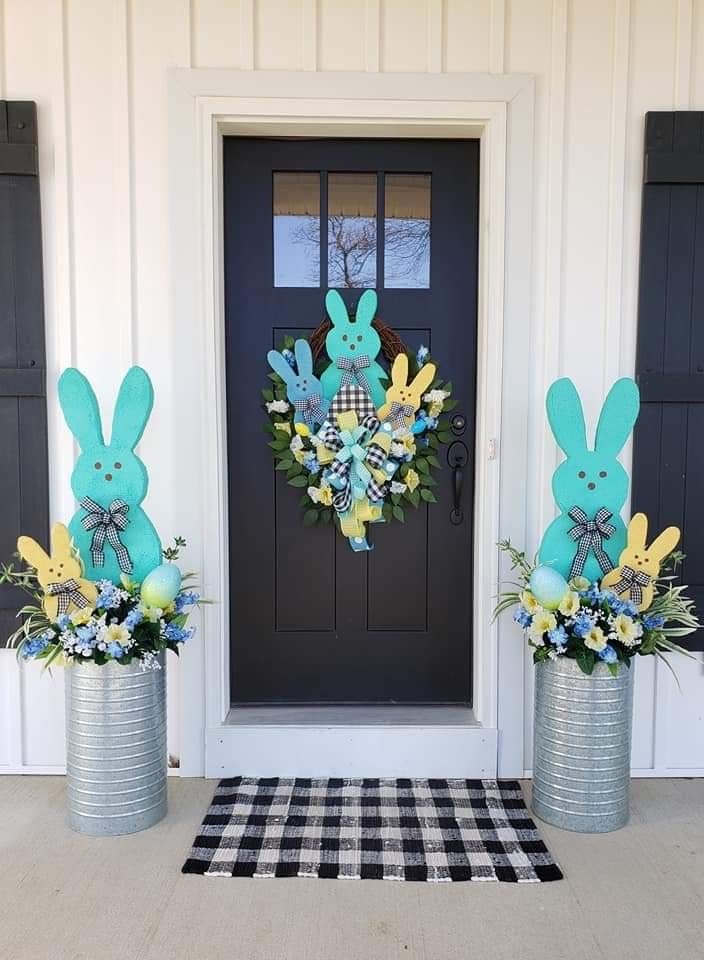 Easter bunnies, flowers, and bows are a harmonious combination when it comes to outdoor decorations for easter celebrations. These decorations are absolutely gorgeous and somehow still simple despite the play of colors and the bows. It's impossible to ignore the spring flowers which cascade around the easter bunnies and make the house look heartwarming. 
10. A wreath made of colorful easter eggs and easter bunnies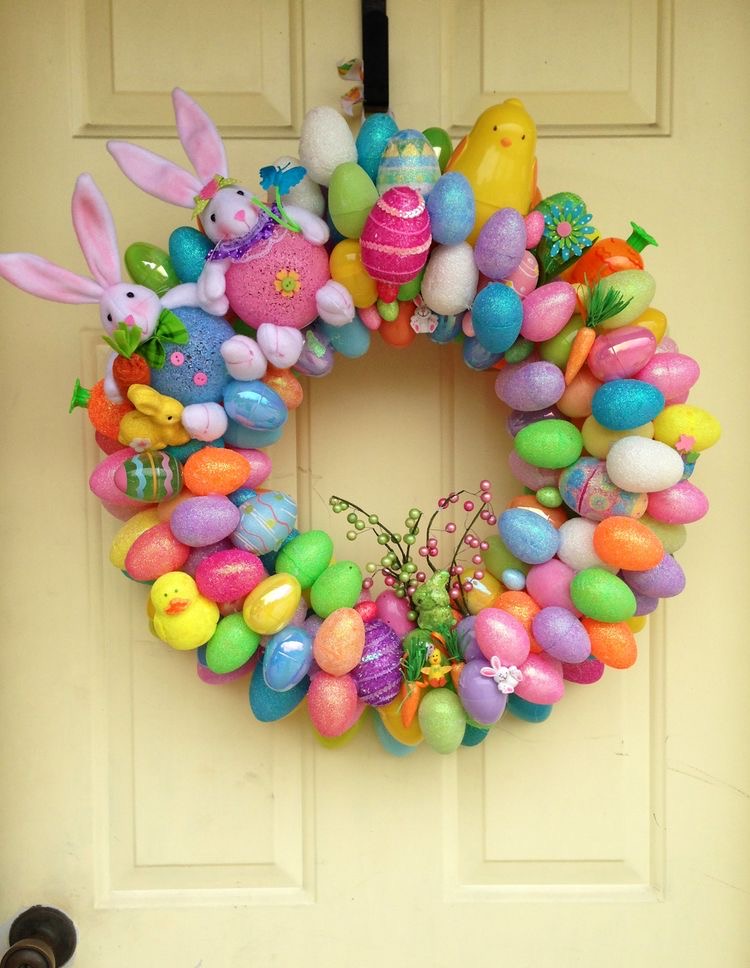 You are not required to always place easter eggs in a basket or burry them away, you can also make them into a lovely wreath that will grace your front door during the Easter celebrations. The colorful and creatively placed easter eggs and easter bunnies on this wreath are a wonderful way to craft easter decorations for the holiday and will make your home stand out beautifully. 
11. A skillful play of spring greens, flowers, a wreath with carrots, and an Easter-themed doormat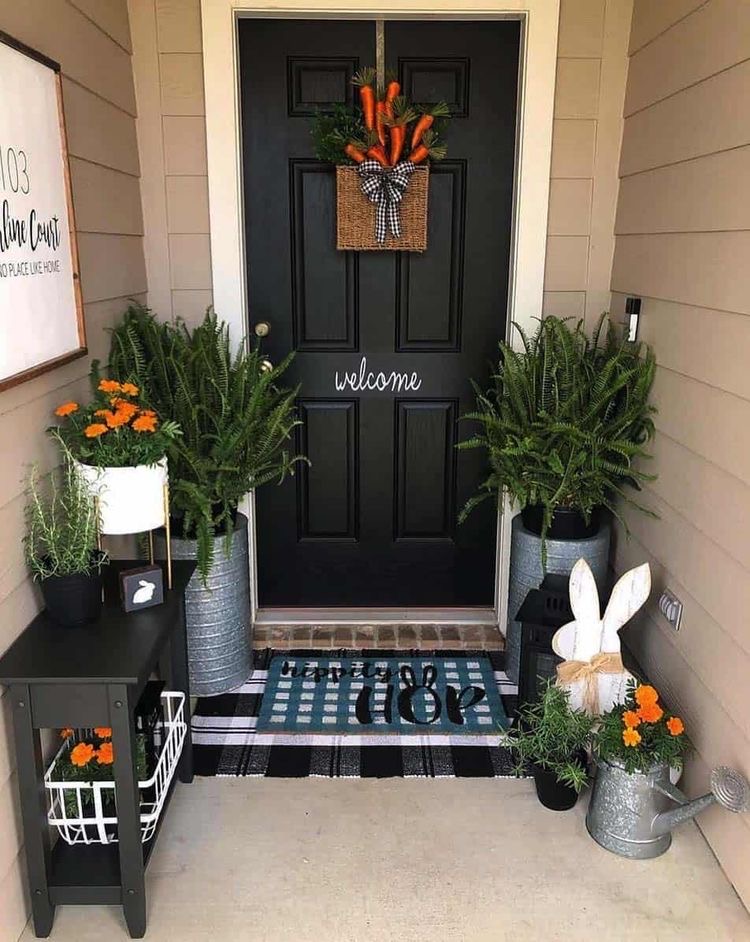 If you're interested in low-key decorations that make your home look elegant and appealing for the easter celebrations yet not too busy or bright, this is no doubt the perfect front door decoration for your home.
The easter themed doormat can be made to suit whichever easter greetings you find most appropriate, the greens act as a flattering yet classic way to add spring to the mix, and the wreath is made with carrots is a show of pure talent that you would want your home to drip of. 
Summary
As you look at your easter decorations this year, we want to make sure that you're absolutely proud of them. With this in mind, we provided unique and heartwarming options for you to explore while decorating your front door or porch for easter.
We also put into consideration the spring season which is upon us, a season that is dear to our hearts because it signals that summer is by the corner. Easter and spring-themed decorations are easily a way to make your home an eye-catcher and a gorgeously decorated home to match the festive celebration and the lovely season.