Freshly baked and hot donut is truly a delicious treat, and it's something you want to have over and over again. However, it could get tricky to keep your donuts from being hard or stale and staying fresh. 
Although, having leftover donuts do not happen a lot, when it does, one needs to know how to store/keep them the right way. So you have a fresh, delicious pastry to eat up, on another day.
To keep donuts fresh, Store them in a paper bag or airtight container and keep them in a cool dry place for 1-3 days. When you are ready to eat them, put them in the microwave for 5 seconds to soften and steam up. For a longer-term, you can store them in your paper bags or airtight container and refrigerate/freeze them for about a week.
We all love fresh and hot donuts, but it's important to stock up on a reasonable amount because they contain butter, fat, and sugar and can quickly go stale or hard. With all said, this article gives you some tricks on how to keep your donuts staying fresh and tasting amazing.
Donuts: The Favorite Go-To Pastry
Donuts are warm, commonly eaten pastries, that one could never go wrong with. Donuts are made and styled in different varieties, as there are donuts made with Yeast, Cake donuts, Donuts with fillings like jam, sugar, chocolate syrup, and Donuts made without icing or frosting.
There's something utterly delicious about donuts, served straight from the fryer or still warm with steam. But sometimes, if you got an event to host or attend, you have to pick up a box before the event. Or you bought some to save up for another day or week long.
Thus, you need some helpful tricks on how to store your donuts so they do not quickly go bad, hard, or stale. Well, worry less because this article will be serving up some cool couple of tricks on how to keep/store your delicious donut pastry.
Ways to Keep Your Donuts Staying Fresh
Here are a couple of ways to keep donuts fresh at home easily.
1. Store Donut At Room Temperature
To perfect this, follow the below steps:
Put your donuts in a plastic zippered bag, paper bag, or airtight container.
Seal the storage bags with your donuts inside.
Store the donuts in a cool, dry place (or at room temperature).
Reheat donuts in the microwave for 5 seconds, then serve them.
Bear in mind: This method applies to donuts made with yeast, or cake donuts whilst donuts with fillings, cream, or without icing, last longer when wrapped tightly in foil and stored in the refrigerator/freezer.
2. Keep Donuts in the Refrigerator
To keep donuts fresh at home by placing them in your refrigerator, here are a couple of things to keep in mind.
Keep your donuts in a storage bag or airtight container.
Do not use plastic bags, instead of plastic pastry boxes, or aluminum foil.
Place the sealed donuts in the refrigerator.
When you're ready to eat them again, simply:
Heat up the chilled donuts in the microwave for 10 seconds (per interval).
Bear in mind: If you plan to eat cake donuts or yeast-made donuts for about 1-2 days, then it's better to store them in storage bags and keep them at room temperature. This cooling method should be used for donuts that you plan to keep for about 5-7 days or generally donuts made with fillings, cream, or icing.
3. Freezing Your Donuts
Tips for freezing your donuts.
Place your donuts side by side, on a baking sheet lined with wax paper.
Then freeze for at least four hours.
Transfer them to an airtight container covered with a heavy-duty freezer bag.
Continue freezing and store up for about 3 months.
When you're ready to eat them again, simply:
Leave your donuts on the counter, uncovered for about 30 minutes to defrost.
Reheat by microwaving for about 15 seconds (per interval).
Bear in mind: Do not freeze donuts with icing, cream or fillings instead refrigerate them. Donuts that are unglazed, and made with yeast, or cake donuts can be frozen for about 3 months, it is advisable to eat them within that period and ensure they are tightly wrapped.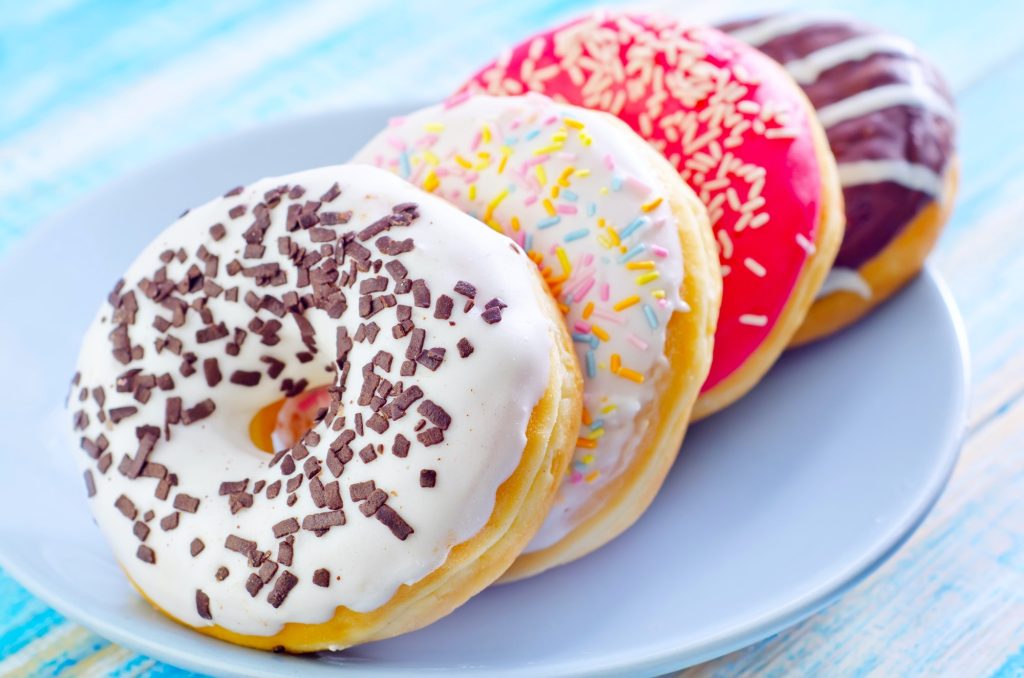 Revitalize Your Donuts with Icing
A good way, to make your donuts look fresh and new is to dip it into donut icing.
You can make a simple donut icing with powdered sugar, melted butter, vanilla extract, and milk. You simply whisk all ingredients together to make a smooth icing.
Hold the sides of the donut, submerge it into the icing, put it in a plate and microwave for about 10-15 minutes, always check at intervals. It's a good way to revive the taste of your taste and flavor of your donuts, so try it today!
How can I reheat my donut without using a microwave? 
If you do not own a microwave, you can reheat your donuts in a 350-degree oven for about 10 minutes. Always check them at intervals. 
Can I stack chilled donuts on each other? 
Yes, you can, but do this with donuts that don't have fillings, icing, or toppings so they would stick together. 
Can I store my donut icing in the fridge? 
Yes, you can store your simple donut icing in the fridge and use it as you like. Store them in an airtight container for about a month. 
Can I store my glazed donuts at room temperature? 
Yes, if it's for an hour or two. But you need them to be chilled because of the toppings, glaze, or icing. Instead wrap them tightly and store them in the fridge, until you are ready to eat. 
How can I keep my donuts fresh? 
By wrapping them tightly in storage bags and keeping them, either in a cool dry place or in the refrigerator, until ready to eat. 
Conclusion
It is clear with this article, on simple household methods for storing your donuts and keeping them fresh. Now you do not have to worry about them going stale or hard and can stock up a reasonable amount of donuts and have them as breakfast, a quick snack, or pastry dessert in your house, office, or on the go.
Ensure you wrap your donuts tightly, to trap out all moisture, and it's preferable to use aluminum foils, storage bags, paper bags, freezer plastic boxes, or airtight containers to store them, either at room temperature, in the refrigerator, or in freezer.
Do not forget to spice up your donuts with simple homemade icing, made with butter, powered sugar, vanilla extract, and milk. Now you can never get bored with your donuts and can enjoy this pastry all-day.