There has been increasing popularity in the use of microwave air fryer combos in modern kitchens.
Most of the appliances we hear about today like convection ovens, toaster ovens, microwave ovens, and microwave toasters are new to the market and as expected, they are speculating on how really good these appliances are and if they are worth the investment.
A WORD FROM THE AUTHORS: ADEBISI OGUNJIMI, LESLIE DUNPHY, THT TEAM.
If you are going to pick the right microwave air fryer combo or any appliance, you need the right purchasing guide and after sifting through tons of options online from some of the best manufacturers, asking questions, visiting stores to see what's what, comparing prices and reading reviews, we've handpicked eight of the best microwave oven air fryer combos for you to buy, see our top picks below before we jump into the main guide.
Toshiba ML-EC42P(BS) Microwave Oven With Air Fry
GE 3-in-1 Countertop Microwave Oven With Air Fryer
Panasonic Microwave Oven NN-SN686S With Air Fryer
Microwave air fryer combo as the name implies is a combination of air fryer and microwave. This appliance offers you the best of two appliances for the price of one if you are choosing the right model. What one appliance lacks, the other makes up for it which can explain why it's pretty popular.
Getting a microwave air fryer combo is also a way to save space on your kitchen counter, so there is no reason for two kitchen gadgets when you can get just one. There are quite a lot of advantages attached to getting a microwave air fryer.
It's easy to order a microwave air fryer or walk into a shop to pick one up. But do you know how they work? and How are you sure you are picking the right one? The microwave air fryer combo has lots of noteworthy functions but not all brands are designed the same.
This blog post will tell you all you should know about microwave air fryer combos and the best ones to buy as well.
Microwave Air Fryer Combos Function And Uses
It's not surprising that not everyone is familiar with the air fryer microwave combo or how to use it since it's a new appliance. This appliance is a combination of an air fryer and microwave, it allows you to use it pretty much the same way as air fryers and microwaves are used.
You can cook your favorite food efficiently without overcooking it as the appliance distributes heat evenly.
The microwave air fryer combo comes with settings for the two appliances merged so if you need to reheat food, you use the microwave setting, and when you need to make your food brown and crispy, you switch to the air fryer. This appliance is designed with a built-in convection oven as well.
The convection setting enables you to do quite a lot of things such as broiling and although its functions are similar to that of the air fryer, it differs in the amount of food it can cook.
Here are some of the functions and benefits of the microwave air fryer combo:
It produces a high temperature really quickly that cooks your food faster and evenly
Comes in countertop form, and you get one appliance instead of two or three appliances thereby saving space on your kitchen counter
Allows you to cook food on both microwave radiation and air fryer hot air circulation
The air circulating technology offers much healthier foods especially when the combination is used in cooking
It is quite versatile and comes in sizes that allow you to fry more food at once than a standalone air fryer can allow
Extract juices out of the food when cooking or frying which eliminates the need for oil hence no health problems associated with excess oil to worry about.
[affiliatable id='77308′]
8 Best Microwave Air Fryer Combos For 2022
Everyone deserves an efficient money well-spent kitchen appliance. The microwave air fryer combo can make a lot of things easier for you in the kitchen, and it's even more perfect if you don't have either one of these appliances at all. Now, the tricky part is choosing the best ones.
To ensure you are choosing the best, we have rounded up some of the best Microwave Air fryer combos for 2022 after rigorous research.
1. Toshiba Multifunctional Microwave Airfryer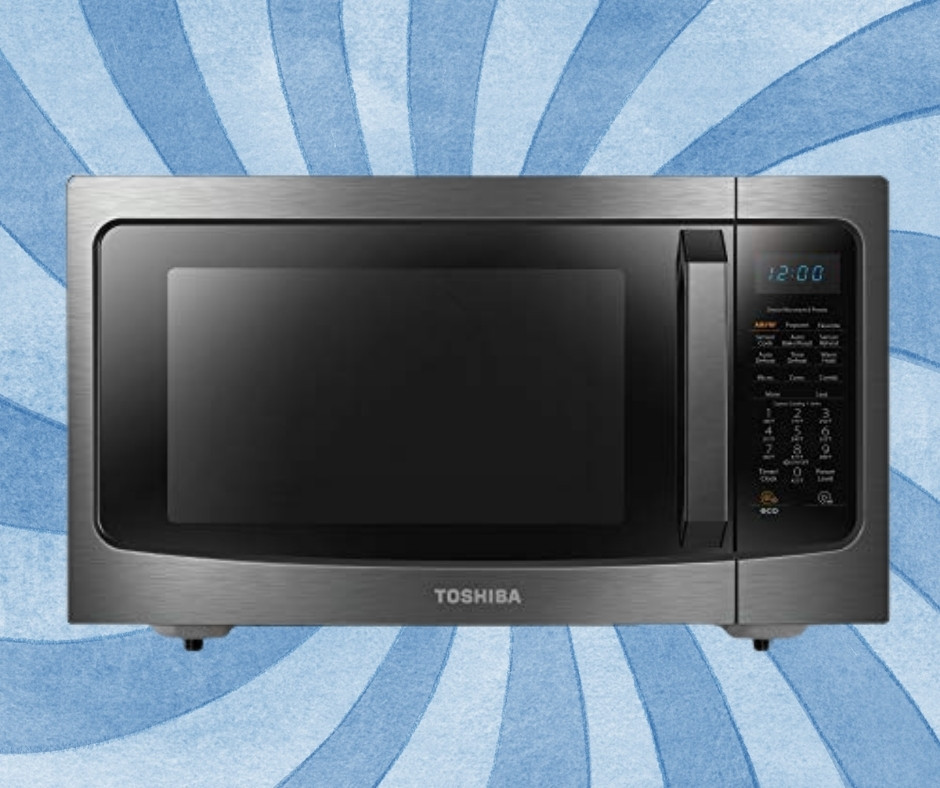 Our verdict: BEST OVERALL.
Looking for a healthy multifunctional appliance that does all? Toshiba Microwave Airfyer is a highly rated appliance and has been in the market for a long while. This is made with a convection microwave oven and with one drop of oil, you can enjoy a healthy meal.
This has quite a stylish appearance, and you can cook a variety of dishes with it since it comes with functions of air fry, grill/combi, convection, and microwave.
This kitchen appliance lets you enjoy fry food when you want, and you don't have to worry about any excess oil. The design can complement any kitchen decor, and it has a large 1.5 cubic ft. capacity, so you don't have to worry about it taking too much space on your counter.
This appliance can be operated easily with the electronic control that comes with it. This is just what you should go for if you are planning to feed a large household. This is sleek, easy to clean, and has easy to use interface which all make it worth the price.
What We Like About This Combo:
Smart sleek modern design that goes with any kitchen decor
Convenient and easy-to-use interface
Multi-purpose appliance, can be used as an air fryer, oven, and microwave
Comes with simple instructions on the door frame
User friendly
Comes with a smart humidity sensor.
What We'd Change:
The air fryer needs to be preheated which is quite slow compared to some brands.
Why we recommend it: Toshiba's multifunctional microwave air fryer has amazing key features and benefits which is why it's highly recommended. This microwave air fryer has 25 preset menus which can be of great benefit to people who can't cook. Reviews also claim this is very durable and has LED light that is power efficient. In addition, the low-temperature cooking setting lets you cook food evenly, keep food warm raise dough, and ferment yogurt.
2. Cuisinart, Black Microwave AirFryer Oven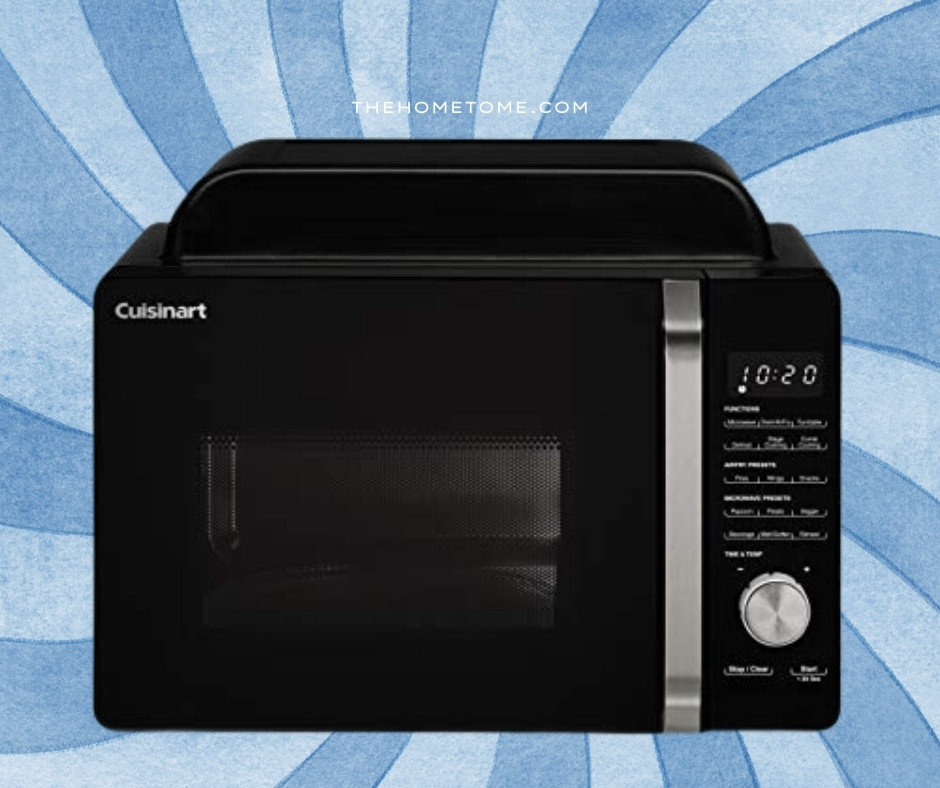 Our verdict: BEST COMPACT DESIGN.
Cuisinart Black Microwave Airfryer Oven is next on the list, and it happens to be another very popular brand you can trust for its efficient kitchen appliance.
This microwave air fryer combo is easy to use and with its 6 cubic foot capacity, you have enough space to make anything you want. You can bake up to 4 pounds of chicken in it as well. It comes with adjustable preset options and the stainless steel is easy to clean.
This works similarly to a convection oven while you also get all the features of a microwave and air fryer as well. This 3-in-1 combo is just the perfect compact design for your kitchen counter. The stainless steel design ensures it won't absorb any odor and with the auto Eco feature, you can cook while you attend to something else.
What We Like About This Combo:
The microwave has pre-set heating options
Easy to clean and use
Versatile and compact design
Comes with 11 different power levels
Has defrosting setting and auto cook feature
The instruction manual is easy to follow.
What We'd Change:
No air-fryer basket handle makes it inconvenient when removing it.
Why we recommend it: This is recommended for someone who lives alone and in couples. The capacity can't feed a large family or gatherings, but it's the perfect option for getting all your cooking done if you live alone. The user interface is easy enough for beginners to use, and it is also the perfect compact option as well. It has a defrosting option that calculates the defrosting time according to the item's weight.
3. GE 3-in-1 Countertop Microwave Oven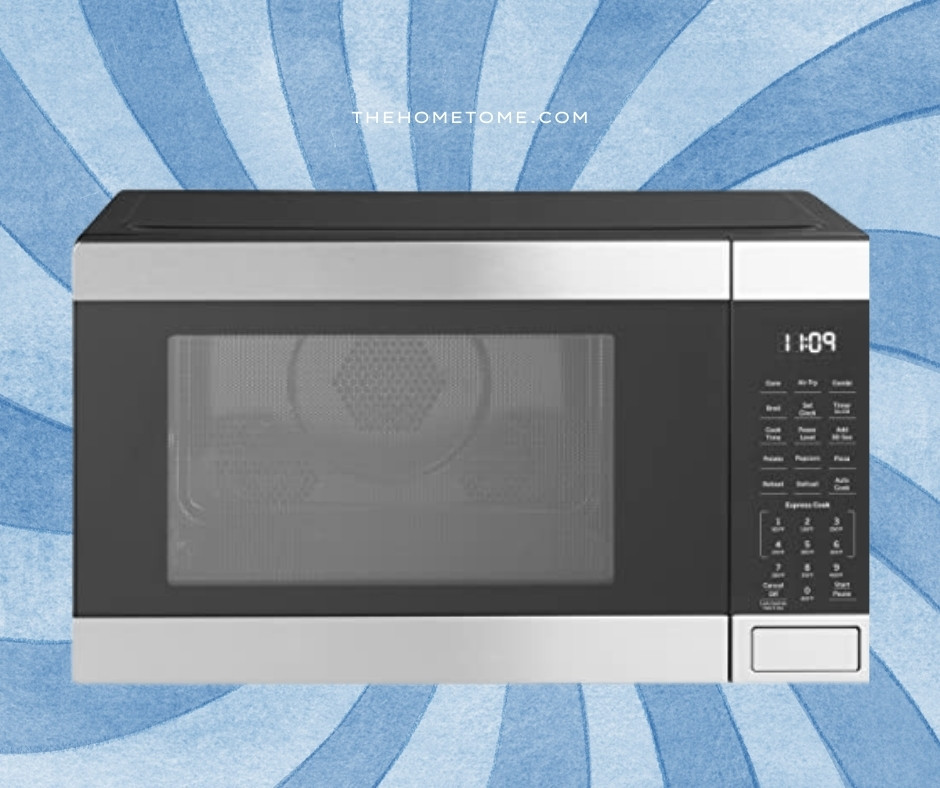 Our verdict: BEST VALUE.
GE 3-in-1 countertop microwave oven is another one you might want to take a careful look at if you are going to be frying lots of chips. This microwave air fryer has a built-in air fryer and the convection mode lets you achieve golden crisp cooking which is unlikely with standalone air fryers. With preset control, you can get precise results every time you cook.
The microwave part of the kitchen appliance comes with the broil mode, hence it allows you to achieve the same result as you would with a grill rack. It also includes a special rack that allows air to circulate properly around your foods for even heat distribution.
This is an ideal air fryer microwave combo for families and individuals as well. The preset controls also make cooking very easy and the compact design can fit into any dorm room, kitchen, or office.
What We Like About This Combo:
Includes a special rack that allows heat distribution which enables food to cook evenly
Features automatic time defrost option
Easy to clean
Preset controls
Easy to use touch panel.
What We'd Change:
Why we recommend it: If you are using a microwave or air fryer for the first time or don't have any of these appliances then this is the combo we recommend for you. GE 3-In-1 helps you a crispier and healthier version of your food at any time and the auto defrost lets you get optimal frosting done on days you forget to bring the frozen chicken out to thaw. The overall look is pretty impressive and suitable for any home design and space.
4. Breville Wave Combo 3 in 1 Microwave Airfryer Combo
Our verdict: MOST QUIET DESIGN.
Need something large but quiet? Breville Wave Combi is a 3-in-1 quiet machine, so you can make breakfast every morning without waking the kids up.
While most microwave air fryers are silent, this is considered even more quiet and efficient. This is made from a sleek stainless design hence it is easy to clean and maintain. Comes with a power smoothing inverter to deliver power when you need it instead of the old ON/OFF button.
This combo functions as a convection oven and a grill. It also comes with 19 built-in presets some of which include Smart Reheat, Smart Defrost, and Smart Cook. You can also benefit from the Fast Combi as well. This gives you an excellent performance of the oven, air fryer, and microwave.
You can cook your food without it turning too dry or overcooked in any setting.
What We Like About This Combo:
Designed with power smoothing inverter technology for even heat distribution
Meals can be prepared easily and quickly with the fast combi or frozen function
Comes with many handy controls on the inside
Made with a cooling fan
Easy to clean
Quiet operation
One-touch auto settings.
What We'd Change:
Can get hot while working.
Why we recommend it: This might be large for the average countertop, so it is highly recommended for a large family and one of its great advantages is that it is designed with the Element IQ system to create the best cooking environment and temperature. Reviews claim the oven does exactly what the manufacturer says and coupled with the fast combi function, you can create healthier and delicious foods. Lastly, it is faster than traditional ovens.
5. Galanz 3 in 1 Speed Wave Microwave Airfryer Combo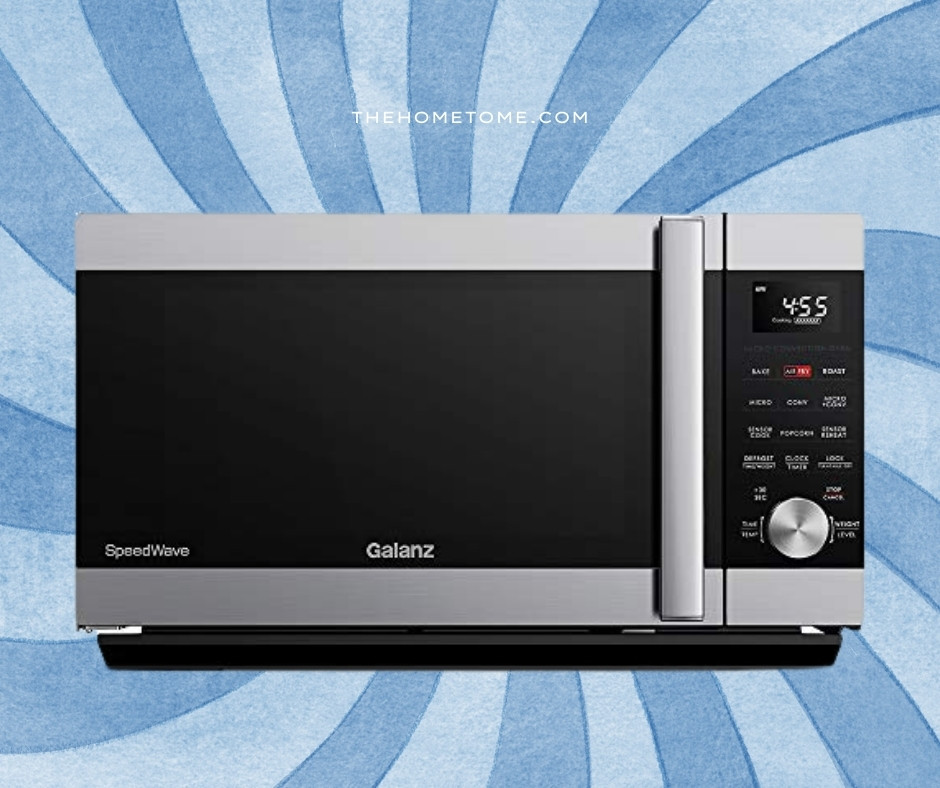 Our verdict: MOST VERSATILE.
While 3 in 1 combo might make any appliance versatile, the Galanz SpeedWave microwave air fryer combo seems to be topping that list. This kitchen appliance is a hybrid of a convection air fryer, toaster oven, and microwave.
So, you can go or this Galanz Microwave Airfryer instead of buying any of the appliances. This 3-in-1 multifunctional appliance provides you with ultimate cooking versatility and heats food evenly.
You can cook more of your favorite meals every day with this smart combo. This is designed with Combi speed cooking which enables fast cooking and with the combination of convection oven and microwave, it is faster than most traditional ovens and microwaves.
What We Like About This Combo:
Combines all the functions of a toaster oven, microwave, convection, and air fryer
Made with a Smart sensor cook and reheat to avoid over or undercooked foods
Designed with easy-to-control cooking knobs
Requires less effort to clean
The process is easier to start with the ergonomic touch panel and high contrast.
What We'd Change:
The interior light is quite dim
The touch surface is sensitive.
Why we recommend it: Galanz Microwave Airfryer combo can make your meals easy and efficient. With this appliance, you can cook your food faster and evenly without hot spots. The built-in heating elements ensure better air circulation, and you can go ahead and bake desserts with it or create luscious dinners like chicken fish, meat, or veggies. With its TotalFry 360 features, you make the healthiest dishes with no oil.
6. NUWAVE Bravo Air Fryer Convection Grill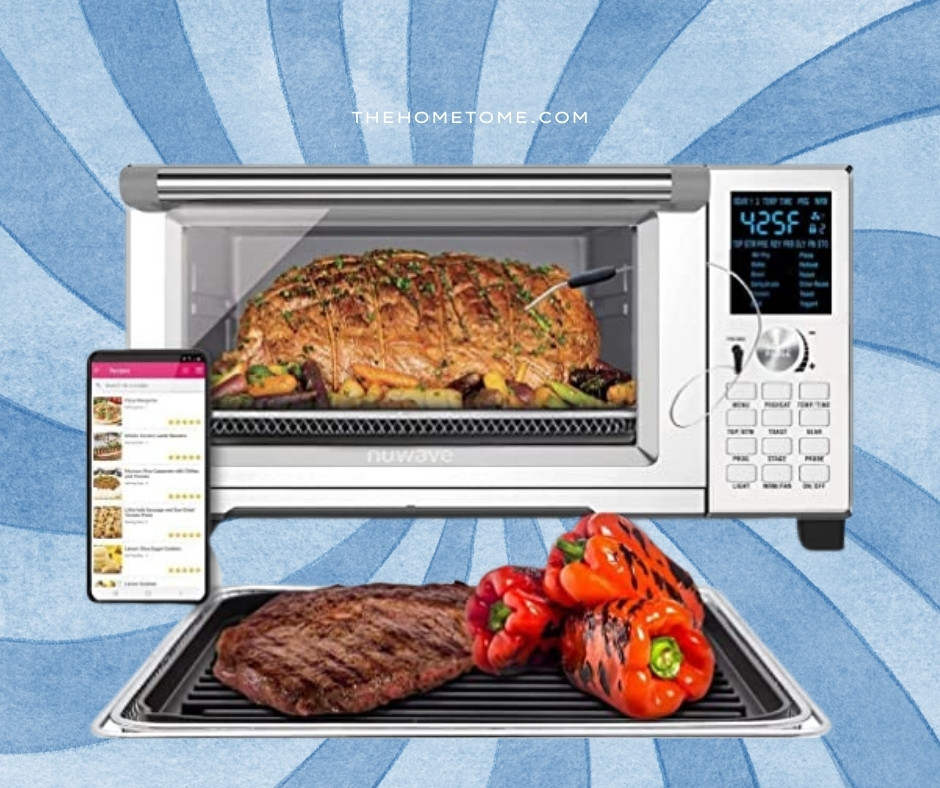 Our verdict: TOP RATED.
NUWAVE Bravo Air Fryer Convection grill has just the features you need your microwave air fryer combo to have. This is a compact digital smart oven that can easily replace your microwave, air fryer, stovetop, toaster, and even your full-size oven. It is designed to provide efficient results, and it is packed with 1800 watts which gives you optimal and precise temperature control.
While this has a compact exterior, it can still roast a 10-pound chicken and 13 inches pizza as well which makes it an ideal choice for families, couples, or even someone living alone.
This appliance also has an integrated digital thermometer probe which will allow you to cook based on the internal temp of the food. In addition, it comes with 12 preset buttons, so you can make your regular recipes without having to preset time or temperature.
What We Like About This Combo:
Comes with a variety of pans, racks, and baskets
The temperature probe enables you to achieve perfect cooking results
Budget-friendly compared to other combos
Beautiful and attractive design
The door and handle are also heat resistant.
What We'd Change:
There is no inverter technology
The instructions on the user manual are not clear.
Why we recommend it: There are quite a lot of things amazing and exciting to love about this Nuwave Bravo. The compact exterior makes it look classy while it can also a 10-pound chicken, make 13 inches of pizza, and it can air fry large dishes of potatoes in a single batch. This comes with a crumb tray which you can easily pull out and clean grease and shake off crumbs as well. It has an intense heating process that burns off high-calorie fats and oil.
7. Panasonic Microwave Oven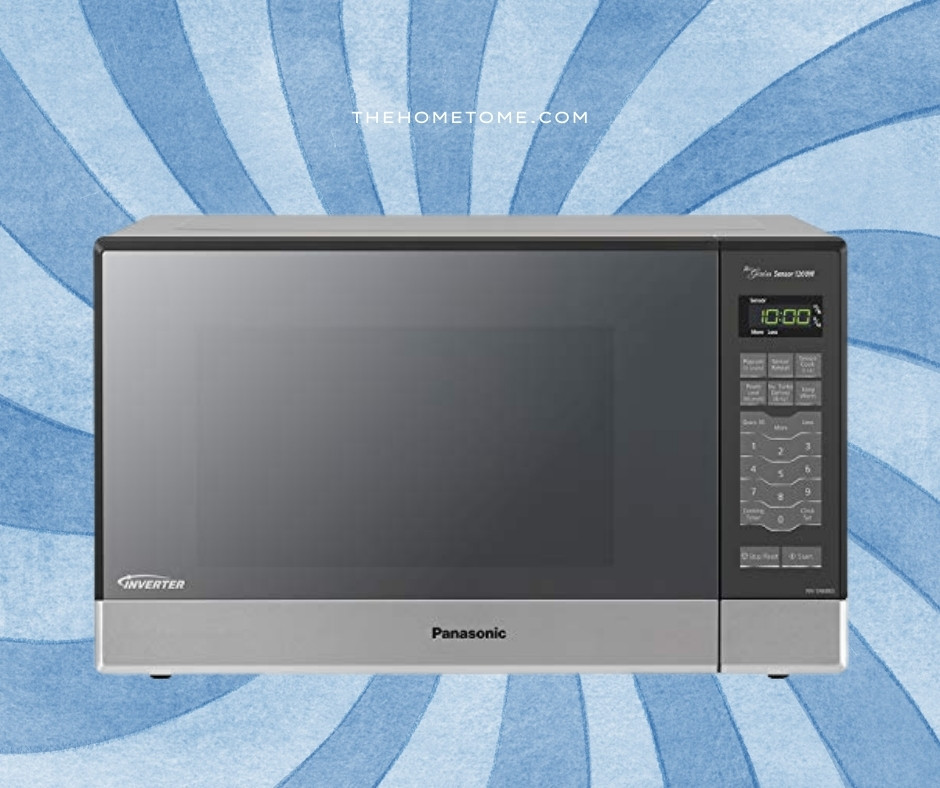 Our verdict: BEST BUDGET.
Panasonic Microwave Oven provides 950-watt high power and provides you with a seamless stream of cooking power to provide even cooking and delivers delicious flavor as well. This is designed with the inverter microwave to keep your soups, gravies, and desserts warm till they are ready to be served.
It delivers consistent and evenly distributed heat, so your food does not end up over or undercooked.
With the Panasonic microwave oven, you can steam, braise and even poach to perfection. This happens to be on the best list of appliances to go for this year. The inverter technology feature allows delicate foods to simmer without overcooking them.
What We Like About This Combo:
Built-in genius sensor to adjust time and power based on different foods
Powerful and multifunctional built
Solid and sturdy built quality
Smart inverts technology for quick and even reheating.
What We'd Change:
Controls are a bit confusing, especially for elderly ones.
Why we recommend it: Panasonic is a pretty popular brand and this multifunctional microwave air fryer is built with quality in mind. We like how this gives you different techniques in combination as it allows you to try a different recipe for the first time. It is designed to be efficient, although the slight hiccup is that the buttons on the side are small and not easy to see. But this offers convenience and safe daily use.
8. Sharp Smart Countertop Microwave Oven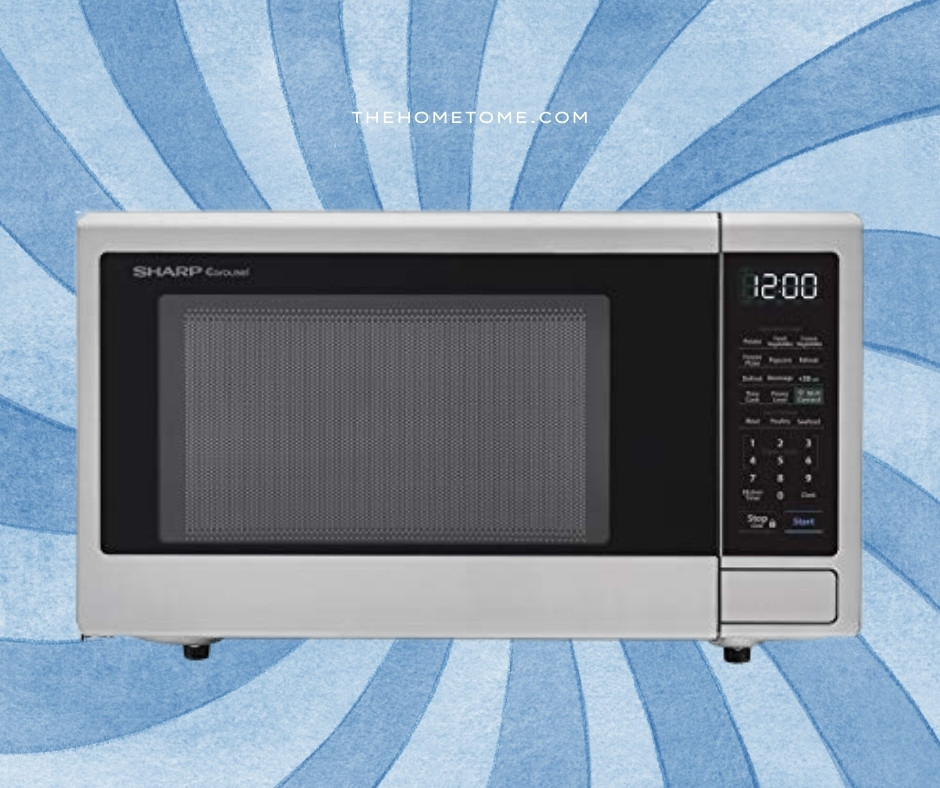 Our verdict: BEST 3-IN-1 MICROWAVE OVEN.
Need something that can conveniently replace your traditional oven? Sharp Smart Countertop Microwave is another microwave air fryer you can't afford to not add to your shopping list.
This appliance can replace your entire oven, it is built with over 30 Alexa voice commands and if that is not catchy enough, then the 10 adjustable power settings it comes with should be.
You can reheat other food and beverages evenly with this countertop oven. Another interesting feature added is a sensor that helps determine the exact amount of food you will need to reheat or cook. This comes with one-touch control and easy-to-understand instruction.
What We Like About This Combo:
Features a microwave that has 10 adjustable power settings
Automatically selects the time and power level according to the weight of the food
Accurate and quick thawing
Has a sensor that determines the exact amount of food to be cooked or reheated to prevent a mess
Easy to clean glossy finish.
What We'd Change:
The protective film is hard to remove
The touch panel is stiff.
Why we recommend it: You can't compare this to large size microwave air fryer, but we find the features exciting for a compact 3-in-1 microwave oven. This can easily replace your oven and since it allows you to microwave, air fry, and use it as a convection oven, it is a worthy investment. The auto preset option also takes the guesswork out of your cooking, and customers find the Alexa voice command to be quite desirable as well and exciting.
How We Tested The Microwave Air fryer Combos
One of the good things about investing in microwave air fryers is that you can heat up food quickly thereby consuming less energy. The microwave air fryer combos we have picked in this buying guide have been decided on based on cooking temperature, time consumption, power consumption, and versatility.
Air fryers are meant to be simple appliances however coming with a powerful appliance like a microwave shouldn't hinder its cooking temperature. Hence, we have each air fryer tested for its cooking temperature which yields maximum results.
We have carefully tested each appliance on the list and ensure they all offer the best of both worlds however you should consider choosing based on your budget and the features you specifically desire. Some models like the Toshiba Multifunctional Microwave Air fryer have additional features that let you roast or grill but it does cost more.
The size of each combo is another feature that has been tested. Also, if safety is of concern to you, we have tested each on its ability to consume less energy while also being programmed with automatic shut-off when the machine sense that something is off.
Factors To Consider When Buying Microwave Airfryer Combos
It doesn't matter what kind of appliance you are getting, a buying guide can make purchasing easier, and it ensures you are picking the right appliance as well. So, here are some key factors to keep in mind while you should for your Microwave air fryer combos.
1. Functions
Before you worry about anything else, you need to consider what the functions are. Microwave air fryer combos come with lots of desirable functions and the best ones to watch out for include; Slow cooking, Eco Mode, Inverter Technology, glass windows, and LED lights. This noteworthy function ensures you are picking the best, although it might be a bit pricey.
2. Size/Capacity
The size is another factor you should put into consideration. The microwave air fryer combos come in different sizes, and you have to keep this in mind, so you can pick one that is not too large for your kitchen space. It needs a ventilating space especially if you are picking one with convection mode.
3. Power
The use of power can often be determined by size. The microwave air fryer combos usually should have at least 1000 watts of power and the unit should have at least 1-10 variable power settings, so you can use the exact amount of power you need to heat your food. To save electricity, you can go with those that have Eco mode.
4. Material and Design
Stainless steel is the best type of material to choose for microwave air fryer combos. The design for each of the combos tends to differ but make sure you are choosing one that is easy to clean, and the front glass should be scratch resistant as well.
Frequently Asked Questions
Are microwave air fryer combos worth it?
Microwave air fryer combos add value to the market and this is because they offer you two appliances functions in the form of one. This appliance is worth it in our opinion especially if you are choosing the right one.
Is an air fryer the same as a convection microwave?
An air fryer is not the same as a convection microwave, but it can be used pretty much the same way. The convection microwave uses a fan, heating element, and mean exhaust system to control airflow and distribute heat and the air fryer similarly distributes heat. So, there is no significant distinction between the two.
Can I put microwave air fryer combos on the countertop?
There are convenient sizes that are built for the countertop unless you want something really large.
Can you air fry in a convection toaster oven?
Yes, you can air fry in a convection toaster oven as most brands come with dedicated air fry settings.
Does a microwave air fry combo make food crispy?
Final Thoughts
We all have our favorite appliances but knowing that microwave air fryer combos offer you the best of two worlds is enough reason to make it your favorite too.
This kitchen appliance has occupied a central place in many homes, and we can understand why. You can quickly cook and reheat food with the microwave settings and with the air fryer settings, you can crisp and brown up dishes just the way you like them.
Related Guides: