How you can toast a bagel without toasters shouldn't cause you to worry. Bagels are a delicious choice for breakfast or for any time of the day you crave them, (I mean there are no rules as to when to eat them). They can be paired with butter, cheese, or jam.
However, the downside to bagels is that they tend to get stale easily especially when they have been kept for more than two hours. And trust me nobody enjoys stale bagels. 
Bagels are most enjoyed when they've just been freshly made. And usually, people use toasters to bring back the spark in their bagels. But does it mean that toasters are the only solution? Are there other ways to toast your bagel without a toaster?
Of course, there are several other useful ways you can use to toast those bagels. You are not only limited to toasters when it comes to making your bagels fresh, crispy, and ready for consumption.
Feels good to know you can still prepare your bagels without toasters right? What's even better is that you are about to find out four other ways to toast your bagels. So let's get into it.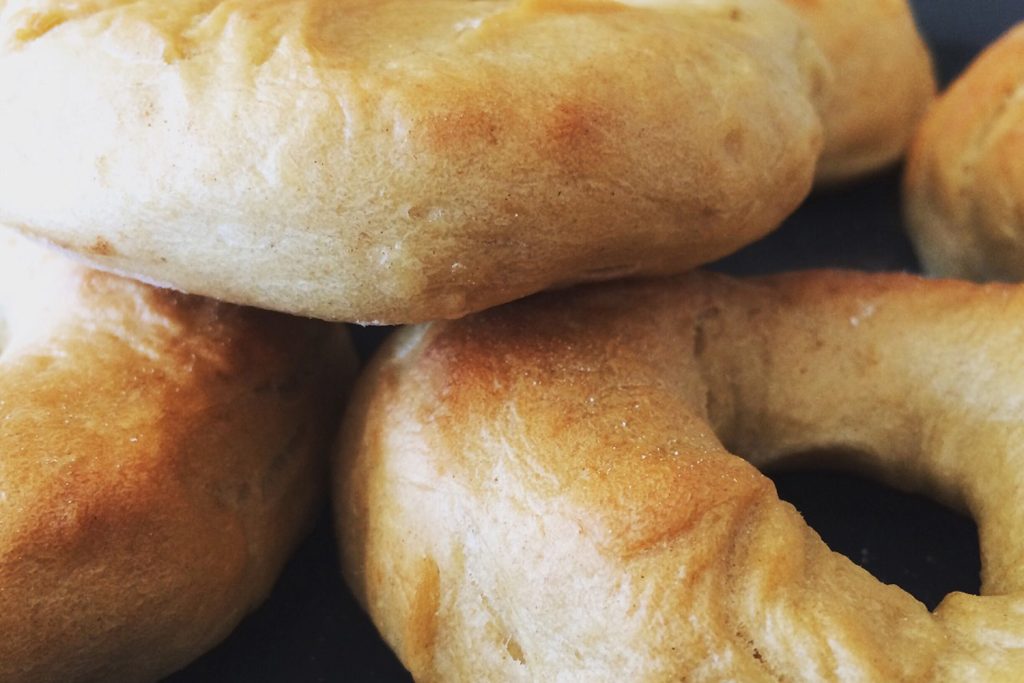 The Bagels History You Should Know
Bagel originated from Poland by the Jewish committee in Poland. Their key ingredient is the wheat dough which is mainly made of starch, this makes it high in carbohydrates and energy. And to keep them hydrated they were briefly boiled in water before getting baked.
They may look similar to the typical doughnuts but the holes at their center serve a purpose as they are used to hang around dowel rods by vendors so people can see them.
An ordinary bagel contains about 275 calories, 12 grams of protein, 55 grams of carbohydrates, and 1 gram of fat. If you're on a diet plan bagels are not so much of a great option for you.
4 Ways to Toast Bagel Without A Toaster
Bagels, especially in America, are a famous breakfast meal or snack.
However, toasters are important household appliances but they might not always be available for use, sometimes issues like your toaster getting faulty may arise, thankfully that wouldn't stop you from having bagels for breakfast. Below are ways you can compromise;
1. Use The Oven
Ovens are the best replacements for toasters, as they both have similar baking capabilities.
This allows you to slow roast or broil your bagel. Although ovens can produce more heat which may burn your bagel if care is not taken, they still stand to be the most effective and quick method to use when toasters ain't in reach.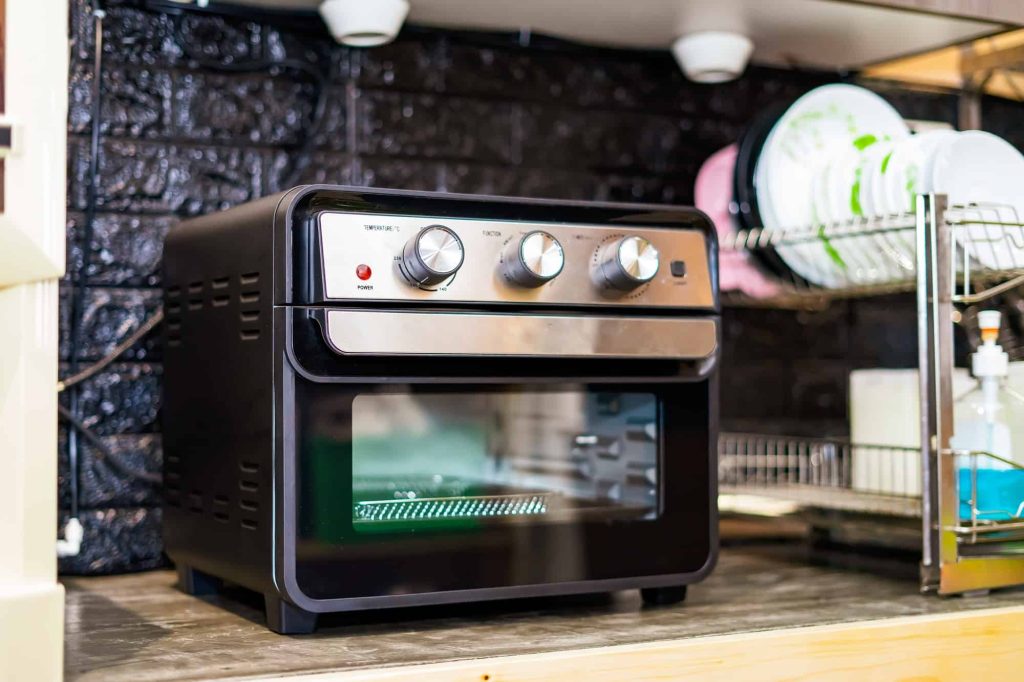 However, we won't dispute the fact that alternating toasters with the oven may not be easy, as there are a lot of temperature settings that need to be done before using them. But if you are out for something that can toast your bagel fast you should consider using the oven.
Here are the steps you can apply;
Properly arrange the oven racks.
Preheat the oven for 10 minutes at over 75-350 degrees Fahrenheit.
Place parchment papers over the rack then put bagels on top of them.
Allow bagels to toast for two minutes if you are using the broiling, and for ten minutes if you are using the slow toast method.
Bring out bagels from the oven after two minutes.
2. Use Your Stovetop
Stovetops are the most convenient means of toasting your bagels. Just so you know some people prefer using this method even when they have toasters.
You'll be needing a nonstick pan. You may be thinking, what if I don't have a nonstick pan? Relax, if you don't have that you can always use butter or baking spray on your pan. However, there are steps you apply when toasting bagel on a stovetop;
If you are using a nonstick pan/skillet, put it on the stovetop to preheat but if not you should spray your pan with baking/cooking oil first before preheating it.
Endure keeping the flame underneath the pan in check so your pan doesn't overheat.
While you're preheating your pan, slice your bagel into halves and spread butter over each half.
Now that your pan has heated well enough, place the bagels on the pan with the buttered part facing downwards.
Cover the pan with a lid as this will trap the heat so that the bagels heat evenly.
Leave them to toast for a minute or two then proceed to flip them to the other side.
When you have achieved golden brown bagels, take them out of the pan.
3. Air fryer
Prices pulled from the Amazon Product Advertising API on:
Product prices and availability are accurate as of the date/time indicated and are subject to change. Any price and availability information displayed on [relevant Amazon Site(s), as applicable] at the time of purchase will apply to the purchase of this product.
You probably haven't had it figured out that your air fryer is a great tool for toasting bagels. Interesting right? They are the last you thought would work but they are, however, the easiest method you can use. Let's tell you how air fryers can be used.
Slice the bagel into two halves, then place them into the air fryer. Allow it to toast for 2-4 minutes at 310 degrees Fahrenheit until you get your desired result.
4. Outdoor toasting with a Campfire
Sounds risky, yeah? But what's an intriguing way to toast your bagels? This is the most adventurous of the four ways. You can do this in your backyard or when camping in the wild. However, you'll need some experience to use this method.
You should begin by finding the right spot to start a fire. Once you have the fire started, try to neutralize the flame so that it's not too much for your bagels.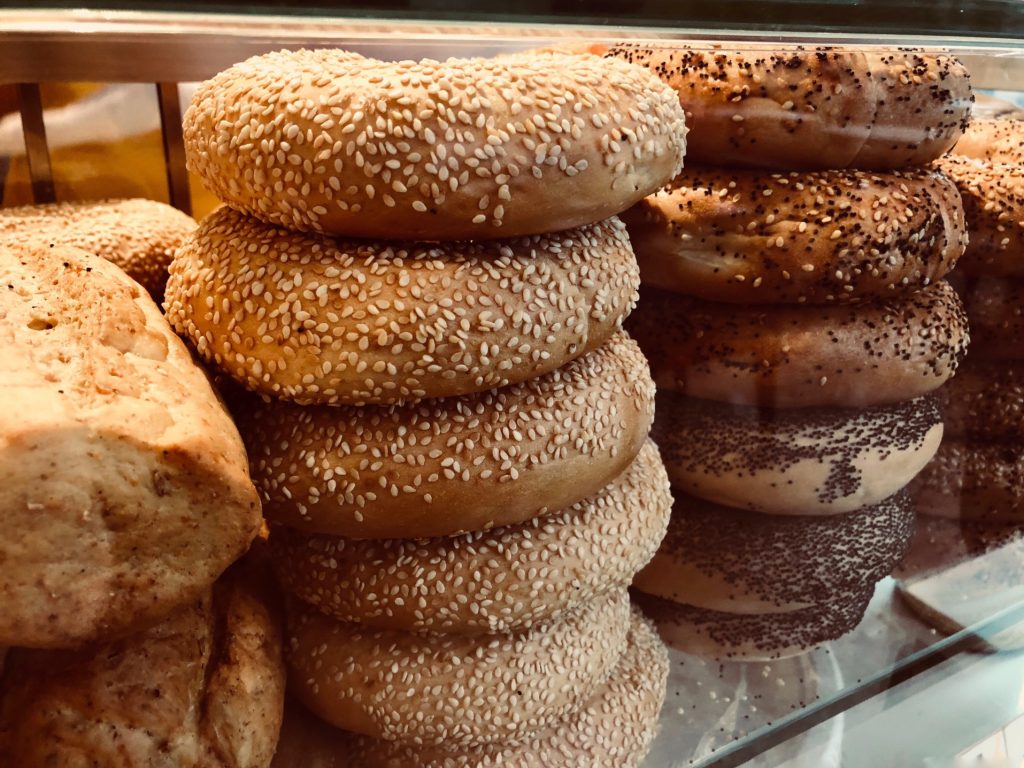 After the fire has been sorted out, place a grill rack over them. Then your bagel comes next on top of the grill rack. You can choose to spread butter on the bagel before putting it on the grill rack to toast.
Campfires are usually way hotter than the other method and so your bagel mustn't exceed 30 seconds in them.
Frequently Asked Questions
How do you toast bagels?
You can toast bagels in different ways, depending on what's best suitable and convenient for you. You can toast your bagel with a toaster, an oven, an air fryer, a stovetop, and even a campfire. All of these tools can be used to bring back the spark in your bagel especially when it is stale.
How do you toast bagels in a toaster? 
Slice your bagel into two and then put the bagel in the toaster and close it. Then go ahead to choose the bagel setting. Leave them to toast for about 2 to 4 minutes and when they are ready they pop up. You can now spread your butter or cream cheese to enjoy your bagels. 
Should you toast store-bought bagels?
Yes of course you should. Store-bought bagels are not freshly made and there's a high chance that they've lasted for more than three days in the store. If you want to enjoy them you should put them in a toaster or an oven that is preheated to 350 degrees Fahrenheit for about 2 to 4 minutes as most of these bagels are frozen and thawed.
Can you microwave bagels to toast them?
Bagels can be placed in the microwave but you'll prefer them when you toast them with a toaster or other methods. Bagels can achieve the same crispness in a microwave. The only way the microwave is suitable for bagels is when they are frozen. However, the bagel should be cut into two before going into the microwave as this helps it toast faster.
Wrapping Up
Bagels are an excellent choice of food, as the majority love to have them for breakfast.
More so, bagels are enjoyable when they've just been freshly made. This has caused many to make them at home and gave rise to queries on how to keep them fresh and consumable even without toasters.
Moreover, toasting your bagels is not solely dependent on a toaster. The good news is that methods like using the oven, air fryer, stovetops, and even campfires can be adopted. You can also try all these methods to see which is more suitable for you.