The idea of making homemade bagels might seem silly. I realize it's quick and easy to pick up fresh-baked bagels from the store. But, there really is no substitute for fresh bread made at home.
One of the reasons why I love making my own bagels is having control over the size, mix-ins, and toppings. Not to mention you can make your own bagel-bites, bagel-dogs, and another snack you can wrap a chewy bread around! Bagels are simple and amazingly versatile!
There are a couple of things to keep in mind when making bagels. They are yeast dough, but they are heavy. Also, they should not be allowed to rise too long or they will fall apart when you boil them prior to baking.
The simplest way to shape bagels is to separate your dough into about 1/2 a dozen balls (depending on how large you want your bagels).
Then, holding a ball with both hands, gently press flat and use your thumbs to create the center hole.
Then you can mold the bagel with your hands, working from the center out. You want to try and achieve a hole that's the size of a 50 cent piece. You can mold the bagel with your hands, working from the center out.
Once you have them shaped, you simply allow them to rise, boil and bake. The smell is amazing!
Easy Homemade Bagels Recipe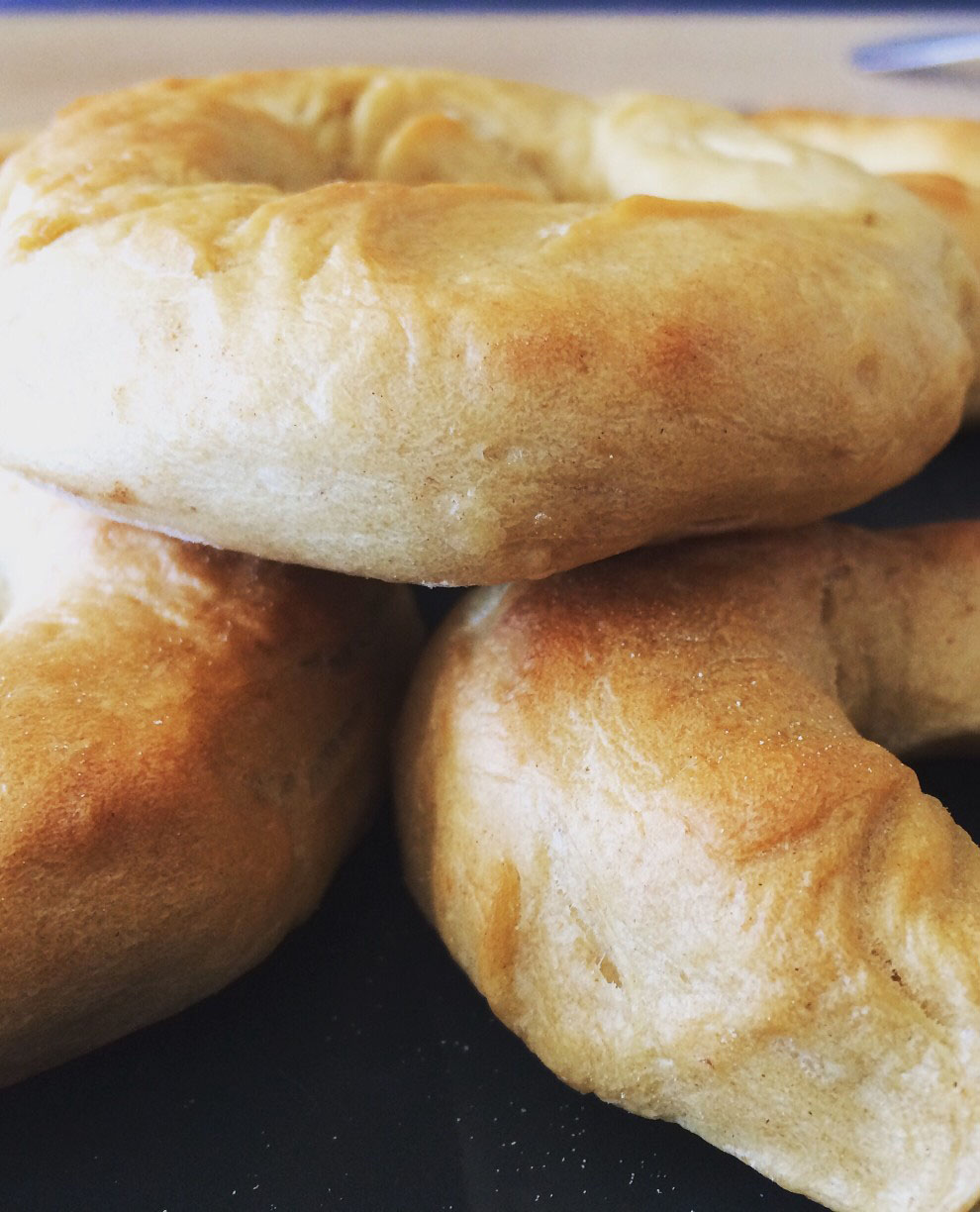 Ingredients
1½ cup warm water
1 tablespoon yeast
3 tablespoons sugar
1 tablespoon salt
4½ cups flour
1 tablespoon garlic powder, onion powder etc. [optional]
Instructions
Preheat oven to 375 degrees.
Sprinkle yeast on top of warm water. Add sugar and let sit for a few minutes. Stir in salt (and garlic powder options).
Add flour one cup at a time. Knead for 10 minutes (I use my standing mixing, using the kneading paddle). Place dough in a buttered bowl (turn over so that is buttered on top and bottom).
Let rise covered for 30 minutes. Separate dough into 6-12 balls. Shape bagels.
Cover and let rise for 30 minutes. Place in 5 inches of boiling water (about 4-5 bagels at a time).
Simmer for ½ -1 minute on each side.
Bake for 30 minutes or until golden brown, on a greased cookie sheet.
Discover more recipes:
We are sorry that this post was not useful for you!
Help us improve this post!
Tell us your thoughts in details, we welcome every feedback we can get.