How does it feel when someone tiptoes to get a better view of what is happening in your house? It is not a good feeling and can be exasperating. Privacy is a non-negotiable factor in the home. Not everyone fancies having the neighbors know about the activities going on in their homes.
If you don't have a fence (here are some cheap fence ideas for privacy) to demarcate you from that neighbor, a plant will fill that space. Utilizing a plant that grows quickly will give you that privacy in no time. A slow-growing plant will need no pruning and give you a better boundary.
There are restrictions to the degree of privacy you can get. You can get acquainted with these rules by checking city ordinances.
That limitation will make you decide how much coverage you can get. The size of your yard is a great determinant that can't be overlooked. That will determine if you need a taller or thicker shrub. A thicker shrub however offers better privacy. This plant gives a good ambiance and adds beauty to your backyard.
While considering the best plant to offer you some privacy, noise can be more upsetting. Fountains can be used when the noise coming from the next house is disturbing. Fountains offer a gurgling noise that sounds much better. There are factors to consider whilst deciding the kind of plant you want.
Benefits privacy plant offers
Beyond enjoying the privacy plants offer, you need to understand that this plant can beautify your environment and serve as a windbreak. Thus, you must utilize it and make sure you get the best of it.
This will help you pick out the plant(s) that best fits the purpose you want it to serve. A plant with pricks will repel looky-looks from your yard.
Care and precautions
You shouldn't have a shrub that keeps your house out of sight. It could make your neighbors oblivious to suspicious activities executed by an intruder. This could be dangerous and put your life at risk. That's why it's crucial to take care of the plants and prevent them from growing into a monstrous bush.
A little pruning or trimming will keep your privacy plant in shape whilst it still offers you some benefits. A tall or fast-growing plant needs to be trimmed often.
It's best to plant your privacy plant in moist soil and add some compost for enrichment.
Frequent watering is needed to prevent drought. Some of these plants prefer direct sunlight while some will appreciate a shady environment. Study your plant to know which works best for them.
These instructions can't be ignored as they will determine if you will have that privacy for a long time or not. Besides, you don't want your privacy plant extending into your neighbor's building. Get all the information you need to have a successful plant in the subsequent paragraphs.
Best plants for enhanced backyard privacy
1. Bamboo
Bamboo is one of the privacy plants you should consider when trying to keep off nosy neighbors. It offers greenery and grows very fast. Some consider it to be invasive but not every species is invasive. There are varieties of bamboo plantations and some will fit well in your yard. They can grow from 5-15 feet annually. You don't want that bamboo plant invading your yard, so you will need to prune them. If you are afraid, you can resolve to use artificial bamboo.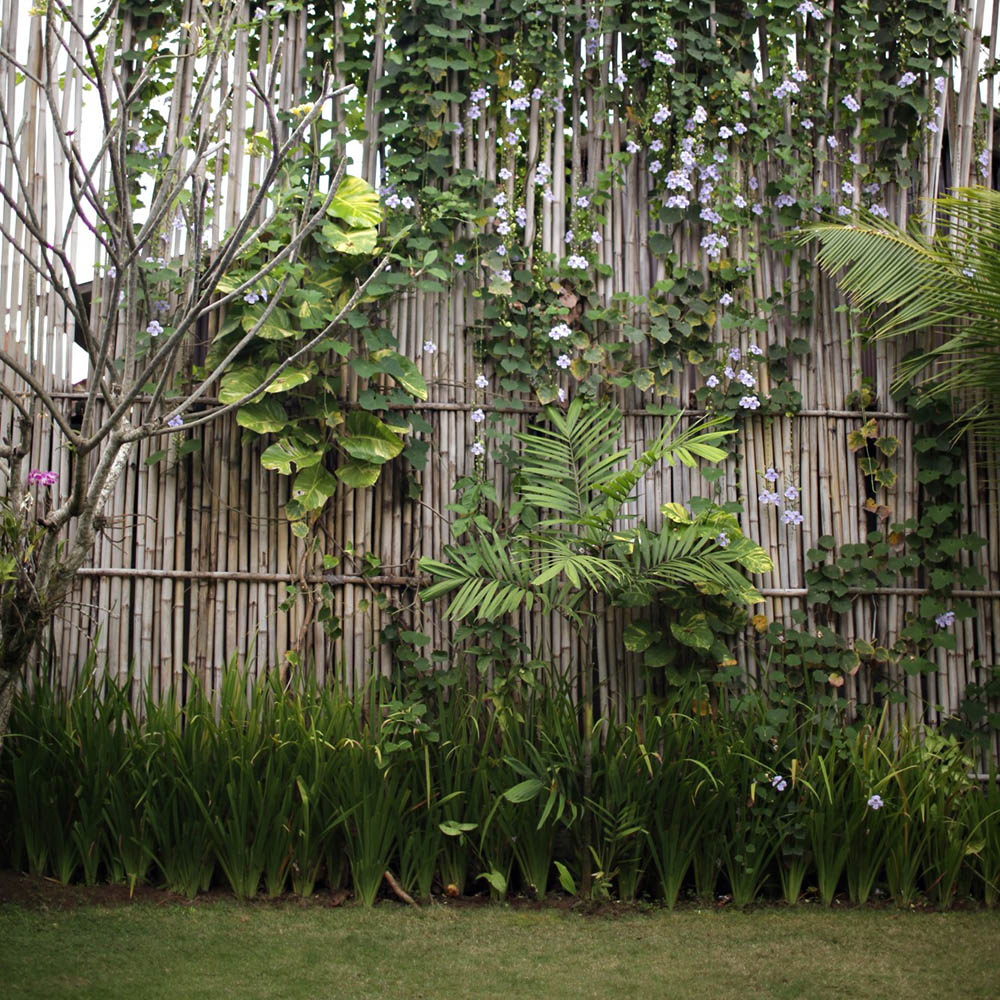 Planting bamboo in your yard gives it an exotic look. The different species of bamboo include Clumping bamboo, arrow bamboo, and golden bamboo, and serve various purposes.
The arrow bamboo is a type of clump which offers a screen and shade to your yard. The Golden Bamboo possesses high leaves that offer you double privacy.
The Clumping bamboo grows rapidly and is very attractive. It will give your yard nice greenery. It spreads and will need to be pruned. You might need to frequently water and expose your bamboo to direct sunlight to get the best yield.
2. Arborvitae
Most people grow this plant with boxwood. The two give beautiful foliage to your garden. It is one of the most cultivated privacy plants after Bamboo. It can tolerate many soils ranging from the rich soil to dry soil to moist soil and doesn't need to be monitored often.
It provides your yard with a thick screen that gives you enough privacy. They grow well in USDA zones 3-7 and will do well in any temperature. Arborvitae consists of dwarf and giant varieties. You can choose the type of arborvitae that best fits your garden depending on the height and width the plant provides.
3. Vines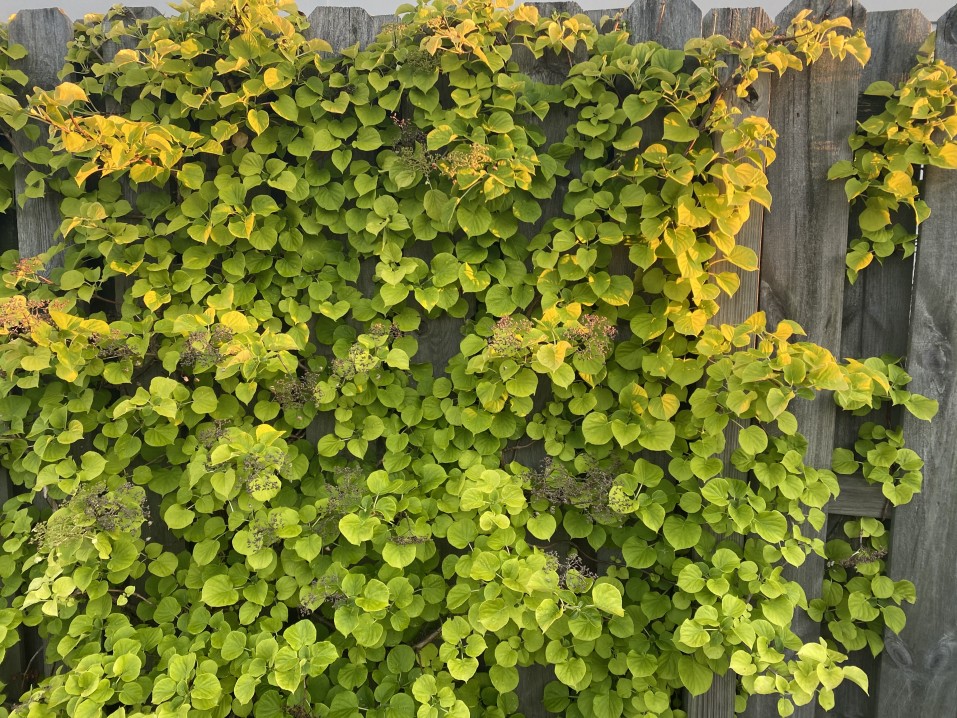 Clematis and chocolate vines are some of the numerous options you can explore. Vines crawl on and beautify your wall. It's best planted on a fence with openings.
Clematis Vine grows rapidly and requires consistent pruning to prevent it from taking over your yard. It doesn't necessarily give you that privacy you want but it does well in giving your yard that foliage feels. It flowers every year and is 6 feet long. It releases a fragrance that gives your yard a nice scent.
English ivy is another type of vine that needs to be pruned often.
Confederate Jasmine doesn't grow as fast as Clematis but gives a shrubbery appearance to your garden. It also emits a nice scent and will fit your patios and balconies better.
Chocolate vines can grow for more than one year which is advantageous as you won't need to replant them. It prefers full sun to help bloom its beautiful flowers. It grows rapidly and will appreciate pruning. Planting this vine will give you more privacy.
4. Boxwood
Boxwood is a low-maintenance privacy plant. It grows slowly and won't require too much pruning. Exposure to direct sunlight encourages better growth. They grow as high as 3-4 ft. They don't shed their leaves and can serve as a landscape.
You can trim its leaves to add more beauty to your yard while it offers you some privacy. Instead of planting a living boxwood, you can resort to an artificial boxwood but it will fade after a while.
5. Cactus plants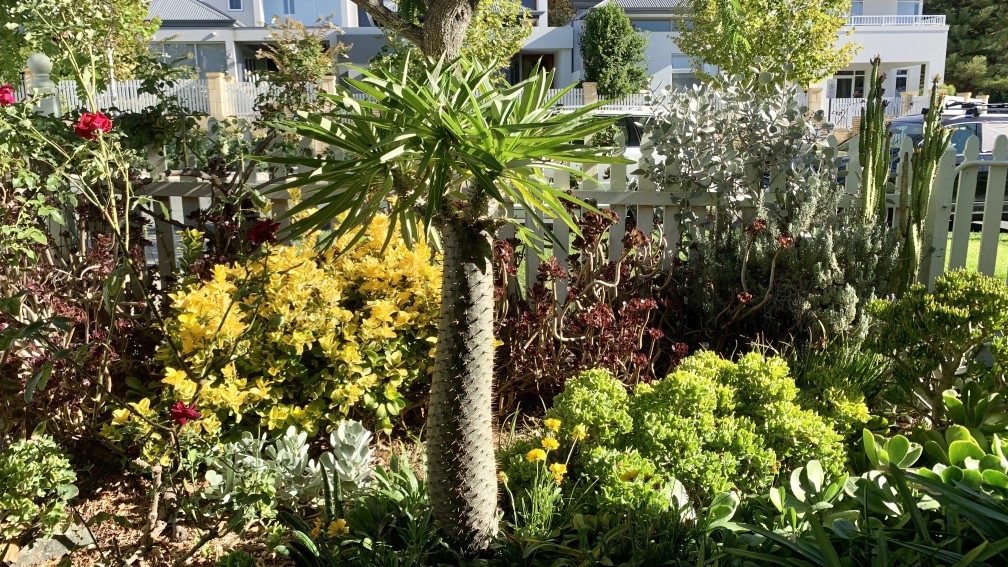 Have you seen a cactus plant before? It grows in deserts and hot climates. It is naturally designed with pricks and will be off-limits to nosy neighbors. Although you will find them mostly in hot climates. You can get a fake or artificial cactus plant for your yard. It offers better privacy as no neighbor will dare come close to it.
6. Buckthorn
This privacy plant offers nutritious benefits. Buckthorn produces berries that can be eaten and provides your body with Vitamin C. They grow up to 10. ft and gives your garden nice foliage. They are beautiful privacy plants to grow in your yard especially if you are the type that loves munching on a snack or fruit whilst enjoying the scenery.
Buckthorn provides you with a beautiful landscape and keeps nosy neighbors away from your business.
7. Thuja green giant
This tree requires low- maintenance and is evergreen just like Boxwood. They are the best privacy plants for spacious yards. They provide your yard with a screen that shields anyone from looking into your compound.
Thuja Giant can adapt to different soil and climate conditions. They grow fast and don't need much water to grow. They don't require monitoring as they will grow rapidly and won't need to be pruned often. With a spacing of 6 ft. apart, you won't have to prune this tree.
Thuja Green Giant offers you that privacy you desire and is resistant to diseases. It is one of the best privacy plants you can plant in your yard if you want more privacy.
8. Cypress
Cypress trees consist of numerous species but Leyland is your best bet. Although it has a short lifespan, it will give your yard some privacy, greenery, and beautify it simultaneously. It grows rapidly and requires maintenance, unlike some other trees and shrubs.
You have to count the cost if you will be considering this plant. Cypress demands some cost to be properly maintained. It can grow under a shade but thrives well with exposure to direct sunlight. It needs a spacing of 6ft. Apart from growing well. It is found in many gardens even though it doesn't live for long.
9. Privet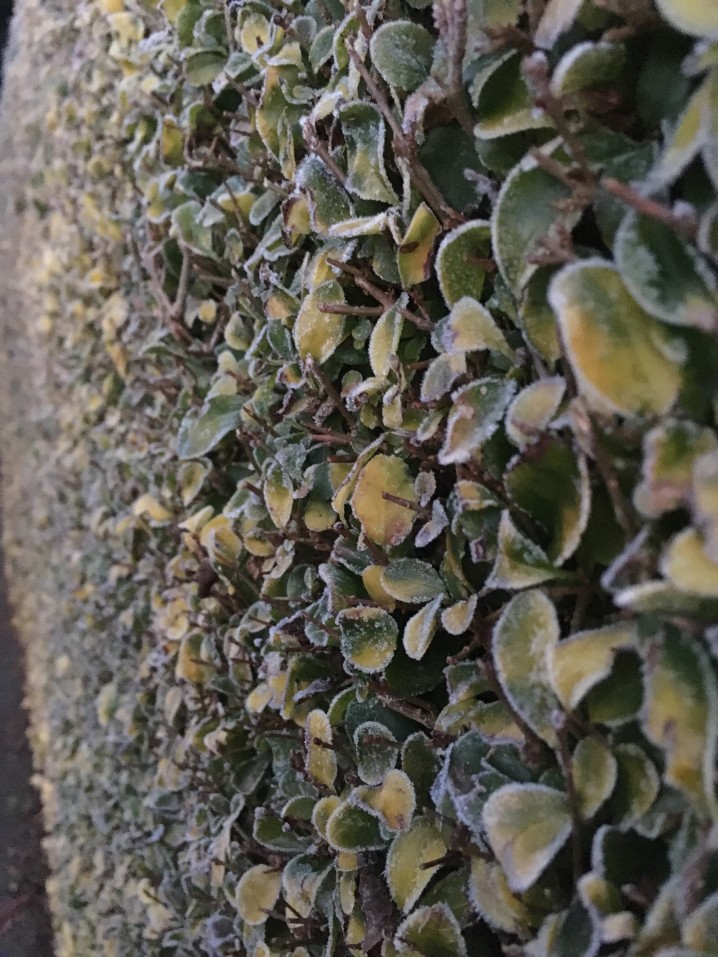 Privet possesses large leaves that will prevent prying eyes from your yard. They are about 10 ft. tall and will do well under shade or direct sunlight. You will need to trim it consistently to prevent a bush. It doesn't shed its leaves as it is an evergreen shrub.
10. Holly
American Holly is a perfect privacy plant. Asides from requiring low maintenance, this tree adds some beauty to your garden whilst providing you with privacy. It possesses pricks that keep both nosy neighbors and stray animals at Bay. It can grow in different soils and climate conditions.
Conclusion
There are several plants you can explore if you want some privacy, food, and beauty in your yard. Before choosing out of the many varieties, take note of the growing conditions and the cost needed to maintain the plants. You can decide to go for plants that offer partial or full privacy.
For instance, a vine plant offers little or no privacy as it grows on fences with openings. If you want full privacy, it will be advisable to go for Privet or cactus.