Rava upma, also popularly known as Sooji or roasted Semolina, is a healthy, tasty, and easy-to-make breakfast recipe that originated in Southern India. It is famous for its versatility, very easy to make, and is lightweight.
However, because mornings are usually busy in many households, families look for the quickest, and most lightweight meal to make, while still getting ready for the day. This begs the question, can I roast Rava upma in the microwave?
Yes, Rava can be roasted and cooked in the microwave. It takes about 10 minutes of pre-preparation time and about 5-7 minutes of cooking time. Start with roasting the semolina in a microwave-safe bowl for 1 minute, stir and roast again, for 1 minute. Set aside, then pre-cook veggies, oil, and ingredients you'd like to add to the dish for 2-3 minutes, then add hot water, and the roasted Rava, and cook again for 1 minute. 
Roasted Rava upma is high in fiber, vitamins, and minerals and can contain veggies, or boiled veggies like beans, and tomatoes, according to your preference and liking. Read on, for a simple ingredients list and a step-by-step guide on how to roast Rava in the microwave.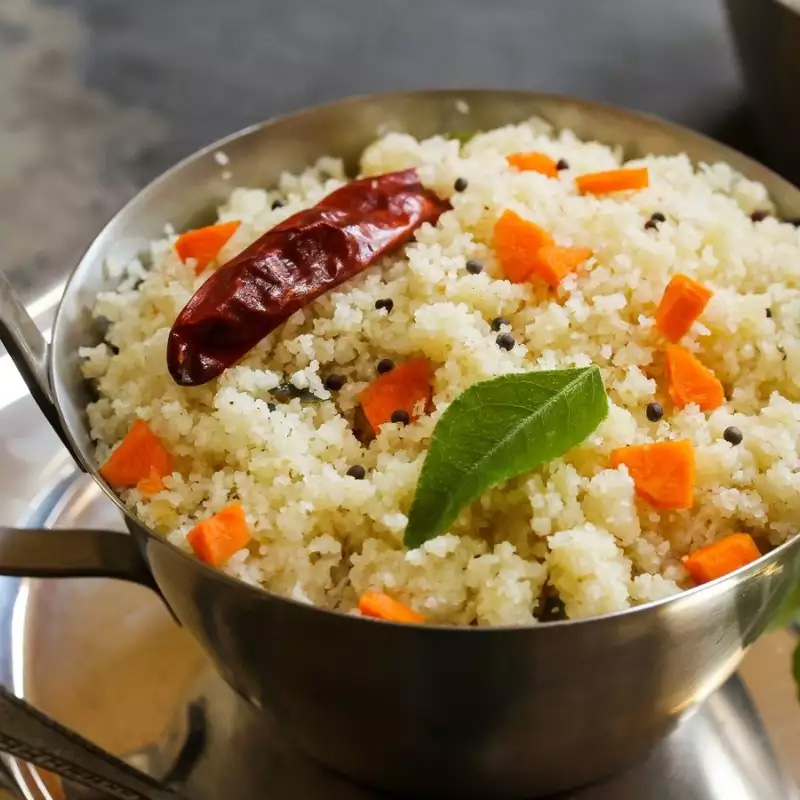 Roasted Rava – Dish For All
Microwaved rava upma is a popular breakfast option, that comes to mind in many households. Due to its versatility and richness, it can also be served as a snack anytime during the day, whenever you're hungry
It started as a South Indian breakfast recipe, that later spread all over India and soon to many parts of the world. Rava upma is a quickly prepared meal using ingredients mostly found in an Indian kitchen or most household kitchens.
It can be eaten either simply or plain or dressed with various boiled vegetables, fresh veggies, and ingredients according to your preference.
Semolina is not only roasted to make rava upma, other great dishes are coined from semolina like rava dosa, rava idli, and broccoli upma. There are also sweet dishes made from it, like rava ladoo, sooji halwa, strawberry semolina pudding, or semolina swallow eaten in many African nations.
The fantastic thing about semolina is that it can be pre-roasted, either in the oven or microwave, and stored in an airtight container, in the refrigerator, or freezer. This way it takes less preparation and cooking time to make this lightweight, tasty dish.
How To Roast Rava In The Microwave
Furthermore, this write shall discuss both a simple ingredients light and a step-by-step guide on how to roast rava in the microwave, for your convenience and ease.
Dish: Microwave Veggie Roasted Rava Upma
Preparation Time: 10 minutes
Cooking Time: 8 minutes
Total Time: 18 minutes
Servings: 4.
| | |
| --- | --- |
| Name of Ingredients | The Amount Needed |
| Semolina (Rava or Sooji) | 1/2 cup |
| Oil | 2 tablespoons |
| Mustard seeds (rai) | 1/2 tbsp |
| Urad dal (spilt black lentils) | 1/2 tbsp (should be skinless & soaked in water) |
| Onions (finely chopped) | 1 small-sized cup |
| Tomatoes (chopped) | 1 |
| Carrots (chopped) | 1 small size |
| Salt & Red chili pepper | To taste |
| Green chili pepper | 2 (finely chopped) |
| Coriander leaves (chopped) | For garnishing |
| Curry leaves (kadi patta) | 5-6 leaves |
| Grated ginger (adrak) | 1 tbsp |
| Water | 1 1/2 cup |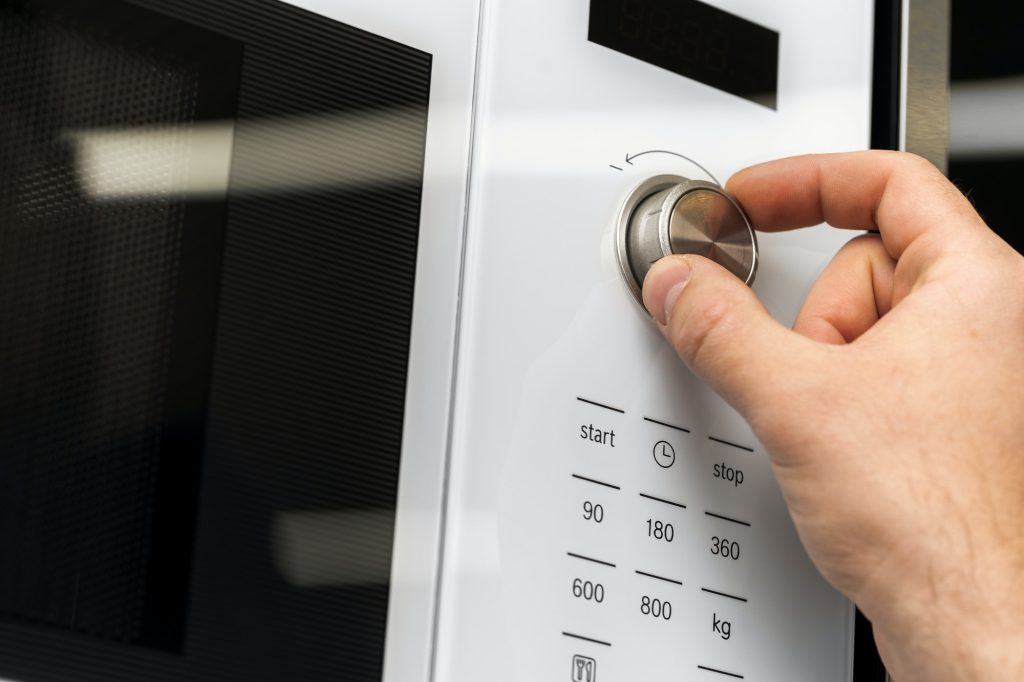 How To Make Microwave Roasted Rava (Step-by-Step Guide)
1. Pour Rava into a microwave-safe bowl and heat on high for 1 minute, stir and microwave the Rava for another 1 minute. When done, keep aside the Rava.
2. In another microwaveable bowl, add oil, mustard seeds, soaked dal, and green chili pepper, cover the bowl with a lid, (allow the lid to have some holes), and microwave for 2 minutes.
3. Then add all fresh or boiled veggies, onions, and ginger. curry leaves, red chili pepper, and 1 tbsp of water. Cover the lid, and microwave for another 2 minutes.
4. Add the roasted Rava, mix well, and microwave on high for 2 minutes.
5. Complete with water, and salt. Cover the lid and microwave for 1 minute. Stir and microwave again for an additional 1 minute.
6. Lastly, garnish with coriander leaves, and serve hot with either chutney or sambhar.
Extra Tip;
Rava upma is a versatile dish, you can remove or add veggies of your choice
Water addition should be measured, according to your taste. (This recipe gives an almost dry rava upma).
Frequently Asked Questions
What is Rava made of? 
Rava is made by grinding husked wheat and is used in many Indian cuisines to make savory dishes, such as rava dosa, rava idli, upma, and khichdi. There are also sweet dishes made from it, like rava ladoo, sooji halwa, etc.
Why is my rava upma sticky? 
Upma becomes sticky when the rava isn't roasted well. Also adding rava to water that is not hot enough makes it sticky. Mix rava well into boiling water, but avoid over-mixing as the starch in rava makes it sticky. 
How do you heat upma? 
Upma heats beautifully in the microwave on high heating or in a lightly oiled skillet, over medium-high heating. Remember to stir well, when cooking upma. 
Conclusion
Roasted rava upma dish is an easy, quick, and light meal that can be eaten as breakfast, brunch, or a snack during the day.
This dish is popular for its versatility and the fact that you can pre-prepare your semolina in the oven and store it before you use it to cook.
It is family-approved because you can quickly make the dish in the microwave and not lose all the vitamins, minerals, and nutrients needed for the day. If you haven't had this dish try it out today, and leave comments about your experience.
More on using your Microwave: