What type of almond flour is best for macarons? There are ultimately two types of almond flour which are blanched and unblanched. While both can be used for making macarons, many often prefer the blanched one. There are so many ideal almond flours in the market and in this article, we have picked out the best ones in flavor and texture.
Almond is the ultimate baking flour for macarons because it helps you create a chewy, smooth, velvet texture for the shell of your macaron.
Almond flour is not meant for making macarons alone but can also be a substitute for all-purpose flour in some recipes. We must agree almonds are best suited for making macarons since they can help achieve that thick and smooth macaron batter for piping.
While other things in making your macaron can be substituted, almond flour is the main ingredient. The blanched type of almond is also the ideal type you might want to you and this is because the skin has been removed and it produces lighter and fluffier macarons.
The health benefits of almond flour are another reason to go for it as well. While almond themselves is meant to be healthy, you should be concerned about the manufacturing of some brands. Hence, why we have rounded up the best ones for you.
Health Benefits Of Almond Flour
Almond flour has been around just as long as regular flour. However, almond flour is regarded as healthier. Almond can be substituted for wheat-based flours too.
There are a lot of reasons people prefer almond flour, but the health benefit is at the top of that list. It is also an ideal choice for a gluten-free diet so if you are wondering why you should substitute it for regular flour, below are some of its health benefits.
1. For Diabetes Control
One of the amazing health benefits of almond flour is diabetes control. Almond flour has a low glycemic index compared to other types of wheat and flour, hence it can help keep your cholesterol under control. Instead of a sudden gush that will only last a while, almond flour slowly releases sugar thereby providing a more sustained release of energy.
2. Protects Cell Damage
Almond is rich in antioxidants and vitamin E that can help protect against cell damage. Almond when consumed regularly can protect the body from free radicals and reduce oxidative stress on your cell as well. This is one of the reasons to have almond flour substituted in some wheat-required recipes.
3. It Is High In Oxalate
Another reason you should consider almond flour for baking is that it is high in oxalate which is an anti-nutrient commonly found in many vegetables and nuts. Food high in oxalate like almond flour might help reduce your chances of kidney stones.
4. Good For Bone Health
Research has shown that a cup of almonds consumed regularly can increase your calcium level in the body. Almond also contains vitamin E which can offer strength and contribute to good health bone as well.
8 Best Almond Flours For Macarons (2022)
Baking and cooking with almond flour are just as easy as using regular flour. The flavor is not the only reason you should use almond flour for a macaron but it's also suitable for achieving that velvet texture.
Almond flours for baking might not be as great as using regular flour because it turns baked goods dense and flat. Which makes it even more perfect for a macaron. So, we have compiled a list of the best almond flours you should try in 2022.
[affiliatable id='54496′]
1. Blue Diamond Almond Flour-Best Overall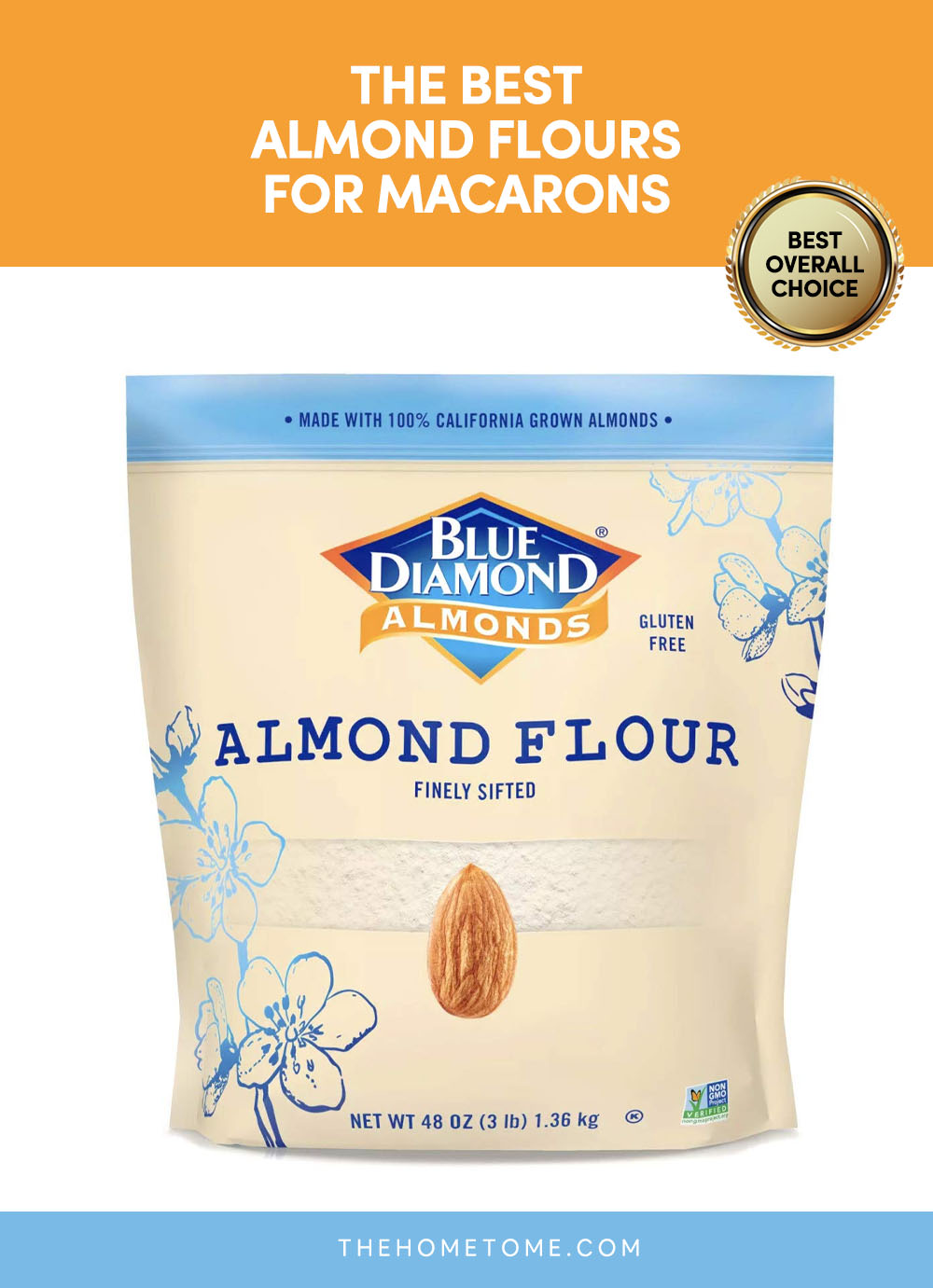 Our score
9.81/10
WHY WE RECOMMEND IT
Blue Diamond Almond flour is recommended for all kinds of baking and not only is it nourishing, but it is also finely made with a premium blanched almond. This can contribute to any recipe and the nutty flavor and texture are another reason to go for it. This is going to make your macaron turn out better and tastier. Read verified customer reviews on Amazon*.
Blue Diamond Almond flour is an ultra-fine gluten-free flour. This is just what you need to create a chewy macaron that melts straight into your mouth when you take a bite.
Creating a smooth macaron batter with this shouldn't be difficult, it combines well with the meringue which leads to a smooth, thick macaron batter ideal for piping.
Macarons need a special blanched type of almond flour and this is all of that. Although this is considered a bit pricey but gives you value for your money. It is finely sifted, blanched, and supports keto and paleo lifestyles too.
2. BARNEY Skin-Free Almond Flour-Best For Ketogenic Baking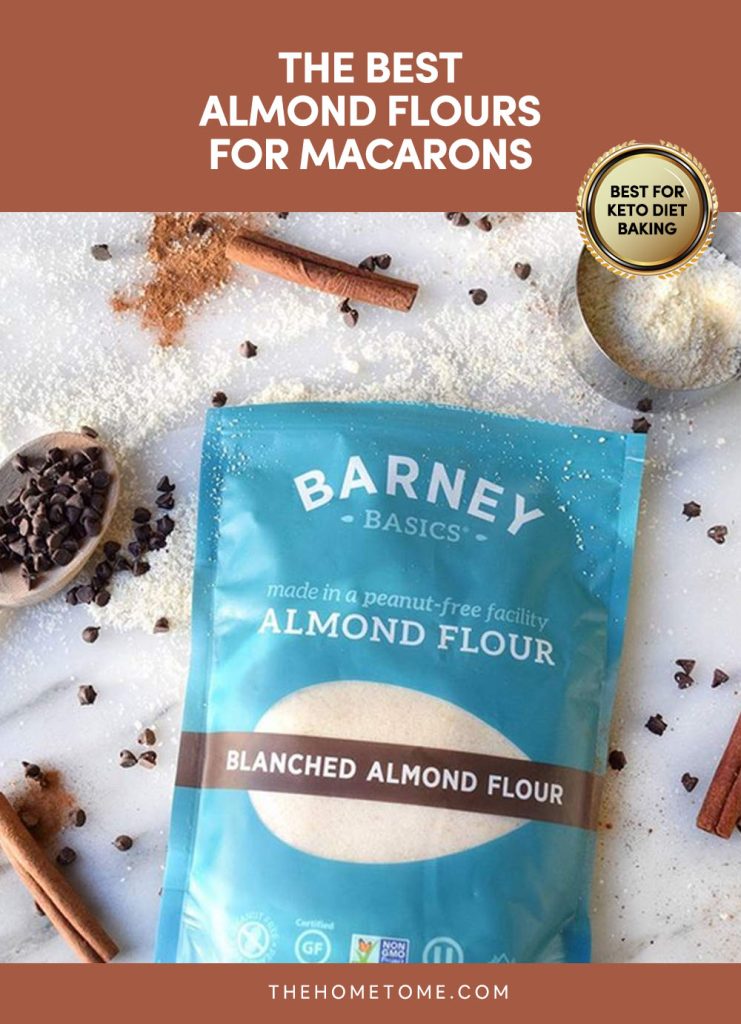 Our score
9.34/10
WHY WE RECOMMEND IT
Blue Diamond Almond flour is recommended for all kinds of baking and not only is it nourishing, but it is also finely made with a premium blanched almond. This can contribute to any recipe and the nutty flavor and texture are another reason to go for it. This is going to make your macaron turn out better and tastier. Read verified customer reviews on Amazon*.
The next on the list of Barney Skin Free Almond Flour and it's just what you need to make signature keto dishes.
This almond flour is versatile and there is no other ingredient added to it. This is simply grounded almond and can be used as a coating for meats and vegetables, it can safely replace traditional flour in your kitchen.
Barney Almond Flour is low in carbohydrates and it's an excellent source of fiber, protein, vitamin E, and magnesium. This is perfect for making pancakes as well. This is an approved flour for many dietary preferences and since it's versatile, you can replace your regular flour with this in baking and cooking.
3. Wellbee's Super Fine Blanched Almond Flour-Best Almond Flour For Cookies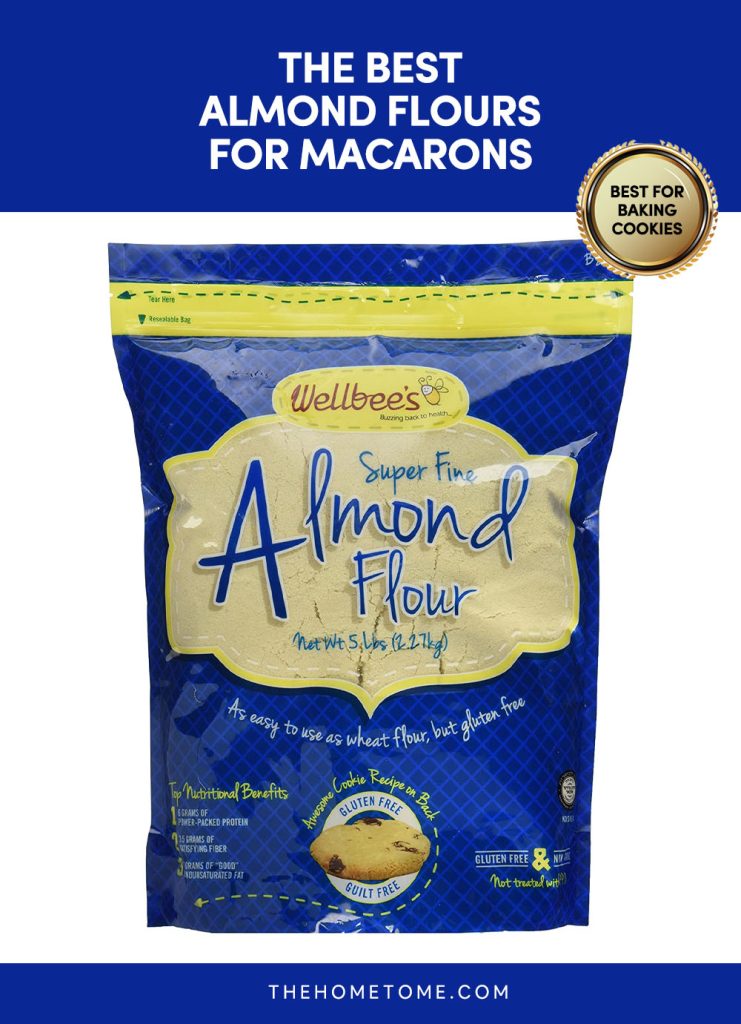 Our score
9.67/10
WHY WE RECOMMEND IT
The ingredients used in this super fine almond flour are certified by Kosher so you can be sure to be getting premium quality flour. This flour guarantees not to be treated with any chemical. Furthermore, it is easy to modify this almond flour by having it substituted for all-purpose flour in recipes that call for wheat or gluten-free flour. Read verified customer reviews on Amazon*.
Here is another easy alternative to traditional flour. Wellbee's Super Fine Blanched Almond Flour contains no preservatives or additives it's another brand of almond flour and according to reviews, this is grounded so fine you can almost call it powder.
This is a naturally sweet flour that can be infused into your diet and it is ideal for cooking and baking.
Wellbee's Super Fine Blanched Almond flour has one highlighted feature which is the long-lasting shelf life. This almond flour can last up to 12 months in the freezer and 6 months in the fridge. This is not just perfect for almond flour for macarons but for cookies as well.
4. Bob's Red Mill Almond Flour-Best For Vegan Raspberry Macaron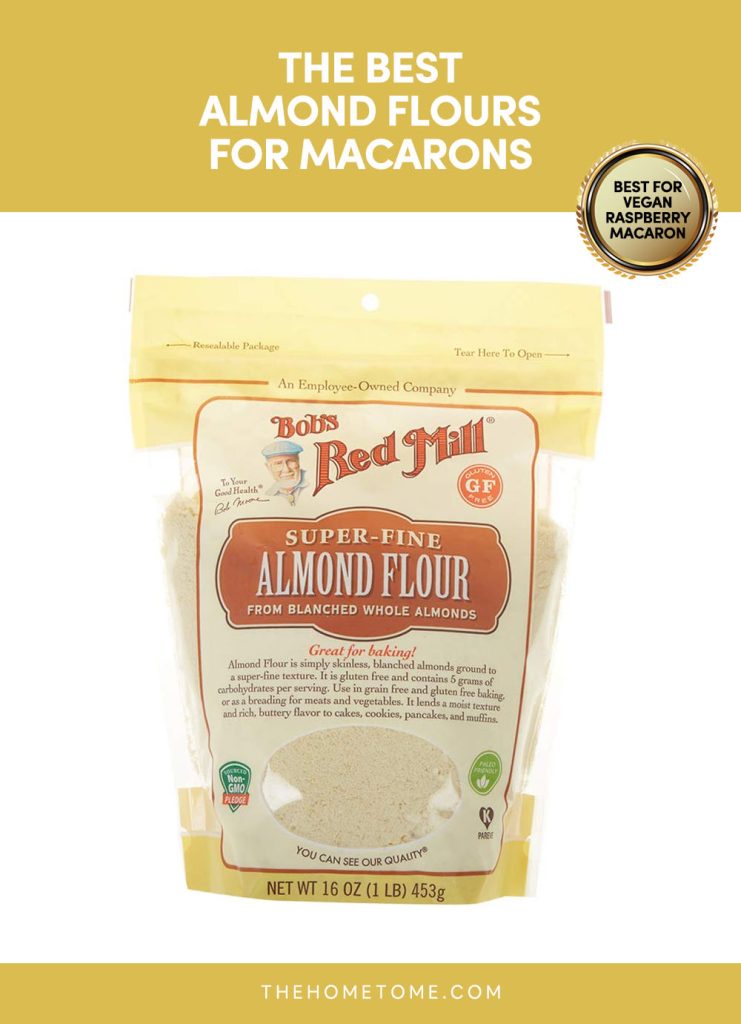 Our score
9.52/10
WHY WE RECOMMEND IT
One of the reasons this is a highly recommended almond flour is that it is made from an entirely blanched high-quality almond and it enables you to create all kinds of cookies and macarons with it. It is suitable for a healthy diet with a resealable design. Read verified customer reviews on Amazon*.
Bob's Red Mill Almond Flour is the next on the list and it's perfect for making all types of macaron flavors. This flour is made without grain and gluten which makes it even more suitable for making macarons.
This almond flour is another easy-to-use flour and if you are planning to make more than just macaron, this is suitable almond flour.
This is an ultra-fine almond flour rich in protein and it does have a long shelf life as well. This flour enables you to make light, crispy delicious vegan raspberry macaron. With its strict manufacturing quality, you are going to find it suitable for baking mixes, grab-and-go snacks, and basic cooking as well.
5. NOW Natural Foods, Organic Almond Flour-Best Organic Almond Flour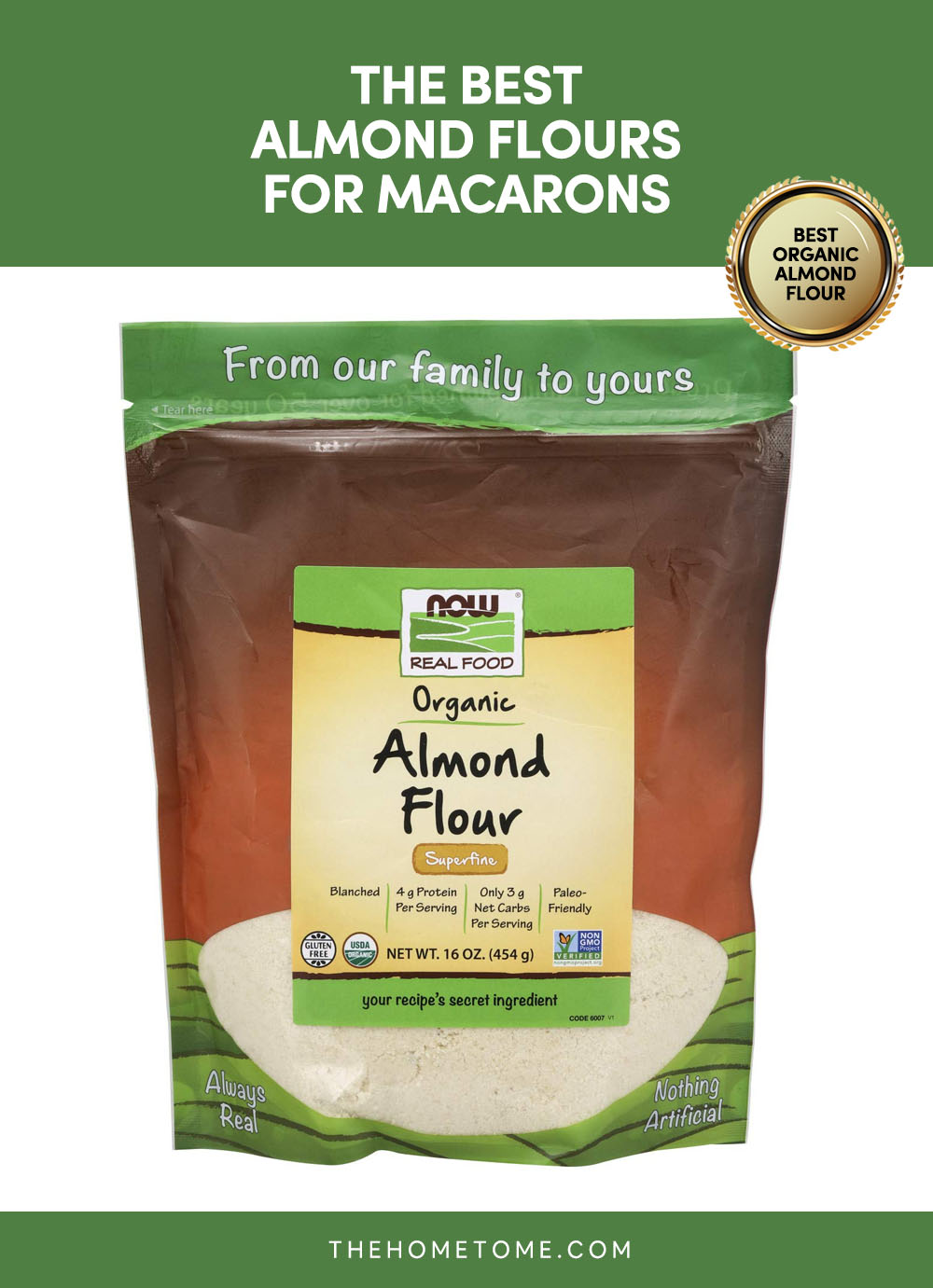 Our score
9.33/10
WHY WE RECOMMEND IT
NOW Natural Foods Organic Almond flour not only adds a rich lecture to baking but color as well. The list of healthy almond flour for keto baking won't be complete without adding this to the list. It can serve as a substitute for any white flour cooking and baking. In addition, it is highly nutritious and provides fresh baked goods every time. Read verified customer reviews on Amazon*.
The next amazing option on the list is the NOW Natural Organic Almond Flour meant to enhance the taste and texture of your macaron.
This flour is specifically made to satisfy all your healthy baking diet and the quality is another reason the price offered is worth it.
This is a tasty alternative to white and wheat flour. Now Natural food's almond flour has a rich delicious flavor you can't help but love in your baked goods. The ingredients are impressively organic and it's suitable for all dietary preferences.
6. Kirkland Signature Almond Flour Blanched- Best Fine Grind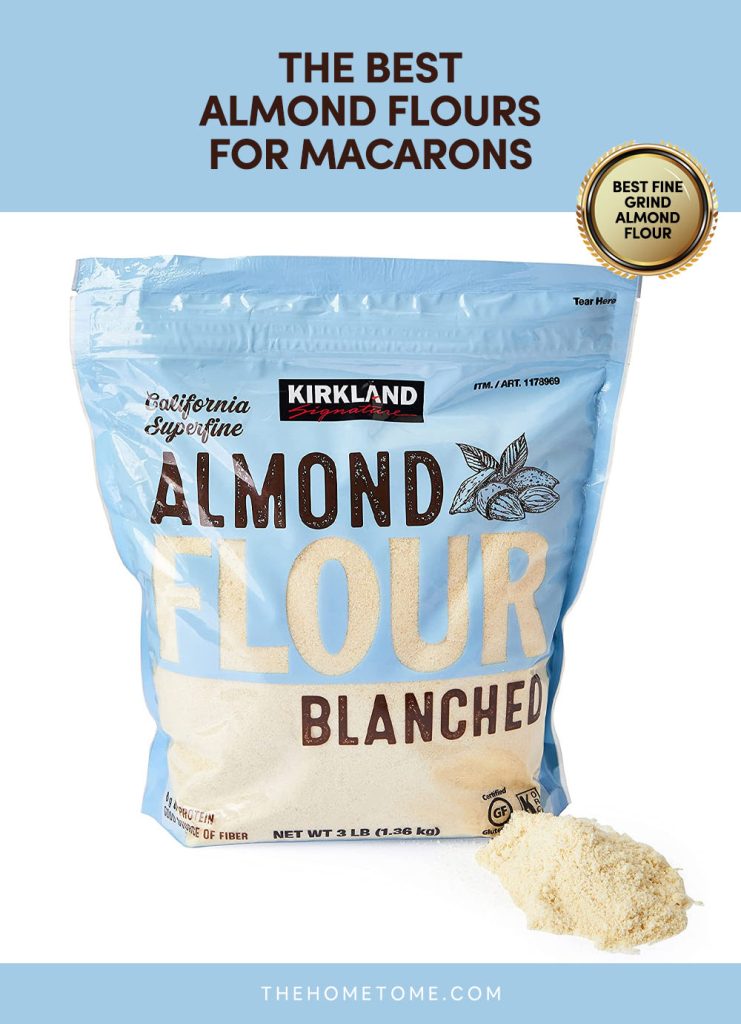 Our score
9.43/10
WHY DO WE RECOMMEND IT
If you are on the lookout for simple almonds that can take care of some basic baking and cooking needs then this is one worth trying. Kirkland Signature almond flour is quite cheap and it's one of the top brands with quality almond flour out there. Read verified customer reviews on Amazon*.
Another type of almond flour you should trade your traditional wheat flour for is the Kirkland Signature Almond Flour.
This almond superfine flour is another highly recommended flour just like Blue Diamond Almond flour. This is made with high quality with a natural nutty flavor and with this flour, you can take your love for macaron to another whole new level.
This flour has been grounded to a fine smooth texture and it is a good source of fiber, there is also just one ingredient in this and that is the blanched almonds.
7. Nature's Eats Almond Flour Superfine Blanched- Best Budget Option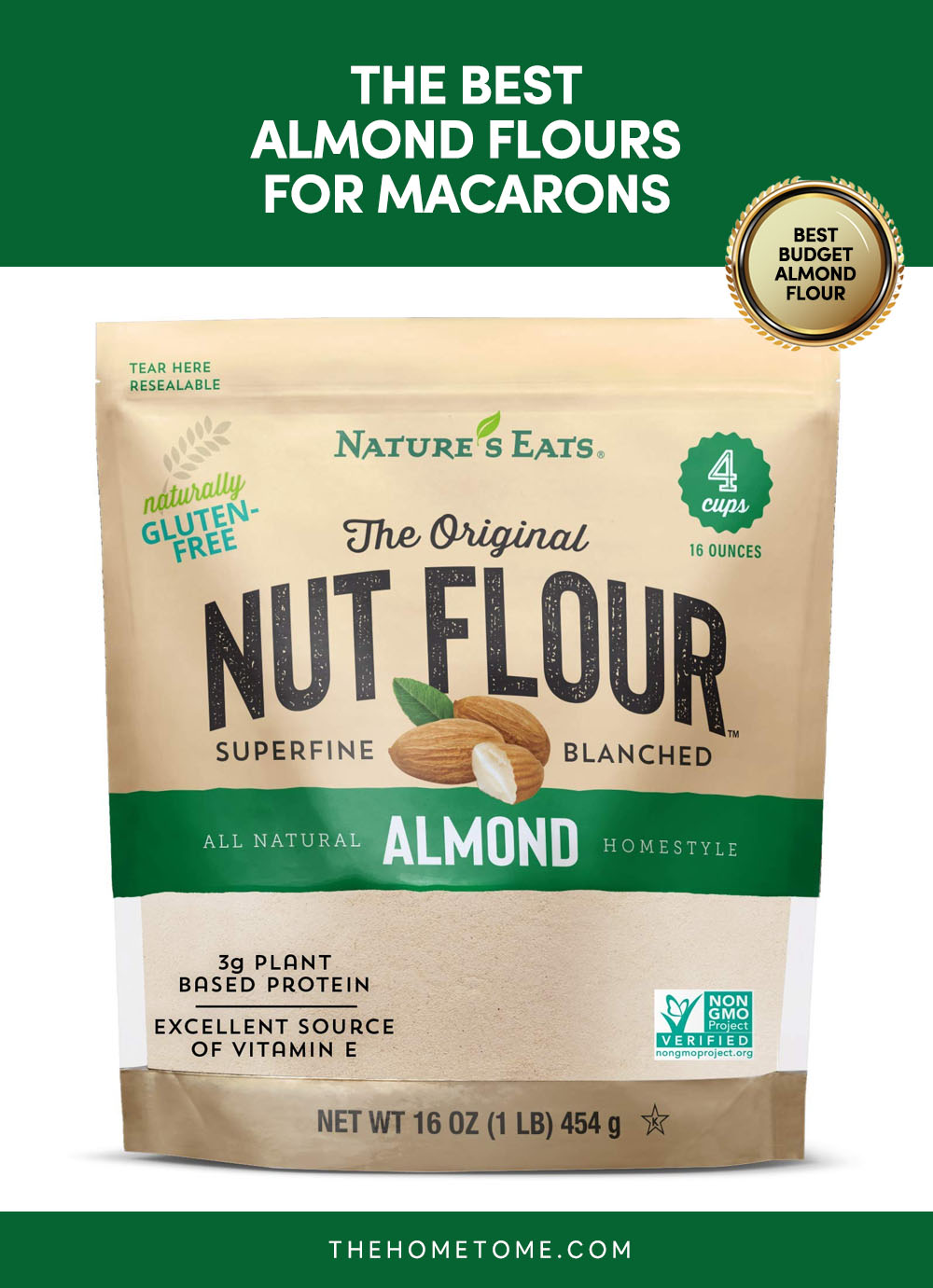 Our score
9.55/10
WHY WE RECOMMEND IT
Here is another flour made from whole almond nut and it's ideal for crafting out any texture and flavor of a macaron. This product will not just give you velvet-smooth macarons but can be used to bake bread too. Read verified customer reviews on Amazon*.
Nature's Eats Almond flour is another almond flour that can ensure you get meals and baked goods that are rich in protein and low in carbohydrates and cholesterol. It's another flour you will surely enjoy using to make macarons.
This can be used to create sweet and savory macarons and other reasons to go for this is that it is gluten-free and also kosher.
With this flour, you can create any basic cooking or baking that requires flour. This has a distinct taste and texture made to support all types f macarons and cookies.
8. Mandelin Grower Direct Pure Blanched Almond Flour- Best Gluten-Free Almond Flour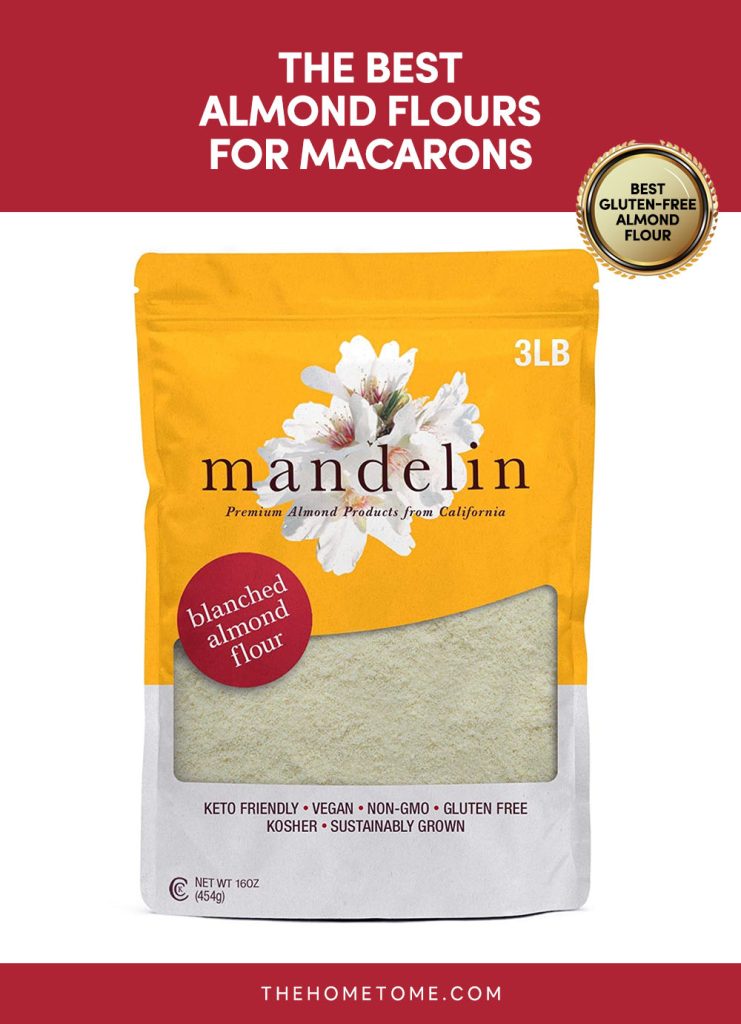 Our score
9.6/10
WHY WE RECOMMEND IT
Mandelin Grower pure blanched almond flour is a much-preferred alternative to wheat flour and pretty hard not to recommend this for those on gluten, paleo, and keto diet. Read verified customer reviews on Amazon*.
This ensures healthy heart nutrition since it is low in cholesterol. This flour contains no preservatives, gluten, or additives which makes it healthy and recommended for everyone.
Mandelin Grower Direct Pure Blanched almond flour can infuse natural sweetness into your dishes and it's a popular flour in restaurants and bakeries.
This is a plant-based diet food and can be a staple in your home. Reviewers claim this flour to be great for use in either main course or desserts and even serve as a staple in some basic baked goods.
This brand transforms your normal almond nut into a vegan-friendly flour alternative. This is high-quality almond flour, high in protein and fiber.
Blanched Vs Unblanched Almond For Macarons
A common question on the mind of everyone who plans to make macaron is if blanched or unblanched is better for macaron? So, the simple answer is blanched almond flour is the preferred flour for making macarons and this is because the skin has been peeled.
Blanched macaron does not have speckles in the color and it can help you create a smoother batter it's best for making pastries too.
To make sure you are getting a smooth chewy macaron, it is important to use blanched almond flour. Blanched almond flour is lighter and although using the unblanched one will not make any difference to the appearance of your dish and it still carries the same nutritional benefits as the blanched one.
Tips On How To Make The Best Macarons With Almond Flour
There are many brands of almond flour on the market hence it is important to know what exactly you are searching for.
While most will like to make their almond flour, buying off the shelf tend to save time. However, to make sure you are getting the finest ground of almond flour possible, here are some tips by experts you should take note of.
Choose the finely grounded blanched almond four, this will save you lots of time
Use gel food coloring rather than liquid to avoid ruining the consistency of your macaron
You don't have to add the granulated sugar slowly when beating the egg white. You get to save time putting it in at once
Use a flexible when folding the egg whites with the almond and sugar
Buy a disposable piping bag with round tips, this will make it easy to pip the macarons and it comes in handy for decorating cakes as well.
FAQs On Buying The Best Almond Flours For Macarons
If you have more questions, please let us know via the comments section.
Can you make macarons with regular flour instead of almond flour?
Almond is, without a doubt, the best flour for making macarons, and no, you can't use regular flour for it. Almond flour is the main ingredient in making macarons although hazelnut and pistachio flour will turn out great too they are not regarded as macarons anymore. Blanched almond flour is exactly what you need to make delicious macaron.
Are all almond flour the same?
They are typically two types of almonds four, there is the blanched, the unblanched which is known as almond meal, and not almond flour. However, blanched almond is used for quite a lot of things hence people prefer it to unblanched almond. The two types of almonds have the same flavor and the same nutritional benefits but their color and texture differ.
What happens if you don't Sift flour for macarons?
Sifting the flour for macaron before measuring allows you to get rid of any clumps and not doing this can end up in having more flour than intended for the macaron. Almond packs ore onto itself after settling down for a while so it's best to have it sifted properly.
Can Vegans eat macarons?
The regular standard macarons do call for egg white which is not ideal for a vegan diet hence macarons can't be regarded as a vegan. However, there are standard macarons you can make without including eggs, and rather find vegan substitutes for it.
Are macarons healthy?
While macarons are considered beneficial to the human body, they are not entirely healthy. The combination of almond flour and egg white can provide you with protein and they also have very low cholesterol and sodium too. Hence, this snack has amazing benefits.
How many macarons should I eat?
1 to 3 of these small tasty treats in one sitting should get you going. You don't need too much macaron to satisfy your cravings, it is quite filling hence 3 happens to be the maximum you should go for.
How does almond flour affect baking?
Almond flours are unlike regular flour and although they can't be used for all kinds of baked goods due to their dense nature. But almond flour can be used to add a mild sweetness to baking, It does add fasts to baked goods too which in turn extends the shelf life.
Is almond flour good for baking?
Almond flour can be substituted for regular flour and wheat flour ins some recipes due to its health benefits and mild flavor too. It is easy to use in baking and can also be used in place of bread crumbs for coating meat, fish beef, and even chicken.
Final Thoughts
There is a certain richness to be derived from using blanched almonds to make macaron which must explain why it's an important ingredient.
Commercially made almond flours are not limited to making macarons alone but you can also enjoy baking cakes and cookies with them. This is why we have listed above, almond flours that are budget-friendly and finely grounded too.