Is it possible to prepare tomato soup in the microwave? Millions of people all around the world love tomato soup. And it is not just warming and comforting, it has tons of health benefits as well. Tomato soup has a very welcoming aroma and flavor that we all can't just get enough of.
This soup recipe is hearty and satisfying and very good for the heart as it contains a lot of antioxidants. Tomato soup is the ideal soup for any time of the day and in all kinds of weather.
Moreso, it can fit into any diet plan as it is rich in proteins and fiber that can keep the body going.
With the widespread recognition and fame of tomato soup, you must have heard rumors that some people prepare tomato soup in a microwave and this has caused you to be curious to know if this is possible.
If you are hoping to find answers to this question, do not worry you are in the right place as this article promises to provide you with accurate information regarding this query. So let's dive into it right away.
Can You Cook Tomato Soup In The Microwave?
Having tomato soup, especially on cold nights is like getting a warm and loving hug. This culinary treat can not be perfect enough, and it is very easy to crave this comfort food.
But after a busy day at work, you may be a little tired to start preparing this meal on the stovetop. The simplicity of cooking tomato soup may cause you to wonder if you can make it in the microwave.
Quick answer: Yes, you can conveniently cook tomato soup in a microwave. However, it is best to follow the basic safety precautions by using microwave-safe containers or plates to prepare this meal.
For tomato soup Lovers this is definitely a piece of good news as there is now a variety of cooking methods. Overall making tomato soup in the microwave is the easier method but you must be sure that it is properly done to avoid any mishaps.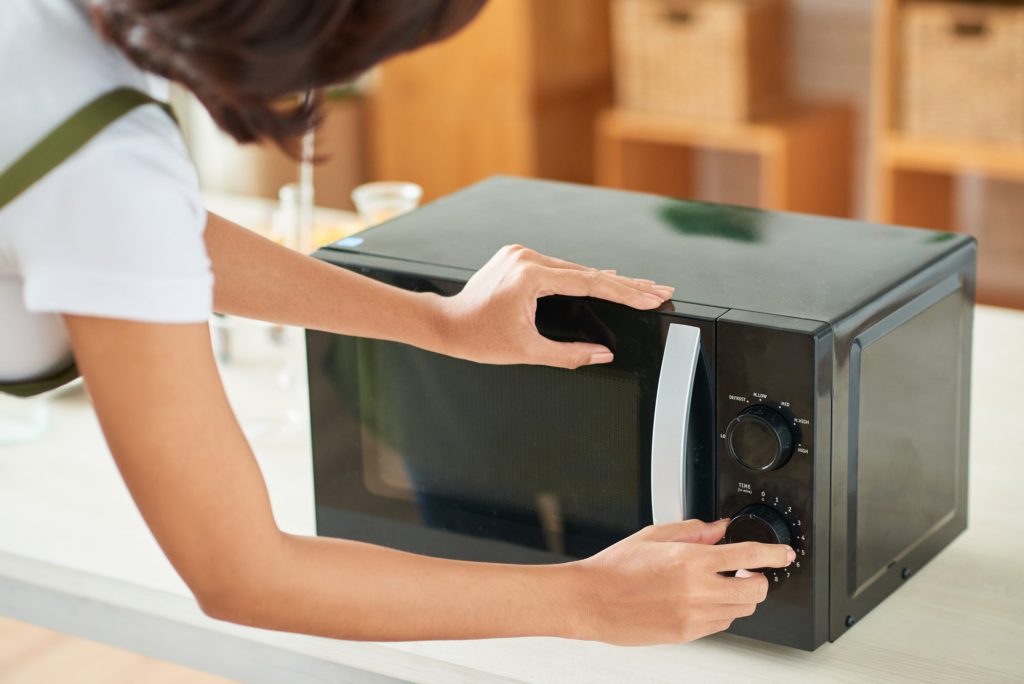 How To Cook Tomato Soup Using The Microwave Method
The key ingredient in tomato soup is tomatoes and the recipe is super easy and simple to make. When making tomato soup you do not have to spend hours in the kitchen, you simply need a few minutes and it is done.
If you are new to cooking tomato soup in the microwave, the following will guide you through the process.
Ingredients
Tomatoes
Onions
Chili Powder
Sugar
Salt.
Cooking Instructions
Chop your tomatoes and onions and set them aside.
Add your chopped tomatoes, and onions into a microwave-safe container or bowl.
Seal the lid with a saran wrap.
Place the bowl or container into the microwave and put on high heat for 10 minutes. Make sure to stir constantly in between.
Once 10 mins have elapsed, bring out the bowl and leave the meal to cool at room temperature.
Proceed to blend the cooked tomatoes and onions to a smooth paste.
Strain the tomatoes and onion paste, and get rid of the scrap.
Add some salt, sugar, and chili powder to taste.
Stir properly to incorporate the ingredients, then return the bowl to the microwave and cook for an additional 5 minutes.
Now your tomato soup is ready, you can enjoy it with any topping of your choice.
How To Store Homemade Tomato Soup
After a delicious plate of homemade tomato soup, you may end up with some leftovers.
It is very relatable to wonder if you can store leftover tomato soup. You can definitely preserve tomato soup, and below are several ways to store tomato soup;
1. Refrigerator
The refrigerator is one of the effective ways to keep and preserve your tomato soup. the soup is sure to last for up to 3-5 days. Make sure to store the meal in an airtight container or ziplock bag as this ensures that the quality of the tomato soup remains intact.
For tomato soup that has been in the freezer longer than 5 days, it is best to smell it beforehand, if it has a foul smell, it has to be discarded but if not you can go ahead to reheat it.
2. Freezer
If you wish to save tomato soup longer than 5 days, you can store it in the freezer.
Luckily tomato soup is one of those soup recipes that do well in the freezer. Rest assured that, tomato soup will remain intact for as long as 3-4 months in the freezer.
Ensure that an airtight freezer-safe bag is used to store the soup in the freezer, another tip for storing tomato soup in the freezer labeling the bag with the date of storage to help keep you on track as to when the soup was frozen.
Final Thoughts
A warm plate of tomato soup can do the trick at any time of the day.
Tomato soup can be prepared on the stovetop as well as in the microwave. The microwave method of cooking tomato soup is quite simple, and straightforward and it tastes just as great as it is supposed to.