Artificial Christmas trees can become extra dirty and dull when stored away for a long time.
But not to worry, there are simple ways they can be freshened. Artificial Christmas trees are made of synthetic materials, and due to lack of sunlight and air, it is sure to get a musty, moldy smell over time.
Cleaning artificial Christmas trees is not a difficult task, although it does require some extra time hence it's best to have them cleaned before the holiday, so you can have enough time to decorate them.
A good cleaning will go a long way in making your decoration look much better.
There are many advantages to removing the musty smell on an artificial Christmas tree before decorating. While real trees are just as efficient for a holiday, artificial ones are known to last long.
How To Get Rid Of The Musty Smell On Artificial Christmas Trees
The fastest way to freshen your artificial Christmas tree and eliminate the musty smell is to air it out on your front porch for a few days after bringing it out of storage. There are also artificial Christmas tree scents specifically made to eliminate musty smells and make your tree smell nice.
Vinegar is also a great natural cleaner hence it can be used to rid your artificial Christmas tree of that musty smell. You can add essentials such as cinnamon leaf essential oil, clove essential oil, or Siberian fir essential oil. Any of this oil with vinegar can freshen your tree.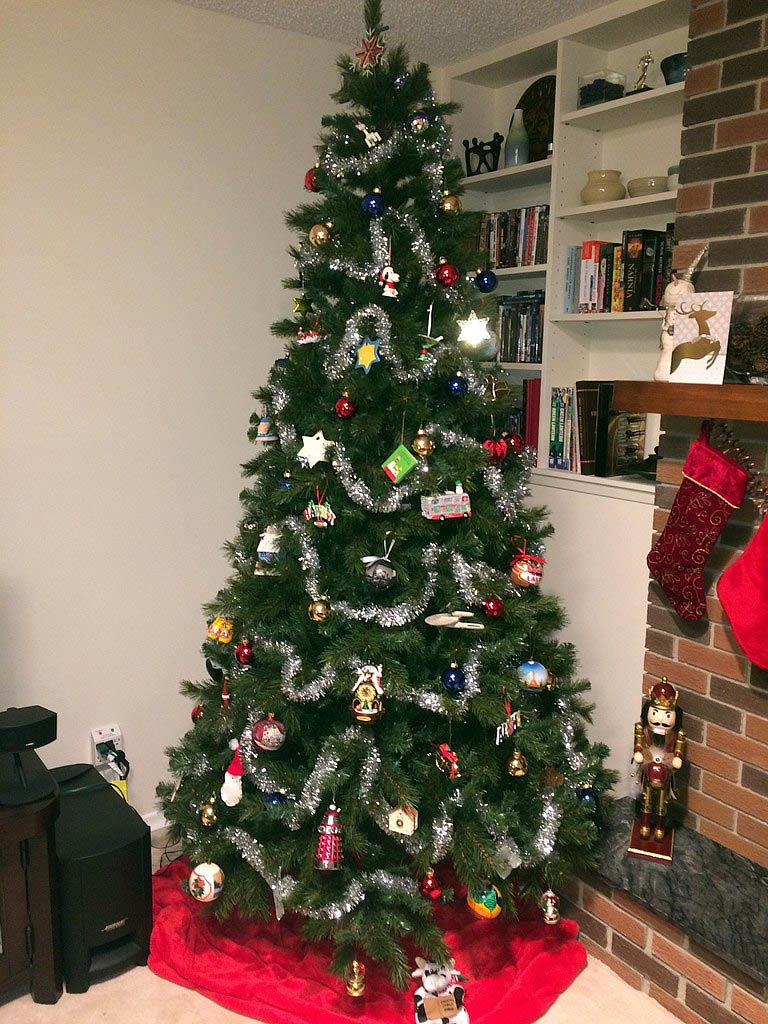 Here is how to eliminate the musty smell on an artificial Christmas tree with DIY Spray.
Combine water and vinegar in a spray bottle of your choice, preferably 16 ounces.
Add essential oil and shake well.
Spray this lightly and evenly on your artificial Christmas tree.
The DIY spray not only works for artificial Christmas trees but can be used as a multi-purpose cleaner as well. It is easy for items stored in the basement to get a musty smell since there is no air coming in but to prevent this, place bowls of baking soda around the basement. It absorbs the odor.
Frequently Asked Questions
Why does my Artificial Christmas tree smell musty?
Your artificial Christmas tree can start to smell musty if it sits in a humid attic for too long. An Artificial Christmas tree requires proper storage; also, if it is not cleaned before storing away, it can start to get dirty, thereby smelling musty.
Does Febreze get rid of the musty smell?
Febreze fabric sprays are designed to refresh all kinds of fabric hence they can be used to eliminate the musty smell on artificial Christmas trees. However, this might only eliminate the odor for a short while, so, best to spray with a Christmas tree scent.
Where is the best place to store artificial Christmas trees?
Storage place is an important thing to consider if you want to prevent a musty smell from your artificial Christmas tree. Artificial Christmas trees can be stored in the garage, shed, or basement but ensure it is stored in an excellent dry location to prevent a musty odor. Keeping the tree with baking soda or unused coffee grounds can also avoid any weird smell.
Can mold grow on artificial trees?
Yes, mold can grow on artificial Christmas trees as well, which is why proper storage is vital. To keep artificial Christmas trees clean and prevent mildew, do not store them in places prone to damp conditions and store them in tightly sealed containers.
Final Thoughts
An artificial Christmas tree is easy to clean, but the musty smell will likely remain after cleansing.
Hence, it would be best to take preventive measures such as storing it in a cool, dry place or placing a container of baking soda in the tree to help retain its fresh scent.
A well-clean fresh tree makes all the difference in the finished look of your tree.