What special dish should I prepare for Easter? With Easter around the corner, you can start to fret about a traditional dinner to prepare especially if you will be cooking for family and friends around.
One way to ease the stress of Easter dinner is to know what you are preparing, this way, you can also get creative and make your traditional recipe from the food in trend. Easter dinner is meant to be memorable so no reason not to try some new recipes.
Easter Sunday is on the 17th of April while this might seem like enough time to get your apron out and start some traditional recipes, it can still leave you stressed as well. If you are hosting a formal event for Easter dinner then you need something simply amazing but stress-free as well.
While you can easily work on bread loaves and rolls for brunch, this can work for dinners too but if you are hosting then it has to be more elaborate. Most families have a go-to traditional Easter dish, but if you are looking to try something new, we have rounded up some Easter dinner ideas for you, so you can create the perfect menu.
The Origin Of Easter Dinners
While many are familiar with the history behind celebrating Easter, the Easter dinner is still quite convincing for some. According to history, a lamb is meant to be the main course for dinner and while some part of the world still agrees with this, most now create their recipe.
Easter is an important Christian celebration (The resurrection of Christ).
Surely the choice of food is symbolic but with Easter dinner, you can curate something that has the Easter representation of food in it and the point is to enjoy this with family and friends. Certain foods complete any Easter dinner recipe, and they include Eggs, ham, lamb, and bread or rolls.
15 Great Easter Dinner Recipes For You & Yours
There are lots of ways you can round up the usual dinner recipes and make something delicious out of them, but we have something even more exciting and fitting for Easter for you. If you are looking to impress your guest or make a stress-free yet amazing dinner for your family, you will surely find something from the recipes we have listed below.
1. Honey Mustard Baked Salmon With Vegetables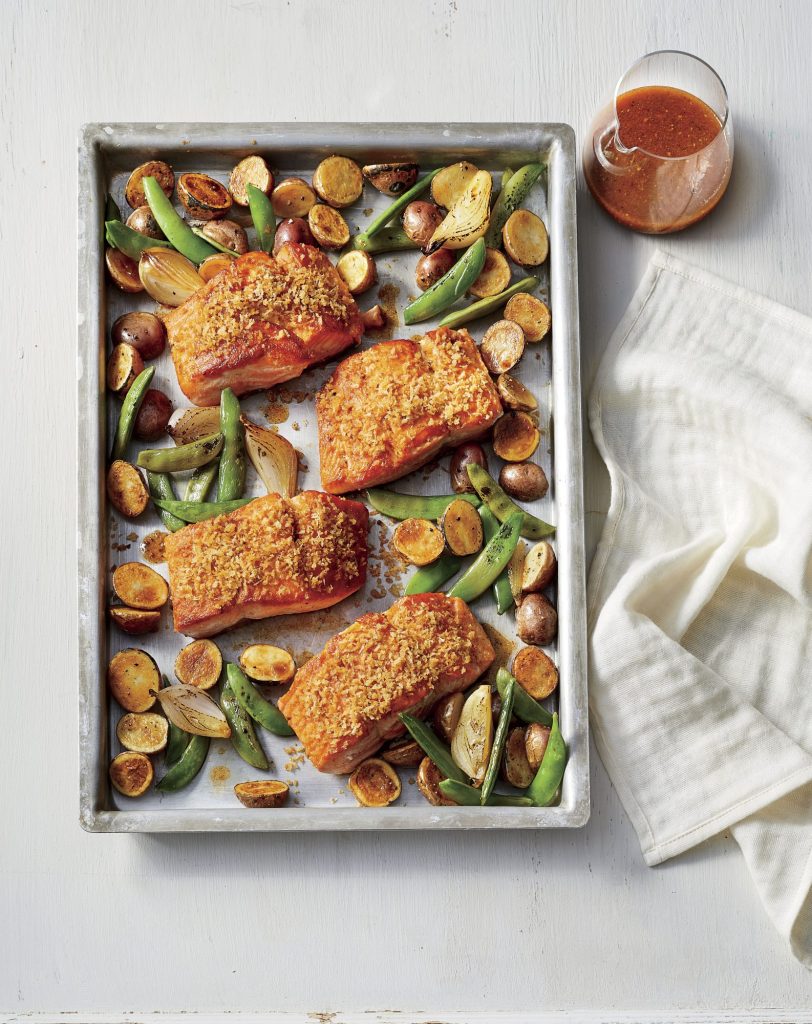 This Easter dinner recipe has all the essentials that make dinner be called dinner while also featuring all that marks the Easter festive mood. The honey mustard gives it all the tangy flavor it needs and there are lots of traditional recipes that are based on this so incorporating it isn't difficult at all.
This supper is ideal for both kids and adults, it's also a chance to get your kids to eat their veggies without complaining. The recipe requires that when shopping for salmon, you should go for the center cut fields as they are thicker and has a uniform size, so each piece can cook at the same time.
Get the honey-baked mustard salmon recipe.
2. Potsticker Stir-Fry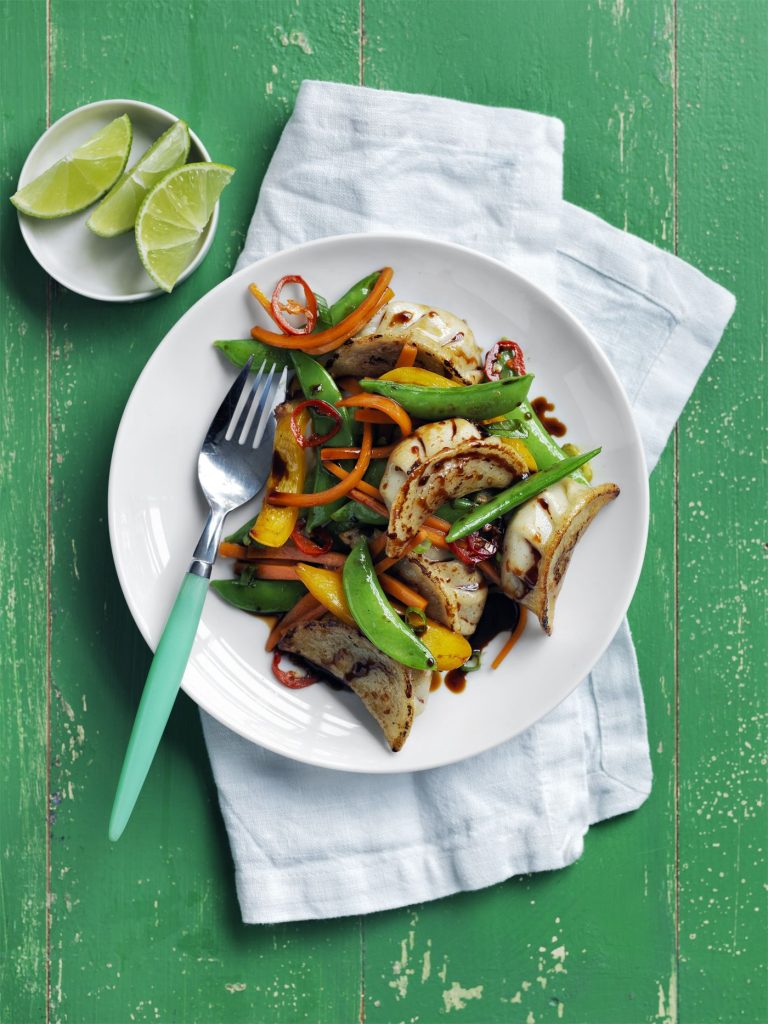 Do you want something even more exquisite and tasty? You have to try the Potsticker Stir-Fry. This not only makes an ideal Easter dinner dish, but it's a really quick and easy Vegetarian recipe. This will not only be your go-to this Easter but according to most people who have tried this recipe, it can fast become your every night dinner. Everyone has their recipe for this great dish so nothing stops you from getting creative too.
Get the potsticker stir-fry recipe.
3. Grilled Squash Garlic Bread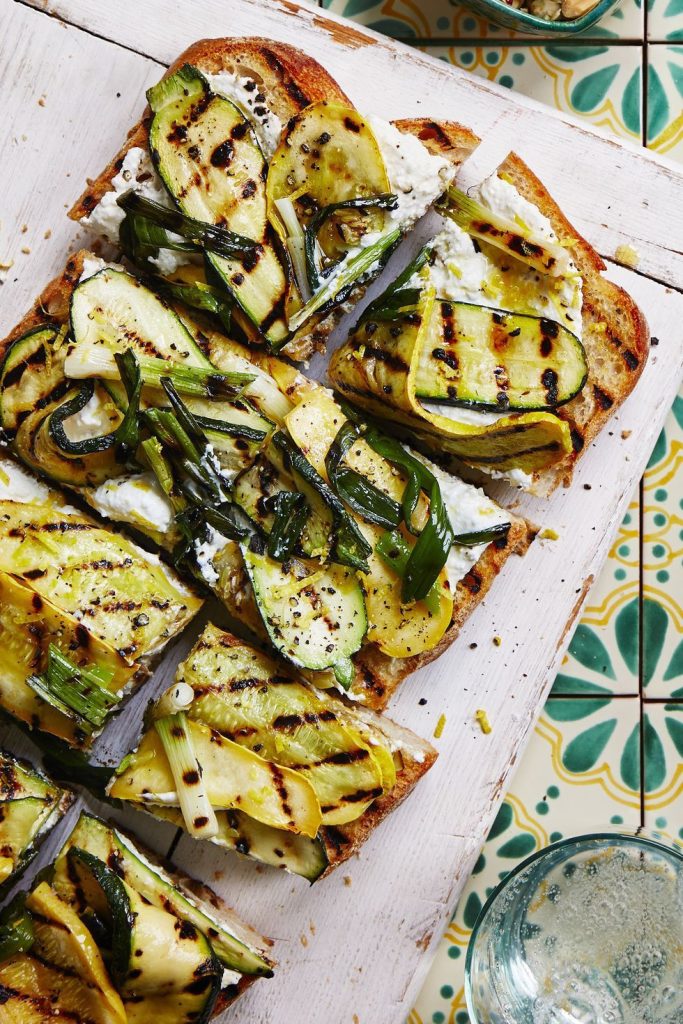 Here is another surprisingly good vegetarian dish that you can easily enjoy with friends and families this Easter night. This is one meal that can take your dinner to a whole new level. You don't have to be a Vegetarian to enjoy this dish as it is created with Ricotta, garlic, and grilled vegetables.
Get grilled squash garlic bread recipe.
4. Brown Sugar Ham Blaze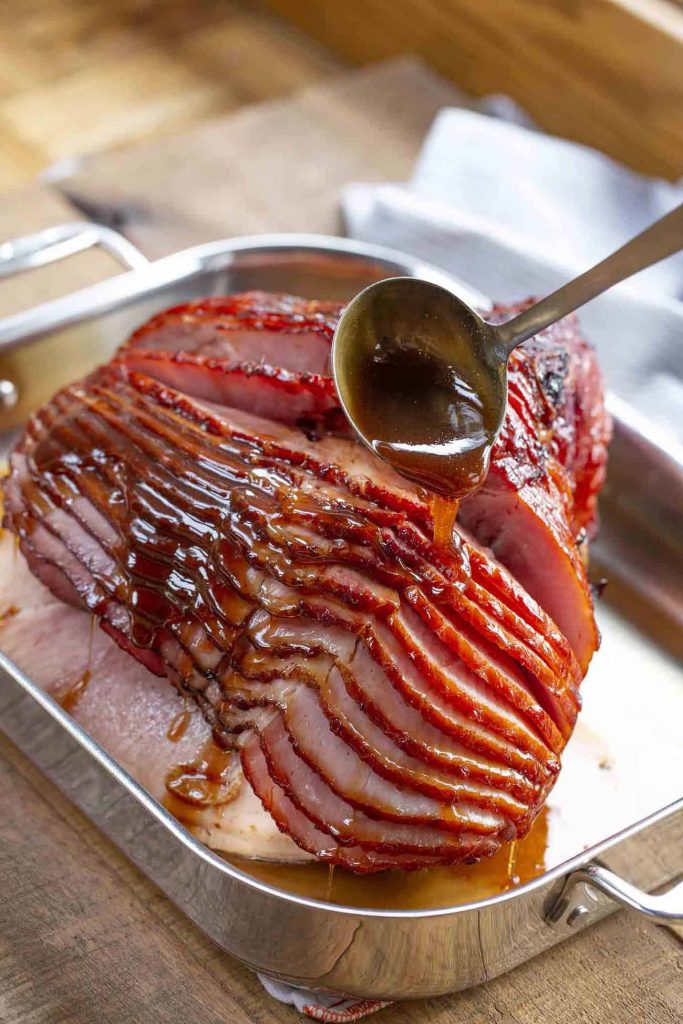 Here is one ham recipe you wouldn't be able to say no to. This is one sweet ham you can enjoy with families and guests at Easter dinner. This has a sweet spicy taste which is something we all often crave and since glazed hams are common Easter recipe then there is no reason not to give this recipe a trial. The recipe below is detailed perfectly, so you don't have to go through stress creating it.
Get a grilled brown sugar ham glaze recipe.
5. Instant Pot Turkey Breast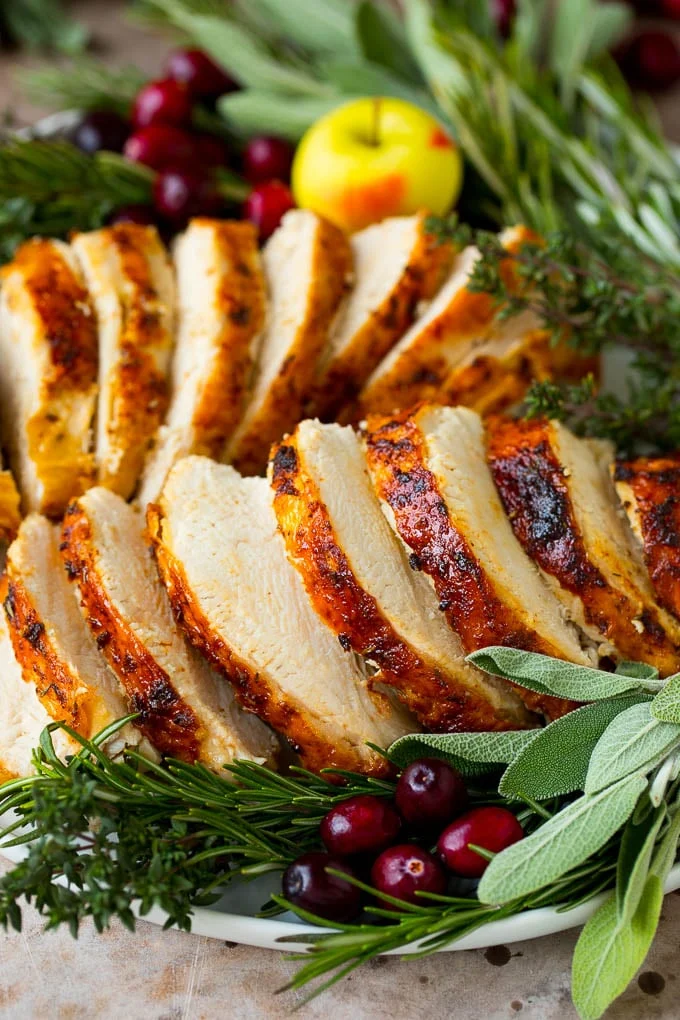 So, seems ham is not the only thing you can enjoy during Easter dinner. Turkey breasts are ideal too and with this recipe, you have more reason to organize an Easter dinner night get-together. The instant pot turkey breast recipe requires the slow cooking process to cook it to a tender juicy enjoyable texture and it's quite an easy holiday dish as well. Nothing can go wrong when you are serving a well-seasoned turkey for dinner.
Get the instant pot turkey breast recipe.
6. Walnut Crusted Chicken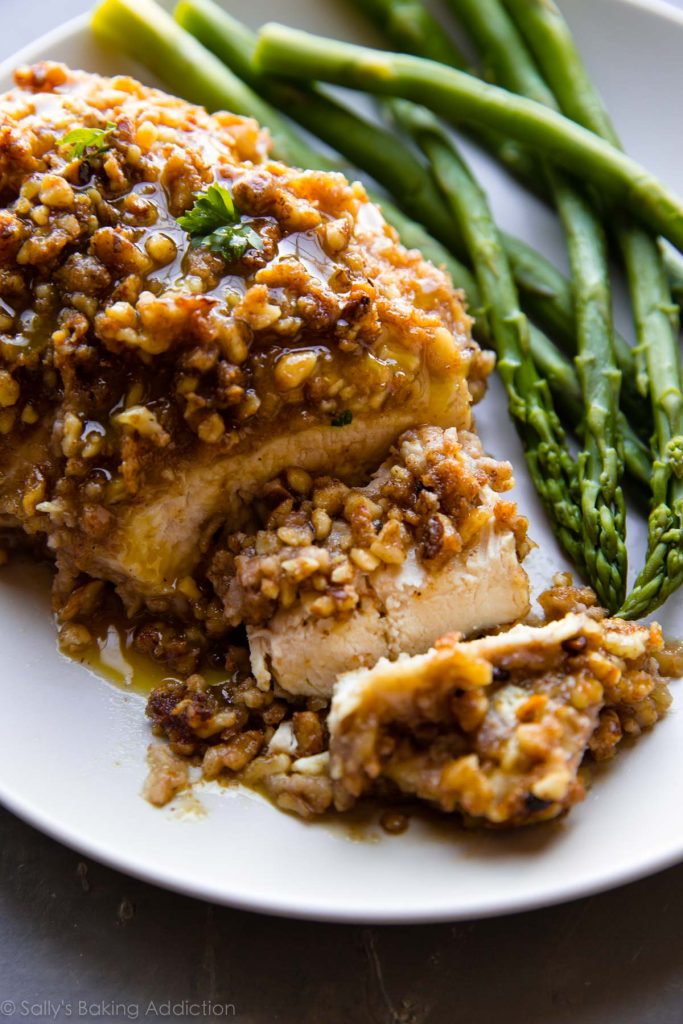 Walnut Crusted Chicken should have you salivating even before it is done. This is regarded as one of the best Easter dinner recipes to share with families. Many people have this recipe as their traditional Easter dish. The Walnut crusted chicken is made with honey mustard glaze which enhances the taste. This has everything your dinner ought to have.
Get walnut crusted chicken recipe.
7. Marinated Summer Squash Salad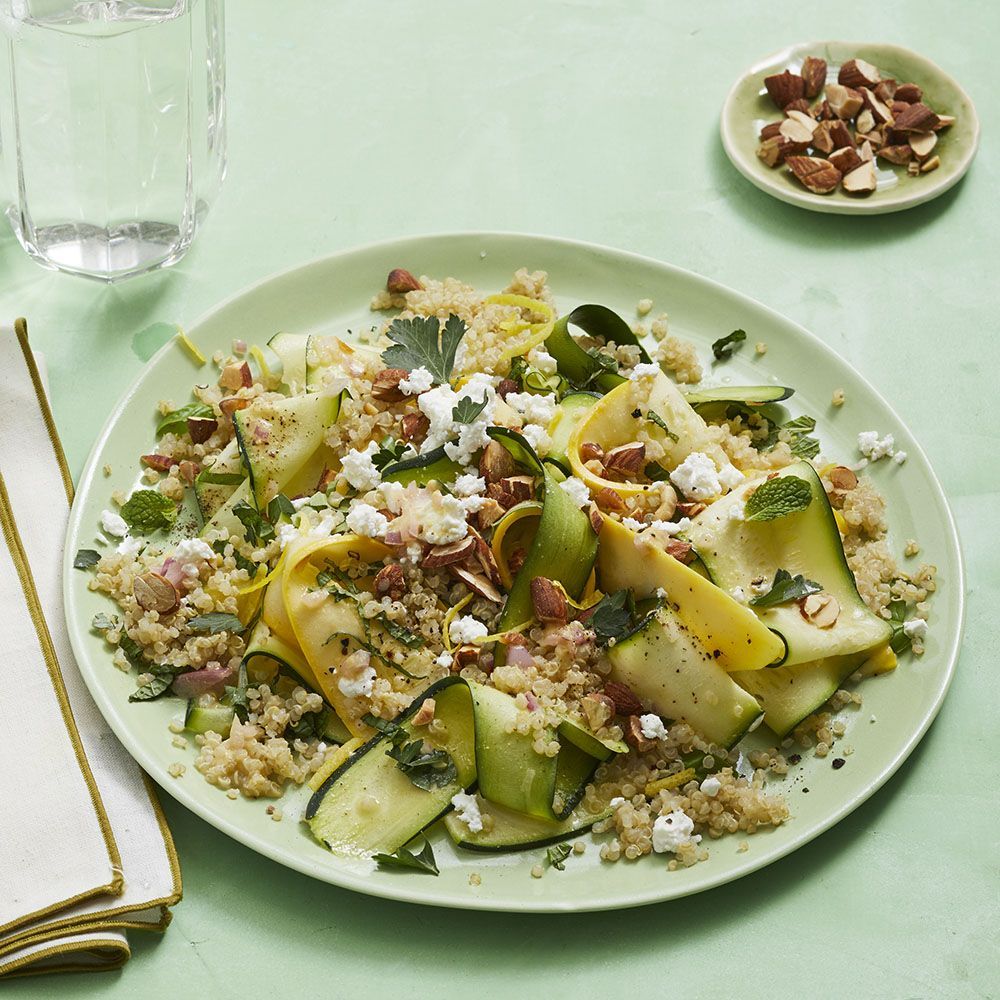 You can definitely enjoy salad for Easter dinner, and you simply have to find the perfect way to make it worth the occasion here is one. The marinated summer squash salad recipe is made by mixing quinoa into fresh zucchini salad to add as a filling. This can serve as the main course and can also be served as a side dish.
Get marinated summer squash salad recipe.
8. Sweet- Hot Plum Glazed Ham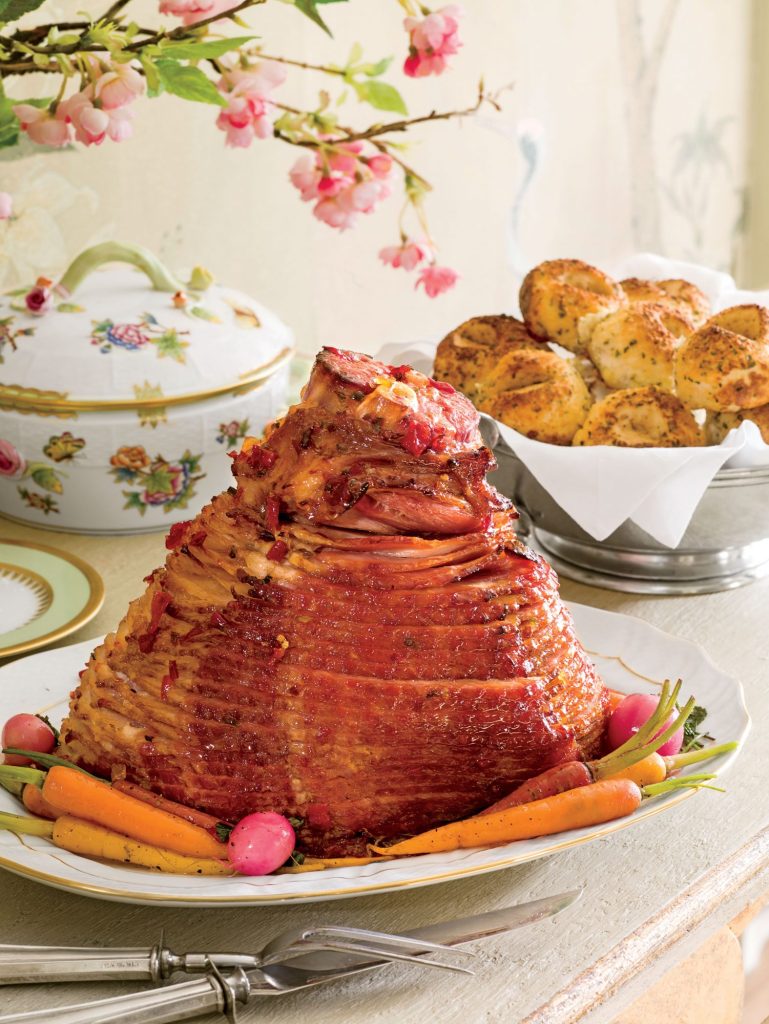 There is always a new glaze for your Easter ham and here is another one you can try. This recipe allows you to garnish your ham with fruits and veggies, pineapple and kiwi are used in this recipe to complete the dish however you can go with any that you find more delightful. This is quite a very popular recipe, and it can have your guest talking about how it was for weeks.
Get sweet- hot plum glazed ham.
9. Joanna Gaines Salmon Recipe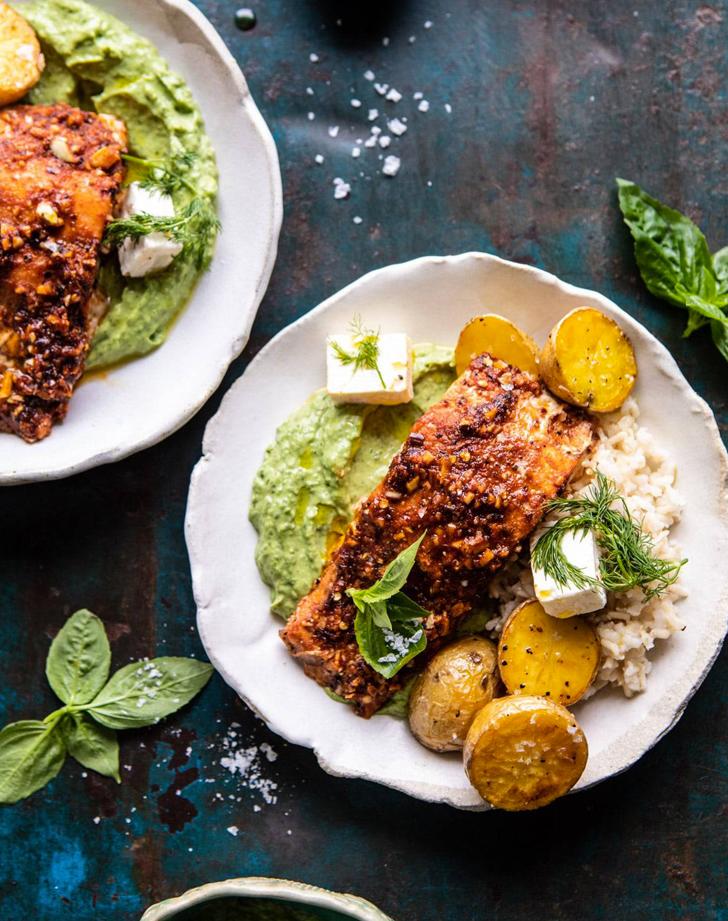 This recipe will not only make a perfect Easter dinner, but it can also be a suitable dinner night meal. This is flavorful and the addition of potatoes and dill also have lots of people creating it with their addition and ingredient. So, if you are enamored of the Joanna Gaines recipe then here is one you can enjoy for your Esther dinner.
Get Joanna Gaines's salmon recipe.
10. Peach Caprese Salad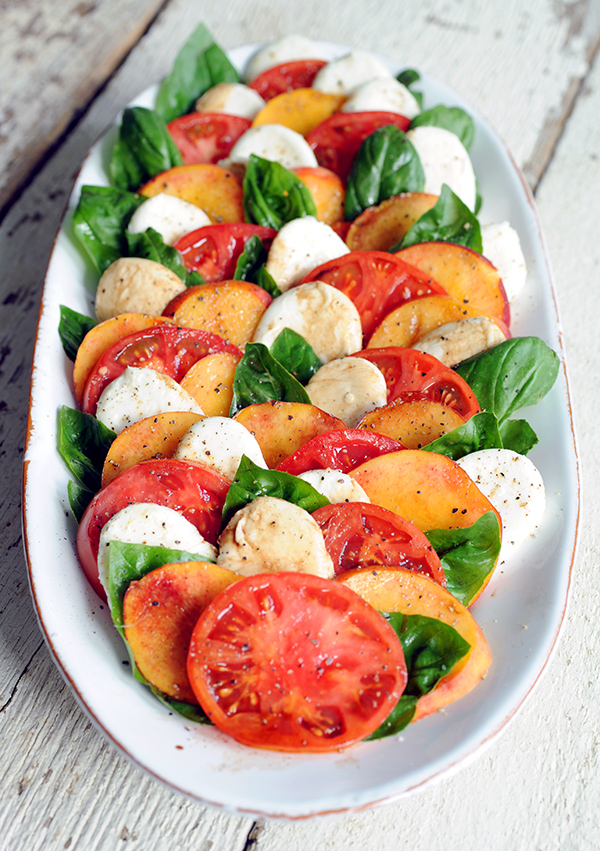 Looking for an Easter dinner that won't take much of your time? You should try the Peach Caprese Salad recipe, this dish is an Italian recipe, and it is made with tomatoes, fresh sliced mozzarella, sweet basil and can be seasoned with salt and olive oil.
If you want the restaurant-style of this dish then you have to work with the arrangement in the image above, and it's also enjoyably piled with fresh peaches, ripe corn, and sliced onions. The ingredients in this dish are quite nourishing and packed with antioxidants.
11. Spinach And Artichoke Pizza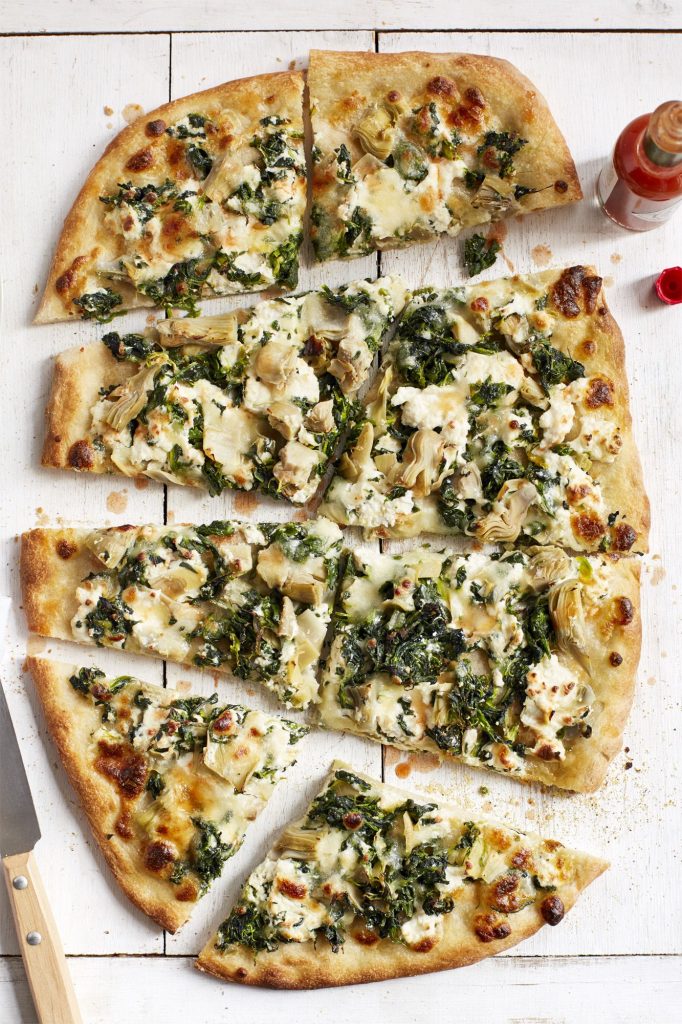 There is no reason you can't enjoy pizza with family for Easter dinner, but this is far from the usual pepperoni pizza. This recipe includes spinach and artichoke which makes it a healthier way to enjoy pizza hence it can go from being an Esther dinner option to being a casual dinner to be enjoyed with friends.
Get the spinach and artichoke pizza recipes.
12. Red Pepper, Potato, and Ricotta Frittata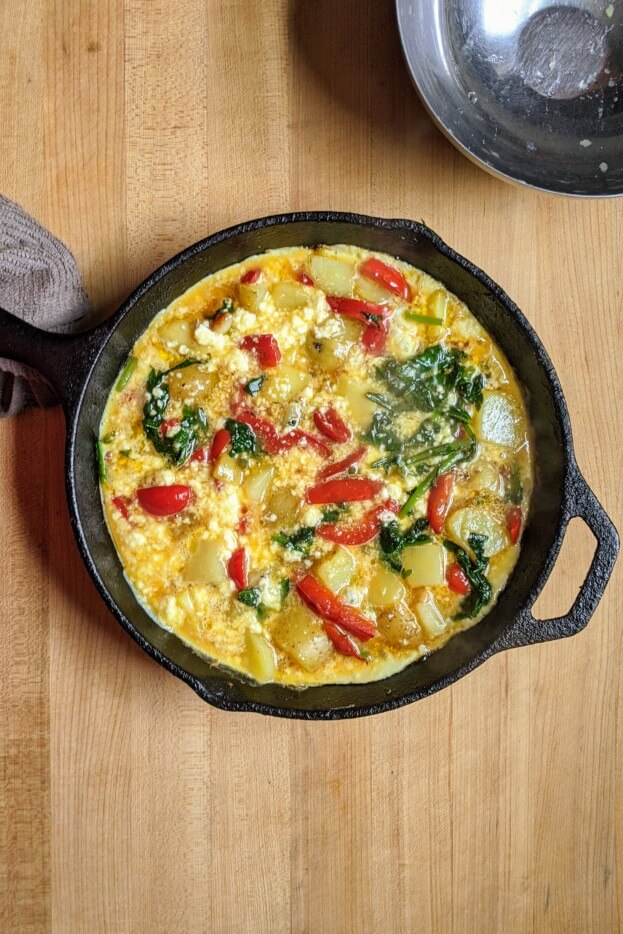 One of the interesting things about Easter dish options is that they can be healthy. Red pepper, potato, and ricotta frittata are not an exception when you think of healthy meals, it consists of nutritious ingredients like kale, red peppers, and potatoes. If you are going to be busy prepping the Esther dinner, this is an ideal option since it is hassle-free and time-saving.
Get the Red pepper, potato, and ricotta frittata recipe.
13. Rosemary Garlic Marinated Rack of Lamb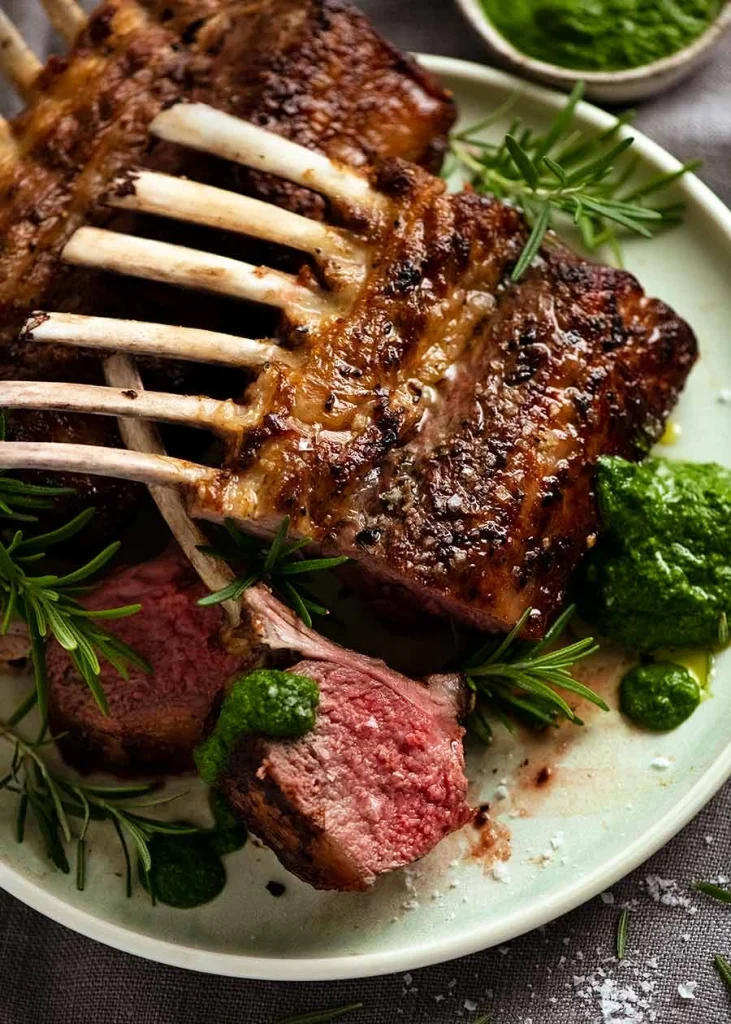 Next on the list is the Rosemary garlic marinated rack of lamb which is currently topping the list of best guest dinners to serve. This dish should have your guests and friends grateful for celebrating Easter with you. Rosemary garlic marinade injects flavor into the whole dish, and we all agree that a classic rack of lamb makes a great cut of meat.
Get the rosemary garlic marinated rack of lamb recipe.
14. Spring Vegetable Frittata
Spring vegetable frittata is another Esther dinner you won't contemplate for too long before choosing it. This is always going to be a seasonal dish and there is every reason to have this served as the main course on Esther night. The list of spring vegetables you can work with is endless and along with some healthy herb options like dill to make this dish worth every effort.
Get spring vegetable frittata.
15. Horseradish Deviled Eggs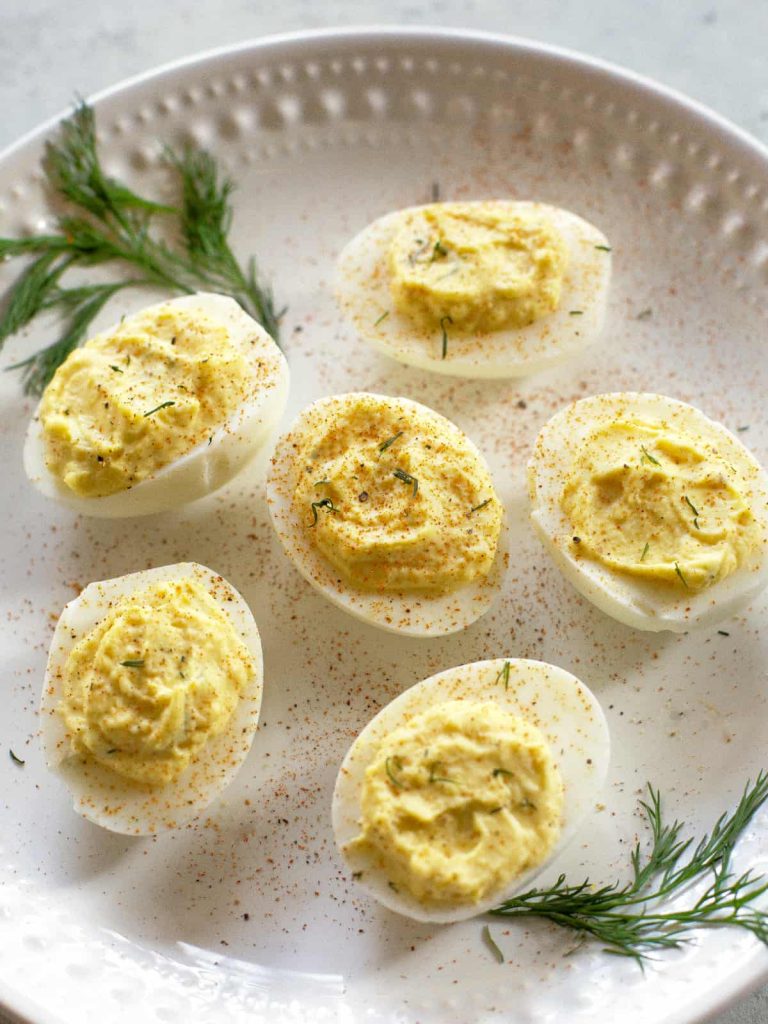 Eggs have always been regarded as Easter's staple, so there is no reason not to incorporate them into your dinner dish either with friends or families. The horseradish deviled eggs have an interesting twist to them and the horseradish is meant to give it a spicy flavor! This can be served as an appetizer or side dish for Easter dinner.
In Conclusion
There is no specific rule for what you include in your ester dinner dish, but it does often include, ham, side dishes, salads, and finally desserts.
Note that you can't have a traditional Easter dinner without ham and if you need to substitute, try lamb, chicken, or turkey. Easter Sunday remains one of those special holidays we get to create traditional recipes and above are showstopping meals you should pick one or two from add to your menu.