Do houseplants like humidifiers? The answer is Yes! Every plant parent wants the best for their houseplants and humidifiers are the obvious and best solution which is why looking for the best one is also very vital.
With the right humidifier, you can keep moisture in the air around your plants for longer with very little effort and this can also promote the growth of your indoor plants especially if the humidity level around your house is low.
Most houses are too dry for growing healthy plants and this is where getting a humidifier comes in. If you want to mimic the natural environments for your plants then you do have to get a humidifier.
However, there are lots of humidifiers out there, and knowing what features and factors you should be looking for will ensure you are picking only the best.
Both warm and cool humidifiers are suitable for your houseplants. Adding a plant humidifier to your home is a great idea and this is because some indoor plants require higher humidity just as much as they require high temperature. Here are the best humidifiers for houseplants in 2022.
Honeywell Cool Mist Humidifier
Pure Guardian Ultrasonic Cool Mist Humidifier
LEVOIT Humidifiers for Rooms, Plants, More
Plants tend to absorb moisture through their pores and with the humidifier to provide enough moisture daily, your houseplants are sure going to grow faster and healthier.
So while watching out for signs that indicate your plants need more humidity, we have rounded up some of the best humidifiers for houseplants and just the buying guide you need to choose the right one.
Types Of Humidifier For Houseplants
Before you go ahead to shop for humidifiers, you should know they are different types, these humidifiers are categorized into warm mist, cool, and evaporative. There are other types of humidifiers as well but the three mentioned happen to be the ideal options for houseplants.
Let's explore the three types of humidifiers and their benefits for houseplants.
1. Warm Mist Humidifiers
A warm mist humidifier is one of the most popular types of humidifier for indoor plants. This humidifier uses a heating system to boil water and make steam, it boils up to a temperature that releases water as vapor. This is great for soothing the dry air around your house, but it has to be cleaned regularly and diligently.
2. Evaporative Humidifier
This is just as cool and even more fascinating than the popular cool and warm mist, but it works on the same principle as any humidifier, and it is just as effective as adding moisture to the air around your plants.
This type of humidifier works by using a fan to speed up the evaporation of water and humidity around your home. This is also considered to be a cool mist.
3. Cool Mist Humidifiers
The cool mist humidifier is ultimately the safest option for you, your kid's pets, and your houseplants as well. The purpose of this humidifier is to improve moisture around your home, and it doesn't use hot water which makes its operation quiet compared to other types.
The ultrasonic humidifier works similarly hence it's considered a type of cool mist humidifier.
Best Humidifiers Ideas For Plant Parents
One of the vital reasons you should get a humidifier is that most houseplants are native to tropical rainforest areas and this means they have learned to adapt and thrive in warm humid air conditions.
If you live in a cool dry climate too, it is only natural to have a humidifier installed. So, below is a list of some of the best humidifiers for your houseplants, and they can generally help improve the air around your house too.
[affiliatable id='82704′]
1. Honeywell Cool Mist Humidifier- Best Overall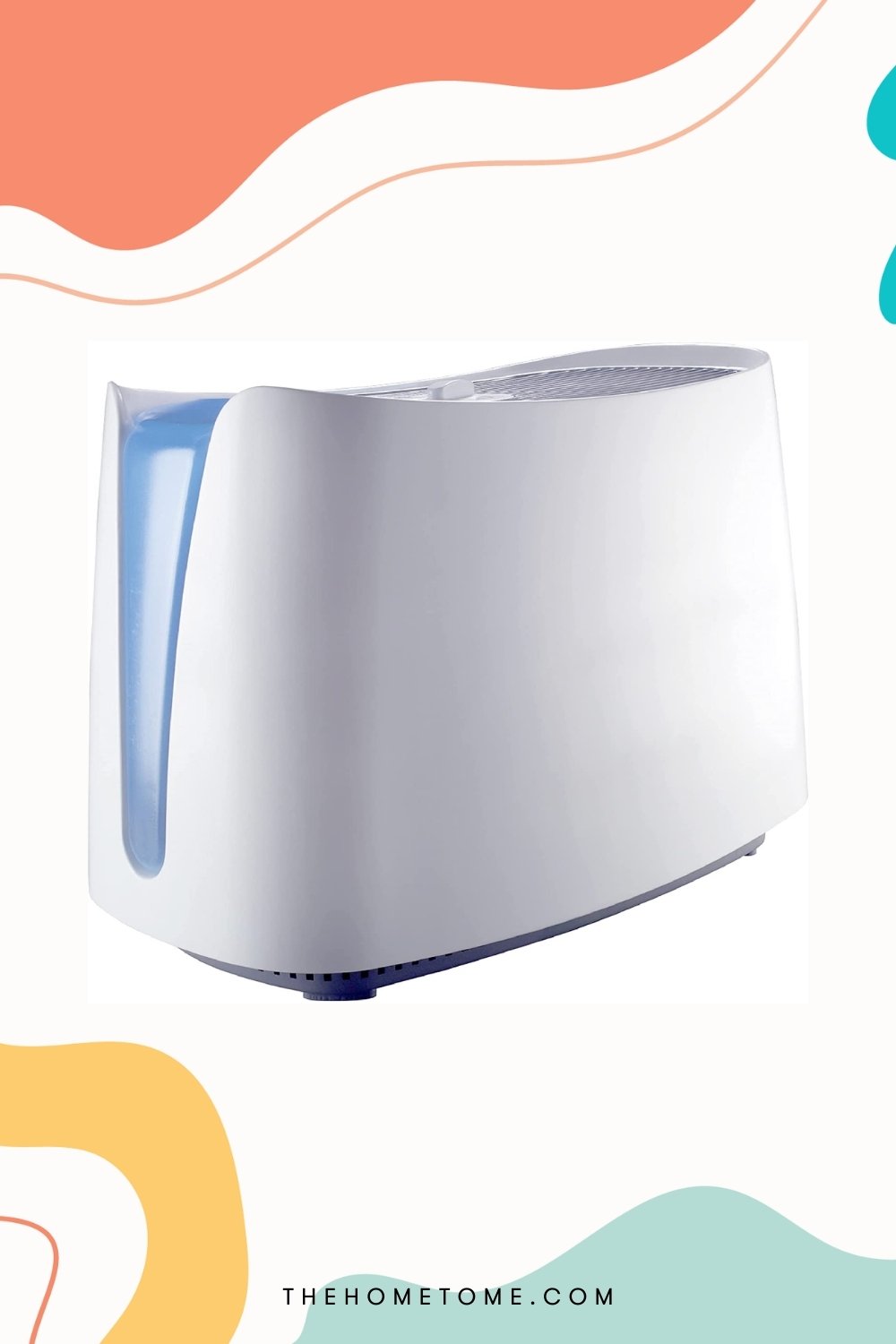 Honeywell Cool Mist Humidifier is one of the best cool mists you can get for your indoor plants. This humidifier ensures proper humidity in your home, it can be placed in your bedroom or any room.
This humidifier is designed with three-speed settings, so you can easily adjust the sound and moisture output to suit your preference. You can use that at any season or day to maintain the optimal humidity of the room.
This can also be used to provide temporary relief from a cough or to help you sleep. Another advantage is that it is easy to clean and runs for up to 24 hours. This is on the top list since it has all the wonderful features you need your cool-mist humidifier to have, and it takes care of any type of plant.
What We Like About This Humidifier
Easy to fill and clean tank
Includes a filter to remove minerals and salt from the water
Comes with a 3-speed setting to adjust moisture output
Suitable for plants, kids, and parents
The LED displays the current humidity level.
What We Don't Like
There is no automatic shut-off.
Why we recommend it
This is one of the best budget-friendly humidifiers you can get for all the amazing features it has to offer. This is quite easy to operate as well and although no automatic shut-off feature, it can run anywhere from 12 to 30 hours which means you don't have to get up in the middle of the night to have it turned off. It comes with 3 mist levels which include nighttime and sleep mode hence it shuts off the LED light so no light disturbs your sleep.
2. Pure Enrichment MistAire Ultrasonic Cool Mist Humidifier- Best For Small Rooms And Plants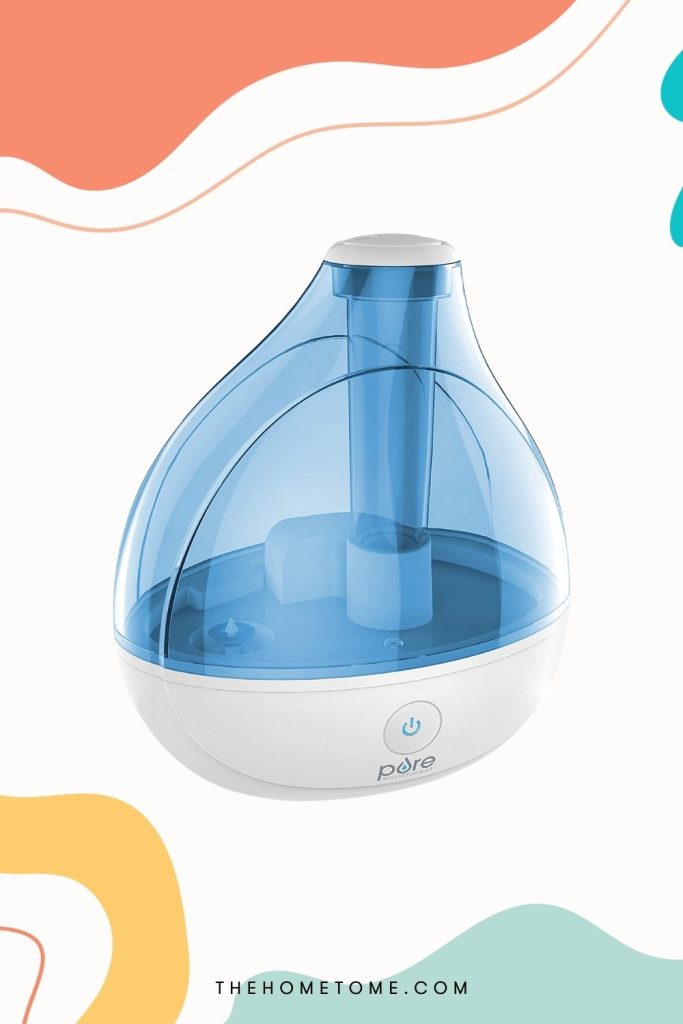 Pure Enrichment MistAire Cool Mist Humidifier is another premium humidifier that can take care of your plants and the air in the room as well. This cool mist can last up to 24 hours and with the whisper-quiet operation, you can worry less about it disturbing your sleep at night.
This humidifier with a 1.5-liter tank which is used to restore moisture and a 360-degree nozzle to ensure small plants placed in your room receive enough moisture.
This humidifier is highly rated and considered affordable for the features it offers. The tank is easy to fill and also there is an optional night light so light pollution can be avoided at night. The automatic shut-off is also another great addition to it.
What We Like About This Humidifier
Runs smoothly and flawlessly
High and low-speed setting to regulate moisture
Combats dryness that can cause cold or congestion
Whisper-quiet motor
Optional night light with a soothing glow.
What We Don't Like
The unit is very small and not suitable for large rooms.
Why we recommend it
This is a great humidifier for plants that are placed near the window in your bedroom. It is a favorite for many who are growing small plants and need to rest easy at night and thanks to the soothing night glow and quiet operation, this is achievable. This humidifier has a small sleek base that makes it suitable for small rooms, but it also has a long runtime. Another reason it is highly recommended is the optional night light that also releases a soothing glow.
3. Vornado Evap40 4-Gallon Evaporative Humidifier – Best Evaporative Humidifier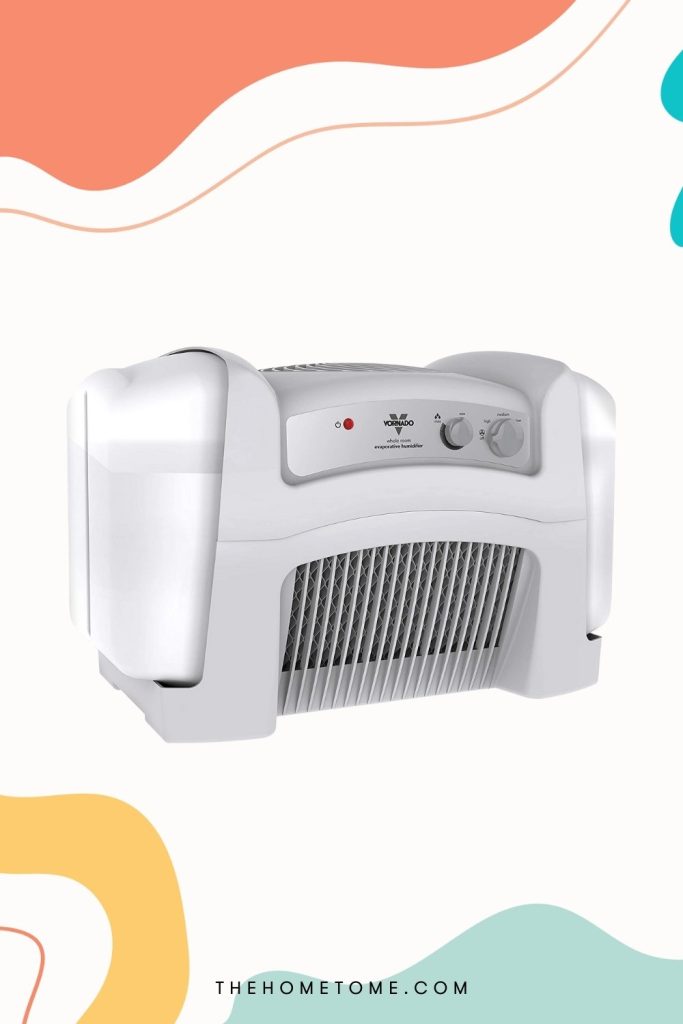 This is just the right evaporative to go for when taking care of large plants. Vornado Evaporative humidifier provides complete and uniform humidification however it is often used in large grow rooms, but it is also suitable for houseplants in your living room.
This has a 4-gallon capacity and 24 hours run time, so it can help expedite the growth of plants like monstera, philodendron, and other flowering plants as well.
Plant parents looking for evaporative humidifiers that can reduce their energy costs should have this picked. It is also great for low maintenance but moisture tasty plants. Your indoor garden will be benefiting a great deal from this evaporative humidifier.
What We Like About This Humidifier
Can cover up to 1,000 square feet with 24 hours runtime
Fan speed can be customized according to preference
Leak-free and easy to clean tanks
Makes automatic adjustment based on room humidity need.
What We Don't Like
Very expensive to buy and operate.
Why we recommend it
One of the benefits of this humidifier is that the fan speed can be controlled and customized to suit the needs of your houseplants. This comes with a large 15-liter tank which makes it suitable for large indoor gardens, and it keeps your plants in better shape as well. This has great features like the auto safe which makes it safe and although it's pricey, it is very reliable compared and adapts to the environment easily.
4. LEVOIT Warm And Cool Mist Humidifiers – Best Runtime Humidifier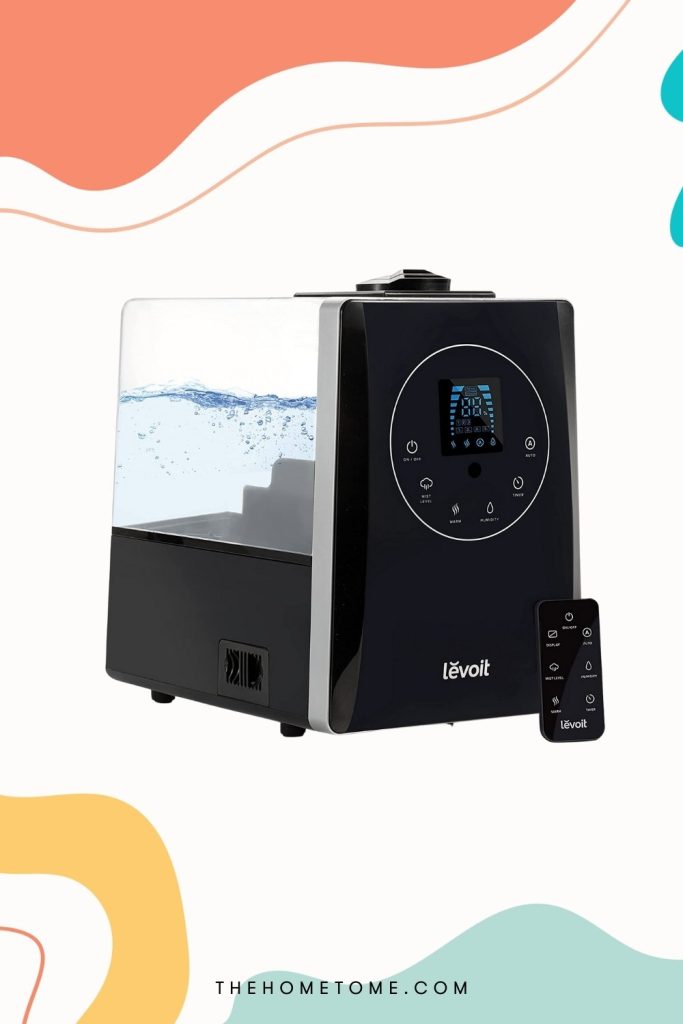 While most cool-mist humidifiers promise 24 hours, LEVOIT cool mist promises 60 hours of runtime and with 3 adjustable speed levels, you are sure to love it. This humidifier is very quiet, so you can sleep with ease, and with its 6-liter water tank, it can cover 753 square feet.
This is an ideal humidifier for any plant parent especially if your collection is filled with tropical plants.
This cool mist is suitable for plants and babies. In addition, it takes care of the extra step taken to refill your humidifier by refilling it with the 300 top-fill design. With the smart humidity sensor too, it can regulate itself.
What We Like About This Humidifier
Designed with an easy to control knob
There is a choice of warm and cool mist
Suitable for large and small rooms
Has a runtime of 60 hours
Features quick refill design.
Why we recommend it
This is highly recommended for basically any plant parents who want to make their indoor plants greener and healthier. This is a durable humidifier that can efficiently dispense soothing mist at a noise level, and you can also turn on the auto mode, so it can self-regulate. You can customize based on your houseplant's humidity requirement.
5. Ledonti Ultrasonic Warm and Cool Mist – Best Ultrasonic Humidifier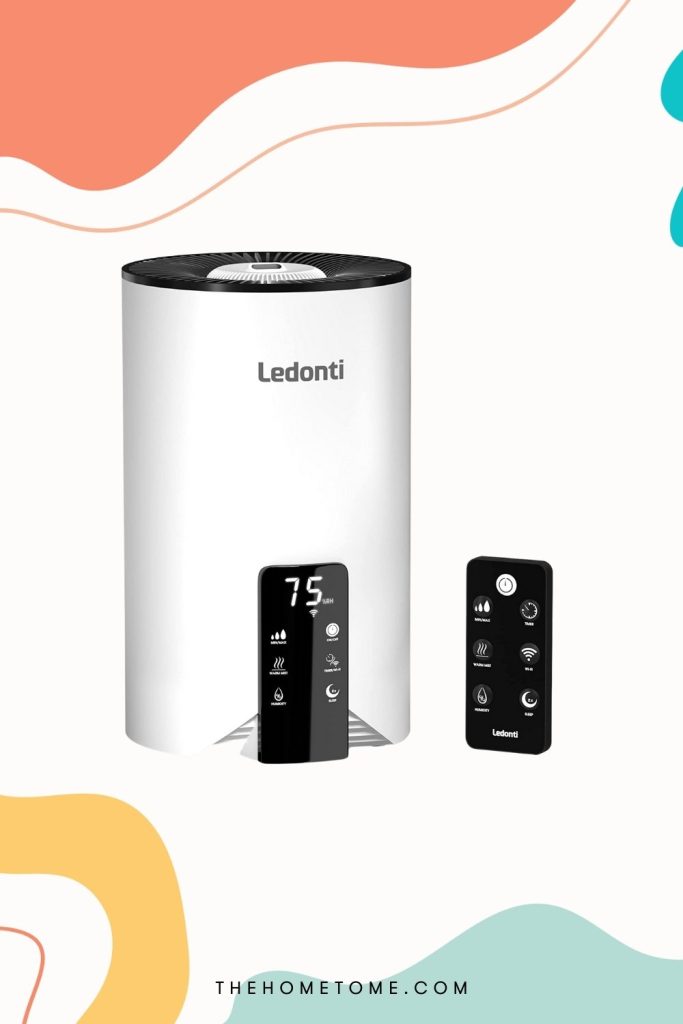 Here is another great ultrasonic humidifier for both your plants and kids.
This humidifier is made with ceramic material which is considered durable and with the 4-liter water tank, it is suitable for both small and large indoor gardens. This has features that can help make the moisture in your home more favorable and also improve the overall health of your plants.
This ultrasonic humidifier has many functions, and it also enables you to care for your houseplants during the cold season. This uses essential oil hence it can give your room a more pleasant scent, and you can easily dim lights and turn on the sleep mode as well.
What We Like About This Humidifier
Automatic shut off feature to help save energy
Easy to clean and control
Stylish design
Designed with Wi-Fi app control
What We Don't Like
Auto feature might stop working after a while.
Why we recommend it
Ledonti warm and cool mist humidifier is considered ideal for both babies and houseplants. This comes in a trendsetting design that will compliment your home decor while also being very functional. This helps create a favorable environment for both you and your plants by keeping the air moisture at an optimal level.
6. Pure Guardian Ultrasonic Cool Mist Humidifier – Best Budget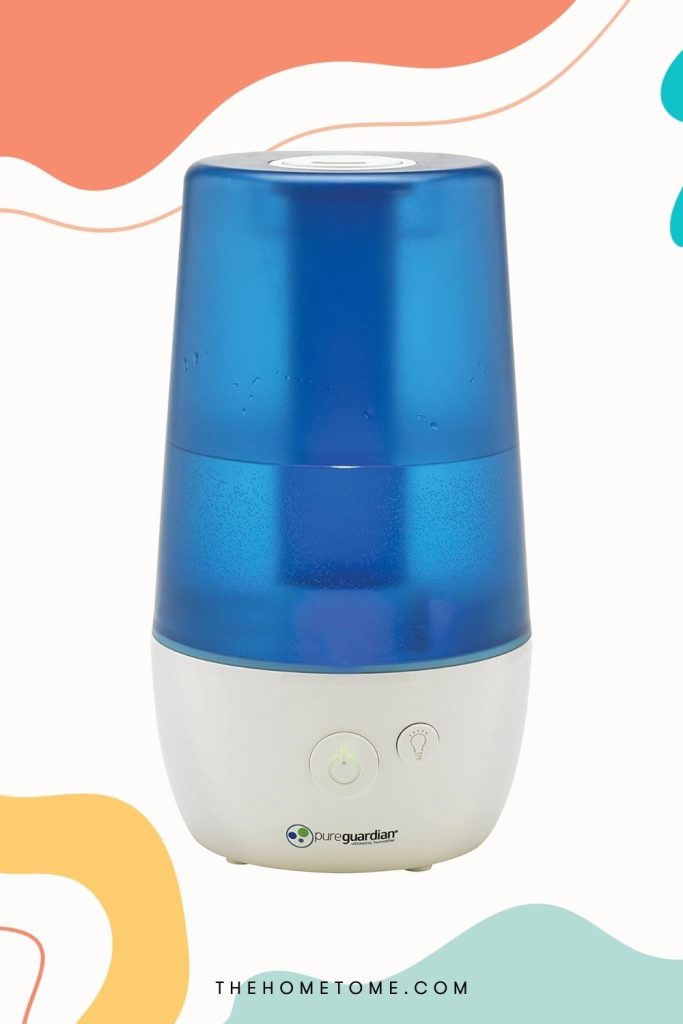 Pure Guardian Ultrasonic Cool Mist Humidifiers can give you 70 hours of runtime, and you don't have to break the bank to get this.
This humidifier can be of great benefit to your tropical houseplants and thanks to the silver clean protection feature, it can fight off mold from the surface of the tank. The small portable design did not limit any of its functions.
This is made with a low water light indicator and auto shut off to ensure its safe use. Another interesting feature is the aromatherapy tray, so you can add your favorite essential oil to it.
What We Like About This Humidifier
Incredible long time so you can sleep undisturbed
Fights the growth of mold
Low water light indicator
Unit is very simple to use
Buttons are straightforward.
What We Don't Like
Not very stable on tabletops.
Why we recommend it
This humidifier is compact hence it is not suitable for large rooms, but it is highly recommended for small and medium indoor gardens and rooms. This humidifier will last for several years and taking care of it is very easy as well. Not only does this humidifier have amazing features and capability, but it is quite affordable and provides you with up to 70 hours of run time.
7. Vicks Warm Mist Humidifier – Best Rated Humidifier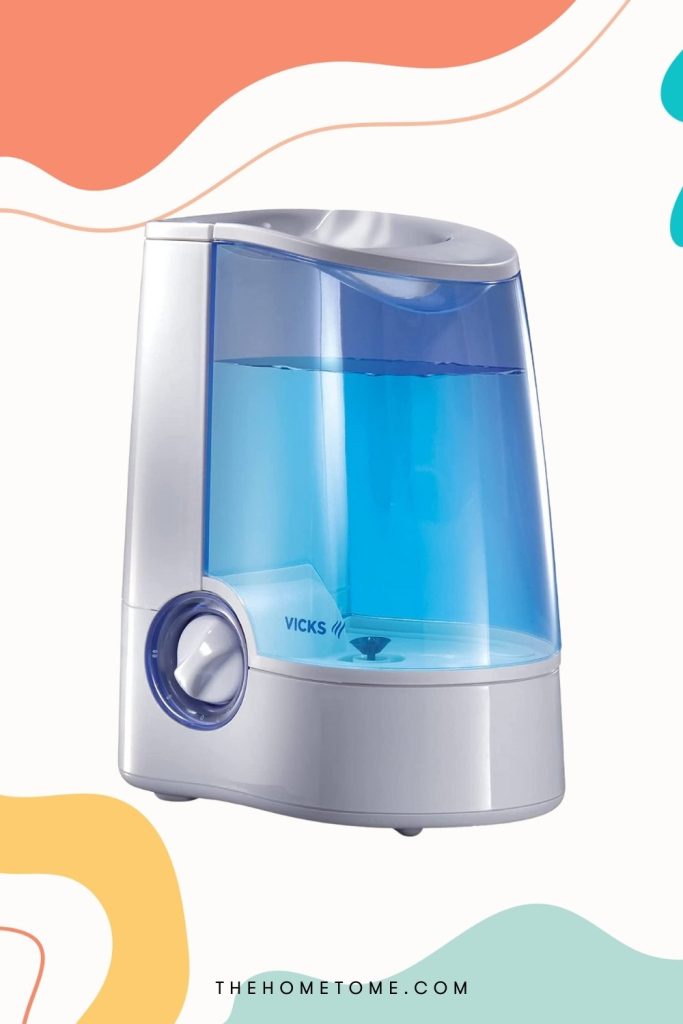 All humidifiers have to be cleaned which is why getting one that is easy to clean is vital. Vicks Warm Mist Humidifier has been around for years and customers find its easy-to-clean features one of the interesting things about it.
This works well for small and medium rooms, so your houseplants can enjoy 24 hours of warm mist.
This humidifier ensures proper moisture, especially during the cold season, and it can also provide temporary relief from cough, congestion, and if you are having trouble sleeping. This can help maintain optimal moisture levels all through the cold season which also makes it ideal for the baby's room.
What We Like About This Humidifier
Easy to use and control
Filter free design
East to fill and clean
Provides up to 40% to 60% of humidity for houseplants.
What We Don't Like
Not ideal for large rooms
Might start to leak as the unit ages.
Why we recommend it
Vicks Warm Mist Humidifier is rated as the best warm mist for providing moisture for plants during the cold season. This model can also enable you to breathe easily and sleep comfortably at night. It is also designed with a filter-free operation and a wide tank opening, so you can easily clean and fill it as well. The nozzle can be adjusted to customize your desired moisture level.
8. Kelmar Warm And Cool Mist Humidifier – Runner Up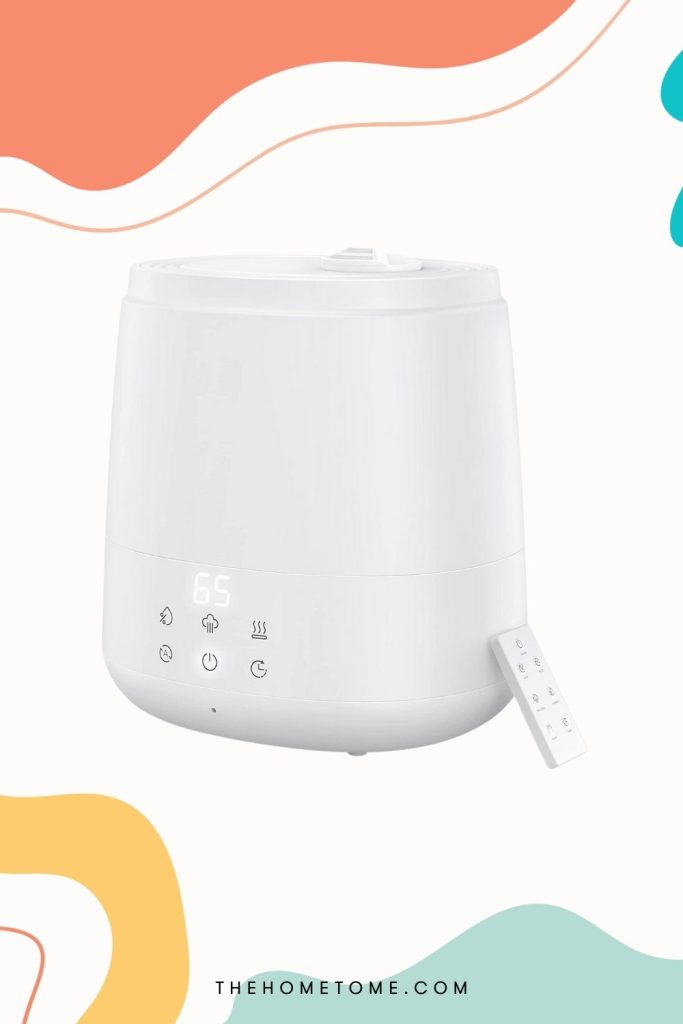 Kelmar Warm And Cool Mist Humidifiers are designed to provide the required moisture for any type of houseplant and with its customized humidity, you can personalize your level of comfort.
This ultrasonic humidifier comes with an essential oil tray just like high-quality humidifiers, it does have an auto shut-off feature. It's suitable for large rooms.
This automatically works to moisturize the air in the room it is placed in and works based on the humidity in the air. With the 6-liter tank size, it produces up to 60 hours of cool mist, and it also lets you set time to save energy.
What We Like About This Humidifier
Cool and warm mist for all season
Suitable for larger rooms
Designed with a timer setting, sleep mode, and auto mode
Effortless and quiet operation.
What We Don't Like
Tanks might be a little difficult to clean which results in white mildew over time.
Why we recommend it
The features of this warm and cool mist humidifier are quite amazing. While this might not be on the top of the list for small houseplants, it is great for your family and indoor gardening as well. The timer setting is an exciting feature plus the 60 hours of run time, you can worry less about it while you sleep comfortably. You can also infuse your favorite fragrance in the hair with the essential oil tray.
Humidifiers For Houseplants (The Ultimate Buying Guide)
While most plant parents can pick humidifiers by simply considering how easy the humidifier is to move around and if it can keep your plants hydrated in the past. But now with so many humidifiers on the market, you have to put other vital factors into consideration. Below are factors to guide you in choosing a reliable humidifier for your houseplants.
1. Humidity Levels
One thing you want to make sure of is that you choose a humidifier that won't release too much or too little moisture that can harm your plants. Hence, it is advised that you choose humidifier models that are designed to gauge the ambient humidity and temperature level in the room. Choose ones that come with high and low humidity settings, so you can adjust the mist accordingly.
2. Room Size
The room where you plan to place the humidifier is going to play a role in the size you get. The plant's humidifier moisture output has to match the size of the room they are placed in. So putting the room under consideration helps you choose one that can regulate moisture across the room properly.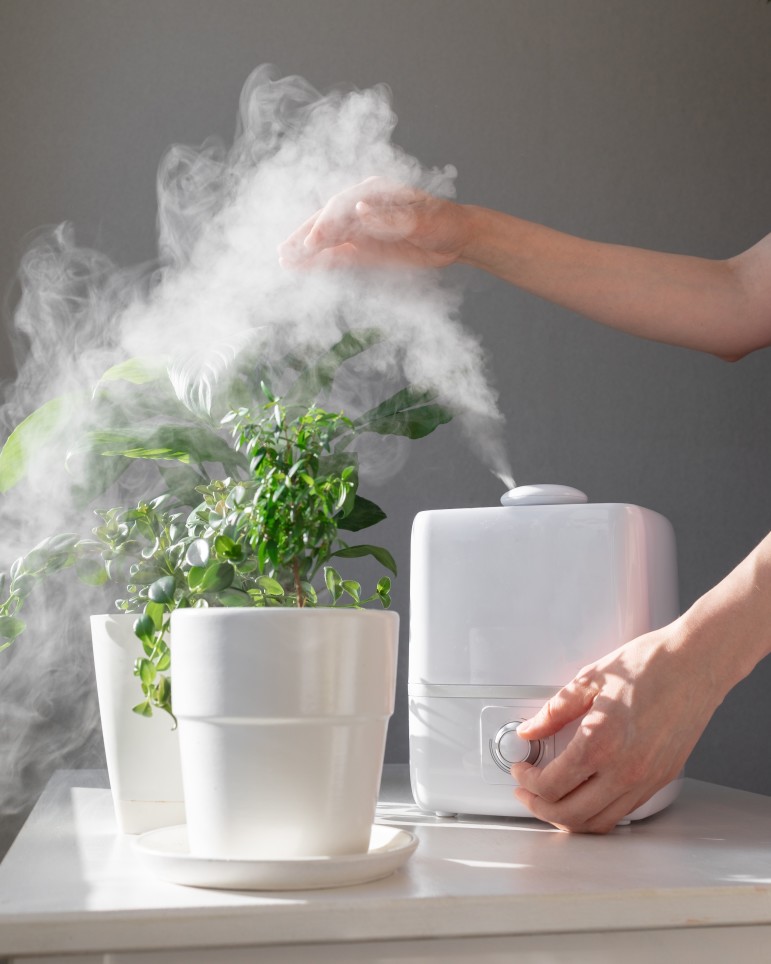 3. Noise Level
While the noise might not have any effect on your plants, it will on you especially if you are placing it where you sleep or work. Some plant humidifiers are loud while some units are designed with quiet operation.
4. Tank Capacity
The tank capacity is just as important as the room size. The bigger the tank happens to be, the longer the humidifier will be able to run uninterrupted. Constant refilling can be stressful so if convenience is the goal then it's best to choose a humidifier with a large tank capacity which equals longer runtime.
5. Setup And Maintenance
This is a very important factor to put into consideration. Cleaning and proper maintenance are important for all types of humidifiers, it keeps them running and if left uncleaned and unchecked for too long, it causes mold buildup. Mold being released in the mist can cause allergens or respiratory illness hence it's vital to choose a humidifier that is easy to clean and care for.
Frequently Asked Questions
Choosing a humidifier for your houseplant is less complex when you know what features to consider. However, below are also vital questions and answers that can help keep your houseplants healthy.
Can you use any humidifier for plants?
Yes, you can use any type of humidifier for your plants, but you should consider the temperature level around the room. The season and or indoor grow area can help determine if you need a warm or cool mist humidifier.
When should I use a humidifier for my plants?
Houseplants do not get the kind of moisture they are meant to get if planted outdoors which is why humidifiers are advised. Plants will indicate when they need more humidity, especially the humidity-loving ones, they are sure to start looking unhealthy.
How close to plants should I put a humidifier?
Keep your humidifier 6 feet away from your plants. The humidifier should not be kept too close to your plants and not too far either.
How often should I use a humidifier?
There is no strict rule on how often humidifiers should be used, but it is recommended to use them for at least 8 to 12 hours a day. This should not be used for too long, or it will create excess moisture which isn't always safe.
Do plants do better with a humidifier?
While most plants will do just fine without a humidifier, some houseplants especially the tropical ones find it beneficial. A humidifier is the simplest way to raise the humidity level in the air for your plants, retain moisture and also help them grow.
Final Thoughts
All types of humidifiers tend to work perfectly for houseplants which is why your surrounding weather should be the deciding factor.
This is because the warm mist is perfect for the cold season while the cool mist is ideal for warm weather. Also, note that houseplants require 50% to 60% humidity in the living space, and excess of it will only cause mold buildup in your room.
The Best For Plant Parents: