The other day my daughter cut up a watermelon that she bought at the grocery store. I (rather absent-mindedly) popped a piece into my mouth.
I was completely blown away by how PERFECT it was. I instantly started thinking about how I could capitalize on such a perfectly picked watermelon. My first thought was ICE CREAM. But, I didn't want to lose the fresh flavor of the watermelon, with heavy cream. SORBET was the obvious solution.
Sorbet is a simple combination of fruit (puree) and sugar water. Since my daughter is really trying to avoid dairy, I knew she would be able to enjoy this dessert! I would normally use coconut milk, but I only had cream of coconut on hand. Cream of coconut is very rich, ideal for desserts.
Keep in mind that cream of coconut is NOT coconut cream. It's coconut cream plus sugar. I simply dilute the cream of coconut with water (3 to 1 ratio). Understanding the difference is key if you want to substitute this recipe with coconut milk to create a lighter sorbet.
I personally love the decadence of cream of coconut. However, this recipe is a great "basic" sorbet recipe that can be easily adapted to ANY fruit puree.
I hope you enjoy this as much as I do.
Fruit Smoothie Ice Cubes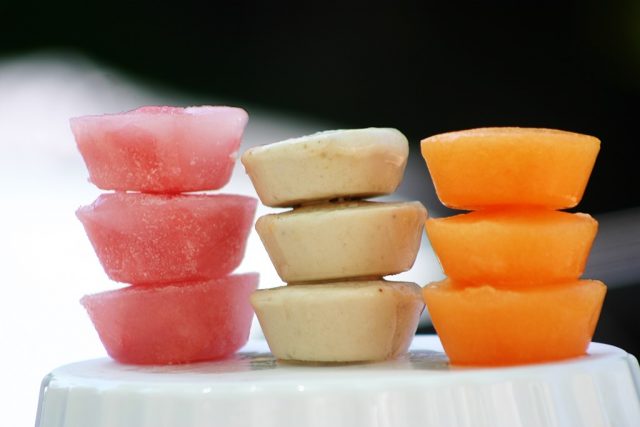 Enjoy this healthy and highly refreshing cold smoothie.
Ingredients
1 banana
5 strawberries
1 peach
1 tablespoon honey
½ cup Almond Milk
a bit of ice.
Instructions
Blend all ingredients until smooth.


Enjoy and don't forget to check our homepage for more.
Discover more recipes:
We are sorry that this post was not useful for you!
Help us improve this post!
Tell us your thoughts in details, we welcome every feedback we can get.