Can you wash curtains with metal rings attached? Washing curtains is not a piece of cake as some fabric is heavy or bulky in some cases. Now, washing curtains with metal rings can eventually damage your hands or the device used.
Yes, You can wash curtains with metal rings without any hindrance. You just have to follow some safety procedures by checking for the manufacturer's instructions about the handling of curtain cloth and washing them.
As the question relates, do you simply want to know how to wash curtains with metal rings? Then, you will need to take to the safety procedures in order to keep away from any form of injury or damage.
Here's a simple write guide on how to wash curtains with metal rings and the basic processes to follow;
How to Clean Curtains with Metal Rings and Other Types of Curtains
A curtain is a piece of material suspended at the top to form a screen, typically movable sideways along a rail and found as one of a pair at a window.
Metal ring curtains look beautiful and are comparatively easier to install, however, when it comes to washing them, they are bulky and hence tough to handle.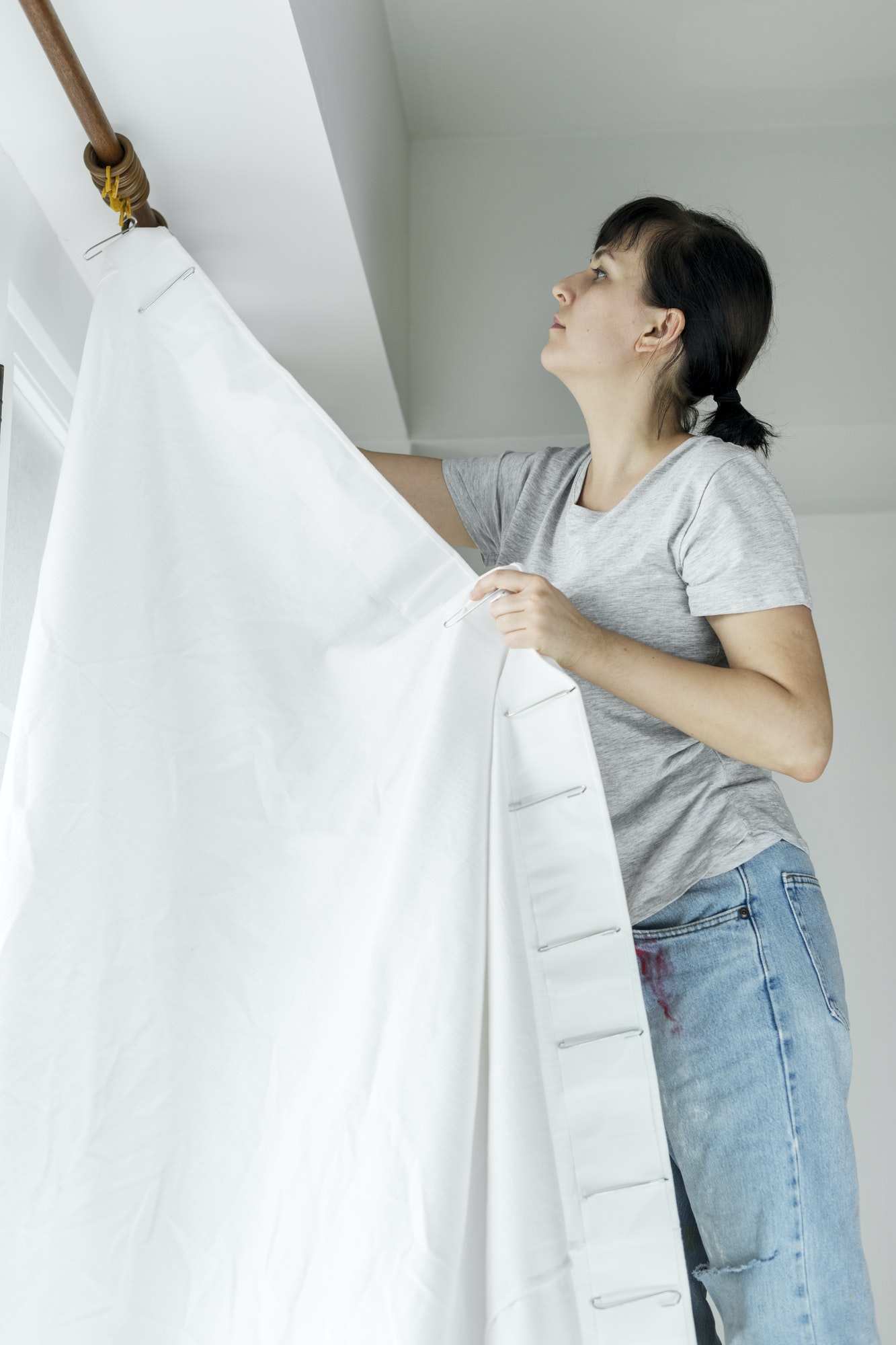 1. Cleaning with a washing machine
Lightweight curtains are best suited to be cleaned using washing machines as they do not retain much water and can be rinsed easily. However, take care of your curtain material while deciding about washing machine cleaning.
2. Hand-washing the curtains
Though hand-washing is a little tiring and time-consuming for delicate curtains, it is always the best idea. You can use any detergent to get rid of those stubborn stains sticking to the curtains
3. Heavy curtain cleaning
Heavy curtains need to wash only with hands and not washing machines. These curtains can retain a lot of water and result in damaging your washing machines and you surely don't want this to happen. So, clean your heavy curtains with your hands in bathtubs, rather add a fabric softener to make cleaning easier.
4. Cleaning curtain rods and rings
Not just the curtains but the rods and metal rings are also to be cleaned. These metals may get rusted over time and give a shabby appearance to your beautiful home. Use mild vinegar cleaners to clean the rusted metal rings and the rod.
5. Steam Cleaning
McCulloch MC1385 Deluxe Canister Steam Cleaner. Check it on Amazon.
Steam cleaning very good option for a thorough cleaning, especially with heavy curtains. However, you may need professionals to do it on your behalf, and may cost you a lot of money to get the curtains cleaned.
How do you wash heavy curtains at home using your hands?
There are basic tips to follow in washing your curtains by hand;
Water should be added to the sink or basin. It would be easier for you to immerse the curtains if you filled the sink or basin with water that was lukewarm or chilly.
Add detergent. Include a couple of drops of liquid dish detergent or laundry detergent in the mixture.
Install some curtains
Curtains need to be washed
Squeeze excess water
Allow airing dry
If necessary, iron the garment.
Frequently Asked Questions
How do you clean curtains that are hanging?
Climb to the top of your curtains with the assistance of a set of ladders (which should be held stable by another person), and then vigorously shake them from a location that is close to the pole or rod.
Can you put curtains in the washing machine?
If you have curtains made of cotton, polyester, or linen, you can almost always launder them in a machine. This is true in the majority of circumstances. But if you have curtains made of silk, velvet, or organza, you will need to take them to the dry cleaner to have them cleaned properly.
How often should curtains be washed?
Curtain cleaning on a regular basis is a good idea to keep your house clean and fresh. It is recommended that curtains should be washed every 3-6 months. Curtains naturally attract dust, it is best to pay attention and clean them as they absorb odors over time. 
Can curtains grommets be reused? 
When you feel that the color of the grommets does not match your curtains,  you can remove these grommets. They can be reused and will not be broken.
Conclusion 
With all the aforementioned, I hope this article about "Can you wash Curtains with Metal Rings?" helped in clearing up any form of confusion surrounding it. You now know everything you need to know about Metal ring curtains.
Hopefully, we were able to answer most of your questions regarding this topic.