Curtains are essential coverage for any home. It helps add a decorative shade and touch to most homes and office spaces.
The choice of which curtain and lining to use can help add an amazing touch to many homes, thus we become very careful when trying to select which type of materials pair well with a curtain.
Quick Answer: YES. Linens are a great material addition to your curtain covering. This is because they are eco-friendly, durable, offer good insulation, are soft on the outside, and also help to add a colorful yet exquisite design to your window or door frame space.
Hardly would you visit a well-lived home, where no curtains or drapes are covering a window space or door frame. With the usage of curtains, comes the need for material to pair them with for greater decorative purposes. 
Hence, this writer would be discussing the great pair of linen and curtains as the ultimate covering design we all need in our homes.
Why Linen Is a Good Pairing Choice For Curtains
1. Durability
Although linen has a soft and sheer outlook, they are easily very durable and have the quality of being long-lasting. They won't fade easily, are resistant to wrinkling, and can hold their sheen for a long-time.
2. Easy Maintenance
Linen fabrics are easy to maintain and don't fade easily. They can easily be washed in your machine or dry-cleaned without losing their sheen. They become softer after every wash which is a plus.
3. Good Light Penetration
With linen fabrics or materials, they allow the right source of lightning to every room and increase the presence of good airing about the home. Unlike velvet which is a heavy-weight fabric. Linens are eco-friendly and offer good insulation during winter.
4. Helps For A Fantastic View
When put up around a window structure, it helps increase the viewing pleasure around the window panes, they are also pleasing to touch and perform well under direct light.
5. Timelessness
This simply means you won't get bored with the linen-curtain pairing, they never fade or go out of style, they stand the test of time, and amazingly are a great selection for children's rooms/nurseries, and beach homes, because they don't spill easily.
6. Versatility
Linens are a great buy because they are affordable, great for the environment because they are made from plant fabrics, and pair well with any interiors or fabrics. They can adapt to any design, material, blinds, or covering. They are also allergy-friendly, great for sensitive skin or nose, and also intercept ultraviolet radiation.
With these electric few points, it's very convincing to note that linen is a great pairing for not just curtains, but any intricate or interior designs you want to add around your home, beach or summer house, or office area.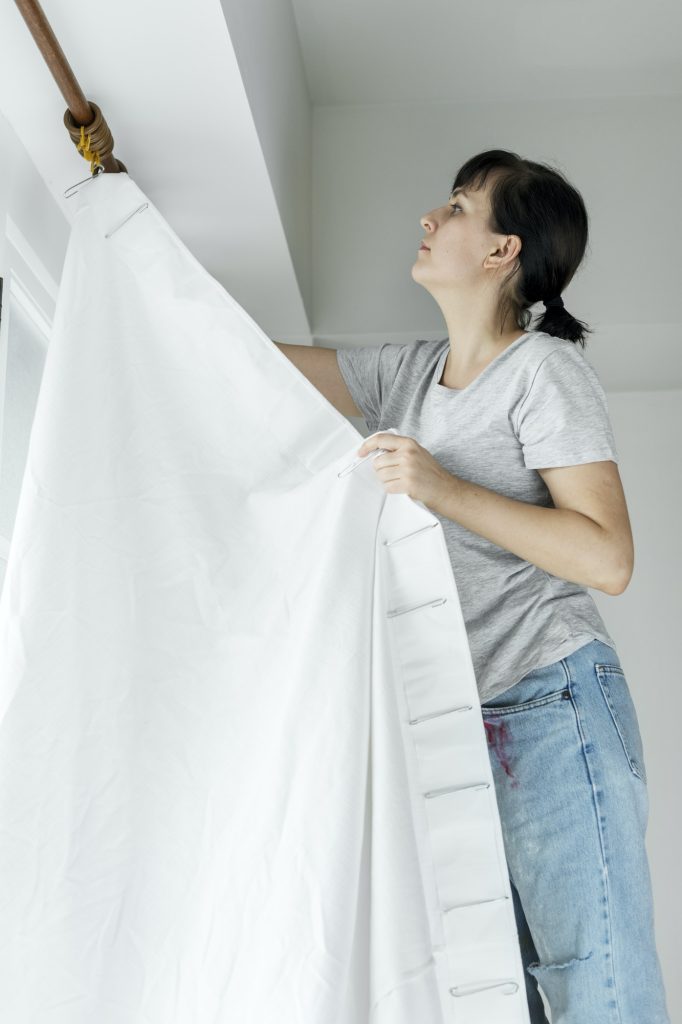 Also, this writer would divulge further into types of linen fabrics, which is an exceptionally great pairing with curtains or drapery.
The Best Linen Fabric for Curtains
Here are some linin types that are just perfect for curtains.
1. The 100% Linen Fabric
This type comes in just with nothing else added. They possess a strong and crispy texture, but neither are they heavy nor thick. They have a hollow property which makes them ideal for some customers as these hollow properties allow a free flow of air through this fabric. Hence, why they are advisable for summer.
2. The 100% Linen Sheers
Just like the 100% Linen Fabric, they are made from linen fabric only. The only difference here is that 100% linen Sheers have a loose weave, which leaves room for more airflow compared to the 100% linen fabric. But on the other side, this also allows for more penetration of sun-ray into the room. If you are skeptical about the use, know that they can come in handy on hot nights in summer.
3. The Linen Blends
To get varieties and quality, linens are often blended with other fabrics. Common fabrics blended with linen are cotton, rayon, and polyester. Each of these fabrics combined with linen gives it distinct properties.
Customize Your Linen-Curtain Coverings (DIY)
Linen fabrics are great for many interior decorations because not only can you select professional help in designing these materials to decorate your home, there's the option of designing or arranging linen fabrics yourself (DIY).
They are affordable, great to work with, and easy to fold.
Thus, it's encouraging to try by yourself or get inspired by decorations or video tutorials on Pinterest, YouTube, Instagram, etc. In order to create and customize linen-curtain coverings for your vacation homes, Kid's nurseries or bedrooms, summer homes, or a newly built home.
Frequently Asked Questions
Why should I pick Linen for Curtains?
They are durable and soft on the outside, also because of their loose weave properties in comparison to most fabrics, making linen very good for adequate airflow.
What is linen made of?
Linen is a natural fiber made from flax. Flax is very strong compared to cotton, due to its packed structure, and it's also an environment-friendly plant.
What is the difference between linen and cotton?
Both are natural fibers, but cotton is made from cotton plants while linen is made from the flax plant. Linen is approximately 30% stronger than cotton and has better durability and longevity.
Conclusion
Overall curtains are a part of a home, as they beautify a home, and a perfect choice of a certain color, combination, and fabric can change the look of a home. Meanwhile, linen is widely used as a curtain either in combination with other fabrics or alone.
Linen offers diverse quality that most fabrics cannot. They are durable, easy to maintain, and also offer proper air and light penetration. Its eco-friendly nature is also an added advantage compared to other fabrics.
Are you looking to buy a new curtain? Or you are planning on changing your curtain? You might want to consider shopping for a linen curtain.