Grill types often determine the safety rules you do need to strictly adhere to. Where you decide to place your grill in your home can depend on your local regulations. When you don't have a backyard, you can be a bit confused about where you can grill safely. There have been lots of questions on if you can grill at a condo or not.
While most grills are built for indoor use, you still need to know your apartment rule to decide that.
Indoor grills offer you the best alternatives if you don't have a backyard and sometimes you simply can't grill outdoor due to rain and cold. Most indoor grills are nearly smokeless as well. Grilling however is a lot more fun when done outdoor. Grilling is a lot more beneficial than frying as well.
You can grill at a condo but there is no definite yes or no to this. There are lots of things you have to put into consideration before grilling at your condo. First, the safety regulations of your condo have to be considered, and second, the size of your balcony, patio, or available space on the deck. You will need enough room for your grill and far enough from the house.
It can be tempting to get a grill to use at your condo or apartment. Before you choose the type of grill you are going to buy, you have to figure out placement first and also consider some safety rules as well. Read on to learn about grilling in the condo, safety rules, and if you really should be doing it.
Is It Safe to Grill In A Condo?
The structures and safety regulation of your condo is going to be the first things to consider if you are going to be grilling at a condo or not. Some condos or apartments don't allow tenants to own grills so that has to be checked first.
But if your condo does allow it then you have to consider the space of your balcony condo or if there is an outdoor space large enough for your grill.
You can't use a propane grill near your building especially with other neighbors close hence safety has to be of paramount importance. If you are planning on grilling with an electric grill then this can be safely used indoors but you still have to ensure the space is large enough to move things around comfortable.
Some residential buildings do not allow smoking but if this doesn't apply to your area then you can go ahead and get a grill. However, some safety rules need to be adhered to strictly. You have to make sure your balcony condo is organized practically.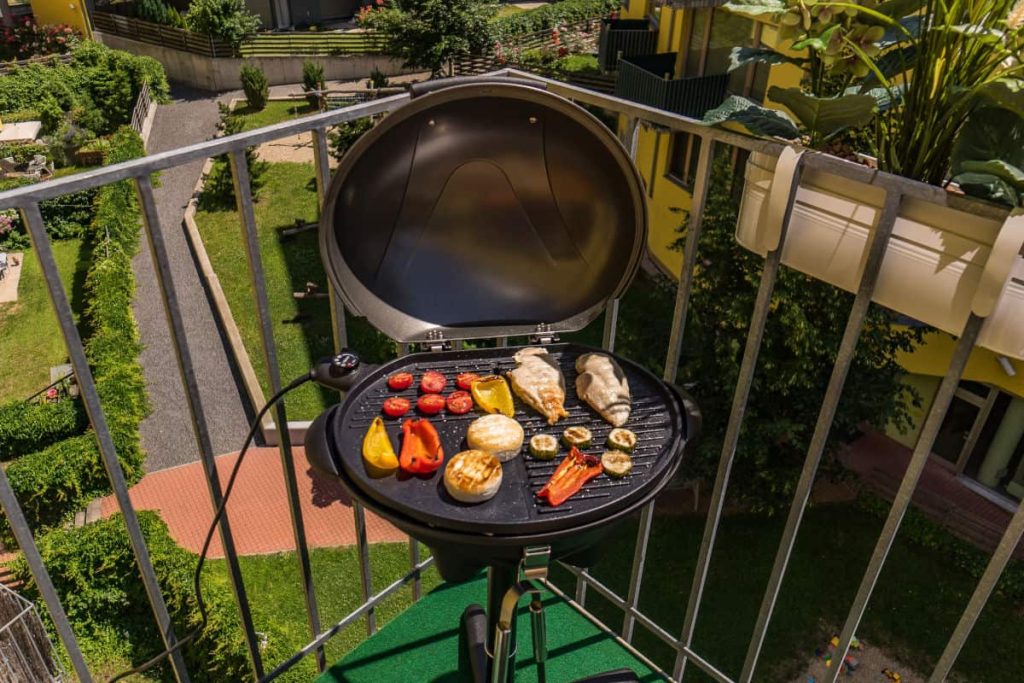 The balcony condo is often the best option to grill and to do that, you have to make sure it is at least 30 inches from the ground. Gas and charcoal grills have to be far away from the house. However, electric grills can be used indoors so they are allowed to use indoors.
What Kind of Grill Can You Have At Your Condo?
If you don't have a lot of space available on your condo balcony then you can have the portable type of grills, they are portable propane grills that are small enough to fit into small backyards and should be fine on your condo balcony too.
You have to make sure you are choosing a safe grill, while propane and gas grills are great, they do have a reputation for causing more fire than charcoal grills.
Charcoal and wood pellet grills are considered much safer and known to create an incredible crust and smoky taste hence they are a great idea for condos and apartments.
Safety Protocols For Grilling In Your Condo
If you are going to be grilling at your condo or apartment then you need to know the right safety protocols.
It's okay if you don't have a sizeable patio or backyard, you can always grill on your balcony condo or if the outdoor space is large enough for that. So to do that safely, below are protocols that can guide you.
Make sure your grill is clean to avoid flare-ups
Keep a fire extinguisher handy just in case
Make sure you have enough room to grill and move things around
Pay attention to your grill at all times and do not leave the area
Be sure your condo balcony is well lit
Use protective gloves
Make sure the kids and pets stay far away from the grill area
Read your manual.
Alternatives To Grilling In Your Condo
If your condo rule doesn't permit you to grill in your condo or there is simply no space for that there are other alternatives you can consider.
There is no reason to worry if your apartment doesn't let you girl in your condo, here are safer alternatives to grilling in your condo.
Get the electric grill option
Use a park where you can bring along your grill
Get a portable grill and go tailgating with friends
Use your stovetop with a grill pan
Use community grills if your rental property offers them.
Can You Grill in the Apartment Complex?
Most apartments regulate prohibit the use of grills in an apartment complex or on apartment patios and balconies. This is because grills are highly flammable especially when left unattended.
Although grilling in complex apartments is not illegal but it can be a disturbance to neighbors. Regardless of your apartment, ensure your grilles are at least 10 feet away from the building.
Wrapping Up
Grilling indoors might not be as fun as outdoor grilling but if you can't get any space in your condo then you can consider the electric indoor grill which lets you grill indoors.
Firing up the traditional grill for summer can be so much fun and a condo shouldn't stop that fun. If your grill is large and you are permitted to grill then enjoy serving up awesome meals as much as you can.