Kitchenaid mixers and Jenn air mixers are both efficient and powerful mixers however one's advantage might outweigh the other. Mixers are really handy kitchen appliances, especially stand mixers, they can be used in processing foods, kneading your dough for pizza or bread, making homemade juice or pasta, and whipping potatoes, cream, butter, and eggs.
Before choosing between Jenn air and kitchen aid, you should know both are made by Whirlpool. These two brands have been around for quite a long time and they do offer a professional range too. The whirlpool corporation owns these two brands so you can be assured of quality on both ends however they have different features.
The main difference between Jenn air and KitchenAid mixers is the architectural designs and the features each one has. Jenn air mixers or appliances generally offer more features than kitchen air mixers while KitchenAid mixers make reliable stand mixers and are known for their premium prices.
There are over 21 types of mixers although categorically, there should be just 4, however, Jenn air and kitchen aids manufacturing companies are known to cut across all these types and other popular kitchen appliances as well.
Mixers can be described as one of the handiest kitchen appliances. Knowing Jenn air and kitchen aid mixers are considered the best in quality and functions, it can be quite confusing to decide which is better.
This is why this article explains the differences between them and which is considered better.
Types Of Mixers For Buyers
How do you get the right kitchen mixer? This is the first question you need to before choosing between Jenn air and kitchen aid mixers. Mixers are important kitchen appliances and they can do quite a lot if you are picking the right one. The type of mixer you pick is going to be dependent on what you plan on using it for. Below are 4 popular types of mixers and their functions.
1. Stand Mixers
KitchenAid KSM8990NP 8-Quart Commercial Countertop Mixer
The 10-speed slide control ranges from a very fast whip to a very slow stir and versatile power hub works with more than 12 available attachments to help you make anything and everything imaginable.

The commercial mixer is NSF certified and includes Powerknead Spiral Dough Hook, Flat Beater, and Stainless Steel Wire Whip.

NOTE: Refer User Manual on Technical Specification before
Prices pulled from the Amazon Product Advertising API on:
Product prices and availability are accurate as of the date/time indicated and are subject to change. Any price and availability information displayed on [relevant Amazon Site(s), as applicable] at the time of purchase will apply to the purchase of this product.
Stand mixers are really popular options and that can be due to their multiple-use and aesthetic designs. Stand mixers are heavy-duty electric mixers that are attached to a stand and allow you to attend to any kitchen duty like dough mixing. Stand mixers also have various attachments that make them versatile kitchen appliances. Stand mixers can do everything from cutting pasta to grinding meat or spiraling vegetables.
2. Hand Mixers
A hand mixer is similar to a stand mixer, it is an electric mixer with two removable metal beaters and variable speed settings. It comes with the whisk attachment and dough hooks too so it is optimized to work for any kind of dish that needs mixing, kneading, beating, whipping, or blending.
3. Spiral Mixer
The spiral mixers are designed to do the job of both hands and the stand mixers. It is an industrial equipment used in preparing bread dough and it works by rotating the bowl instead of the ingredients using a pulley system. Spiral mixers are best suited for mixing large quantities of bread dough but they can be used for basic ingredients as well. Spiral mixers however are difficult to clean.
4. Professional Mixers
Professional mixers are commonly used in business and can come in handy in commercial kitchens. This appliance is best suited for cakes and other bakery items. It is a heavy-duty appliance so it is ideal for bakeries and restaurants.
Jenn Air Vs KitchenAid Mixers: Which Is Better?
Kitchenaid and Jenn air mixers are both products made by Whirlpool so you can expect them to be designed the same way. They are exactly the same however further studies have shown that there are slight differences which can be in some features.
Jenn's mixers and appliances are believed to have just as much to offer as kitchen aid mixers however both are expensive and worthy of use in a sophisticated kitchen.
Jenn air and KitchenAid mixers offer a professional range and are both easier to use. However, standard Kitchenaid mixers are built slightly differently from that of Jenn air. In terms of history, the KitchenAid mixer can be said to have been around much longer, it got started in 1919 while Jenn air gained its reputation in 1937.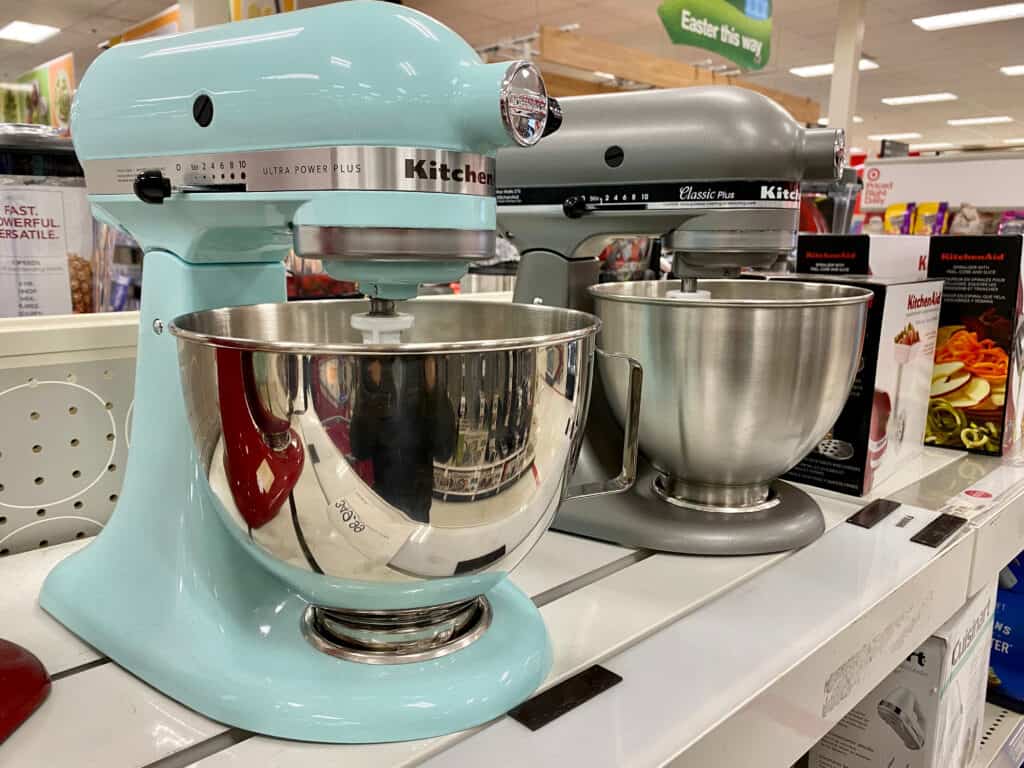 One of the significant differences between Jenn air and KitchenAid mixers is their aesthetic design. Jenn produces mixers and appliances that are way more pleasing in design. However, KitchenAid mixers will be leading with their different sizes and it's considered more affordable.
After our analyses, the Kitchenaid mixer is considered the better option as it does have more amazing features and pleasing designs however JennAir offers more professional ranges which makes it even more expensive than KitchenAid mixers.
Differences Between Kitchen Aid And Jennair Mixer
You are likely to find everything you need with a Jennair mixer before going any further you should know it is even more expensive.
JennAir is considered a high-end brand although it is owned by the same company as KitchenAid but has continued to be its own unique brand and its mixer can do anything from mixing to slicing compared to some models of KitchenAid mixers.
In terms of design, KitchenAid mixer and JennAir are not that different but KitchenAid offers more when it comes to sizes. However, in terms of performance, both are the same and customers' review shows both have similar functions, versatility, and durability.
Frequently Asked Questions
Is it worth buying a KitchenAid mixer?
The answer is yes. Kitchenaid mixers have been around for a long while although they are expensive compared to other brands it comes with a plethora of attachments and features. Kitchenaid mixers can be used for more than just mixing, they can also be used to knead, grind, mash, shred and whip.
Is JennAir high-end?
Jennair appliances are definitely high-end quality due to the standard of appliances they manufacture. Investing in JennAir appliances offers you quality and a high level of performance as well. In addition, this brand makes excellent appliances in terms of high-class technology.
What is the difference between a KitchenAid Classic mixer and an artisan?
The custom and classic KitchenAid mixers come in one size while the artisan bowl come in two which are the 3.5 quarts and the 5 quarts. Classic mixers also do not have a convenient handle while the artisan does.
Do KitchenAid and JennAir mixers need maintenance?
Kitchenaid and Jennair mixers are high-quality appliances however they do need maintenance from time to time just like every other mixer. The most common issue mixers can have is a misaligned mixer so the tilt head might need some adjustment hence ensure to check it out regularly.
Wrapping Up
Kitchenaid and JennAir are both high end and that is not only with their mixers but the oven and other kitchen appliances. The classic KitchenAid stand mixer is not that different from the JennAir mixer when it comes to functions but note that when it comes to design, JennAir will be topping the list.
If you wanted a sophisticated kitchen mixer, go with Jennair however if you are looking for a standard mixer with less fuss, go with KitchenAid. However, you should know that JennAir kitchen mixers are more difficult to get your hands on than KitchenAid mixers.
You can find different sizes and types of KitchenAid mixers but the same can't be said for JennAir mixers.
More on KitchenAid Mixers: