Quartz countertops are the only type that can compete with granite countertops since they are way harder and nearly indestructible. However, you do need the best undermount kitchen sinks to be with your durable quartz countertops. It is quite important to have a vast knowledge of how to maintain this undermount kitchen sink before shopping for the best model.
There are lots of sink ideas to consider but when it comes to undermount sinks, you can never go wrong plus they also create attractive clean lines in your kitchen. Here's a sneak peek of our top picks.
THE BEST UNDERMOUNT KITCHEN SINKS AT A GLANCE
Undermount includes several types of sinks installed under the counter and these types of kitchen sinks have been declared to be the perfect sink for quartz countertops, they tend to stand out while being functional as opposed to the traditional over-mounted sinks.
Undermount sinks give your kitchen a beautiful streamlined and contemporary styled appearance you would really want to show off to guests.
However, finding the best one can take time and become overwhelming hence we have taken our time to research the best and most popular options.
Why You Should Get An Undermount Kitchen Sink
Undermount kitchen sink as the name implies means that the sink is mounted underneath the counter. It simply refers to the way the sink is being installed in relation to the kitchen, rather than having it dropped into the pre-cut hole in the counter, it is installed under the counter.
This sink is very functional, and it receives no help whatsoever from its exterior but only from what is below the countertop. The installation process lets it give you slightly more counter space and below are other reasons it is worth being in your kitchen.
Undermount kitchen sinks can add some value to your home and gives it a minimalist makeover if you ever plan on selling
They are easier to clean, there is no lip, or crevice to catch dirt and there won't be any debris buildup
This sink has its rim underneath the counter, so you can wipe the dirt on your counter right into the sink
Undermount sinks are versatile and customizable, they come in a variety of materials such as copper, stainless steel, porcelain, cast iron, and more
You can conveniently place the faucet in any location with an undermount sink
Undermount sinks are available in a wide variety of materials which makes them create a sleek seamless look in your kitchen
It also prevents crumbs or moisture from getting caught while you clean.
The Best Undermount Kitchen Sinks For Quartz Countertops
We do agree that countertops are very important in the kitchen and when it comes to quartz countertops, an undermount sink is an option.
Quartz is the best countertop material to go for, it is strong, scratch resistant, and comes in a variety of colors, so it's only cool to have it paired with the best undermount kitchen sinks. So, below are some of the best undermount kitchen sinks for quartz countertops.
1. KRAUS KWU112-33 Workstation 33-inch Undermount 16 Gauge Undermount – Best Overall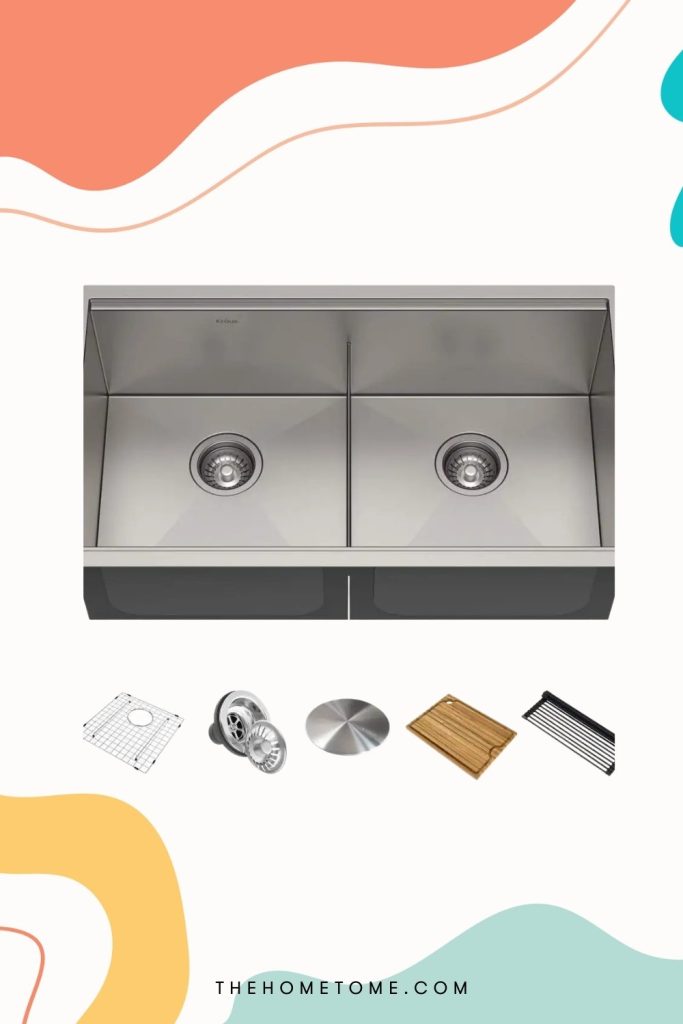 What We Like About This Kitchen Sink
Comes with a basket strainer and protective bottom grid
Made with highly durable 16 gauge stainless steel
Optimal drainage
Features noise-reducing pad
Designed with 10-inch depth to accommodate large pans and pots
Resistant to scratch, stain, and corrosion.
What We'd Change
More expensive compared to other models
Does not come with a drain assembly.
If you are looking for a sleek stylish sink that is also functional, the Kraus kitchen sink is the first to consider. This undermount kitchen sink is made of stainless steel, and you can be sure it works with the indestructible quartz material.
Kraus undermount sink is also designed with noise-deafening soundproof technology, so you can worry less about the steel material making noise while you use it.
This undermount kitchen sink is made of 16 gauge stainless steel which makes it resistant to scratch, and it definitely gives it a more sleek design that will complement any kitchen interior. Also with the 33-inch size, it is large enough to accommodate your cooking and cleaning.
Kraus Undermount kitchen sink has a double bowl stainless and comes with a protective bottom grid as well. The sink has dimensions of 33 in. L x 19 in. W x 10 1/2 in. D; and weighs 23 pounds.
This undermount kitchen sink is regarded as one of the most reliable sinks for your quartz countertop. It is extra deep and both sides have optimum drainage. Although this is a bit pricey, it's the perfect go-to whether you are looking for a practical sink or something luxurious.
Why we recommend it: Kraus undermount kitchen sink has a stylish appearance while it's quite functional too. It offers superior durability and performance which can explain why it's a popular sink for quartz countertops in the market. The sink also comes with a noise-reducing pad which can help reduce the noise it makes while you use it.
2. Elkay Quartz Classic White Single Bowl Undermount Sink – Best Quartz Kitchen Sink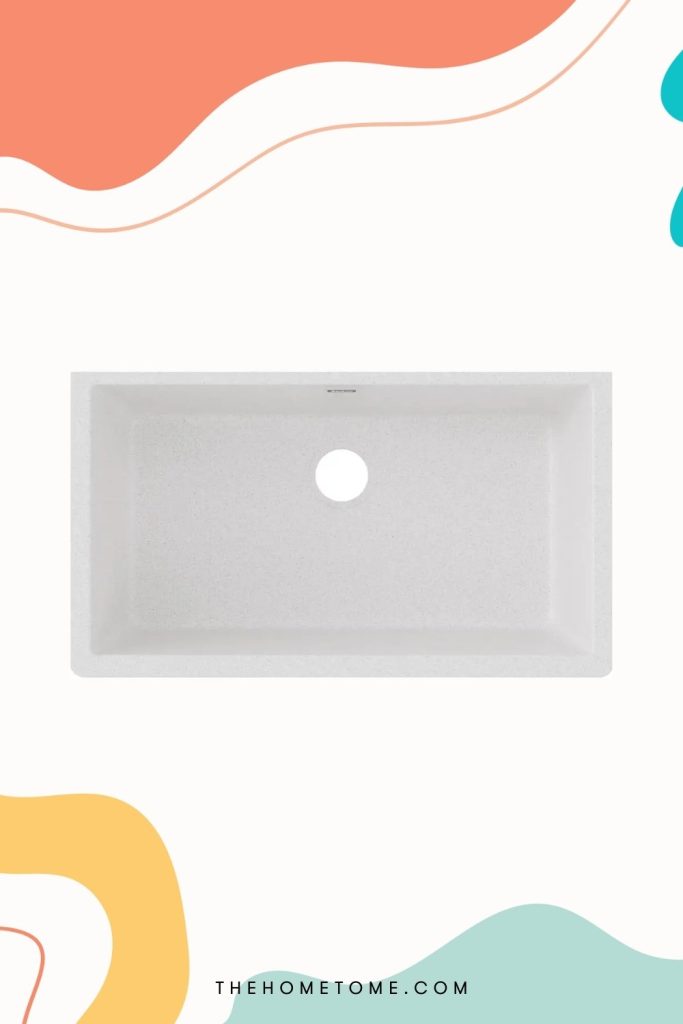 What We Like About This Kitchen Sink
Resistant to chipping and scratching
Super easy to clean and very functional
There is no concern of food or liquid stain
Extra deep for large pans and pots
Generates a smooth appearance with your countertop.
What We'd Change
Installation can be a bit challenging.
Elkay Quartz Classic undermount kitchen sink is another sink that can help create a seamless appearance with your quartz countertop.
The single bowl is large enough to create space for washing and stacking dishes. This looks really simple, but it is elegant enough to be the focal point in your kitchen. This is a long-lasting sink, and it is easy to keep clean as well.
You will definitely like the depth and size of this undermount kitchen sink. This is resistant to all kinds of stains and damaging agents, it is however more suitable for small kitchens.
This model is not made of ceramic rather it is made of quartz which just happens to be the most durable material on the market. The sink dimension is 33″ X 18-7/16″ X 9-7/16″ and the cabinet size is 36 inches which is enough space for your large pots and pans.
Why we recommend It: Elkay Undermount single bowl sink is loved and highly recommended for its durable material and ease of use. The single deep sink bowl will also provide you with a constant area for stacking bowls and doing other domestic jobs like cleaning at the same time. This might be a bit confusing for your plumber to set up but once it's done, you are definitely going to love it.
3. MENSARJOR Undermount Kitchen Sink – Best Value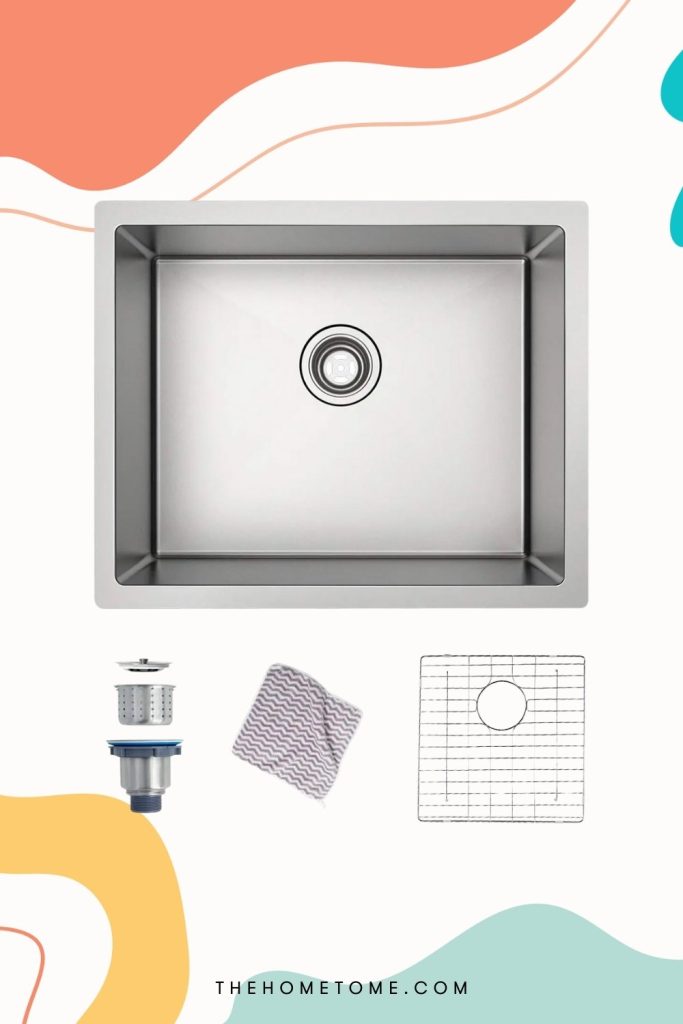 What We Like About This Kitchen Sink
Comes with a deep bowl that can conveniently accommodate large pots and pans
Made with 304-grade stainless steel which is durable and easy to clean
The sink is resistant to stain and scratch
Comes with a sound dampening pad.
What We'd Change
Food and debris can get trapped in the space around the drain.
From the design to the material used, this is a really great single-bowl undermount sink to invest in.
This model has everything you might look forward to with your sink, and it is also very affordable compared to other undermount kitchen sinks. MENSARJOR Undermount kitchen sink is made from stainless steel hence paired with your quartz countertop will give your kitchen a sleek modern appearance.
This undermount kitchen sink is wide enough for all your cooking and cleaning. It's a really great choice to install in your kitchen and also, and it comes with all the necessary hardware for installing it. This has been handcrafted by skilled artisans to ensure it serves you perfectly.
MENSARJOR Undermount kitchen sink comes with a lifetime warranty and not to forget that it is also made with 304-grade stainless steel ensuring your investment will last for a very long time.
Why we recommend it: Each undermount sink has its own reason for standing out and with this sink, it's more than one reason, it is easy to install, quite affordable, and durable. This model comes with an installation guide and a template as well. In addition, it comes with 2 pre-drilled holes for fixing your accessories and a faucet.
4. Mr. Direct Stainless Steel Undermount Kitchen Sink – Best Small Kitchen Sink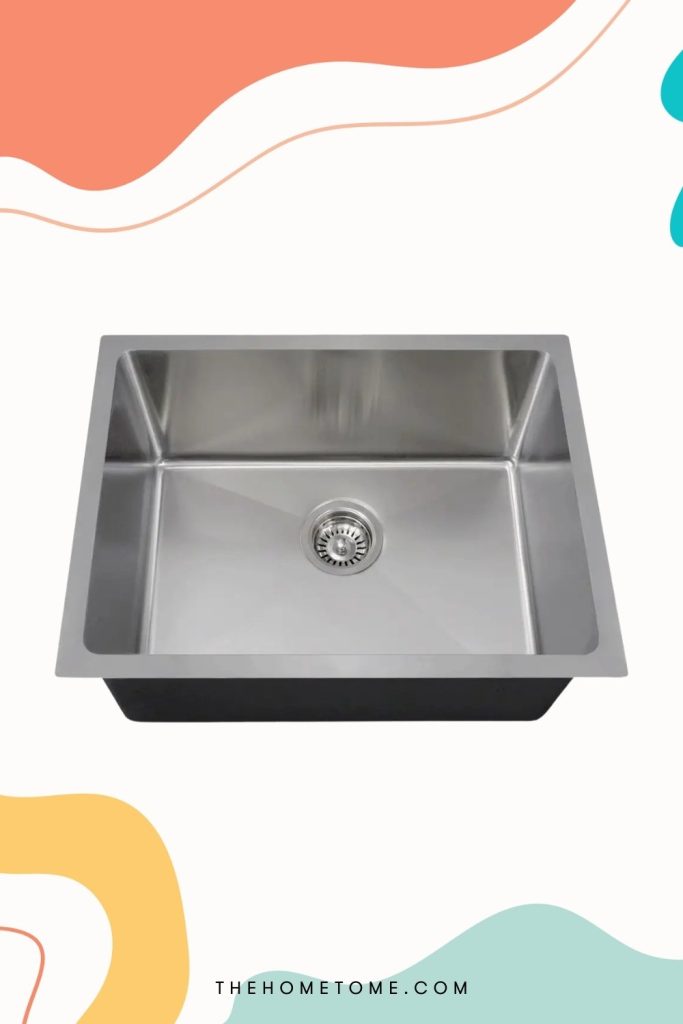 What We Like About This Kitchen Sink
Large enough to accommodate big containers
Comes with a sound dampening pad to reduce noise
Affordable and easy to clean and install
Lighter in weight compared to other models.
What We'd Change
There is not enough slope for water to drain properly which can cause water to pool in the corners of the sink.
Mr direct stainless steel undermount kitchen sink is another undermount sink that is highly rated. This is a single bowl kitchen sink with contemporary styling, and it's also an extensive 4-sided sink that can hold or do any cleaning job in the kitchen.
Cleaning this undermount sink is also easy compared to other brands. This is made with stainless steel, so you can be sure it's light.
This can be cleaned with foamy soap once a week, and It's very simple to maintain. Sound pads have been added, so you can have a more quiet time using it, and also the model can resist discoloration and survive high heat as well.
This sink appears to be top-notch in appearance and function. This is made with high-quality material, so you can worry less about scratches and stains. The construction is pretty solid and the extra depth accommodates all kinds of pans and pots.
Why we recommend it: Mr direct is a single bowl sink that can cater to all your washing. With mild abrasive cleaner and water, you should be able to keep this clean from stains. This is 25% thicker than the standard stainless steel kitchen sink and paired with the extra depth is a solid construction that ensures it lasts for a very long without a scratch.
5. Ruvati Workstation Undermount Kitchen Sink – Best Workstation Sink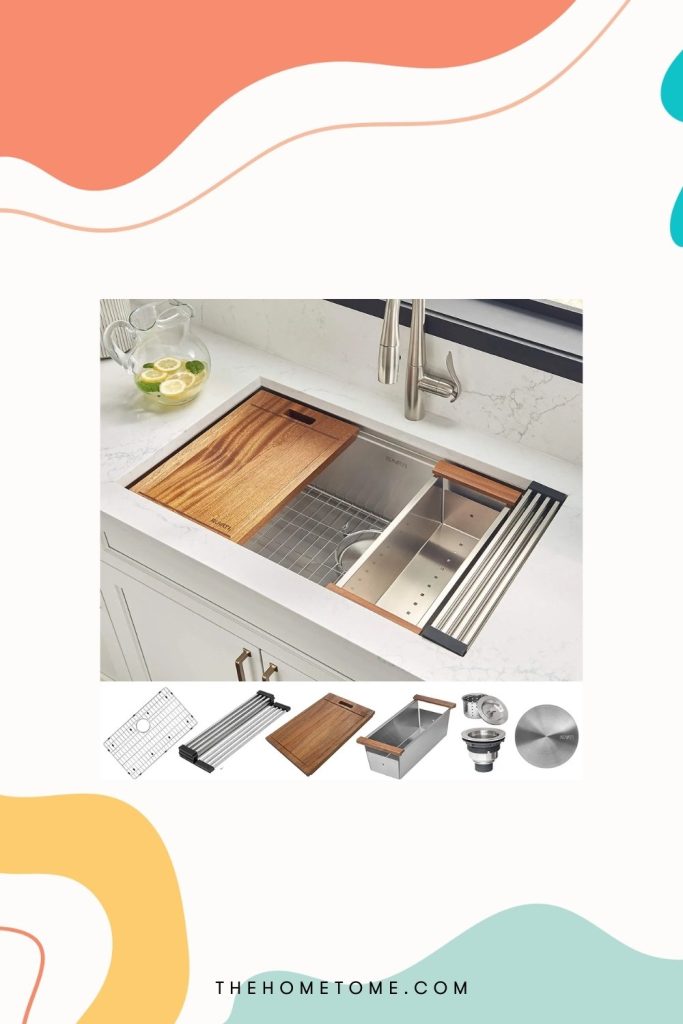 What We Like About This Kitchen Sink
Comes with a cooking workstation
Rust and stain resistance
Made from durable stainless steel.
What We'd Change
Adding more slopped bottom would have improved the drainage.
Your sink is not just meant for cleaning pots and pans, this undermount kitchen sink is suitable for washing and chopping fresh veggies and herbs. This is a 16 gauge workstation stainless steel sink, it has just about everything you need to have comfortable cooking and cleaning.
It also features heavy-duty soundproof undercoating with thick rubber padding to cancel out noise.
There is also a slopped bottom to create complete water drainage. The sleek design matches perfectly with quartz countertops and there is also a sharp inside corner design to give it a resolutely modern look.
This happens to be one of the best undermount sinks you can match with quartz countertops, the smooth design complements any countertop. The clean lines brushed finish, and sharp corners also add to the beauty and function.
Why we recommend it: This comes with a solid wood cutting board that makes the cutting of your produce clean and easy. This kitchen sink is finished with a commercial grade brushed finish in order to hide scratches and a sound guard coat has also been included to minimize the bang and clinging you get from washing in the sink. The basin is also deep enough to prevent splashes.
6. Torva Undermount Kitchen Sink – Best Budget Single Bowl Sink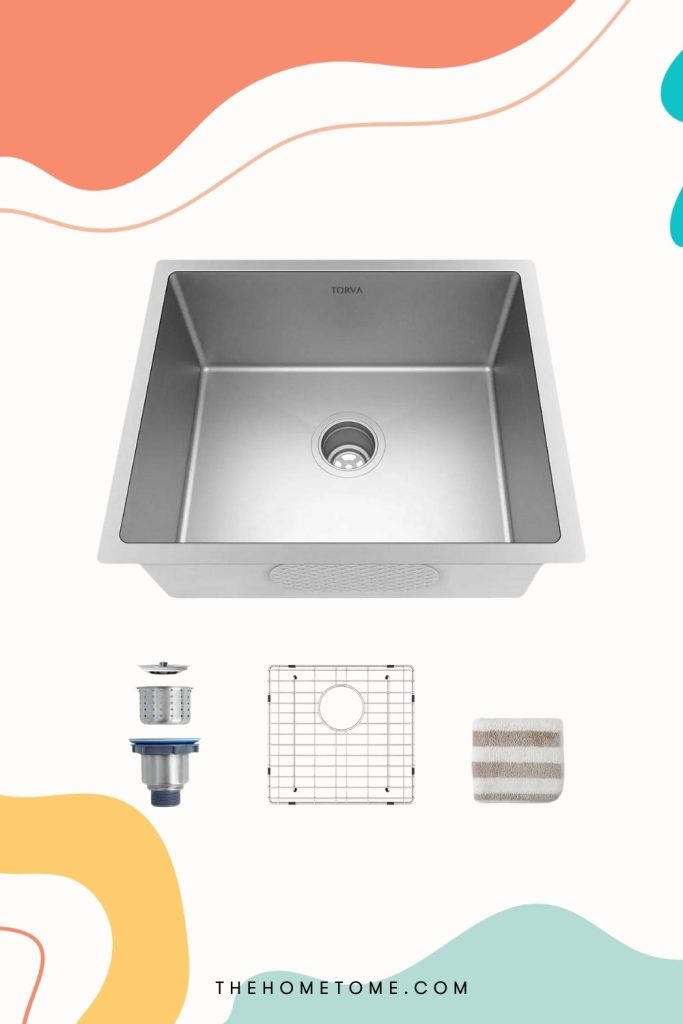 What We Like About This Kitchen Sink
Sound deadening pads to help reduce noise while washing
Limited warranty
Includes installation hardware and template
Has a wipe surface that wipes stains and corrosion.
What We'd Change
Might not be suitable for large households that do heavy cooking.
We all want that kitchen sink that is not only stylish but highly functional as well.
This sink has a profound which is suitable for washing large pots and pans, it is sturdy and easy to clean as well. This kitchen sink is more suitable for small kitchens but also works as a chef's sink if you are looking for minimal space.
This is one of the most practical undermount kitchen sinks, and it includes a drainboard that will assist you with keeping the ledge clean. This undermount kitchen sink is also easy to clean which is something we all desire when buying any kitchen tool.
Torva undermount kitchen sink is quite small but in a really cool way which works for an individual who needs a modern utilitarian sink for their kitchen.
Why we recommend it: Torva sink helps you create a more quiet environment while you wash. It does have a parabolic design with zero radium corners which is what gives it the sleek look that complements your quartz countertops. The specifications include three pre-drilled holes for the faucet and accessories with a 4-inch center which makes it highly recommended.
7. Blanco Single Bowl-Anthracite Sink – Best Granite Kitchen Sink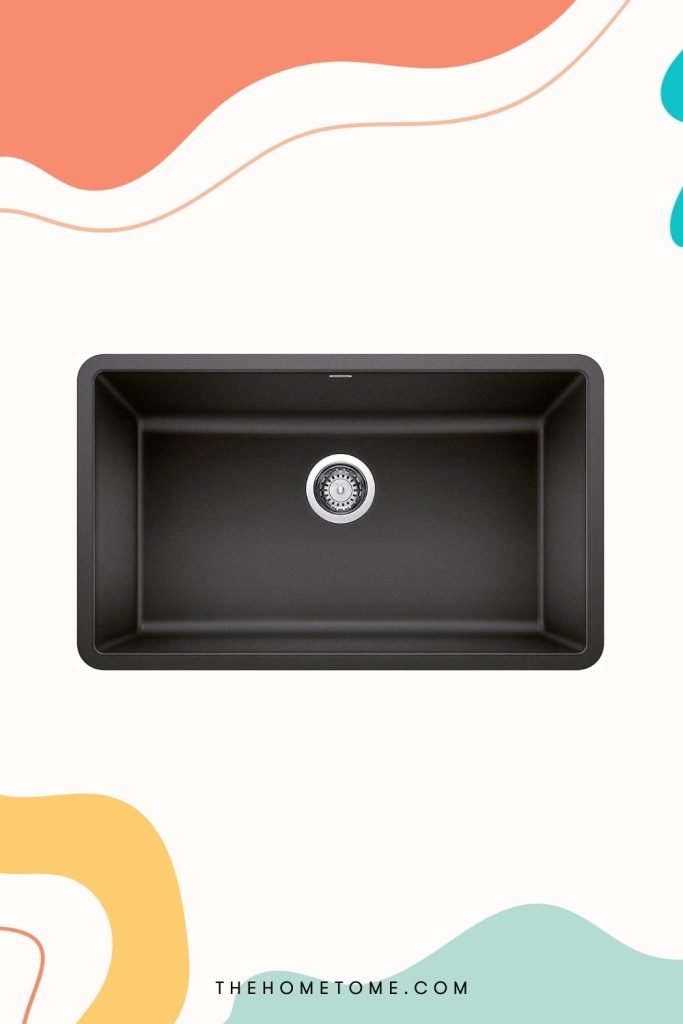 What We Like About This Kitchen Sink
Optimal functionality
Available in a variety of colors
Made of 80% granite hence it is durable
Stain resistant and nonporous.
What We'd Change
Susceptible to cracking
More expensive compared to other models.
When shopping for a kitchen sink to go with a quartz countertop, you should consider one that helps make a bold statement without trying too hard.
Blanco Single bowl undermount sink is made with sill granite hence the neutral metallic which can help add some color to any room and since granite is non-porous, this means you can easily keep your sink clean.
This sink will not be affected by any acids or alkaline that can be found in your cleaner. This is a great option for those who will be doing a lot of cleaning. The sink dimension is 30″ L X 18″ W X 9.5″ D, and it is large enough to fit 30 inches of cabinet space.
Blanco single bowl sink is 80% granite which makes it heat resistant, scratch and chip resistant as well. You can keep your kitchen sink flawless on all occasions with this model, it is built for durability, and it is just the perfect on-trend kitchen sink you need.
Why we recommend it: If you are going to be placing hot or heavy pots in your sink, we do recommend going for this model. Blanco's undermount kitchen sink can withstand extreme heat, and it is one of the most reliable options you will find on the market. The colors range from a café brown to tan and dark gray. It is stylish, easy to clean, scratch-resistant, and withstands extreme temperatures.
8. Kraus Double Bowl 40/60 Kitchen Sink – Best Kitchen Sink With Sweeping Corners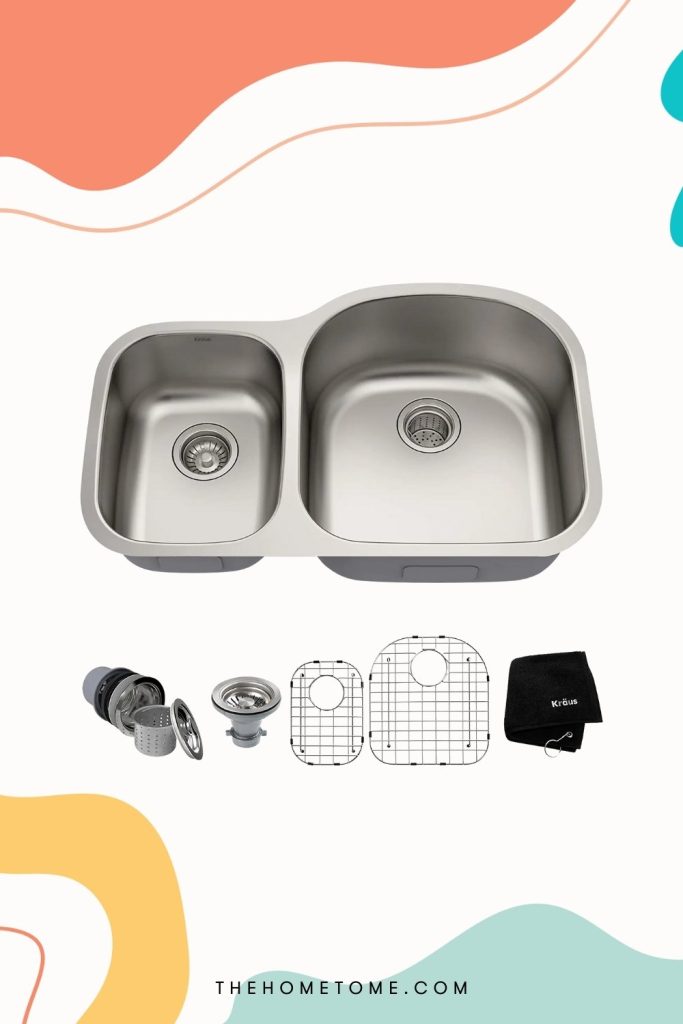 What We Like About This Kitchen Sink
Optimal functionality
Available in a variety of colors
Made of 80% granite hence it is durable
Stain resistant and nonporous.
What We'd Change
Susceptible to cracking
More expensive compared to other models.
This is another highly rated Kraus kitchen sink, it gives you a smooth practical kitchen whether you are remodeling or choosing a sink for another home. If you are in need of a double sink that lets you organize your kitchen and have enough space for moving things around, this Kraus undermount sink model is perfect for that.
The sink provides you with a deep basin that lets you stack dishes and also, and you can easily wipe off dirt and crumbs from your counter into the sink. If you have no cleaning regimen then this sink can easily provide one for you.
Kraus is a popular brand known for creating high-quality kitchen tools hence this is a reliable kitchen sink. This kitchen sink is completely insulated by wrapping extra thick pads which cancel out noise and vibrations while you wash.
Why we recommend it: If the high price fits your budget, there are many reasons this is highly recommended. This is a multipurpose kitchen sink, and you are sure going to love how it complements your kitchen interior design. It offers more usable space, and you can choose which side the small bowl will be on for a customizable washing plan.
How We Tested The Best Undermount Kitchen Sinks For Quartz Countertops
The overall design and ease of use of undermount kitchen sinks are enough reasons to have them installed in your kitchen. Quartz is a really soft material, but it is also very durable and choosing a sink for it requires some dedication and careful analysis. So, we have tested these sinks based on their space, capacity, and more important material.
These undermount sinks picked are popular in both contemporary design and functions. These sinks are going to conveniently take up space under your counter and might need some extra space to install. They are also easy to clean, and we have tested each for resistance to scratch and stain.
There are quite a lot of reasons undermount sinks are the best options for your quartz countertops and some of those are listed above. The modern look is another reason to choose from this list above. Our top options include KRAUS KWU112-33 Workstation, MENSARJOR Undermount Kitchen Sink, and Torva Undermount Kitchen Sink.
Lastly, noise might be found common with kitchen sinks but many of us actually prefer a calm and quiet kitchen environment while we wash hence the undermount kitchen sinks we picked offer sound canceling insulation or noise canceling pad.
Factors to Consider When Choosing Undermount Sinks – Buying Guide
Finding suitable undermounted sinks for your quartz countertops will be a lot easier when you have the right factors to guide you. There are lots of popular kitchen sinks out there hence you can easily pick one of low quality without the right buying guide.
So, it's vital to learn more about the features of the best-undermount kitchen sink when shopping for one.
1. Single or Double Sink Bowl
Single and double bowl undermount sinks have their advantage and disadvantages. You have to pick on based on your needs, if you have a small kitchen then a single bowl might be a great idea while a double bowl gives you more space for entertaining and prepping a large dish.
The size and layout of your kitchen cabinet will also determine which you will be going for especially if you are revamping your kitchen design. The decision of which bowl type is suitable is entirely up to you, but it's an important factor to consider.
2. Material
Material is an important feature no matter what kitchen appliance you are buying. There are various materials to choose from when it comes to sinks, and they include copper, quartz, porcelain, stainless steel, and fire clay. Stainless steel is the most popular one however granite is considered more durable and stains resistant.
Porcelains are popular options as well, they are quite stylish and come in a variety of colors and patterns. Quartz is another strong and highly durable sink material worth considering. However, they do vary in price, granite and stainless are considered more expensive.
3. Size
It is important that you measure the area you are going to place your kitchen sink and compare the dimension to see if they will fit the sink you are buying. Some sinks are designed to fit with any countertop type and since it's placed under, it can be easy however some require specific medication to fit in perfectly.
4. Drainage System
You definitely do not want a kitchen sink with a bad drainage hole, leaving you with lots of cleaning and a messy kitchen. Most undermount kitchen sinks require different drainage setups compared to drop-in sinks.
Note, that undermount sinks do not have a lip or rim that extends above the countertop which is why the drainage has to be connected to the underside of the sink. So, ensure you are picking one that has a good drainage system to offer.
Frequently Asked Questions
Do the undermount sink leak?
Undermount sinks are good for homeowners that need to add some value to their homes however there have been complaints concerning leaks. Whether undermount sinks are done by yourself or a professional, it is likely to start leaking after a week or two after installation if quality material is not used.
Which sink is best with quartz countertops?
The best and most popular sink option to pair with quartz countertops is stainless steel. Stainless steel does complement quartz countertops and the core advantage is that they don't strain, they are relatively easy to clean, and they are compatible with most faucets.
Can you have a ceramic sink with quartz?
Yes, a ceramic sink will really look great next to quartz countertops. White ceramic tends to add some brightness to the kitchen and would look even more stunning with white or black quartz countertops.
Do white quartz sinks stain?
White quartz sinks do not stain provided you get high-quality ones. Quartz is an incredible material, it is highly resistant to scratch heat, and stain. It can last for years since it's one of the most durable materials in the o=market.
How do I avoid getting scratches on my sink?
To avoid getting scratches on your sink, consider installing a stainless steel bottom grid, this should help protect the basin from scratches. Other ways to prevent scratches include; cleaning with baking soda paste, removing hard water stains with vinegar, not leaving items sitting in the sink, and rinsing and wiping down the sink after each use.
Wrapping Up
The undermount kitchen sink is quite different from a drop-in kitchen sink which is set in a pre-cut hole with edges that happen to rest on the counter, rather it is simply installed under the counter.
Note that different materials of the undermounted kitchen sink will need different cleaning methods so ensure to follow the cleaning instructions carefully.
We have picked high-quality sinks for you, and also they come in different patterns so do not hesitate to pick one that suits your budget. These undermount kitchen sinks all stand out in design while also being functional.
More from the best: