Can strawberries and kiwi fruits be planted together? Growing kiwi fruits might be easier than you think and with the right companion plant, it can help the plant grow more vigorously. Strawberries and kiwi fruits can be of mutual benefit to each other when planted together.
Kiwi fruit is an interesting home garden plant and just like strawberries, it can be extremely nutritious. Although kiwi fruits originally grew wild in China, they can be found in practically all countries now. Companion planting can help get a good crop from kiwi and a good planting guide is also needed for it. While most fruits like being planted together with flowers and vegetables, they can do great with other fruits as well.
Strawberries are easy to grow garden fruits, and they tend to thrive even more with companion planting. Kiwi fruit and strawberries are both nutritional powerhouses that you should consider growing in your garden.
Both kiwi fruit and strawberry have a reputation as healthy food choices and when it comes to the art of companion planting, you need to ensure they can be planted together. To help these two plants produce more tasty fruits, this article explains if they can be planted together and their ideal companion plants.
Growing And Planting Kiwi Fruit
While strawberries are common garden fruit in most gardens, the same can't be said about kiwi fruits as many don't understand their growing needs.
Two main types of kiwi fruits can be grown in home gardens which include the kiwifruit and the hardy kiwi. The kiwifruit happens to be the one most people are familiar with, it produces fuzzy brown fruit, the size of a large chicken egg. Kiwi plants need both males and females to produce.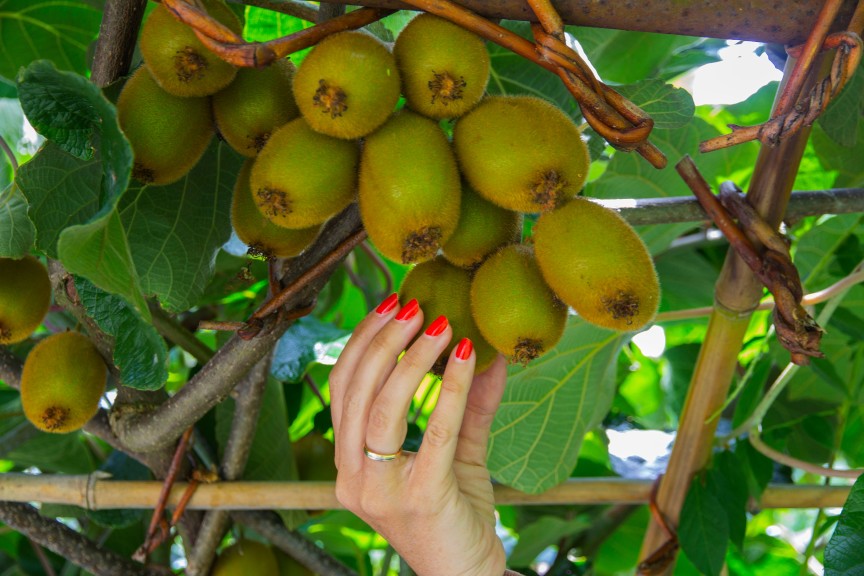 Kiwi vines will produce amazing fruits when they are cared for properly, however, this plant is best planted in areas with frost-free seasons. The kiwi fruit and flower are both prone to spring and frost fall so if you are planning to plant these then you need to do that when frost is long gone.
Choose a sunny spot to plant your kiwi fruit and keep in mind that kiwis begin bearing fruit after 3 to 5 years of planting them. The hardy kiwi however is a perennial type of kiwi but still susceptible to frost. You need to plant kiwi in a protected area of the garden to avoid the wind. Below are simple tips to help you plant and grow your kiwi fruit successfully.
Plant kiwi in a sunny spot and protected area to avoid wind damage
To minimize the risk of frost damage, plant kiwi vine on the north side of the yard in a colder region
Plant in well-drained soil
To produce fruit, plant the male and female plants
Provide the plant's with supplemental watering during the height of summer
Fertilize with a well-balanced fertilizer in the second year.
Kiwi fruit can be propagated from seed and expect to harvest by September/October. Pests can be one of the most difficult challenges a kiwi plant will face, so be sure to have some companion plants that can help repel pests planted alongside it.
Can Strawberries And Kiwi Fruits Be Planted Together?
Yes, strawberries and kiwi fruits can be planted together. Kiwi fruits are not known to compete with other plants for nutrients so they will do just fine planted with strawberries and other plants such as raspberries, grapefruits, catnip, lemon balm, lavender, blueberry, and marjoram.
Companion planting around kiwi is good for fruit health and the same applies to strawberries as well.
Planting kiwi next to strawberries helps improve the soil by fixing the nitrogen which in turn feeds the strawberries. Kiwi fruit can take up to 3 years before producing any fruit while strawberries take roughly 3 months to produce fruits, hence both won't have any reason to compete with each other for nutrients.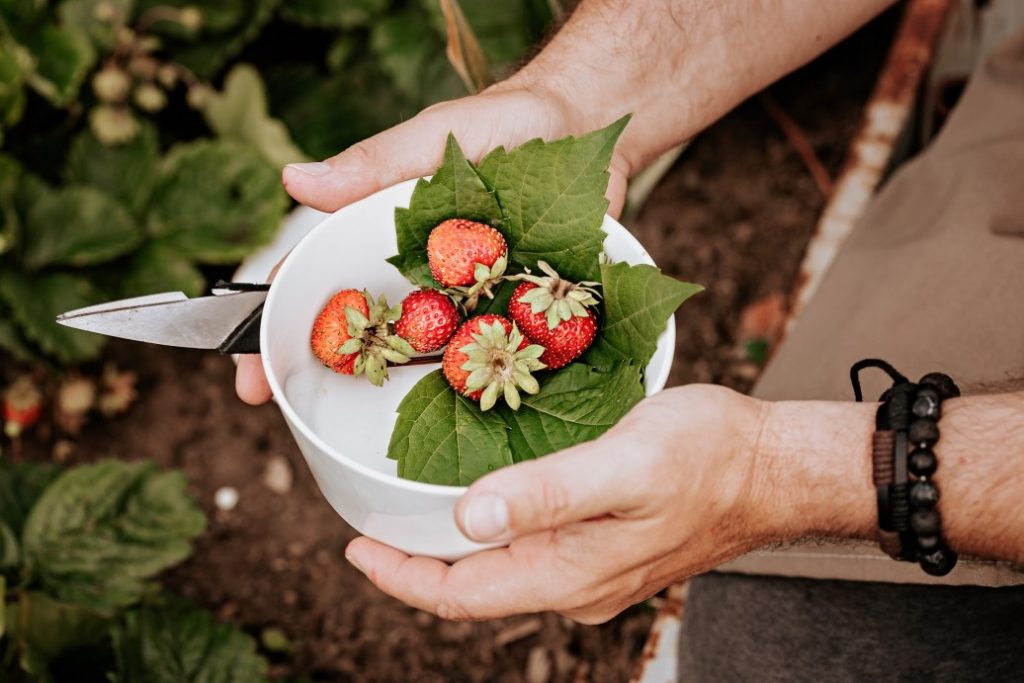 What should not be planted with strawberries?
Strawberries are fairly easy to plant and care for and due to their nutritional value, it is the most common fruit in many indoor gardens.
Farmers who are growing strawberries find companion planting to e the easiest way to increase yield and improve the quality of crops. Practically any kind of plant will grow well together with strawberries but here are a few ones that might cause damages to your strawberries.
Potatoes
Melons
Mint
Peppers
Eggplants
Fennel
Cabbages.
Wrapping Up
Strawberry and kiwi fruit are both tasty fruit juice you can't say no to. There is limited research on both strawberries and kiwi being planted together, but gardeners who have tried it over the years consider it to be an easy way to provide shades for your strawberries.
Kiwi plants are slow growers, so they do need regular support, unlike strawberries, but not to worry, with proper care and maintenance, both can be planted together.
More on growing strawberries in our gardening archives: