Can Lysol Disinfectant kill Salmonella? Of course, Lysol Disinfectant eliminates viruses, bacteria, soap scrum, and tough grease.
With all said convenience, do you simply want to know if Lysol All-purpose cleaner can eliminate a bacterium like Salmonella completely? Then, you will need to know what the particular disinfectant entails and its effects on Salmonella.
Quick answer: Absolutely yes, Lysol is a very effective disinfectant that kills viruses, and bacteria like Salmonella. All you have to do is to get the actual Lysol disinfectant product, then hold the can upright from the surface, spritz a generous amount, allow it to sit for 3 minutes, and then allow it to air dry.
Here's a simple write guide and the safety procedures on how to be prevented salmonella and some other food-borne illnesses.
Preventing Salmonella, Other Food-borne Illness at Home
Lysol disinfectant is an All-purpose cleaner that can be used on hard, non-porous surfaces in the kitchen, bathroom, and other areas of the home. It kills 99.9% of viruses and bacteria and provides long-lasting freshness.
Salmonella is a bacterium that occurs mainly in the gut, especially a serotype causing food poisoning. Salmonella is usually transmitted to humans by eating foods contaminated with animal feces.
We've all taken our chances with Salmonella at some point, whether through a scoop of raw cookie dough or a piece of chicken that's not quite cooked through. No harm, no foul – right? Not as fast!
Most often, the illness caused by salmonella will pass in a few days. But an infection can be fatal, in addition to a potential nightmare of illness symptoms.
People can become infected when they come in contact with bacteria from Salmonella (contaminated foods such as beef products, poultry, and egg product). Salmonella is easily transferred from raw food to other surfaces by improper handling, as well as contact with kitchen surfaces and equipment.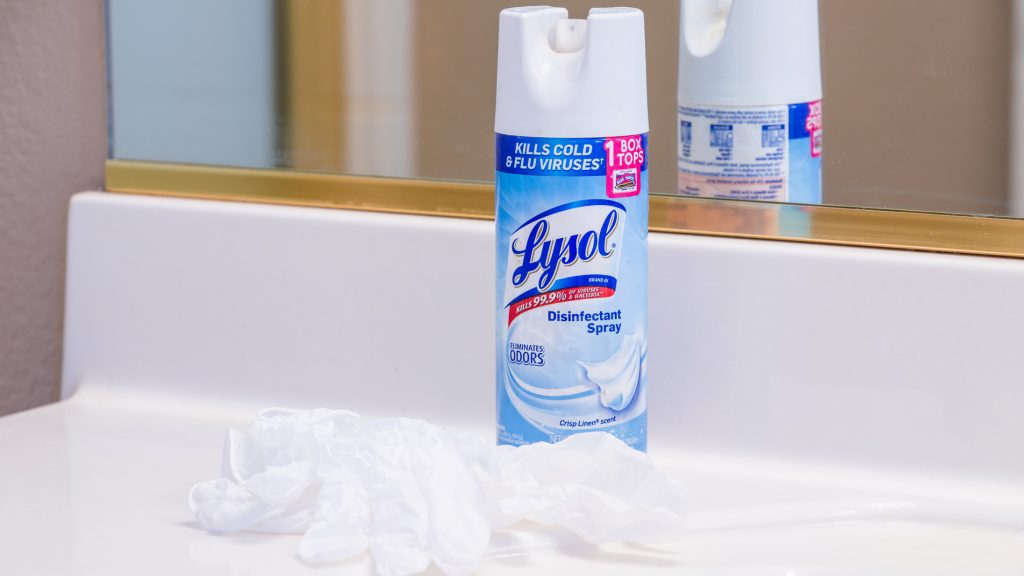 Basic Safety Procedures To Avoid Salmonella
Preventing some of this nuisance from getting ahold of your home is key, here are some basic safety tips to avoid salmonella infestation at home:
1. Prevention is key
To avoid Salmonella, and other food-borne illnesses, cleaning and disinfecting areas where such contaminants might be present is a must. A basic preventive step such as washing your hands with soap and water is an important daily routine to maintain. You should also make a habit of storing raw meat, poultry, and other seafood separately from other items in the refrigerator.
2. Wash what you eat
Scrub thick-skinned fruits and vegetables with a vegetable brush to remove dirt and microbes. For more fragile produce such as berries or leafy greens, you can soak them in water for a few minutes before rinsing, to help remove unwanted soils.
3. Heat your meat
Poultry naturally contains Salmonella, which you can kill by cooking the meat to an internal temperature of 165OF or higher. Cook all raw ground beef, pork, lamb, and veal to an internal temperature of 160OF, and don't rely on guesswork. Measure the temperature with a food thermometer to be sure.
4. Refrigerate your food
Bacteria love warm temperatures and grow fastest between 40OF, which is considered the bacterial danger zone. As long as your refrigerator is set at 40OF or below, your food will be less to become a bacterial breeding ground. Also, remember that all disinfecting products need to stay wet on the surface for the labeled specific length of time to kill bacteria and viruses.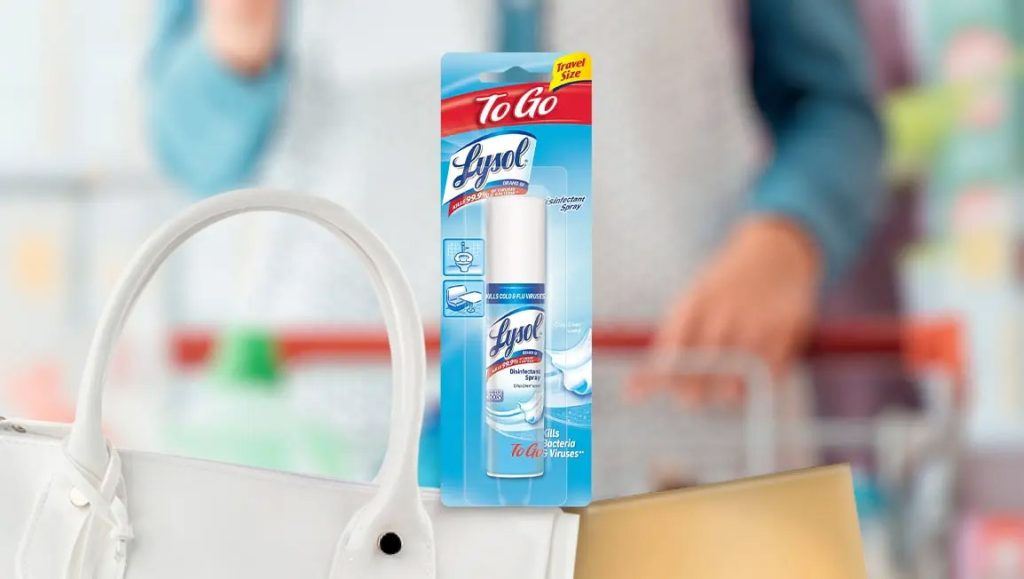 5. Disinfect kitchen surfaces
Make a habit of cleaning your countertop, cutting boards, and utensils before cutting and chopping produce. It's a good idea to keep separate cutting boards for raw meat and for produce, to ensure contamination prevention.
5. Don't just spread germs around
People commonly use disinfecting wipes because they seem convenient, but they often require that surfaces remain wet for up to 4-10 minutes to be effective, and keeping a surface wet with disinfecting wipes can be more difficult than you might think.
What Disinfectant Kills Salmonella?
The oxidative disinfectants like hydrogen peroxide, peracetic acid, and chlorine dioxide that have been tested are effective at user concentrations against Salmonella in the suspension test.
Bleach-based cleaners, Lysol All-purpose cleaners, and some other disinfectants are said to be used to eliminate Salmonella.
1. Lysol Disinfectant Sanitizing and Antibacterial Spray
This product will give your kitchen, living area, and home peace of mind against germs, bacteria, and fungal infections. Lysol disinfecting spray can be used on soft or hard surfaces around your home, the kitchen area, and to disinfect each corner of the house housing molds. Importantly, it's great for repelling fungal infections or bacteria that could endanger your hygiene and culinary habits.
2. Lysol All Purpose Cleaner Spray (Lemon)
This Amazon's choice disinfectant spray is popular for its attractive packaging, versatility for cleaning all corners of your home has great reviews, and reflects a satisfying fragrance when sprayed. Do you need to drive salmonella away and keep your kitchen squeaky clean and flawless? then this product is for you.
To Use: Hold the can upright from the surface, spritz a generous amount, allow to sit for 3 minutes, and then allow to air dry. Now you're equipped to have a healthy kitchen and lifestyle.
3. Clorox Cleaner Spray/Bleach and Refill Combo
Bleach is one of the most effective chemicals to keep salmonella at bay from your home, thus this product is effective against germs, bacteria, viruses, and tough stains. Practicing good food hygiene is by having a clean surrounding, home, and kitchen, but with this Clorox cleaner spray and its art tube technology. It is a great product to handle a stress-free hygiene living area.
4. Microban Disinfectant Sanitizing and Antibacterial Cleaner Spray
This is a multi-purpose spray product that is great for penetrating harmful germs, grease, and grim, and for trolling bacteria around your kitchen, surface areas, and corners of your home. It is a popular product because of its powerful clean effect on surfaces whilst killing all harmful dirt or molds at a go. This is a product that should be in your, to solve all your salmonella and fungal infection problems.
5. SC Johnson Professional Fantasik Multi-Surface Cleaner and Disinfectant Spray
This is a great product because of its budget-friendly value, it comes in a pack of 8 and is a powerful solution for tough grease, grime, fungal bacteria, and multi-surface dirt around the home. It has a fresh scent, has great reviews on Amazon, and is great to share with your neighbors to curtail the spread of dirt or grim, thereby encouraging a cleaner hygienic environment.
How Lysol kills Salmonella
To get rid of Salmonella with the use of Lysol disinfectant, you need to know the surfaces and items to be applied on as well as the disinfection procedures.
The surfaces and items to disinfect include; floors, door knobs, window handles, buttons, switches, furniture surfaces, trash cans, sinks, toilets, bathtubs, faucets, shower heads, floor drains, ventilators, fans, etc.
The basic procedures to follow in the process of applying Lysol disinfectant include;
Start with wiping clean the less soiled surfaces
Towels should be soaked in Lysol before use
Rinse articles and surfaces with water and wipe dry ten minutes after disinfection
Diluted ones can be used to disinfect toilets
Do not flush large amounts of highly concentrated Lysol down the toilet to keep the sewage treatment plant running smoothly
Wear a mask and rubber gloves while using Lysol.
Now you're ready to go and have all the right products and suggested simple techniques of eliminating salmonella from your kitchen, home, and surroundings.
Frequently Asked Questions
How long does it take Lysol to kill Salmonella?
Lysol disinfectant spray should be spritzed generously on surfaces and allowed to remain wet for 3 minutes and then allow to air dry.
What type of bacteria does Lysol kill?
Lysol reports that the antibacterial cleaner product is 99.9% effective in killing viruses and bacteria when used as directed. There are several viruses and bacteria that Lysol eliminates. It kills E. coli, Staph aureus, listeria, salmonella, and pseudomonas. It also kills H1N1 and herpes simplex I and II viruses.
Does Lysol All-purpose cleaner kill salmonella? 
Absolutely yes, Lysol all-purpose cleaner is a disinfectant and sanitizing spray cleaner that kills 99.9% of household germs like influenza, salmonella, staph, and more. 
Conclusion
With all the aforementioned, I hope this article "Does Lysol kill Salmonella?" helped in clearing up any form of confusion surrounding it.
You now know everything you need to know about Lysol disinfectant and Salmonella. Hopefully, we were able to answer most of your questions regarding this topic.